Despite Recession Fears, 18.5% of U.S. Workers Are Searching for a New Job
66% of job seekers cited the desire to earn more money as a reason for their search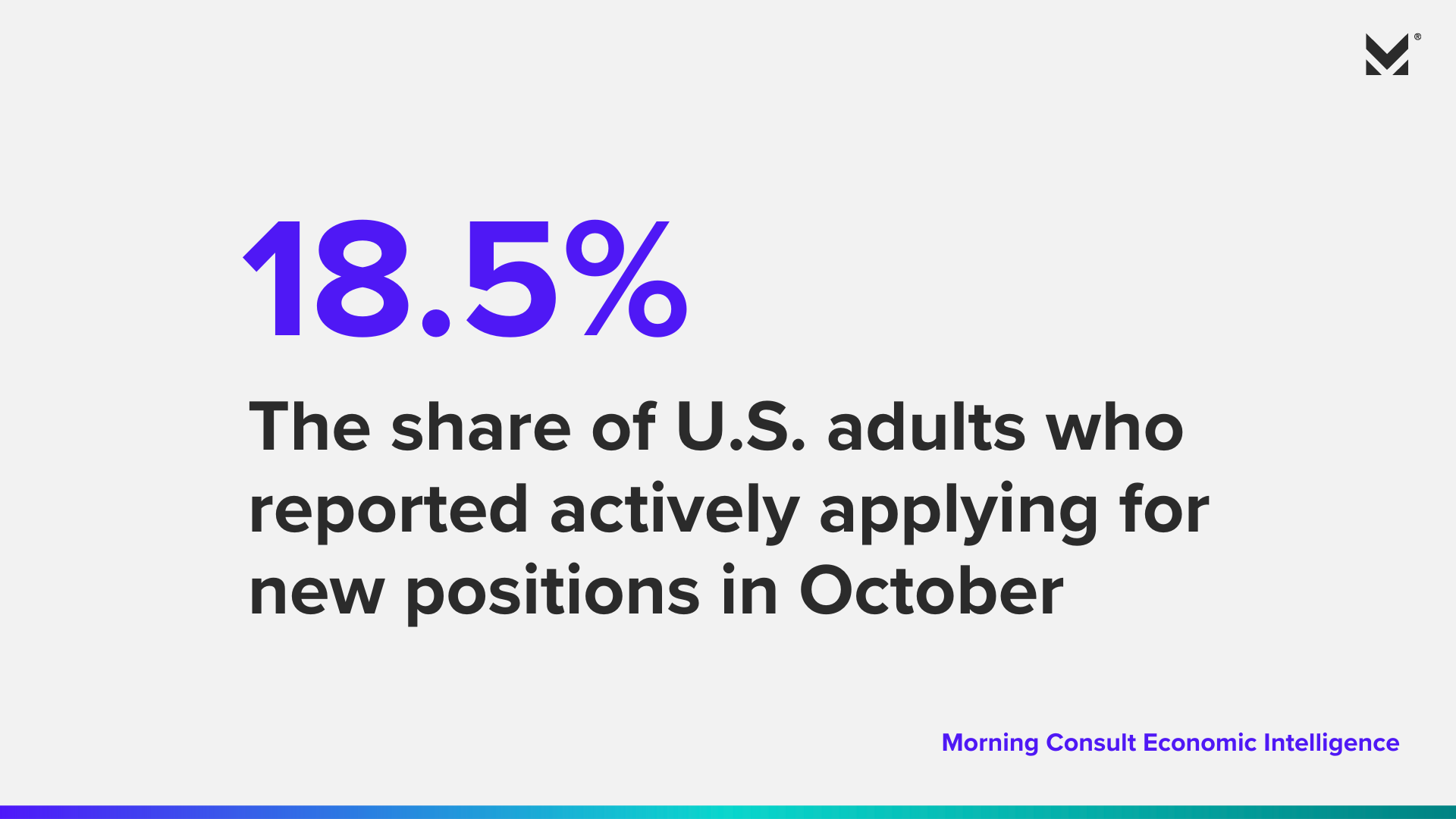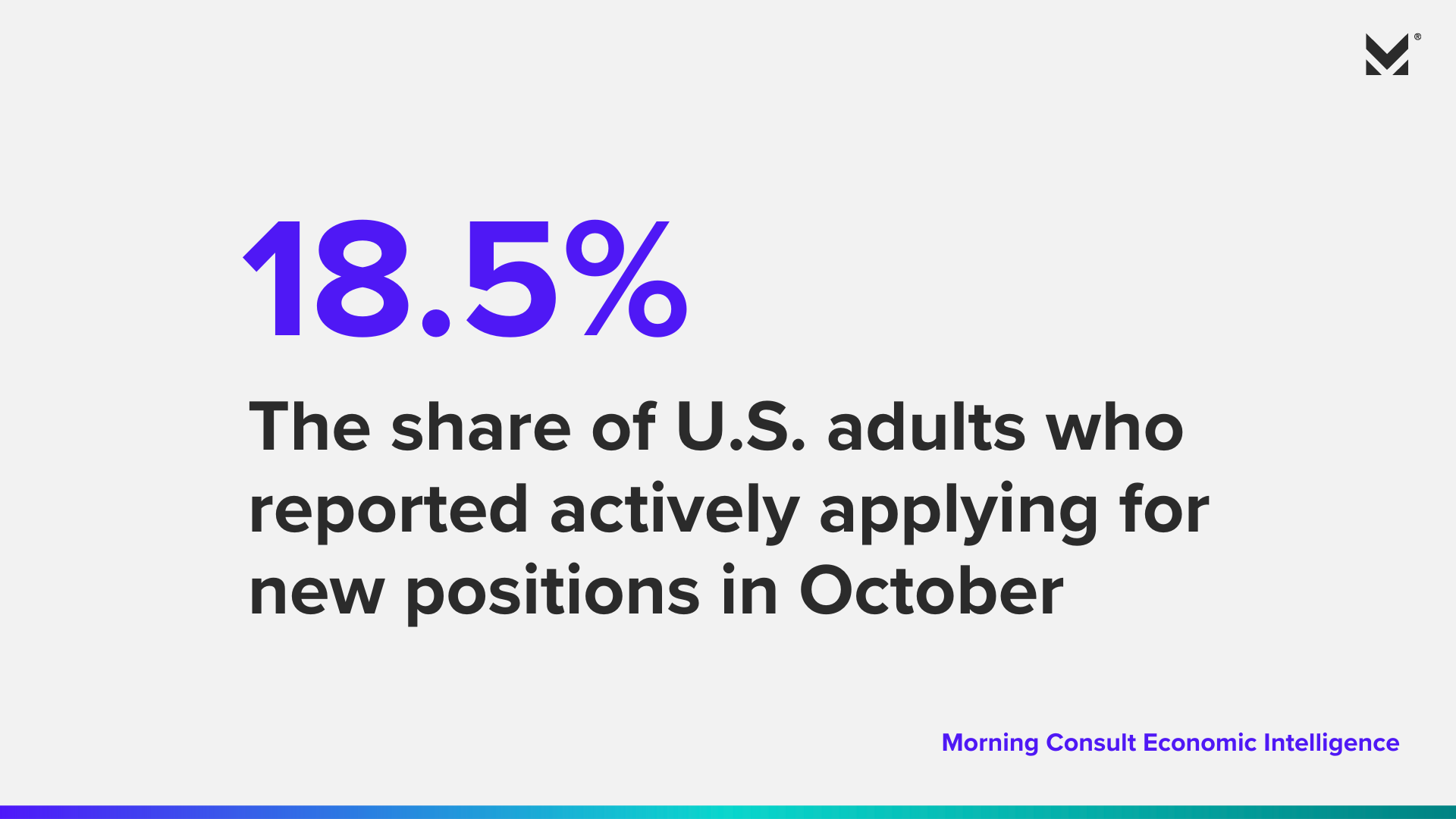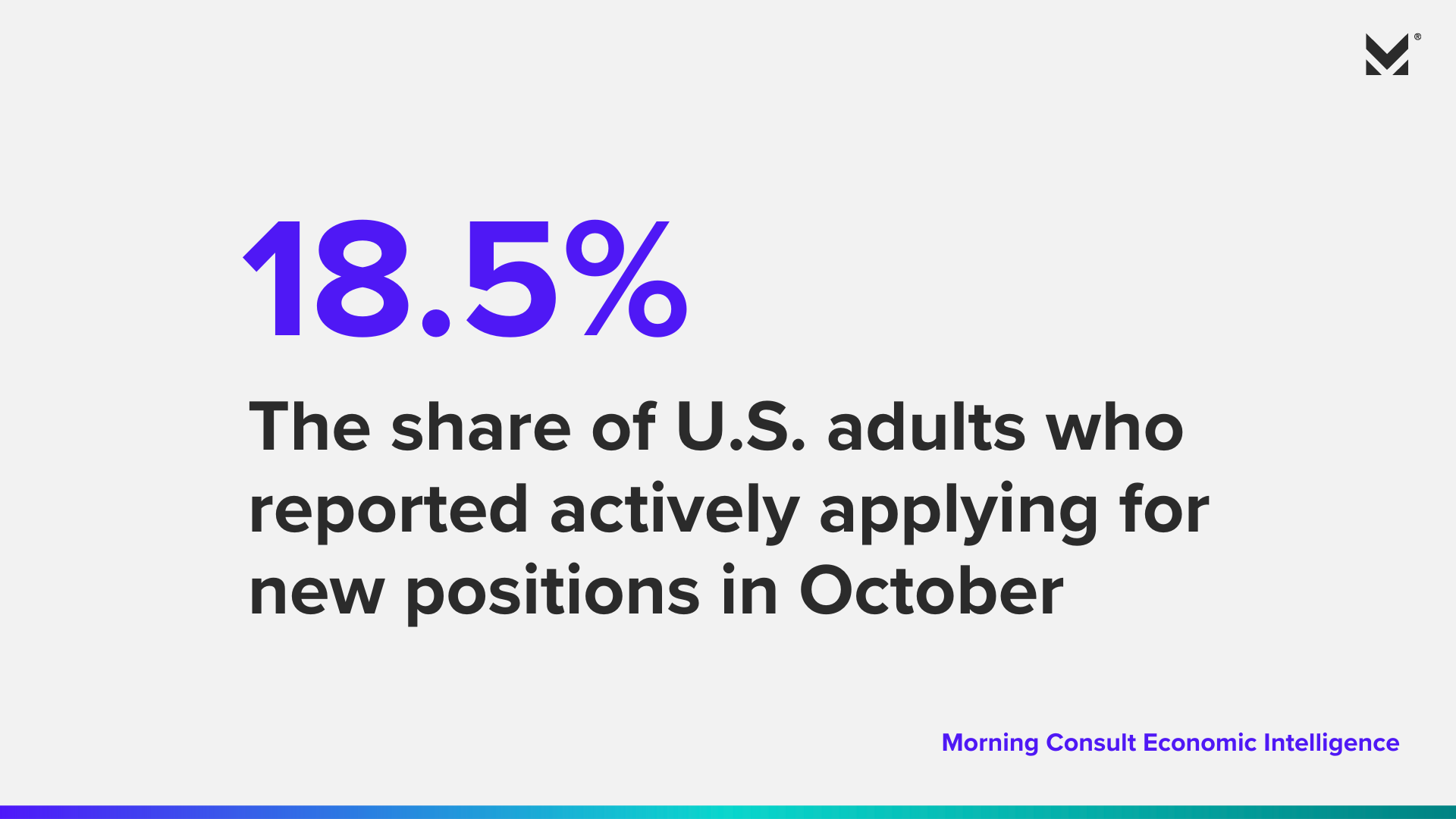 Despite continued fear of a recession, job search activity among U.S. workers remained near series highs in October, according to the latest high-frequency data from decision intelligence company Morning Consult. As of the week ending Oct. 22, 18.5% of employed U.S. adults — and 20.4% of prime-age workers (ages 25-54) — reported actively applying for new positions, up significantly from respective 2022 lows of 17.0% and 19.2% in May.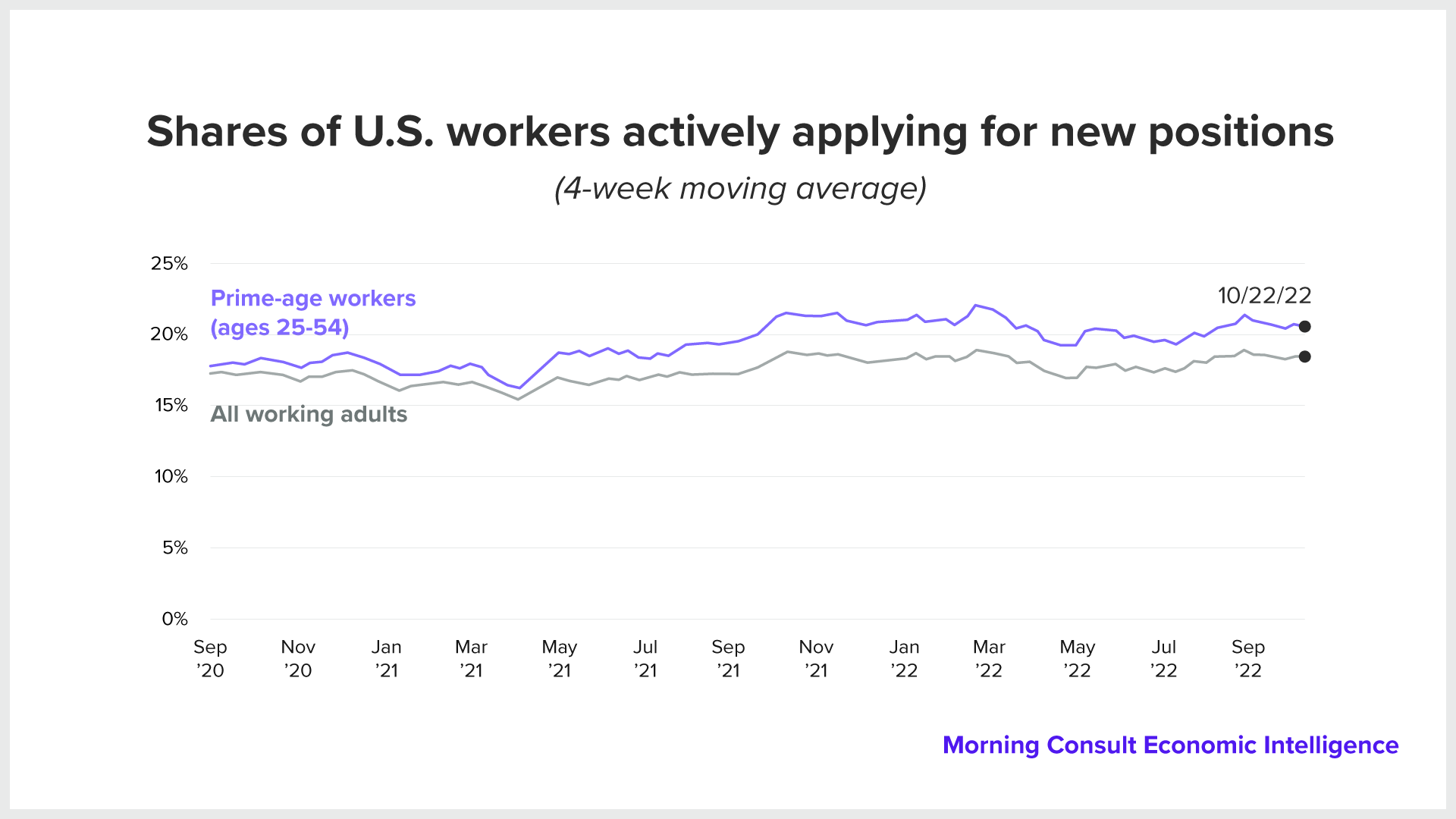 Drawn from the company's daily surveys of 17,000 adults across 43 countries, including 6,000 adults in the United States, the exclusive data highlights an extremely tight labor market characterized by high turnover, rising wages and few layoffs. This is positive news for workers but underscores the challenges policymakers face as the Federal Reserve delivers its next rate announcement this afternoon.
"The prospect of higher wages is driving workers' decisions to try to jump ship," said John Leer, chief economist at Morning Consult. "Additional job switching could drive wage growth higher, complicating the Federal Reserve's objective of cooling the labor market and inflation."
Want access to our high-frequency economic data and analysis? Request a demo today.
In October, 66% of job seekers cited a desire to earn more money as a reason for searching for a new job, up from 59% in January. Dwindling savings are also leading many toward the job market, with 18% of job seekers and 23% of unemployed job seekers citing running out of savings as a reason for their job search.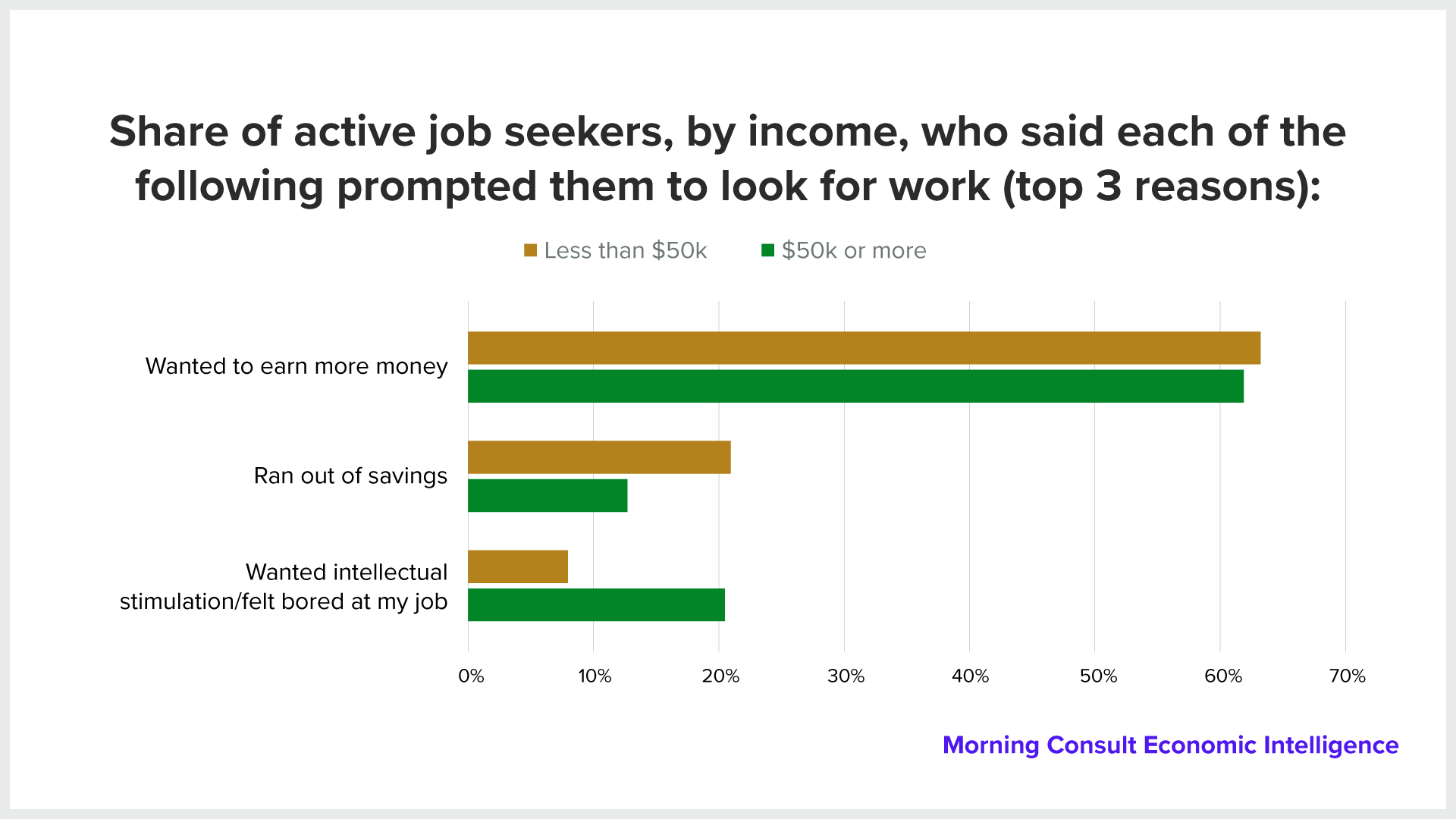 "The saving rate in the U.S. has fallen dramatically this year as inflation outpaces wages and the sugar high of pandemic-era stimulus fades," said Jesse Wheeler, economic analyst at Morning Consult. "Our high-frequency data indicates that a lack of savings is now bringing some people back into the workforce."
To speak with our team of economists about Morning Consult's high-frequency economic data, email press@morningconsult.com. 
Methodology
Morning Consult's Labor Force and Unemployment Survey compares labor market conditions across and within countries, providing enhanced scale, frequency and depth not captured by official data sets. Morning Consult's labor force calculations are simplified and standardized versions of those used by the U.S. Bureau of Labor Statistics, the Organization for Economic Co-operation and Development, and the International Labour Organization, thus providing 
like-for-like comparisons of the employment, unemployment and labor force participation rates across countries. The survey also asks about workers' intention to switch jobs.
The survey is conducted daily in 43 countries among a representative sample of 17,000-plus total adults, with 6,000 surveys conducted daily in the United States alone. Results are typically reported as a four-week moving average. 
About Morning Consult
Morning Consult is a global decision intelligence company changing how modern leaders make smarter, faster, better decisions. The company pairs its proprietary high-frequency data with applied artificial intelligence to better inform decisions on what people think and how they will act.
Among the company's decision intelligence solutions is Morning Consult Economic Intelligence, which features a suite of economic indicators supported by unprecedented global scale, frequency and depth. With forward-looking metrics, macro- and micro-level data, high-frequency data, and exclusive expert analysis, MCEI powers modern leaders' decision-making to lead, rather than react to, markets.