Despite Headline-Grabbing Tech Layoffs, Labor Market Remains Strong
Share of tech workers reporting lost pay has fallen from 15.3% to 11.6% in recent weeks
For the four weeks ending Nov. 19, 11.6% of U.S. workers in the tech industry reported lost pay or income in the prior week, down from a six-month high of 15.3% in early October, according to high-frequency data from decision intelligence company Morning Consult. This indicates the recent wave of pay losses in the sector is receding, despite headlines about layoffs at major tech corporations.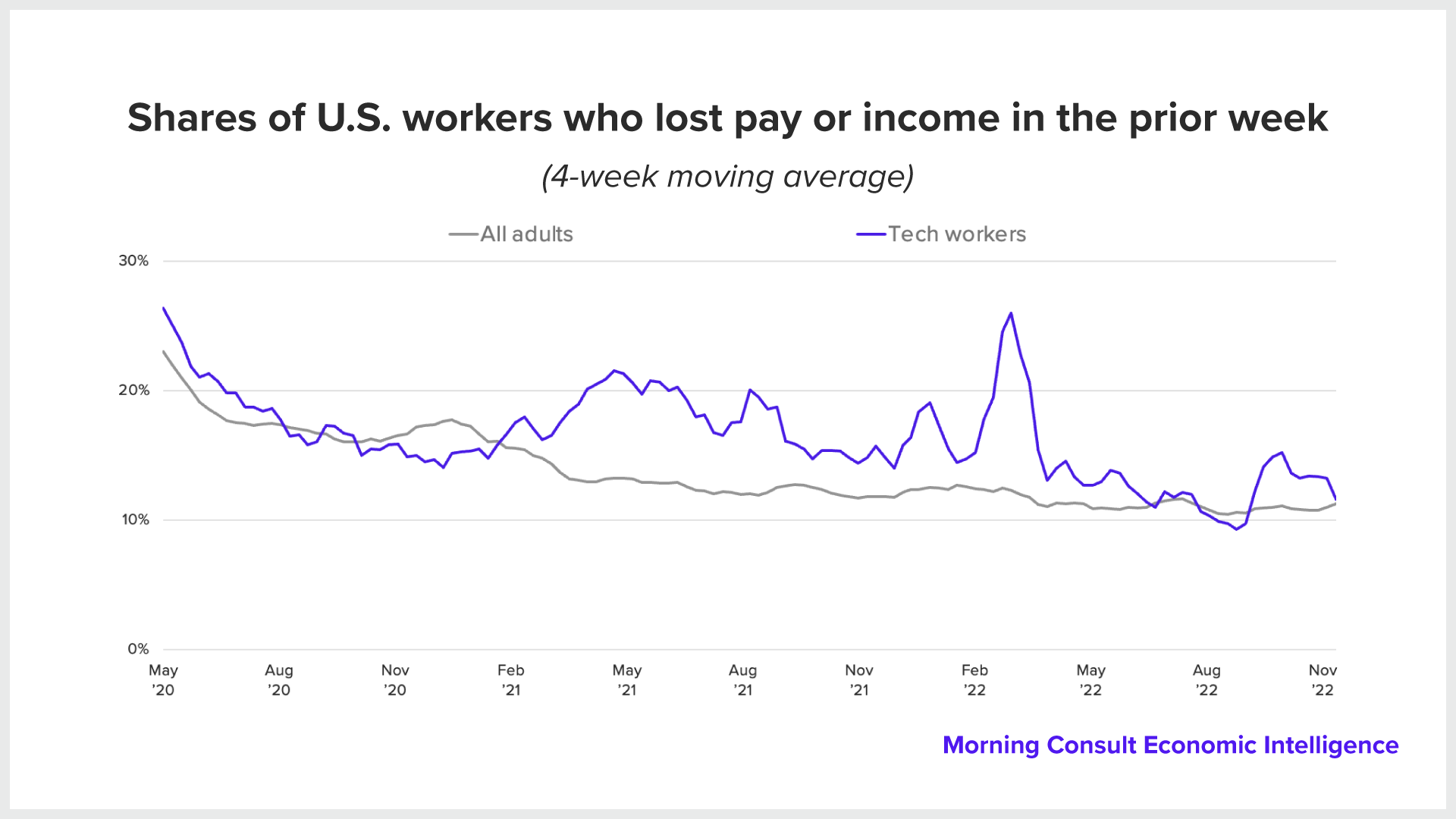 News coverage of layoffs has yet to drive overall job insecurity higher, though across industries, tech workers understandably feel the most vulnerable. From September to November, 16% of employed tech workers said they expected to lose employment income in the next four weeks, compared with 11% of all employed U.S. adults. 
"The biggest question now is whether the rollback of excessive hiring in the tech sector is indicative of an economy-wide issue," said John Leer, chief economist at Morning Consult. "Our high-frequency data shows little sign that is the case so far, and U.S. workers seem to agree."
Drawn from weekly surveys of 20,000 U.S. adults, Morning Consult's lost pay data closely mirrors initial unemployment claims and provides an early warning signal for weakness in the labor market. This month's findings, however, indicate layoffs remain contained in the tech sector and have yet to spur a long-term uptick in lost income. 
Want access to our high-frequency economic data and analysis? Request a demo today.
"The impact of tech layoffs on the U.S. economy will be muted by the fact that the sector makes up a relatively small share of overall employment," said Jesse Wheeler, economic analyst at Morning Consult. "While the demand for workers is likely to fall in the coming months, our data shows cracks in the labor market are still few and far between."
To speak with our team of economists about Morning Consult's high-frequency economic data, email press@morningconsult.com. 
Methodology
Morning Consult's U.S. Lost Pay/Income Survey provides an early, high-frequency indicator of the health of the U.S. labor market. The survey closely tracks initial unemployment claims. However, unlike weekly unemployment claims data, our data includes adults who lost pay or income but were either ineligible for unemployment benefits or did not apply for them, thus providing a more holistic signal of the strength of demand for workers.
Morning Consult surveys 17,000 consumers around the world each day on key economic indicators and conducts an additional 20,000 weekly interviews in the United States on lost pay or income.
About Morning Consult
Morning Consult is a global decision intelligence company changing how modern leaders make smarter, faster, better decisions. The company pairs its proprietary high-frequency data with applied artificial intelligence to better inform decisions on what people think and how they will act.
Among the company's decision intelligence solutions is Morning Consult Economic Intelligence, which features a suite of economic indicators supported by unprecedented global scale, frequency and depth. With forward-looking metrics, macro- and micro-level data, high-frequency data, and exclusive expert analysis, MCEI powers modern leaders' decision-making to lead, rather than react to, markets.