Brands
Essential marketing and PR news & intel to start your day.
January 26, 2023
Name, Image and Like…It?
In July 2021, three words changed the trajectory of college sports and brand marketing budgets forever: name, image and likeness (NIL). A year and a half after the NCAA ruled that student-athletes could profit off of these things, senior sports reporter Mark J. Burns and I set out to evaluate the NIL landscape. Are NIL campaigns grabbing consumers' attention? What's worked so far, and what hasn't? What does the future hold?
Despite fewer than 1 in 5 U.S. adults having seen, read or heard about any of the 10 recent Division I NIL deals tested in a new Morning Consult survey, athletes, brands and NCAA leaders are still largely bullish on the nascent marketing channel. Read more of our reporting here: 18 Months Into the NIL Era, Athletes, Fans and Brands Are Mostly Happy. But Messiness Remains.
Today's Top News
Meta Platforms Inc. announced it plans to reinstate former president Donald Trump's accounts on Facebook and Instagram "in the coming weeks." The reinstatement, which comes two years after Trump was suspended from both platforms over posts related to the Jan. 6 attack on the U.S. Capitol, will subject Trump to a slew of new Meta policies around restricting accounts of public figures during moments of civil unrest. (

Axios

)

Twitter Inc. introduced a new program, in partnership with ad tech companies DoubleVerify and Integral Ad Science, that allows brands to analyze the content adjacent to any advertising on the platform and can adjust campaigns if offensive or inappropriate language is detected. In a statement, Twitter head of brand safety A.J. Brown said validating the context in which ads are served is "incredibly important" to the platform, which continues to grapple with declining ad revenue. (

TechCrunch

)

IBM Corp. and SAP AG announced headcount reductions of 3,900 and 2,800 employees, respectively, becoming the latest tech companies to enact cost-cutting measures. The layoffs will impact less than 3% of each company's global workforce. (

CNN

)
A MESSAGE FROM MORNING CONSULT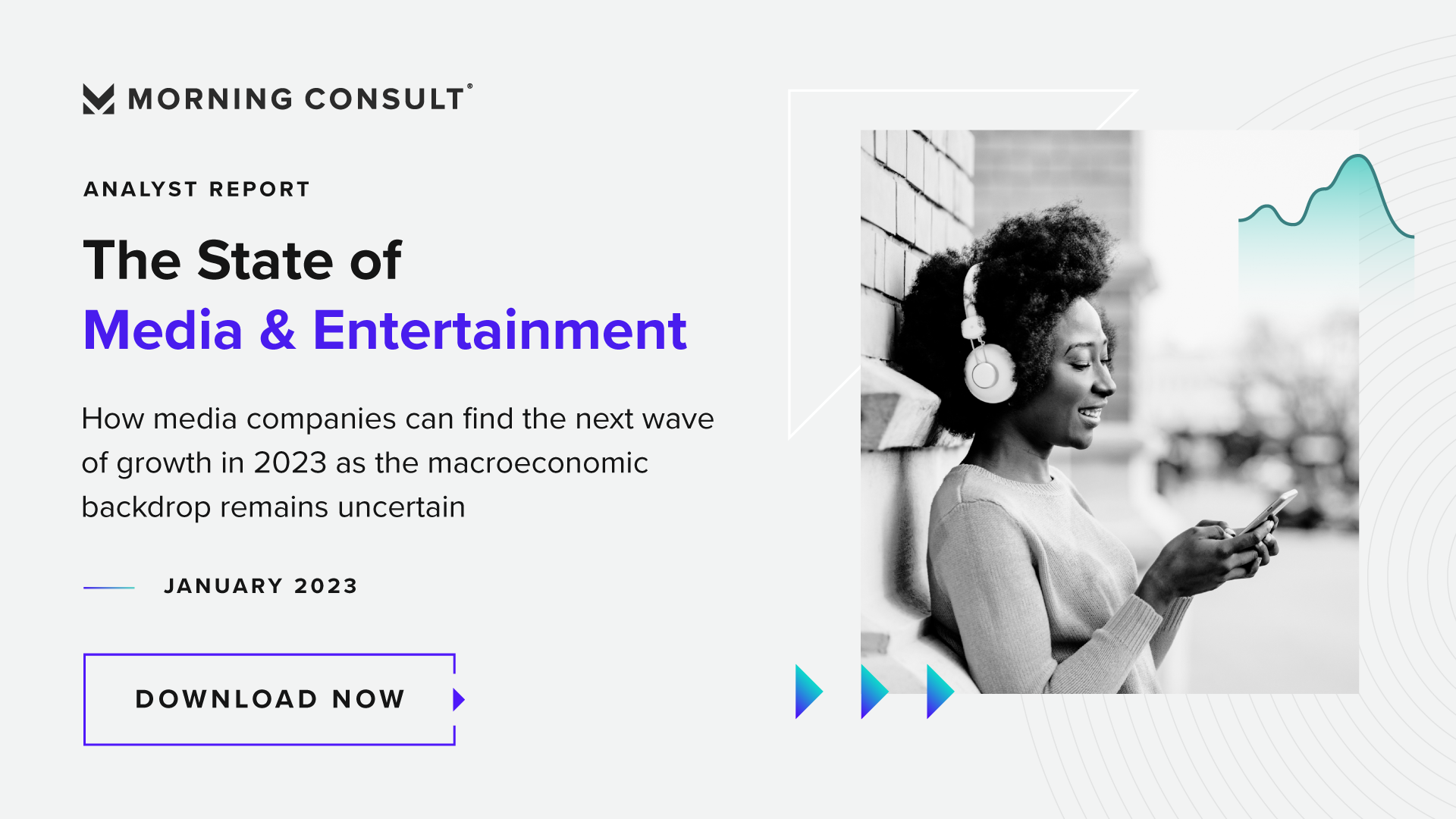 What Else You Need to Know
Media/Entertainment/Influencers
Social Media and Technology
TikTok Expands Direct Messaging
Kaya Yurieff, The Information
TikTok is quietly expanding its use of direct messaging, a feature that's become a mainstay of rival Instagram. It's just the latest way TikTok is grafting social network features onto its entertainment feed, as it tries to boost time spent on the app.
Apple beefs up smartphone services in 'silent war' against Google
Patrick McGee, Financial Times
iPhone-maker enhances maps, search and online advertising on iOS to challenge rival Android system.
Twitter Sued in Germany Over Vetting of Antisemitic Posts
Aggi Cantrill and Karin Matussek, Bloomberg
Twitter Inc. was hit by a lawsuit in Germany by an anti-hate speech organization and a European group of Jewish students in a bid to force the platform to remove antisemitic content. 
App downloads were stagnant in the fourth quarter, new analysis finds
Sarah Perez, TechCrunch
The global app economy slowed for the first time last year, as consumer spending on apps dropped 2% to $167 billion, according to a recent annual report put out by data.ai. 
Twitch is going to make pre-roll ads way less annoying
Ash Parrish, The Verge
Twitch is also adding a bunch of features for streamers and sharing what it's working on for creators in 2023 and beyond.
Microsoft Plans Security Features, Wider Release for Its OpenAI-Powered Coding Tool
Aaron Holmes, The Information
ChatGPT has generated headlines and hype since its release last year, with its humanlike responses to written prompts. But the business impact of the technology behind the chatbot may first emerge in a different arena: software development.
Elon Musk Explores Raising Up to $3 Billion to Help Pay Off Twitter Debt
Berber Jin and Alexander Saeedy, The Wall Street Journal
Billionaire has held talks with investors about selling new Twitter shares.
A&W addresses mascot's 'polarizing' lack of pants in riff on M&M's uproar
Peter Adams, Marketing Dive
A&W Restaurants in a tweet said it would outfit mascot Rooty the Great Root Bear in a pair of jeans moving forward due to the "polarizing" nature of his lack of pants. 
Avocados From Mexico Brings ChatGPT to Super Bowl Commercial
Asa Hiken, Ad Age
An in-ad QR code will connect viewers to a landing page integrated with the AI tool.
Why Real Brands Love Fake Holidays: Behind Calendar Creations Like National French Fry Day
Jon Springer, Ad Age
How brands are leaning into made-up holidays, including working with a North Dakota man who runs the National Day Calendar.
As activewear sales slow, Athleta turns attention to new categories
Danny Parisi, Glossy
Athleta, the Gap-owned athletic brand, is making a push into yoga this week with the release of its first collection of yoga accessories.
Doritos hints at a Missy Elliott and Jack Harlow 'love triangle' in Super Bowl teaser
Audrey Kemp, The Drum 
Doritos is plotting a star-studded Super Bowl LVII ad featuring not only Jack Harlow but also the "Queen of Rap" herself, Missy Elliott, per a new teaser released Wednesday.
First-Time Super Bowl Advertiser Workday Hopes to Make Noise in Big Game Debut
Brian Steinberg, Variety
A rookie Super Bowl advertiser aims to do this year what even a veteran might find challenging: Get people talking about technology they may never have known affects them every day.
How M&M's is making the most of its spokescandies controversy
Danielle Wiener-Bronner, CNN
Given the outsized attention, some think M&M's announcement is a PR stunt to hype its upcoming Super Bowl commercial. But experts note not all publicity is good. And M&M's may just be trying to regain control of a narrative that has spun out of control.
Southwest CEO maps out a recovery after holiday meltdown: 'We have work to do'
Leslie Josephs, CNBC
Southwest CEO Bob Jordan's message, after a holiday meltdown derailed the travel plans of millions, is clear: "I can't say it enough. We messed up."
Kohl's Closing In on Naming Permanent C.E.O.
Lauren Hirsch and Jordyn Holman, The New York Times
Tom Kingsbury, the interim chief executive, is in late-stage talks to replace Michelle Gass, who left the retailer to join Levi's last year.
Bloomberg LP is hiring 1,000 people while other media, finance, and tech companies slash staff
Lucia Moses, Insider
Bloomberg LP is on a hiring tear while other media, finance, and tech companies slash staff amid the softening economy. 
Why Matthew McConaughey and Will.i.am "frequently" attending Salesforce meetings matters
Cassie Werber, Quartz
Activist investors are sharpening swords in readiness for a battle over the company's future.
YouTube accused of using return-to-office policies to thwart union organizers
Jon Fingas, Engadget
YouTube Music contractors in the Austin area who voted to unionize are accusing their employers of abusing return-to-office policies to stifle labor organizers.
Is The Creative Industry Ready For The Four-Day Work Week?
Aimée McLaughlin, Creative Review
As the evidence in favour of the four-day work week mounts up, we speak to agencies large and small about why they won't be returning to the norm.
'Gen Z employees should be treated like customers–and they want the full package'
Sander Van't Noordende, Fortune
Over the past three years, the global workforce has transformed. The pandemic has completely altered the labor market–and right now, billions of workers are being affected by the highest inflation rates in generations. Job security is declining amid economic uncertainty–but talent shortages show no sign of slowing down.
Opinions, Perspectives and Research
Homeless at Starbucks: why the coffee chain is bringing in social workers
Frida Garza, The Guardian
Unhoused people use the cafe locations to warm up and rest – and now outreach workers can find them there and offer services. 
Why Are Toy Commercials Still Like This?
Stephanie Thomson, The Atlantic
Plenty of modern parents want their kids to play with whatever they like. But in ad-world, dolls are for girls, and trucks are for boys.
A tidal wave of AI automation is coming, fueled by labor shortages and a recession
Peter Guagenti, Fast Company
The CMO of Cockroach Labs explains how the deepening labor shortage will push companies to use more AI, but cautions they have to be ready.
I'm Whalar's first global chief creator officer, a new position focused on influencers and brands. Here's why I think more companies should add this role.
Shriya Bhattacharya, Insider
This as-told-to essay is based on a conversation with Ashley Rudder, Whalar's global chief creator officer. It has been edited for length and clarity.
We tried to run a social media site and it was awful
Bryce Elder, Financial Times
A few months ago, FT Alphaville thought it might be fun to host a Mastodon server. Boy, were we wrong!
This email was sent by: Morning Consult
729 15th St. NW Washington, DC, 20005, US