Brands
Essential marketing and PR news & intel to start your day.
January 24, 2023
A MESSAGE FROM MORNING CONSULT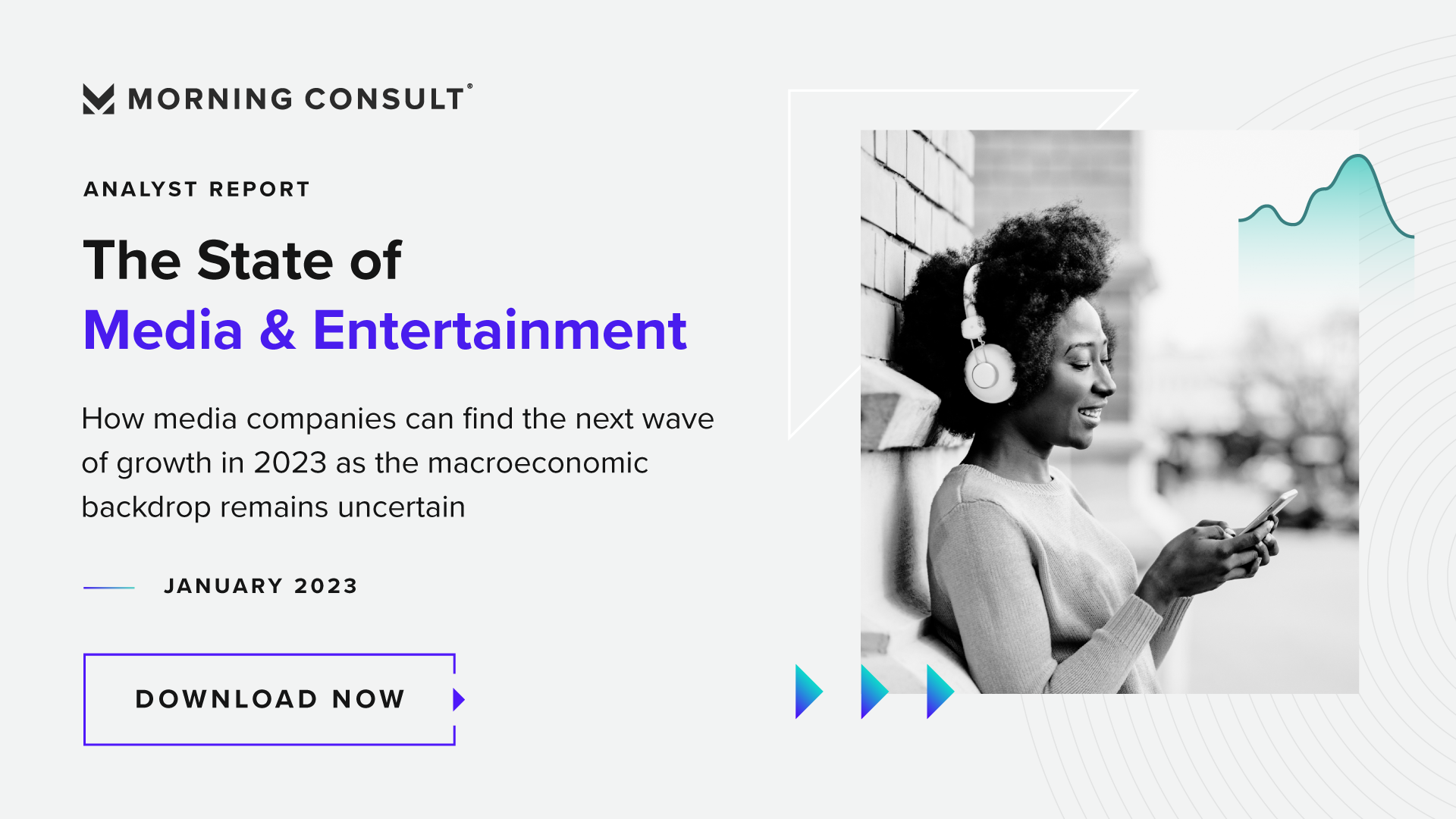 What Else You Need to Know
Media/Entertainment/Influencers
Netflix teams up with Bumble so users can bond over popular TV shows
Lauren Forristal, TechCrunch
Bumble is putting the phrase "Netflix and Chill?" to the test with the launch of a weekly in-app Netflix-themed question game called "Netflix Nights In" that asks users questions about a popular Netflix show. Users can play against their match to see who can answer all the questions correctly.
Live Nation exec will face lawmakers about Taylor Swift concert tickets fiasco
Parija Kavilanz, CNN
Lawmakers are set to grill top executives from the event ticketing industry on Tuesday after Ticketmaster's inability to process orders for Taylor Swift's upcoming tour left millions of fans unable to buy tickets or without their ticket even after purchase.
NBA, Meta Reach Multiyear Partnership Extension
David Cohen, Adweek
Live games from NBA League Pass will be available via Horizon Worlds.
Fox Business Tests New Programming Ground With 'Bottom Line'
Brian Steinberg, Variety
In a bright, wide-open studio at Fox News' Manhattan headquarters, where cable-news programs often stick to tried-and-true formats, Dagen McDowell and Sean Duffy are trying something a little unexpected: an experiment.
The Washington Post is not for sale, owner Jeff Bezos and the newspaper say
Chloe Melas, CNN
The Washington Post is not for sale, spokespeople for the newspaper and its owner Jeff Bezos told CNN on Monday.
Nate Silver and FiveThirtyEight Are on ABC's Chopping Block
Lachlan Cartwright, The Daily Beast
A decision on the future of the famed politics, economics, and sports analysis website is set to be made by the summer when Silver's contract is up, multiple people with knowledge of the situation told us.
'SNL' Postproduction Workers Authorize Strike as Contract Negotiations Stall
Katie Kilkenny, The Hollywood Reporter
The group, which is attempting to reach its first agreement with management after unionizing in October, is responsible for prerecorded segments on the iconic NBC show.
Social Media and Technology
Apple ramped up lobbying spending in 2022, outpacing tech peers
Lauren Feiner, CNBC
Apple ramped up its lobbying spending last year, increasing its total for the year by 44% compared to 2021, according to public disclosures.
Messenger ramps up testing of default end-to-end encryption
Aisha Malik, TechCrunch
Meta announced today that it has started gradually expanding testing default end-to-end encryption for Messenger. 
Creators report extremely low earnings from TikTok's ad revenue sharing initiative
Alexandra Sternlicht, Fortune
TikTok Pulse, the company's creator ad revenue sharing initiative, is paying creators negligible sums compared to competitors YouTube and Facebook.
Shopping app Temu is using TikTok's strategy to keep its No. 1 spot on App Store
Sarah Perez, TechCrunch
Temu, a shopping app from Chinese e-commerce giant Pinduoduo, is having quite the run as the No. 1 app on the U.S. app stores.
Natural Light is tapping into nostalgia with its new can design
Jordan Valinsky, CNN
Drinkers will soon notice a retro-inspired makeover that mirrors the budget beer brand's 1979 design, featuring a throwback logo, crest and colors. It's part of a broader campaign to mature the beer's identity, which is synonymous with college-aged drinkers.
Kristen Bell's CBD skin-care brand Happy Dance shutters, as it turns out people just want to get high
Liz Flora, Glossy
"It won't get you high!" was the tagline of Kristin Bell's CBD skin-care brand, Happy Dance, which launched less than two and a half years ago. The brand is now shutting down as its parent company shifts its focus to products that promise the exact opposite. 
TikTok is driving an offline lift in sales for some brands
Vidhi Choudhary, Modern Retail
While TikTok ads and posts are typically known for driving online traffic for brands either to their Amazon storefronts or DTC sites, some brands are observing an increase in their offline sales through these videos.
Luxury giants bank on Chinese return as Western shoppers sober up
Mimosa Spencer, Reuters
The focus of the luxury industry is shifting back to China, with hopes that its high-end spenders will once again splurge on designer goods during Lunar New Year festivities as Beijing relaxes COVID curbs after three long years.
Levi Strauss hires Nordstrom vet as chief digital officer
Tatiana Walk-Morris, Retail Dive 
As it pursues a direct-to-consumer strategy, Levi Strauss & Co. has hired Jason Gowans to be its new senior vice president and chief digital officer for LS&Co., according to a Thursday press release.
Kim Kardashian Tapped The White Lotus's Italian Scammers for Valentine's Day Skims Campaign
Emily Tannenbaum, Glamour
"I watched The White Lotus and had to have my girls!"
Bud Light Moves Away From Humor in its First Ad From Anomaly
Jon Springer, Ad Age
'Handful' spot showcases new brand voice ahead of Super Bowl.
TikTok Warns Remote Employees They Risk Losing Jobs
Kaya Yurieff, The Information 
TikTok is cracking down on remote work, telling some U.S. workers they could lose their jobs unless they show they have already moved near their assigned offices.
Could virtual interns and brand safety bots be the future of AI for media agencies?
Antoinette Siu, Digiday
Artificial intelligence may not be taking over media agencies' jobs yet, but some of this technology is already sitting, and working, next to you.
For Tech Companies, Years of Easy Money Yield to Hard Times
David Streitfeld, The New York Times
Rock-bottom rates were the secret engine fueling $1 billion start-ups and virtual attempts to conquer the physical world. But in 2023, reality bites.
Google's Pichai Tells Staff Cuts Avoided 'Much Worse' Issues
Julia Love and Morwenna Coniam, Bloomberg
In an internal meeting, Sundar Pichai, who is CEO of Google parent Alphabet Inc., said he had consulted with the company's founders and board in making the decision for 6% cuts, according to remarks reviewed by Bloomberg.
Media layoffs loom large over 2023
Kerry Flynn and Sara Fischer, Axios
A slew of media companies and tech firms have begun to announce sweeping job cuts as the economy continues to face uncertainty.
Opinions, Perspectives and Research
Why Gen-Z Yellow Will Never Be Millennial Pink
Diana Pearl, Business of Fashion
Gen-Z's bright aesthetic may be rising in popularity, but the generation's individualistic nature may keep it from becoming a full-blown phenomenon.
Reddit just hired its first-ever CRO. He tells Insider how Reddit's ad sales team quintupled since 2020, and why a bad economy won't keep it from hiring more this year.
Ryan Joe, Insider
Media companies have struggled over the last few months, as advertisers cut back. Most recently, Vox laid off 7% of its staff. But Reddit so far is insistent on bucking the trend. 
94% of TV viewers are fed up of traditional 30-second ads. So what's the alternative?
Hannah Bowler, The Drum
Roku has tested three new ad formats and found them to have 57% higher brand recall than typical spots.
Hotels Embrace Blue-Collar Workers to Prop Up Sagging Business Travel
Will Feuer and Kate King, The Wall Street Journal
Hotel owners are lamenting a drop-off in corporate travel during the pandemic as finance, tech and other professionals spend less time on the road. But hoteliers are cheering the boom in travel by blue-collar workers.  
How M&M's Found Itself in the Culture Wars
Daniel Victor, The New York Times
The candy brand announced that Maya Rudolph would replace its promotional cartoon characters, which have been the focus of a partisan backlash.
This email was sent by: Morning Consult
729 15th St. NW Washington, DC, 20005, US