Brands
Essential marketing and PR news & intel to start your day.
November 23, 2022
Morning Consult Brands will be off for the rest of the week for the Thanksgiving holiday. The newsletter will resume on Monday.
A MESSAGE FROM MORNING CONSULT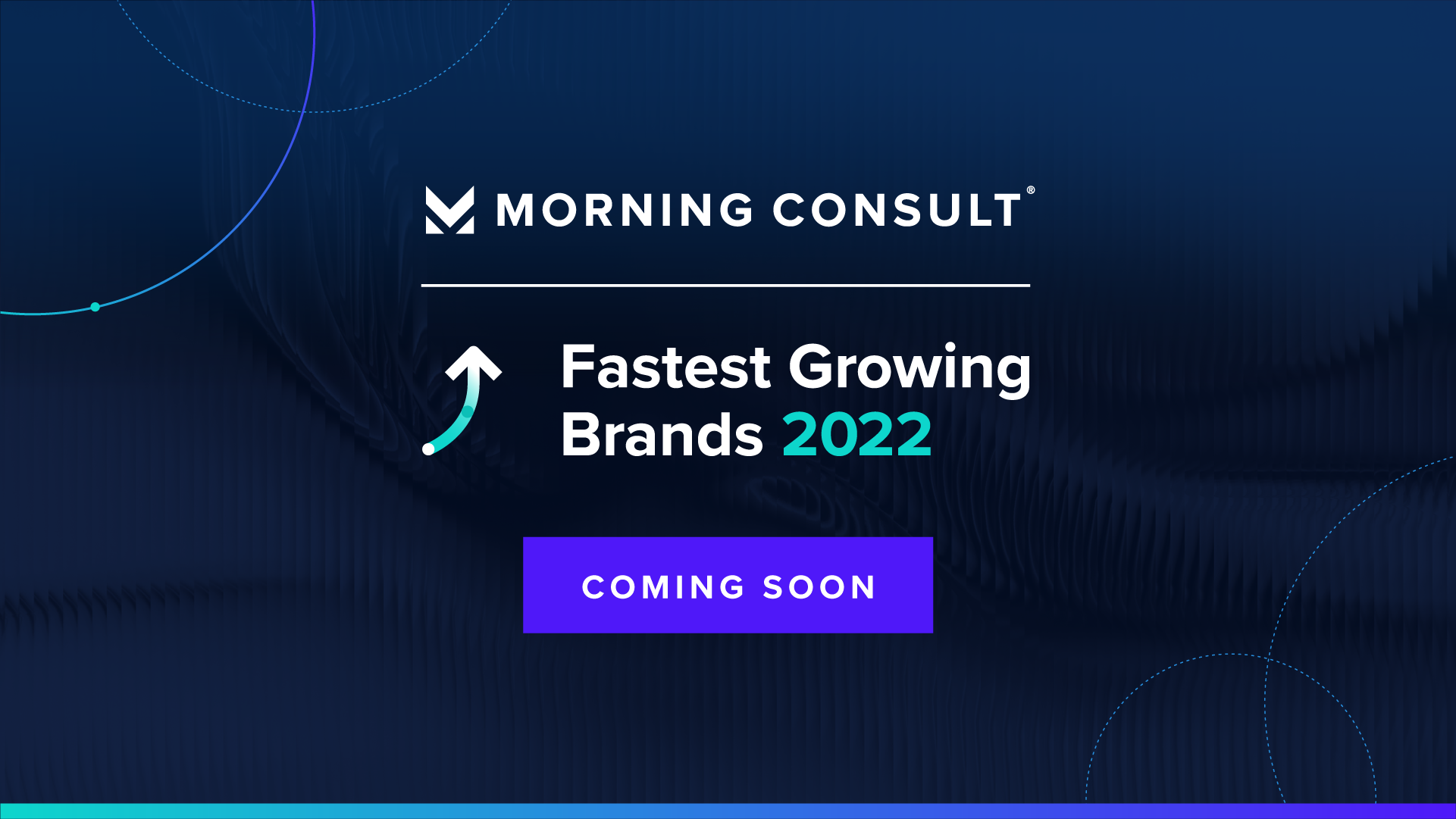 What Else You Need to Know
Ed Sheeran, Dua Lipa and Music Publishing Drive Warner Music Revenue Growth
Georg Szalai and Etan Vlessing, The Hollywood Reporter
Fiscal fourth-quarter revenue rose 8.8 percent, or 16 percent in constant currency terms, to $1.50 billion, driven by the music publishing gain and digital revenue growth.
Cristiano Ronaldo Hits 500 Million Instagram Followers After Louis Vuitton Ad
Benoit Berthelot and Angelina Rascouet, Bloomberg
Cristiano Ronaldo became the first person to pass 500 million followers on Instagram after posting a Louis Vuitton ad featuring himself and fellow football player, Lionel Messi. 
A group of Taylor Swift fans who are also lawyers is organizing to take on Ticketmaster 
Nicole Tabak, Insider
Swifties are now crafting ways to allow more fans to enjoy the Eras Tour, like creating fan-to-fan resale ticket Twitter threads to evade lucrative scalper websites. Some, who are lawyers themselves, are even looking to advocate on behalf of those who say they've had uniquely troubling Ticketmaster experiences.
'Top Gun: Maverick' Sets Streaming Date On Paramount+
Greg Evans, Deadline
Paramount+ announced today that Top Gun: Maverick, the top grossing film of 2022, will be available to stream globally on the service beginning Thursday, Dec. 22 in the U.S. as well as in Canada, Australia, Germany, Switzerland, Austria, Italy and previously announced markets – the UK and Latin America. It will be available in South Korea and France in 2023. 
The Athletic to double women's sports coverage
Sara Fischer, Axios
The Athletic plans to double its coverage of professional women's sports through a multiyear partnership with Google, its chief commercial officer Seb Tomich told Axios. 
Disney Hit With Antitrust Suit Over Live Streaming TV Prices
Winston Cho, The Hollywood Reporter
YouTube TV subscribers take issue with Disney's ownership of Hulu and ESPN, which they say has allowed the company to drive up prices across the market. 
Manchester United: Glazer Family Consider Selling Global Football Giant
Jesse Whittock, Deadline
The Glazer family's ownership of football giant Manchester United could be set to end. A note to the New York Stock Exchange yesterday confirmed they are expiring "strategic alternatives" for the English football club, including the possibility of selling up.
Social Media and Technology
Lyft is recycling its e-bike and scooter batteries with Redwood Materials
Andrew J. Hawkins, The Verge
The companies will work together to collect, process, and recycle the batteries from Lyft's shared micromobility operations, which includes popular systems like Citi Bike in New York City. 
Elon Musk says Twitter is 'holding off' restarting paid verification over impersonation concerns
John Passantino, CNN
Elon Musk said that Twitter is "holding off" the restart of his paid account verification plan over continued concerns of impersonation on the social media platform. "Holding off relaunch of Blue Verified until there is high confidence of stopping impersonation," Musk wrote in a tweet. "Will probably use different color check for organizations than individuals."
How TikTok changed the role of social and education teams
Emma Sandler, Glossy
TikTok's importance to advertising is unquestionable. Even talking about how important it is feels blasé. What I find more interesting is our relationship with the social media platform — as individuals, as brands — and as the parasocial relationships it facilitates between individuals and brands.
Twitter is making DMs encrypted and adding video, voice chat, per Elon Musk
Alex Heath, The Verge
Musk says the creator of Signal is interested in helping make it so that "I can't look at anyone's DMs if somebody has put a gun to my head." 
Meta told to overhaul content removal policy after Instagram drill music case
Cristina Criddle, Financial Times
Meta has been told to overhaul how it deals with removal requests from state entities such as the police, after the company's oversight board ruled it was wrong to ban a music video that UK law enforcement argued would "contribute a risk to offline harm".
Spotify launches audiobooks to more English-speaking markets outside the U.S.
Sarah Perez, TechCrunch
Spotify is expanding its newly launched audiobooks service outside the U.S., the company announced today. The service will now become available in other English-speaking markets, including the U.K., Ireland, Australia and New Zealand, allowing users to access Spotify's catalog of audiobook titles from the streaming app. 
Don't like Musk? Work for us! Tech firms woo ex-Twitter staff
Martin Coulter, Reuters
Put off by Elon Musk's muscular management style? Move to us! That's the pitch being used by talent-starved technology firms trying to lure thousands of former Twitter Inc employees laid off by the social media company under its new owner. 
Venmo Adds In-App Charitable Donations, Redesigned Send Money Screen
Sarah Perez, TechCrunch
PayPal-owned Venmo is today rolling out two changes to its peer-to-peer payments app, including the ability to donate to charities through Venmo as well as a redesigned money-sending experience. The latter aims to make it easier to see how much you're sending and who you're sending to, while also improving the ability to either pay or request multiple payments at once. 
HP says it will lay off up to 6,000 workers over the next couple years
Catherine Thorbecke, CNN
HP Inc. announced on Tuesday that it will lay off thousands of workers over the next three years, becoming the latest tech company to significantly downsize staffing amid a souring economic climate.
U.S. House Republicans press TikTok on Chinese data sharing
Reuters
Republican members of Congress, who will set the agenda for the House next year, pressed short video app TikTok on Tuesday over concerns the company may have misled Congress about how much user data it shares with China, where owner ByteDance is headquartered.
Frito-Lay & PepsiCo Beverages invite snow friends plus Hall & Oates to 'Share more joy'
Webb Wright, The Drum
The new TV spot, debuting nationally on Thanksgiving Day, is part of the brands' collaborative 'Share more joy' campaign. 
'We're mandating its use': Estée Lauder turns to TikTok marketing after reach on Instagram stalls
Seb Joseph and Krystal Scanlon, Digiday
When Estée Lauder's reach on Instagram started to slow across EMEA, its marketers turned to TikTok.  Obviously, there's more to it. The early success of the brand's global TikTok account, for one. But the crux of the brand's decision to be on TikTok came down to Instagram.
Ice Cream Binge Prompts Chocolatier Barry Callebaut to Boost Americas Output
Isis Almeida and Geoffery Morgan, Bloomberg
The world's largest maker of bulk chocolate is boosting production capacity in the Americas to meet rising demand from the ice cream industry.
Balenciaga under fire over 'creepy' ads of kids with 'bondage outfits'
Brooke Kato, The New York Post
They're tied up in a scandal. Balenciaga is under fire online after showing two young girls holding stuffed animals dressed in what appears to be bondage gear in an advertisement.
Kia's rebrand has left many people wondering who 'KN' is
Mitchell Clark, The Verge
A tale of rebrands, search engine optimization, and the difficulty of trying to figure out what car you're looking at. 
Best Buy, Dick's Ease Fears About Holiday Spending
Sarah Nassauer and Dean Seal, The Wall Street Journal
Retailers post mixed quarterly results but say their sales won't drop as much as expected.
Opinions, Editorials, Perspectives and Research
Can We Stop It With The Brand Safety Double Standard Already?
Allison Schiff, AdExchanger
My question is, why is it considered a brand safety issue for advertisers to buy against news content when it's clearly not an issue for national brands to advertise against violent, albeit fictional, content elsewhere? 
When did customers of luxury brands get so young?
Tiffany Ap, Quartz
Fluency in designer goods is next to native for a new generation. It wasn't always this way. 
What Will Iger Do with ESPN and Hulu?
Andrew Ross Sorkin et al., The New York Times
With Robert Iger back in charge at Disney, his to-do list takes shape: turn around the streaming businesses, and groom a successor.   
Do companies need to get more creative with how they work? 
Patrick Burgoyne, Creative Review
Evidence suggests that adopting inventive, individual styles of working can aid creative thinking, yet agencies and studios remain conservative in their approach.
This email was sent by: Morning Consult
729 15th St. NW Washington, DC, 20005, US