Brands
Essential marketing and PR news & intel to start your day.
February 7, 2023
Today's Top News
Twitter Inc. reportedly had 180,000 U.S. subscribers, or less than 0.2% of monthly active users, for its Blue offering as of mid-January, according to an internal document reviewed by The Information. The U.S. figure accounts for 62% of the social media platform's global subscriber total, which suggests an annual product revenue of $28 million — less than 1% of the $3 billion Twitter expects to generate this year. (

The Information

)

Alphabet Inc.'s Google said its artificial intelligence chatbot, Bard, will be integrated into certain search functions and released to the public in the coming weeks. (

CNBC

)

Meanwhile, Microsoft Corp. plans to hold an event today to share progress on "a few exciting projects," raising speculation about developments surrounding its recent multibillion-dollar investment in OpenAI's ChatGPT, with which Google's Bard will compete. (

Bloomberg

)

Bed Bath & Beyond Inc. announced it will pursue a public offering in hopes of generating $1 billion to repay its debts and fund immediate business operations. The embattled retailer has closed hundreds of stores and warned of bankruptcy in recent months. (

The New York Times

)
A MESSAGE FROM MORNING CONSULT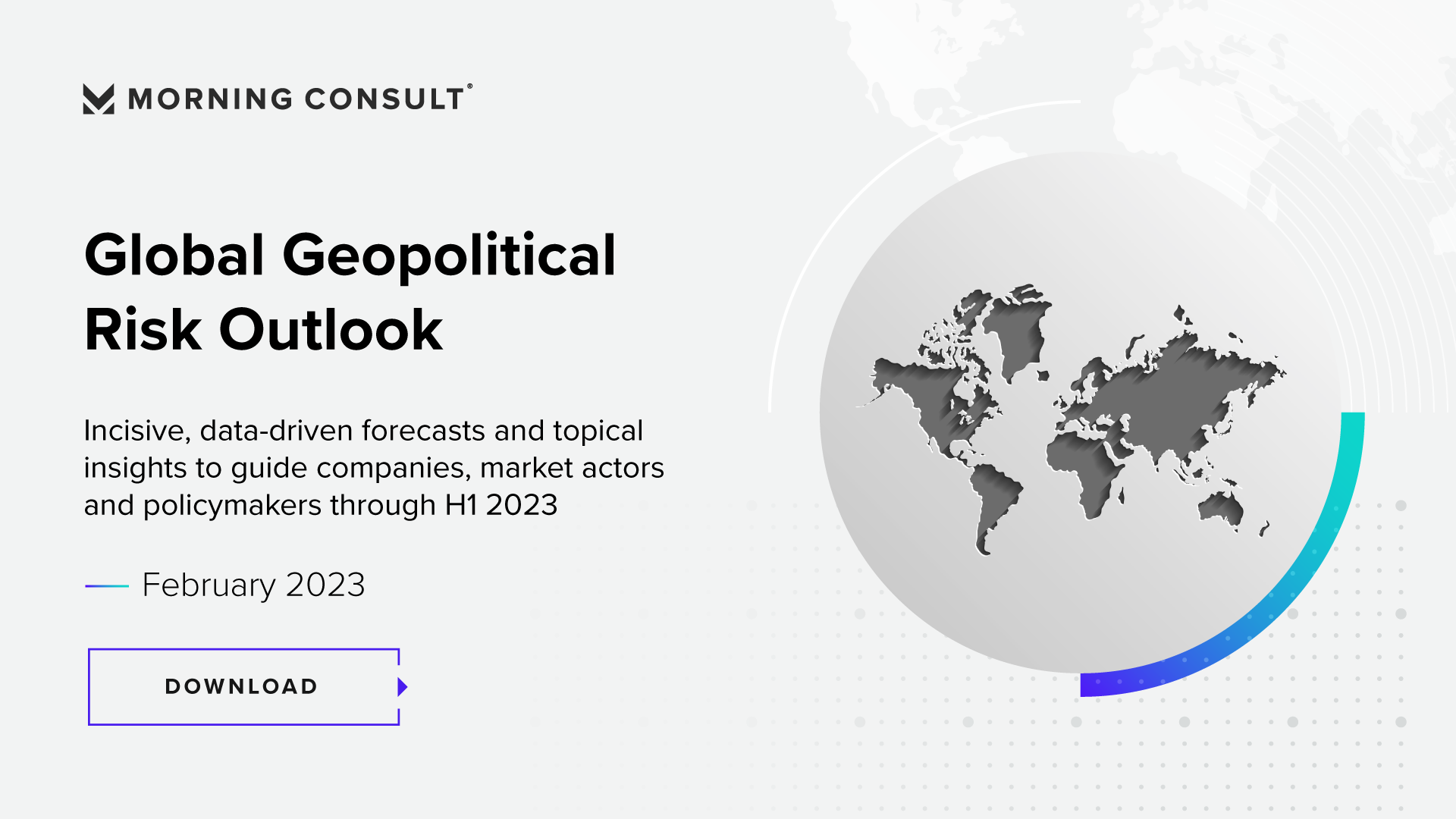 What Else You Need to Know
Fox Sells Out Super Bowl, Peak :30s Go For $7M+
Karlene Lukovitz, MediaPost
The cryptocurrency "implosion" and advertisers' concerns about the global economy slowed the sales of the last 5% of inventory, Fox Sports said.
Google, Meta and large media agencies Havas, Horizon are increasingly focused on, and investing in, AI-powered advertising
Seb Joseph and Marty Swant, Digiday
The ways in which artificial intelligence will underpin online ad growth are coming into sharper focus.
Breef raises $16M to match brands with marketing agencies
Kyle Wiggers, TechCrunch
The new capital brings Breef's total raised to $21 million, which co-founder and CEO George Raptis says will be put toward continuing to develop the company's product and growing the size of Breef's workforce from 30 people to roughly 60 by 2024.
Move Over Crypto, Booze Ads Are Flooding the Super Bowl
Gerry Smith, Bloomberg
For the first time in more than three decades, Super Bowl viewers will see ads from alcohol brands other than Anheuser-Busch InBev SA. In June, the Budweiser brewer gave up its rights as the exclusive alcohol brand in the big game, giving other beer and liquor makers a turn.
Media/Entertainment/Influencers
Getty Images sues AI art generator Stable Diffusion in the US for copyright infringement
James Vincent, The Verge
Getty Images has filed a case against Stability AI, alleging that the company copied 12 million images to train its AI model 'without permission or compensation.'
AI-Generated 'Seinfeld' Show Banned on Twitch After Transphobic Standup Bit
Jason Koebler, Vice News
"Nothing, Forever," the infinitely-generating AI version of Seinfeld that tens of thousands of people were watching has been banned for 14 days from Twitch after Larry Feinberg—a clone of Jerry Seinfeld—made transphobic statements during a standup bit late Sunday night.
DirecTV said money, not politics, guided decision over Newsmax
Matthew Keys, The Desk
Satellite broadcaster DirecTV said money, not politics or social ideology, was the element that provoked it to drop conservative commentary network Newsmax in January.
Brady says he will start Fox Sports broadcasting career in 2024
Reuters
Recently-retired quarterback Tom Brady said on Monday he will make his highly-anticipated debut as a lead NFL analyst with Fox Sports in the fall of 2024.
Black Creators Are Finding Fewer Brand Partnerships For Black History Month
Gillian Follett, Ad Age
Several creators told Ad Age that the influx of opportunities from brands they have seen over the past two years has all but vanished.
Super Bowl Betting Projected to Hit Record $16 Billion
Katherine Sayre, The Wall Street Journal
Sunday's game will be first NFL championship played in a state with legalized sports betting.
Media braces for the robot era
Sara Fischer, Axios
Facebook's many pivots pushed media outlets to move their focus away from social media and toward search — but now experts predict another major disruption for publishers relying on search traffic.
Vox Media Is Raising $100 Million From Penske Media
Benjamin Mullin and Katherine Rosman, The New York Times
Vox Media, owner of publications including New York Magazine and tech site The Verge, is raising $100 million from Penske Media, the owner of a swath of entertainment and trade publications including Rolling Stone and Variety.
'Yellowstone' Shocker: Kevin Costner Cowboy Drama Series Plots End As Taylor Sheridan Eyes Franchise Extension With Matthew McConaughey
Peter White, Deadline
Deadline understands that Taylor Sheridan, co-creator and showrunner, Paramount Global and Paramount Network are moving to end their signature show in its current form. But they are plotting a potential franchise extension to continue the Dutton saga, a new show with Matthew McConaughey in talks to star. 
Social Media and Technology
OpenAI Is Drawing Competition From Fleet of Startups
Dina Bass and Priya Anand, Bloomberg
A small army of startups and tech giants is vying to outdo the AI darling of the moment. 
Meta to Revamp Horizon Metaverse App, Plans to Open for Teen Use as Soon as March
Salvador Rodriguez, The Wall Street Journal
Memo highlights social-media giant's plan to revitalize app, boost users in 2023.
Pinterest reaches 450 million monthly users, will focus on making videos 'shoppable'
Ivan Mehta, TechCrunch
Pinterest said during its latest earnings call that the service now has 450 million monthly active users globally, a 4% jump year-on-year. The company noted that while the user base in the U.S. and Canada stayed at 95 million, growth in other regions contributed to this milestone.
The People Onscreen Are Fake. The Disinformation Is Real.
Adam Satariano and Paul Mozur, The New York Times
For the first time, AI generated personas, often used for corporate trainings, were detected in a state-aligned information campaign, opening a new chapter in online manipulation.
Honda, Acura tee up Topgolf deal in swing for millennials, Gen Z
Chris Kelly, Marketing Dive
American Honda Motor Co., parent company of Honda and Acura in North America, announced a multi-year partnership that makes the brands the official automotive partners and official vehicles of golf entertainment company Topgolf, per a press release.
AMC will start charging more for better movie theater seats
Jordan Valinsky, CNN
America's largest movie chain announced that the prices of a ticket will now be based on seat location, meaning seats in the front will be cheaper while more desirable seats in the middle will now cost more. The ticket pricing initiative, called Sightline at AMC, will roll out at all of its roughly 1,000 movie theaters by the end of the year.
See Alicia Silverstone School 'Clueless' Fashionistas in Rakuten's Nostalgic Super Bowl Ad
Leslie Blount, Adweek
The Big Game spot kicks off a partnership with designer Christian Siriano.
Retailers try to curb theft while not angering shoppers
Anne D'Innocenzio, The Associated Press
Across the retail landscape, businesses have been putting items under lock and key as a quick way to stop thieves. Some are considering extreme measures, including Rite Aid Corp., whose chief retail officer Andre Persaud told analysts on an earnings call late last year that it's looking at "literally putting everything behind showcases to ensure the products are there for customers who want to buy it."
Crypto Brands Reposition Themselves in Wake of FTX and Market Tumble
Patrick Coffee, The Wall Street Journal
Once crypto was marketed as the transgressive future of finance. Now its message is simpler: dependability, transparency and trust. As one crypto chief put it: 'Boring is not bad.'
Anytime Fitness Works Out a Clever Way Into Super Bowl 57—Without an In-Game Slot
Sara Century, Adweek
Mischief @ No Fixed Address crafts #JustHeardAnytime to help viewers win big.
Old Spice reveals first brand mascot as Super Bowl anticipation heats up
Peter Adams, Marketing Dive
Old Spice is introducing its first brand mascot as part of a "Smelf-Confidence" campaign that leans on musical theater tropes, according to a news release.  
Apple Heads the Management Top 250 All-Stars
The Wall Street Journal
Seven companies excelled in all five components of the latest ranking of management effectiveness.
Tech's grip on largest office leases loosens
Sami Sparber, Axios
The pullback comes as the roller-coaster tech industry downsizes after a decade-long boom.
How newsroom unions intervene when members get laid off
Sara Guaglione, Digiday
Newsrooms have been unionizing at a rapid pace in the past decade, especially since the pandemic began. But amid the wave of recent layoffs in the media sector, what are all these new unions doing now to help the hundreds of people that have been let go?
Major trading firm lifts ban on side hustles—opening the door for employees to become YouTubers or startup founders
Chloe Taylor, Fortune
Employees at major Japanese trading house Mitsui & Co. have just been given a new workplace perk: the freedom to pursue side hustles.
100,000 Green Jobs Announced Since US Adopted Climate Law, Study Finds
Carly Wanna, Bloomberg
Since the Inflation Reduction Act became law, companies have said they'll create jobs in wind and solar energy, EV manufacturing and other clean energy sectors, according to the group Climate Power. 
Boeing plans to cut about 2,000 finance and HR jobs in 2023
The Associated Press
Boeing plans to make staffing cuts in the aerospace company's finance and human resources departments in 2023, with a loss of around 2,000 jobs, the company said.
Opinions, Perspectives and Research
This email was sent by: Morning Consult
729 15th St. NW Washington, DC, 20005, US