Brands
Essential marketing and PR news & intel to start your week.
June 11, 2021
Top Stories
Prices for advertisers to take over TikTok's homepage will reportedly cost more than $1.4 million in 2021's third quarter, more than $1.8 million in the fourth quarter and $2 million for a holiday, according to a document seen by Bloomberg, and people familiar with the terms said this represents a significant increase from what the short-form video app charged a year ago. (

Bloomberg

)

Despite saying in March that a return to the office would allow its employees to "invent, collaborate, and learn together most effectively," Amazon.com Inc. told workers in an internal posting that it will offer the option to work remotely up to two days a week, with the baseline of spending three days in the office. The company said it expects teams to begin returning to U.S. offices, as well as a number of international offices, the week of Sept. 7. (GeekWire)
Netflix Inc. launched an online shop that sells branded merchandise related to its streaming content, such as "Lupin" throw pillows and a $135 clock based on its anime series "Yasuke." Located at Netflix.shop, the website's debut continues the company's recent push into the retail market, an effort driven by executive Josh Simon, who joined the company in March 2020 after leaving Nike Inc. (The New York Times)
Correction: Friday's newsletter included a chart from an analyst's note in which the headline incorrectly stated that "Half of the Public Doesn't Trust Fintech." The correct figure is 26 percent.
Events Calendar (All Times Local)
A MESSAGE FROM MORNING CONSULT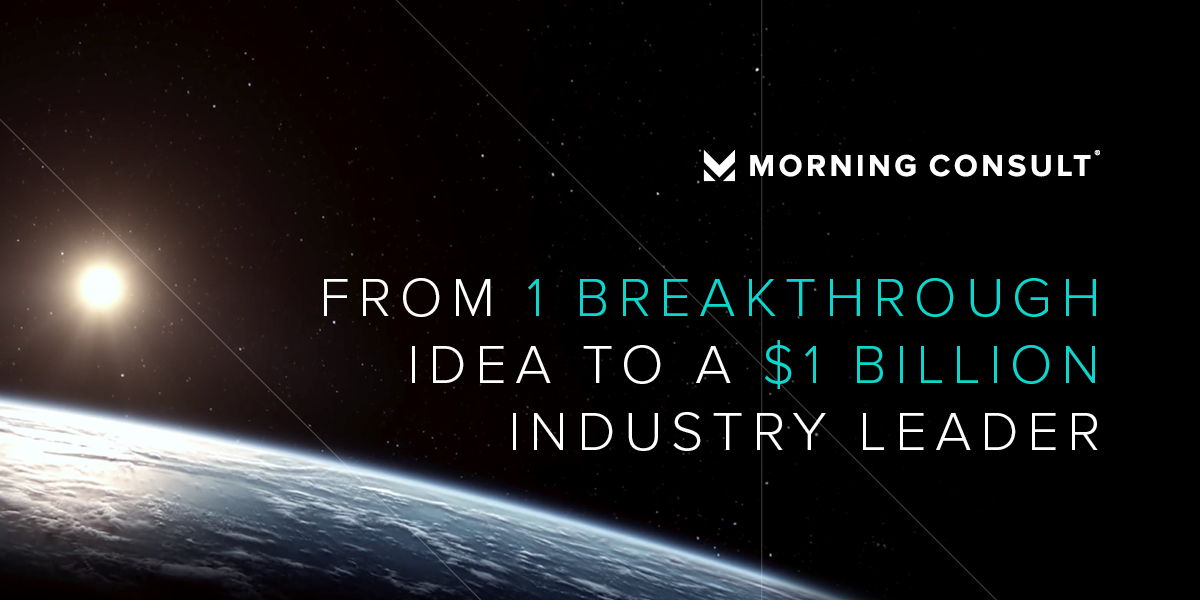 What Else You Need to Know
Despite Pandemic, TV Ad Revenues Shine In 2020
Adam Jacobson, Radio and Television Business Report 
Yes, the COVID-19 pandemic had a big impact on local television revenues in 2020. But the 2020 elections ultimately kept the industry in a good position by year's end.
BuzzFeed To Raise $200 Million in Bonds As SPAC Deal Nears
Jessica Toonkel et al., The Information
BuzzFeed is in discussions to raise about $200 million in convertible bonds to supplement cash it will raise by merging with a special purpose acquisition company, say people familiar with the situation.
Sinclair raising $250M for new sports streaming service, sources say
Josh Kosman, New York Post
Sinclair Broadcast Group is quietly raising money for a new service that would stream games by the St. Louis Cardinals, the Dallas Mavericks and scores of other popular sports teams to fans over the Internet, The Post has learned.
Jason Miller to head tech startup that could become Trump platform
Alex Isenstadt and Meridith McGraw, Politico
Longtime senior Donald Trump adviser Jason Miller is taking over as chief executive officer of a tech startup company that could be used by the former president.
American Public Media & Cadence13 Strike Podcast Partnership
Peter White, Deadline
Audacy will support the partnership through marketing and development opportunities across its radio and digital platforms.
Jeffrey Toobin is back at CNN eight months after exposing himself on Zoom
Brian Stelter and Oliver Darcy, CNN
Jeffrey Toobin returned to CNN as the network's chief legal analyst on Thursday, eight months after he exposed himself during a Zoom call with colleagues at The New Yorker.
Schitt's Creek Partnered With a Yarn Brand So You Can Make Your Own David Rose Sweaters
T.L. Stanley, Adweek
The New Jersey-based craft brand has inked a licensing deal with ITV Studios, global distributor of the Emmy-winning series, for a product line to be released late this year.
Social Media and Technology
Twitch Expands Brand Sponsorships on Non-Esports Content
Ilyse Liffreing, Ad Age
As Twitch has grown in content, viewers and brand partners, the Amazon-owned streaming platform popular with gamers is expanding its brand sponsorship opportunities to more content outside of competitive esports streams.
Adult Swim Didn't Start Its TikTok Trend, but the Network Is Running With It
Kelsey Sutton, Adweek
In the past week, hundreds of thousands of users have posted their own video takes on Adult Swim's long-running linear bumpers: the 10- or 15-second Adult Swim-branded clips that have appeared for years between shows running on the counterpart to Cartoon Network.
Facebook IQ Shares Topics to Watch in Q1 2021 Among US Facebook, Instagram Users
David Cohen, Adweek
All-inclusive resort, body positive movement, streetwear, travel photography.
Google Seeks to Break Vicious Cycle of Online Slander
Kashmir Hill and Daisuke Wakabayashi, The New York Times
In response to Times articles, the search giant is changing its algorithm, part of a major shift in how Google polices harmful content.
Messenger adds Venmo-like QR codes for person-to-person payments in the US
Sarah Perez, TechCrunch
This spring, Facebook confirmed it was testing Venmo-like QR codes for person-to-person payments inside its app in the U.S. Yesterday, it announced those codes are now launching publicly to all U.S. users, allowing anyone to send or request money through Facebook Pay.
Twitter to add a newsletter 'subscribe' button to profiles for simple sign-ups
Jack Morse, Mashable
The "subscribe" button, which will live prominently on the profile pages of those who choose to turn on the feature, will be available to anyone with a Revue account (sorry, Substackers). 
Electronic Arts Discloses Hack of 'FIFA 21' Source Code
Allison Prang, The Wall Street Journal
Electronic Arts Inc. said Thursday that hackers stole source code on its "FIFA 21" videogame. The maker and publisher of popular franchises such as FIFA, The Sims and Madden NFL said player data wasn't accessed.
How Microsoft Is Ditching the Video Game Console Wars
Kellen Browning, The New York Times
Known for the Xbox, Microsoft has been diversifying away from boxy hardware in favor of reaching millions more new gamers.
American Airlines Invests in Electric Flying Taxis
Alison Sider, The Wall Street Journal
American Airlines Group Inc. is the latest carrier to get in on the flying taxi trend as airlines, aerospace manufacturers and tech companies vie to get the new aircraft off the ground.
A top McDonald's PR exec is leaving after 'two of the most challenging years' of the fast-food giant's history
Kate Taylor, Insider Premium
David Tovar, the head of McDonald's US communications team, is leaving the fast-food giant. 
Back-to-school spending likely to top pre-pandemic levels as parents and kids seek a fresh start
Melissa Repko, CNBC
Sales from mid-July to early September are expected to rise 5.5% year over year and 6.7% compared with 2019, according to a forecast by Mastercard SpendingPulse.
Starbucks, Flush With Customers, Is Running Low on Ingredients
Julie Creswell, The New York Times
At locations across the country, there have been complaints about shortages of key ingredients for popular drinks, breakfast foods and even cups, lids and straws.
Amazon will pay $62 million over deceptive delivery tips claims
Ben Brody, Protocol
The company said it would pay delivery drivers up to $25 hourly plus tips, but the FTC had alleged it kept a third of tips.
Amazon Faces Possible $425 Million EU Privacy Fine
Sam Schechner, The Wall Street Journal
A European Union privacy regulator has proposed a fine of more than $425 million against Amazon.com Inc., part of a process that could yield the biggest-yet penalty under the bloc's privacy law, people familiar with the matter said.
Subway's cofounder pursued franchisees' wives, appeared in a shirtless calendar, and had a secret adopted child
Kate Taylor, Insider 
Subway cofounder and long-time CEO Fred DeLuca became famous for his rags-to-riches story of building the brand into the largest restaurant chain in the world by location. But, behind the scenes, insiders say DeLuca's behavior could spark concerns.
Two guests onboard a Royal Caribbean cruise test COVID-19 positive
Reuters
Cruise operator Royal Caribbean said on Thursday two guests onboard its Celebrity Millennium ship have tested positive for COVID-19, but are asymptomatic and currently in isolation. 
A New Kind of Pop-Up Store Arrives on Four Wheels
Kim Bhasin, Bloomberg
Cuyana, a premium fashion label partnering with Toyota, plans to take its traveling showroom on a summer road trip.
Courtenay Brown, Axios
Pockets of the U.S. economy (housing and autos, for instance) are on fire — and consumers are having to pay more than they have in years, fresh inflation data today showed.
Airlines Push for Faster Restart of Trans-Atlantic Travel
Christopher Jasper et al., Bloomberg
Airlines hit hard by Covid-19 sought swifter action to loosen restrictions on travel following pledges from the U.S. and the U.K. to reopen lucrative trans-Atlantic links.
Opinions, Editorials, Perspectives and Research
Lila MacLellan, Quartz
Chastened by the realities laid bare by the pandemic, a lot of companies are embracing fresh-start affirmations and promising newly enlightened, gentler, more equitable workplaces.
Ceylan Yeginsu, The New York Times
A reporter took the first cruise from a North American port since the pandemic began. Here's what she learned about how Covid has changed cruising.
This email was sent by: Morning Consult
729 15th St. NW Washington, DC, 20005, US