Brands
Essential marketing and PR news & intel to start your day.
July 21, 2021
Events Calendar (All Times Local)
A MESSAGE FROM MORNING CONSULT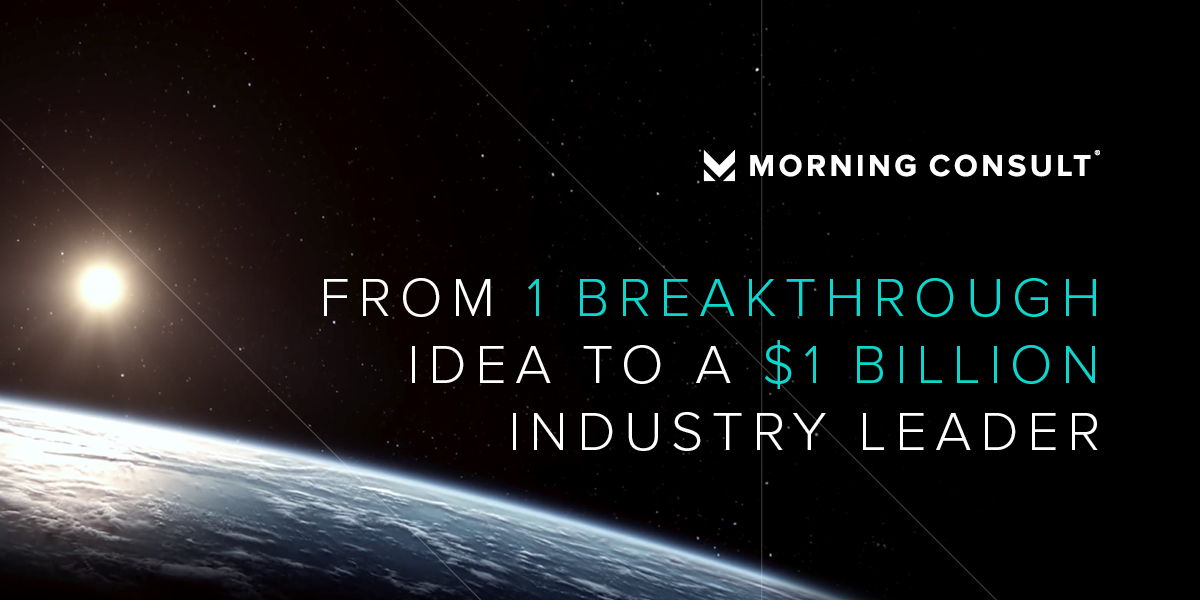 What Else You Need to Know
Out-of-Home Ad Costs Are Back to Pre-Pandemic Levels
Ilyse Liffreing, Ad Age
Looking for an out-of-home billboard for an upcoming campaign or event? Then act quickly and be prepared to pay a premium.
Marketers Spend Big on Back-to-School—Despite Looming Delta Variant
Adrianne Pasquarelli, Ad Age
Pre-pandemic, an early July email with the subject line "Are You In The Back-To-School Spirit Yet?" might elicit a groan from consumers.
TikTok launches native ad format with Spark Ads
Chris Sutcliffe, The Drum
The interruptive nature of many advertisements is an obstacle for brands. When a user's journey through a platform or an app is disrupted, the favorability they feel for the brand is negatively impacted.
Sara Fischer, Axios
There's been an explosion in advertising and marketing tech deals this year, according to new data, a sign of life for a sector that not long ago was looking ready to crumble with the deprecation of third-party tracking cookies.
Kanye West Confirms 'Donda' Drops Friday in New Beats by Dre Ad Starring Sha'Carri Richardson
Ellise Shafer, Variety
Kanye West has confirmed that his new album, "Donda," drops on Friday. The release date was established during Game 6 of the NBA Finals on Tuesday within a Beats by Dre ad featuring track star Sha'Carri Richardson, which West scored and edited.
The NFL is taking a big chunk of its advertising in-house in a loss for ad giant Omnicom
Patrick Coffee, Insider Premium
The National Football League has become the latest big advertiser to take a big chunk of its advertising in-house, according to two people with direct knowledge.
Substack makes first major podcast investment
Sara Fischer, Axios
Substack is funding the launch of a new podcast network called Booksmart Studios, executives tell Axios. It's the newsletter company's first major financial investment in podcasting.
With 'Black Widow' ticket buying suddenly drying up, growing questions for Disney's Marvel about what did it in
Steven Zeitchik, The Washington Post
Maybe it's the model. Or maybe it's Marvel. Disney's highly anticipated Marvel film "Black Widow" suffered a brutal blow at the box office this weekend, falling 67 percent compared to its opening weekend and dashing hopes at the company for a July hit.
Comcast and ViacomCBS face prisoner's dilemma as they consider ways to work together
Alex Sherman, CNBC
The prisoner's dilemma is a standard game theory situation often taught in business school. Comcast Chief Executive Brian Roberts and ViacomCBS chairman Shari Redstone are living it in real-time as they consider working together.
On Fox News, Vaccination Pleas Intensify, but Skepticism Persists
Michael M. Grynbaum et al., The New York Times
The morning anchor's plea was urgent and framed in the starkest of terms: Get the Covid-19 vaccine, or you could die. 
Jessica Toonkel, The Information
Vice Media's plan to go public by merging with a special purpose acquisition company has stalled as the company struggles to raise additional financing for the deal amid questions about Vice's valuation, according to people familiar with the situation.
HBO Max Lets Snapchatters Sample Original Shows
Kelsey Sutton, Adweek
HBO Max is offering up free episodes of some of its original programming on Snapchat as another way to win over younger viewers and get them talking about the streaming service's shows.
Fox has quietly implemented its own version of a vaccine passport while its top personalities attack them
Oliver Darcy, CNN Business
Tucker Carlson has called the idea of vaccine passports the medical equivalent of "Jim Crow" laws. And other Fox News personalities have spent months both trafficking in anti-vaccine rhetoric and assailing the concept of showing proof of vaccination status.
Bezos donates $100 million each to CNN contributor Van Jones and chef José Andrés
Oliver Darcy, CNN Business
Jeff Bezos, the Amazon founder and world's wealthiest man, said Tuesday after flying to the edge of space that he planned to award $100 million each to CNN contributor Van Jones and chef José Andrés.
Social Media and Technology
Amazon Denied a Worker Pregnancy Accommodations. Then She Miscarried.
Lauren Kaori Gurley, Motherboard
Patty Hernandez, a 23-year-old Amazon warehouse worker in Tracy, California, miscarried after pleading with her manager and human resources for lighter duty.
Ben & Jerry's Decision to Stop Sales in West Bank Puts Unilever in Tough Spot
Dov Lieber and Nick Kostov, The Wall Street Journal
Unilever PLC was engulfed in controversy Tuesday after its ice cream brand Ben & Jerry's said it would no longer sell its products in Jewish settlements located in the Israeli-occupied West Bank and contested East Jerusalem.
Chipotle customers come flocking back for lunchtime burritos despite the chain's 30-cent price hikes
Mary Hanbury, Insider
Chipotle's sales surged during the second quarter of 2021 as customers came flocking back to its restaurants despite price hikes on burritos and tacos.
Product Placement, Now Starring in the Streaming Era
Kelly Gilblom, Bloomberg Businessweek
Brands are increasingly spending big bucks to get their goods featured in shows and films as the rules of marketing change and viewers' attention fades.
Low-Wage Workers Now Have Options, Which Could Mean a Raise
Eduardo Porter, The New York Times
McDonald's is raising wages at its company-owned restaurants. It is also helping its franchisees hang on to workers with funding for backup child care, elder care and tuition assistance. Pay is up at Chipotle, too, and Papa John's and many of its franchisees are offering hiring and referral bonuses.
Virgil Abloh Gets a Seat at the Power Table
Vanessa Friedman, The New York Times
Virgil Abloh — the fashion designer, DJ and pundit of pop culture — is about to become the most powerful Black executive at the most powerful luxury goods group in the world.
Nordstrom pivots as shopper habits change during pandemic
Anne D'Innocenzio, The Associated Press
Like many of its peers, venerable department store chain Nordstrom is having a tough time keeping pace with customer demand for new clothes because of supply issues.
Ulta Beauty's first mini shops in Target will open in August as both retailers chase new customers
Melissa Repko, CNBC
Starting in August, Target customers will be able to walk into select big-box stores and buy premium brands of mascara, lipstick and hairspray that they typically only find at specialty stores or at the mall.
Amazon Founder Jeff Bezos Rocketed to Space—And Brands Reacted
Sydney Gold, Ad Age
Amazon founder Jeff Bezos took a quick vacation from being the wealthiest man on Earth on Tuesday, opting to briefly become the wealthiest man in space.
Disney Publicity Veteran Darrell Borquez Joins Shelter PR
Marc Malkin, Variety
Longtime Disney film studio publicist Darrell Borquez has joined Shelter PR as the agency's VP of publicity. Borquez, who spent 15 years at Disney, will work closely with Shelter's personal representation and film and television departments.
Julian Duncan Named Chief Marketing and Strategy Officer of NBA's Houston Rockets
Jason Notte, Adweek
Football took Julian Duncan to Dusseldorf and Saskatchewan. Nike and Under Armor brought him into sports marketing. The Jacksonville Jaguars placed him in the C-suite. Now, the Houston Rockets are bringing him home.
Grey Goose and Uninterrupted Explore Moments That Sparked Iconic Athletic Careers in New Series
Shannon Miller, Adweek
When he was 12 years old, Muhammad Ali—known then as Cassius Clay—was robbed of his treasured red Schwinn bicycle. When he reported the theft to the police, he told the officer that he wanted to "whup" the criminal in retaliation.
"We're Not Allowed to Hang Up": The Harsh Reality of Working in Customer Service
Ariana Tobin et al., ProPublica
In their own voices, seven customer service representatives reveal what it's like being caught between abusive callers and demanding employers.
Opinions, Editorials, Perspectives and Research
Dining Rooms May Be Packed, but Restaurants Still Need Help

Robert St. John (Chef/Owner, New South Restaurant Group), Morning Consult
Restaurants and bars around the country have lines out the door as diners bask in the warm weather and join their long-lost friends to finally share a meal. But do not mistake crowded patios for a return to normal for the restaurant and bar industry. For America's neighborhood restaurants and bars, the pandemic is far from over.
My Farewell to Zenia Mucha, Disney's Scorched-Earth (But Effective) PR Chief
Kim Masters, The Hollywood Reporter
Bob Iger, outgoing chairman of The Walt Disney Co., is known to millions as one of the most admired executives in the world. Far fewer have heard of Zenia Mucha, but for Iger's entire tenure at the helm of Disney, she has played a major part in crafting that smooth-as-silk image, and she has guarded it with Kraken-level ferocity.
Brands Should Take a People-Centric Approach to Covering the Olympics
Caitlin Rush, Adweek
Every two years, the summer and winter Olympics give the world a unique opportunity to come together—inspiring and exciting us, showcasing the best of the human spirit, breaking down borders, barriers and differences—all while celebrating the triumphs of people around the world.
Shady Ships: Retail Giants Pollute Communities and Climate with Fossil-Fueled Ocean Shipping
Pacific Environment
Just fifteen companies are responsible for emitting millions of tons of pollution from importing their goods into the United States on fossil-fueled ships.
This email was sent by: Morning Consult
729 15th St. NW Washington, DC, 20005, US