Energy
Essential energy industry news & intel to start your day.
November 24, 2021
Morning Consult Energy will be off Thursday and Friday for the Thanksgiving holiday. The weekday newsletter will resume Monday. 
COP26 Pledges Are Popular With the Public, but How Does That Translate Into Post-COP26 Action? 
Before all of us in the United States tuck in for tomorrow's holiday meal, I took a quick look at how the post-COP26 dust is settling among the public and what it means both for the president and the senators still wrestling over the Build Back Better Act. 
So, in light of the two-week summit, has enough been done? The short answer (at least from healthy majorities of U.S. adults) is no, not yet, despite the popularity of a number of specific pledges that emerged. Several people I spoke to for this story say that whether or not the work of COP26 actually translates into climate action depends on what happens now: whether the Build Back Better Act and future similar legislation retain major climate provisions, and whether the Biden administration continues to invest in accelerating the energy transition. 
For more on the post-COP26 specifics — and a plethora of charts to help make sense of them — read on here: Momentum for Biden Administration Ahead of Senate's Build Back Better Talks: Most of the Public Is Supportive of COP26 Climate Pledges
And for those of you celebrating: Happy Thanksgiving! See you Sunday.
Events Calendar (All Times Local)
A MESSAGE FROM MORNING CONSULT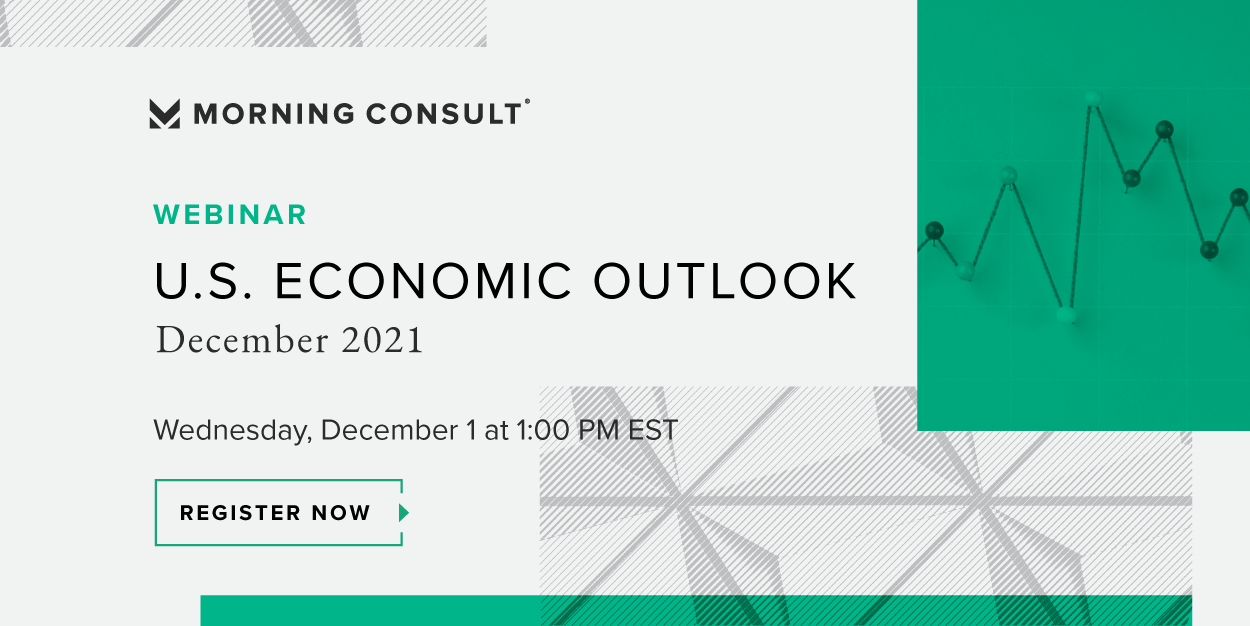 What Else You Need to Know
As Federal Disaster Aid Languishes, Private Lenders Are Filling the Gap
Christopher Flavelle, The New York Times
A new program allows Morgan Stanley to front money for disaster repairs and then get paid back, with interest, by taxpayers.
The Supreme Court will hear cases that could undercut Biden's climate agenda. Here's what to know.
Maxine Joselow, The Washington Post
In our crowded news cycle, it can be easy to miss key developments related to climate policy. So you would be forgiven for missing that the Supreme Court last month agreed to hear cases challenging the Environmental Protection Agency's authority to limit greenhouse gas emissions from power plants.
Private funds will finance energy transition, investors say
Divya Chowdhury et al., Reuters
The transition to clean energy will primarily be financed by the private sector as a standardised framework of reporting climate credentials for companies across the globe is established, investors and think tanks said.
'It should not have taken this long': Regan confronts EJ vows
Kelsey Brugger, E&E News
EPA Administrator Michael Regan appeared pensive at a card table covered by a white tablecloth as resident Lisa Glenn named everyone on her street who had been diagnosed with cancer. Her neighbor got up and ran to the restroom in tears.
Climate Change and Emissions
Carney Says Carbon Offsets Must Be Limited to Residual Emissions
Stephen Treloar and Lars Erik Taraldsen, Bloomberg
The use of carbon offsets should be a last resort to cover only a small fraction of emissions if the world is to achieve meaningful decarbonization, according to Mark Carney, the co-chair of the Global Financial Alliance for Net Zero.
The Rise of the Local Climate Candidate
Patrick Sisson, Bloomberg
As the effects of climate change become more severe, local officials like Boston Mayor Michelle Wu are spotlighting environmental issues and solutions — and winning. 
Trudeau Vows to Go 'Further, Faster' on Climate Policy in His Third Term
Stephen Wicary, Bloomberg
Prime Minister Justin Trudeau sketched out his government's third-term agenda, emphasizing the need for strong action on climate change as Canada grapples with unprecedented flooding along its Pacific coast.
Big climate change job awaits WTO – if it can step up
Mark John, Reuters
From laying down the law on fossil fuel subsidies to promoting low-carbon supply chains, there is no shortage of ways in which the World Trade Organization could be at the forefront of the global fight against climate change.
Giant pipeline in U.S. Midwest tests future of carbon capture
Leah Douglas, Reuters
Dan Tronchetti received a letter in August that alarmed him: Summit Carbon Solutions, a company he'd never heard of, wanted his permission to conduct survey work for a 2,000-mile pipeline it planned to route through his Iowa corn and soybean fields.
Greenland ice sheet loses more than it gained for 25th straight year
Lexi Lonas, The Hill
The Greenland ice sheet has lost more ice than it gained for the 25th straight year, according to a summary by scientists in Carbon Brief.
Climate Change Might Be Driving Albatrosses to Divorce
Katherine J. Wu, The Atlantic
It's not you. It's our dwindling food supply.
Oil, Gas and Alternative Fuels
Many environmentalists back Biden's move to tap oil reserve
Matthew Daly, The Associated Press
Democrats and climate activists generally supported President Joe Biden's decision to release a record 50 million barrels of oil from America's strategic reserve, even as the move appeared to contradict his long-term vision of combating climate change.
EPA forces natural gas plants to make pollution data public
Sean Reilly, E&E News
For the first time, hundreds of natural gas processing plants will have to publicly report emissions of benzene and other hazardous air pollutants.
U.S. energy secretary: companies making huge profits, should increase oil supply
Alexandra Alper and Jeff Mason, Reuters
U.S. Energy Secretary Jennifer Granholm on Tuesday urged U.S. energy companies to increase oil supply amid "enormous profits" as President Joe Biden seeks to bring down the price of gasoline for American families.
Shale oil's slower investment sparks new tension with White House
Liz Hampton, Reuters
As the Biden administration and allies scramble to deliver more oil to market through stockpile releases, shale producers are tapping the brakes on reinvestment, according to new data, a sign of the widening split between U.S. oil companies and Washington.
Explainer: What is happening with U.S. gasoline prices?
Laura Sanicola, Reuters
The United States uses more gasoline than any other nation in the world, and lately Americans have grown concerned about the swift rise in costs at the pump.
Why Is Biden Tapping the Strategic Oil Reserve, and Will That Lower Gas Prices?
Timothy Puko and Katy Stech Ferek, The Wall Street Journal
Biden administration says it will release 50 million barrels of oil in a coordinated effort with other countries.
Electricity, Utilities and Infrastructure
Environment, Land and Resources
Opinions, Editorials and Perspectives
Humanity's failure to tackle climate change in the 1980s had many causes
Nathaniel Rich, The Guardian
In his article (Neoliberalism wrecked our chance to fix the climate crisis – and leftwing statements of faith have changed nothing, 17 November), Jeff Sparrow repeats Naomi Klein's simplistic claim that, in Losing Earth, I "attribute" the missed opportunity on climate change during the critical decade between 1979 and 1989 to "human nature". Anyone who reads Losing Earth will see that I do no such thing.
Dancing on the edge of climate disaster
Martin Wolf, Financial Times
Despite signs of hope, scepticism is fully justified when it comes to the COP26 announcements.
This email was sent by: Morning Consult
729 15th St. NW Washington, DC, 20005, US