Entertainment
Essential entertainment industry news & intel to start your day.
February 7, 2023
A Gamer's Value
In his latest memo, media and entertainment analyst Kevin Tran explains how video game fans can be surprisingly lucrative to nongaming pushes such as box office and subscription sales. New Morning Consult data found that 30% of U.S. adults consider themselves gamers, driven by Gen Z adults and millennials. Read more here: Why Gamers Are More Valuable Than Companies Think.
Today's Top News
AMC Entertainment Holdings Inc. will roll out Sightline at AMC, an initiative where the price of movie tickets varies based on seat location in the venue, on Friday in New York, Chicago and Kansas City before launching in remaining AMC locations by the end of the year. Aside from offering the most common seats via a standard tier, the initiative will offer Value Sightline tickets for seats closer to the front row at a lower price point, while tickets for the middle of the auditorium, known as Preferred Sightline, will cost more. (

Variety

)

Paramount Global and "Yellowstone" showrunner Taylor Sheridan will reportedly end the hit neo-Western series in its current form due to conflicts over filming schedules with star Kevin Costner and are in the process of developing a new Dutton-focused TV show with Matthew McConaughey in talks as the lead. A Paramount spokesperson said in a statement they are "always working on franchise expansions" Sheridan has built. (

Deadline

)

Florida lawmakers proposed a bill to give Gov. Ron DeSantis (R) full control of the board in charge of the Reedy Creek Improvement District, the special district run by the Walt Disney Co. and is home to its Orlando-based theme parks. The bill will be discussed in a Florida House state affairs committee on Wednesday, and under the new proposal, the district could be renamed the Central Florida Tourism Oversight District and allow the state to impose taxes on Disney for possible road projects outside of the district's lines. (Bloomberg)
A MESSAGE FROM MORNING CONSULT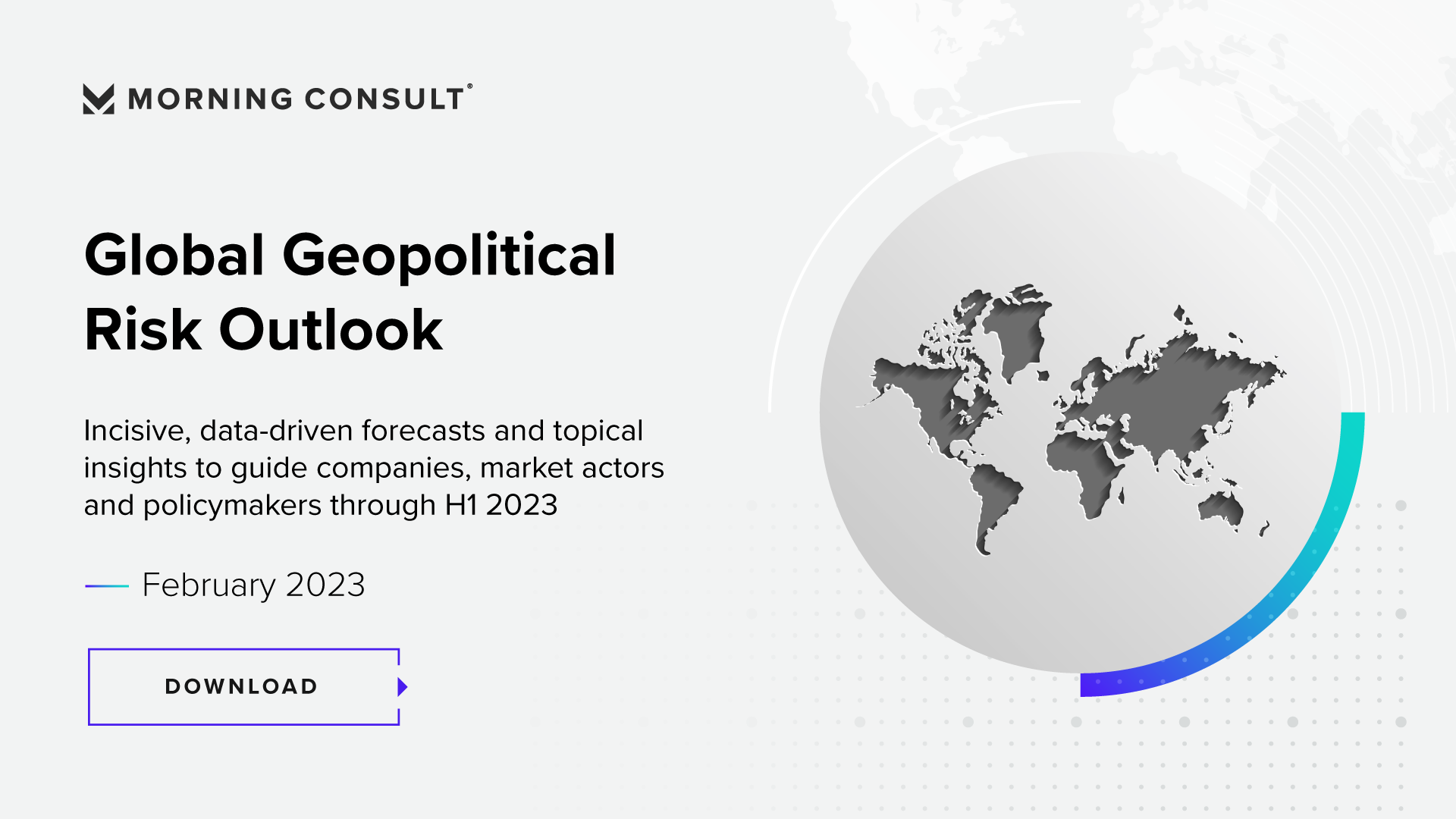 What Else You Need to Know
The CW Names Former HBO Exec Chris Spadaccini Chief Marketing Officer
Natalie Oganesyan, The Wrap
Chris Spadaccini has been tapped as chief marketing officer for The CW Network, where he will oversee the network's broadcast and digital marketing divisions.
Endeavor Hires IMG's Maura McGreevy for Top Communications Role
J. Clara Chan, The Hollywood Reporter
The executive will succeed Christian Muirhead, who was named co-chairman of WME last year.
Disney Sets Date For Annual Shareholder Meeting Amid Proxy Fight
Jill Goldsmith, Deadline
Disney has finally unveiled the date for its annual meeting of shareholders, a virtual event to be held at 10 a.m. PT on Monday, April 3.
Disney's Iger Returns to Familiar Stage, but With Different Challenges
Brooks Barnes, The New York Times
The company reports quarterly earnings on Wednesday, and Wall Street is expecting it to lay out a new streaming strategy and operating structure.
Comcast continues to unload BuzzFeed stake after huge stock surge
Emily Bary, MarketWatch
Comcast discloses that it sold 5.1 million more shares, adding to the 5.7 million in sales it disclosed last week.
Theater never recovered from COVID — and now change is no longer a choice
Chloe Veltman, NPR News
Many of the problems facing the nonprofit theater industry in the U.S. right now — from scant resources to the lack of diversity — have been around for ages.
Paramount TV Studios Ups Dominic Pagone to Head of Communications
Selome Hailu, Variety
Paramount Television Studios has named Dominic Pagone its new head of communications.
'The Last of Us' Episode 4 Hits New Series High Viewership Despite Grammys Competition
Selome Hailu, Variety
Episode 4 of "The Last of Us" set yet another series high. 7.5 million viewers tuned into Sunday night's episode, up 17% from the 6.4 million that tuned into Episode 3.
'The Last of Us' Episode 5 to Premiere Early Thanks to Super Bowl
James Hibberd, The Hollywood Reporter
The next episode of HBO's apocalyptic thriller will be available on Friday instead of Sunday.
Tom Brady Says He Will Start Broadcasting Career at Fox Sports in Fall 2024
Alex Weprin, The Hollywood Reporter
Brady signed a deal with Fox Corp. last year to become an NFL broadcast analyst.
CBS Adds Spanish Closed Captioning to Replays of Bad Bunny's Grammys Performance After Backlash
Michael Schneider, Variety
Grammy viewers who were using the closed captioning while watching the awards telecast on Sunday night didn't have much to go on when opening act Bad Bunny hit the Cypto.com stage.
Amid Strong Documentary Demand, ABC News Studios Breaks Out at Disney
Alex Weprin, The Hollywood Reporter
With premieres at Sundance and SXSW, a growing slate and profitability, the in-house studio is a textbook example of media companies adapting to a streaming-first world.
CNN boss Chris Licht knows his morning show 'needs to improve' regardless of past Don Lemon drama, sources say
Joseph A. Wulfsohn, Fox News
One insider says Don Lemon is 'having a hard time sharing a show' following his spat with co-host Kaitlan Collins.
Gina Rodriguez Inks Overall Deal With 20th Television
Nellie Andreeva, Deadline
Gina Rodriguez, star and executive producer of Not Dead Yet, has signed an overall deal with 20th Television, the studio behind the new comedy series which premieres Wednesday on ABC.
George Clooney to Direct Showtime Political Thriller Series 'The Department'
Joe Otterson, Variety
Showtime has given a straight-to-series order to the political thriller series "The Department," with George Clooney attached to direct.
Matthew McConaughey Voices Elvis Presley in Priscilla-Approved Animated Series 'Agent Elvis'
Tomás Mier, Rolling Stone
Expect space travel and a sidekick chimp by the King of Rock & Roll's side in the animated adult series.
Opinions, Editorials, Perspectives and Research
What Makes Viola Davis's EGOT Win So Special
Chris Murphy, Vanity Fair
With her Grammy win for best audiobook, Davis becomes the first actor in nearly 30 years to achieve a particularly impressive type of EGOT status.
How 'Ant-Man' and 'Creed III' Star Jonathan Majors Became Hollywood's Most Wanted Actor – Ebony
Cori Murray, Ebony magazine
The year already belongs to Jonathan Majors, who has two blockbusters—"Ant-Man and the Wasp: Quantumania" and "Creed III"—on the way. Ahead of their release, the star is making time to stop and smell the roses. Here's how a young Black boy from Texas became the most wanted actor in Hollywood.
The Defiance of Salman Rushdie
David Remnick, The New Yorker
After a near-fatal stabbing—and decades of threats—the novelist speaks about writing as a death-defying act.
The Grammys Fumbled the Bag Yet Again
Kendall Cunningham, The Daily Beast
The good: Beyoncé made history! The bad: awkward bits, a medley featuring accused abusers, a depleted Ben Affleck, and too much more…
How 'Harry's House' Beat Beyoncé
Justin Curto, New York magazine
Adele turned out to be the least of Beyoncé's worries.
The 'Book More Women' Campaign Called Out Male-Heavy Festival Lineups. Did It Help?
Alexa Peters, Rolling Stone
On the cusp of summer festival season, gender representation onstage is improving but remains far from equitable.
The Uncomfortable, Messy Truth of Watching This NFL Season
Nora Princiotti, The Ringer
The enduring stories of the NFL 2022 season center on the health of Damar Hamlin and Tua Tagovailoa and the misbehavior of Deshaun Watson and Dan Snyder. Yet on the cusp of the Super Bowl, the NFL seems nowhere near an existential crisis. If those ugly headlines won't force a moral reckoning, what will?
This email was sent by: Morning Consult
729 15th St. NW Washington, DC, 20005, US