Entertainment
Essential entertainment industry news & intel to start your day.
January 24, 2023
Prestige Still Matters
Morning Consult media and entertainment analyst Kevin Tran's latest memo explores why video streaming services — which had a quieter morning for Academy Award nods compared with recent years — still need to fight for Oscar wins, even in an era that prioritizes profitability over prestige. New Morning Consult data found that 81% of consumers who usually or always watch the Oscars said the inclusion of recent Academy Award winners and nominees factors into their decision to sign up for a streaming service, compared with 49% of adults who said the same. Read more here: Why Streamers Can't Ignore Their Troubling 2023 Oscar Odds.
Today's Top News
A24's "Everything Everywhere All at Once" led the 95th Academy Award nominations with 11 nods, including best picture, original screenplay and directing. The other films up for best picture at the March 12 ceremony include "The Banshees of Inisherin," "All Quiet on the Western Front," "The Fabelmans," "Tár," "Top Gun: Maverick," "Avatar: The Way of Water," "Elvis," "Triangle of Sadness" and "Women Talking." (

The Associated Press

)

Verizon Communications Inc. ended 2022 with roughly 3.2 million Fios video subscribers in the consumer division, down from 3.6 million at the end of 2021. The company, which reported losing 80,000 net pay TV subscribers in the fourth quarter, has previously blamed such losses on shifting consumer preferences from linear video to online-based streaming. (

The Hollywood Reporter

)

"Air," starring Ben Affleck and Matt Damon, will hit theaters on April 5 as Amazon.com Inc.'s first wide theatrical release since 2019. Based on Nike Inc.'s signing of Michael Jordan, the film will reportedly have a longer theatrical release than Amazon Studios' other recent limited theatrical titles before premiering on Prime Video, with Warner Bros. Pictures in charge of international distribution as part of an agreement with Amazon's MGM. (

Deadline

)
Worth keeping an eye on today:

10 a.m. EST:

The Senate Judiciary Committee will host

a hearing

to address monopoly concerns in the live ticketing industry following Ticketmaster's controversial presale of Taylor Swift's upcoming "Eras Tour."
A MESSAGE FROM MORNING CONSULT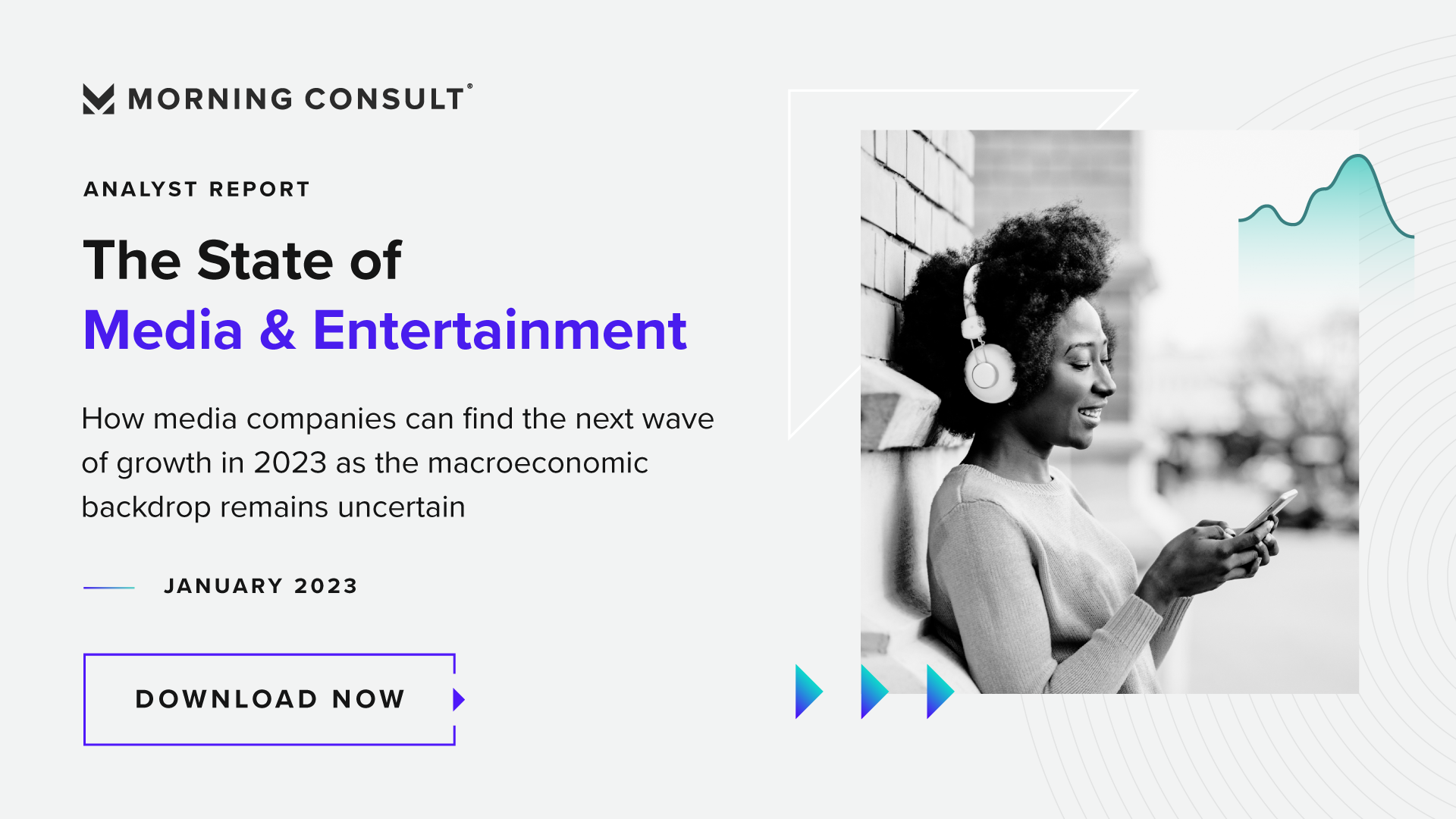 What Else You Need to Know
Latino-Focused Entertainment Company Sonoro Launches Imprints With Manolo Cardona, Martha Higareda
Rebecca Sun, The Hollywood Reporter
The company specializes in creating audio series to then develop for television and film.
'Saturday Night Live' Post-Production Editors Approve Strike Authorization As Contract Talks Stall
Michael Schneider, Variety
The post-production editors who put together the pre-taped sketches on "Saturday Night Live" have approved a strike authorization motion with the Motion Pictures Editors Guild, Variety has confirmed.
Pamela Anderson Speaks Out About Tim Allen's Alleged On-Set Flashing: Exclusive
Julie Miller, Vanity Fair
"This true story is just one of many surreal and uncomfortable situations I learned to navigate," Anderson tells VF in an exclusive statement.
'Room' Will Be Staged on Broadway, Starring Adrienne Warren
Michael Paulson, The New York Times
Emma Donoghue adapted the show from her best-selling 2010 novel; she also wrote the screenplay for the 2015 film.
M&M's Ditches 'Spokescandies' for Maya Rudolph After Backlash Over New Look
Jennifer Calfas, The Wall Street Journal
The comedian will take their place as the brand's spokesperson and star in the candy's upcoming Super Bowl advertisement.
Disney ride Splash Mountain closes, to relaunch as Tiana's Bayou Adventure
Kaitlyn Radde, NPR News
Fans had one final run down Splash Mountain in Florida's Disney World on Sunday, before it closed for good. It had been in operation since 1992.
'Rust' to resume production with Alec Baldwin despite impending involuntary manslaughter charges
Naledi Ushe, USA Today
Melina Spadone, attorney for Rust Movie Productions, LLC, confirmed to USA TODAY Monday that filming for "Rust" is on track to be completed with Baldwin in the lead role and with Joel Souza returning as director.
Guillermo del Toro to Be Honored by Art Directors Guild
Carolyn Giardina, The Hollywood Reporter
He'll receive the William Cameron Menzies Award on Feb. 18 at the 27th ADG Awards.
'Top Gun: Maverick,' 'Andor,' Dolly Parton Among Movieguide Awards Nominees
Kimberly Nordyke, The Hollywood Reporter
The awards honor "the best of family-friendly movies and television programs and spiritually uplifting entertainment."
Music Supervisors Guild Awards: 'Black Panther: Wakanda Forever,' 'Elvis' Lead Nominations
Hilary Lewis, The Hollywood Reporter
The winners in categories spanning film, TV, video games, advertising and trailers will be revealed at an in-person and virtual gala on March 5.
Netflix movie 'Blonde' roasted with eight Razzie nominations
Danielle Broadway, Reuters
"Blonde," a biographical film that explores the exploitation of Marilyn Monroe, led this year's Razzie nominations with eight nods, including one for worst picture, while multiple Oscar winner Tom Hanks landed in the worst actor and worst supporting actor race.
Netflix Closing Deal For Hot Sundance Title 'Fair Play'; Deal In $20 Million Range
Mike Fleming Jr., Deadline
The Sundance Film Festival's first splashy deal is on the verge of closing a whopping deal for "Fair Play," the Chloe Domont-directed drama that has electrified the fest since its January 20 premiere in the U.S. Dramatic Competition.
Sundance: 'Theater Camp' Landing at Searchlight Pictures
Mia Galuppo, The Hollywood Reporter
Gloria Sanchez and Picturestart are behind the U.S. Dramatic Competition title.
Marvel's Kevin Feige Doesn't Think Audiences Will Ever Get Tired of Superhero Movies
Ethan Shanfeld, Variety
The Marvel boss said in a new interview that there are 80 years of 'groundbreaking' stories told in the comics that they can adapt into 'different genres.'
'Hot Wheels' Movie Adaptation Adds 'Strongman' Screenwriters to Pen Script
Shrishty, Collider
The upcoming movie will be produced by J.J. Abrams' "Bad Robot."
Amy Winehouse's Father Approves of Actress in New Biopic Despite Haters
TMZ
Amy Winehouse's dad is backing the actress playing his daughter in an upcoming biopic … even though a bunch of folks think she's anything but a doppelgänger for Amy.
Netflix teams up with Bumble so users can bond over popular TV shows
Lauren Forristal, TechCrunch
Bumble is putting the phrase "Netflix and Chill?" to the test with the launch of a weekly in-app Netflix-themed question game called "Netflix Nights In" that asks users questions about a popular Netflix show. Users can play against their match to see who can answer all the questions correctly.
'The Last of Us' Scores HBO's Largest-Ever Viewership Growth for a Drama From Premiere to Episode 2
Selome Hailu, Variety
After achieving HBO's second-most watched series premiere in more than a decade, "The Last of Us" is now reaching an even bigger audience and breaking a new record for the pay TV channel.
'The Neighborhood' Earns Early Season 6 Renewal at CBS
Ryan Schwartz, TVLine
This calls for a celebratory block party: CBS has handed an early Season 6 renewal to "The Neighborhood."


Lorne Michaels of 'SNL' to be honored at PEN America gala
Hillel Italie, The Associated Press
This year's PEN America Literary Gala will be notable for the presence of "Saturday Night Live."
Viola Davis Moves Overall TV Deal to Entertainment One
Lesley Goldberg, The Hollywood Reporter
The first-look TV and new-media deal with JuVee Productions comes on the heels of 'The Woman King,' which was also produced by the studio.
'MILF Manor', 'Power Slap', Restructure, Tax Write-Offs & More: Kathleen Finch Gets Candid On Warner Bros Discovery's Unscripted TV Strategy
Peter White, Deadline
"We're going to put 2022 behind us and focus on the future," said Kathleen Finch, Chairman and Chief Content Officer of Warner Bros. Discovery's U.S. Networks Group.
How Rian Johnson Plans to Subvert TV's Binge Model With 'Poker Face'
Jackie Strause, The Hollywood Reporter
The "Glass Onion" director talks to The Hollywood Reporter about bringing back the "howcatchem" detective series with his new Peacock offering starring Natasha Lyonne, and also teases "Knives Out 3."
How 'The Last of Us' Was Built—And Unbuilt—For TV
David Canfield, Vanity Fair
A quarantine zone built from scratch. Downtown Boston, recreated for the apocalypse. Here's the exclusive story on how "The Last of Us" came to physical life.
Activision Blizzard Beats Shareholder Suit
Winston Cho, The Hollywood Reporter
A federal judge dismissed a lawsuit from investors alleging they were misled about the severity of investigations into the video game giant's workplace culture.
Larry Wilmore to Host the 2023 Podcast Academy Awards
J. Clara Chan, The Hollywood Reporter
The Ambies will take place on March 7 in Las Vegas.
Microsoft announces new multibillion-dollar investment in ChatGPT-maker OpenAI
Ashley Capoot, CNBC
Microsoft on Monday announced a new multiyear, multibillion-dollar investment with ChatGPT-maker OpenAI.
Meta expands its partnership with the NBA to offer 52 games in VR
Aisha Malik, TechCrunch
Meta is expanding its partnership with the NBA and WNBA to offer more than 50 live games in VR on Meta Quest, the company announced on Monday. The Meta Quest is the official headset of the NBA, as the company signed a deal with the league back in 2020.
How Apple's Upcoming Mixed-Reality Headset Will Work
Mark Burman, Bloomberg
Apple Inc.'s long-anticipated mixed-reality headset is an ambitious attempt to create a 3D version of the iPhone's operating system, with eye- and hand-tracking systems that could set the technology apart from rival products.
How YouTube is calculating creators' ad-revenue shares for Shorts
Tim Peterson, Digiday
Starting next month, YouTube will share ad revenue with Shorts creators. However, the originator of the creator ad revenue-sharing program has introduced a new twist with its short-form video service.
Opinions, Editorials, Perspectives and Research
Everyone hates Ticketmaster. Is everyone wrong?
August Brown, Los Angeles Times
If you loathe Ticketmaster for its infamous service fees or the software overload that cost you Taylor Swift tickets this summer, just know that Fred Rosen is unmoved by your anger.
Where Is the Oscars Buzz for 'Nope' and Jordan Peele?
Fletcher Peters, The Daily Beast
The fantastic summer blockbuster wasn't just a fun time at the movies—it was one of 2022's best films. So why isn't the horror-adventure-thriller-comedy in more awards talks?
This email was sent by: Morning Consult
729 15th St. NW Washington, DC, 20005, US