Entertainment
Essential entertainment industry news & intel to start your day.
January 26, 2023
Today's Top News
NBCUniversal's streaming service Peacock grew its fourth-quarter revenue and surpassed 20 million U.S. paid subscribers, up from 15 million in the third quarter and its largest quarterly gain since its 2020 launch, though Peacock-related losses widened year over year from $559 million to $978 million, Comcast Corp. said in its latest earnings report. Total revenue for NBCUniversal's studios unit increased 13.1% to $2.7 billion, thanks in part to the theatrical releases such as "Puss in Boots: The Last Wish," "Halloween Ends" and "Ticket to Paradise." (

The Hollywood Reporter

)

Cineworld Group PLC, which owns U.S.-based Regal Cinemas, said it is in the process of selling its assets, with non-binding bids due Feb. 16 and has reached out, according to a bankruptcy filing, to 30 "potential transaction parties." Cineworld said last month it was in talks with AMC Entertainment Holdings Inc. about acquiring some of Regal's assets but those talks reportedly ended. (

Deadline

)

MoviePass Inc. plans to again offer its unlimited viewing option though it will not cost $10 per month as it did when the movie theater subscription service failed in 2019, said co-founder Stacy Spikes. MoviePass, which launched in beta mode in September, will become widely available to the public by the summer, according to Spikes. (Insider)
A MESSAGE FROM MORNING CONSULT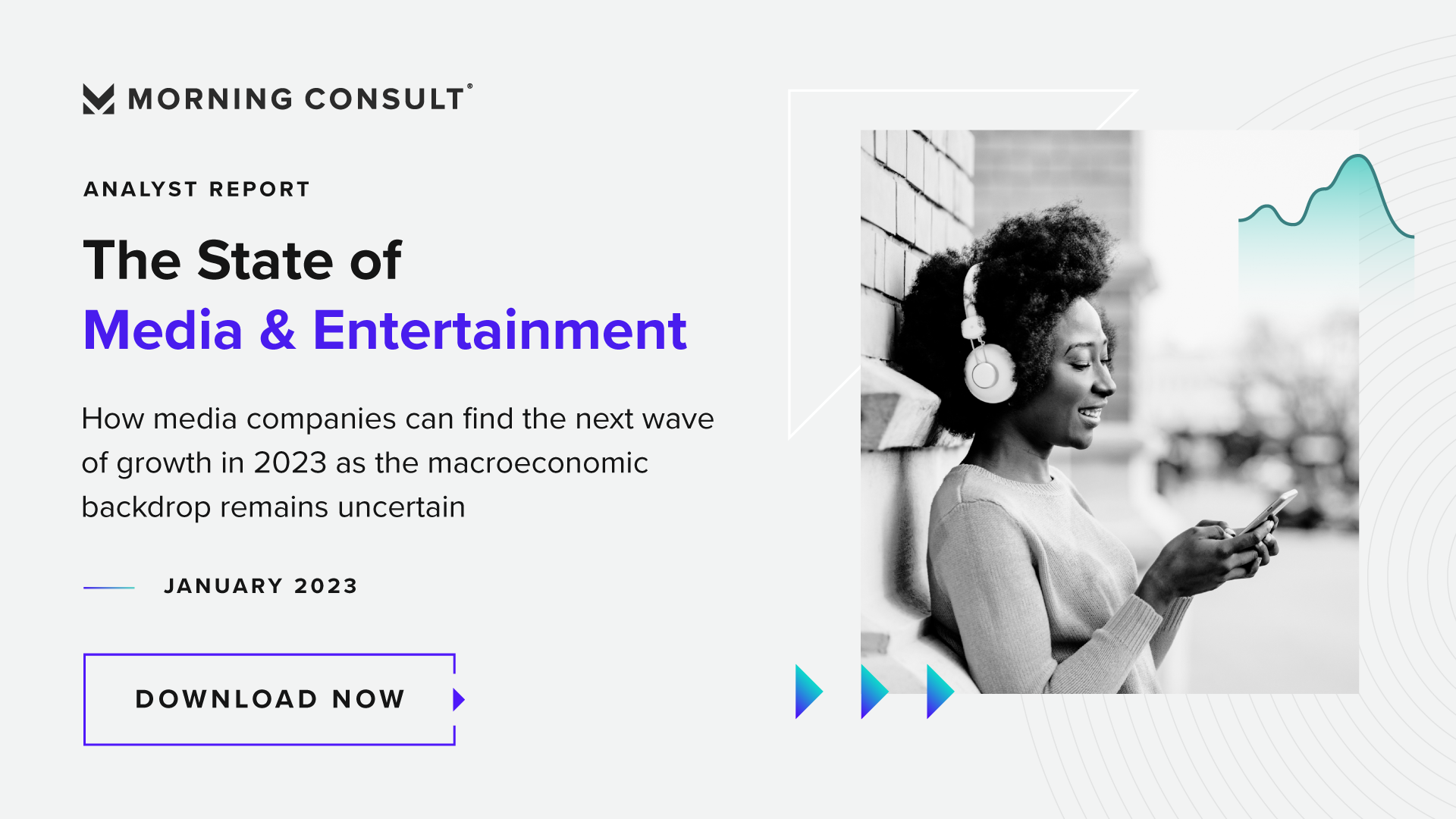 What Else You Need to Know
WGA Nominations: 'Everything Everywhere,' 'Nope' and 'Wakanda Forever' Among Recognized Screenplays
Clayton Davis, Variety
Oscar-nominated screenplays "Everything Everywhere All at Once," "The Fabelmans," "Tár," "Glass Onion," "Top Gun: Maverick" and "Women Talking" are among this year's Writers Guild of America Awards nominees.
Razzie Awards Issue Public Apology to 'Firestarter' Star Ryan Kiera Armstrong Over 'Insensitive' Nomination
Samantha Bergeson, IndieWire
"Since our motto is 'Own Your Bad,' we realize that we ourselves must also live up to it," Razzie co-founder John Wilson said, citing a new 18 years and older policy for nominees.
New Line Wins Intense Auction for 'Weapons,' the New Movie from 'Barbarian' Filmmaker Zach Cregger
Borys Kit, The Hollywood Reporter
Some studios and streamers were making offers sight-unseen before the script finally went out Monday — then deal-making got really interesting.
'PAW Patrol: The Mighty Movie' Adds Kristen Bell, McKenna Grace, James Marsden, Lil Rel Howery, North West & More
Anthony D'Alessandro, Deadline
All of them join Taraji P. Henson in the feature which is hitting theaters on October 13. 
How the Internet Made (and Almost Broke) Horror Hit 'Skinamarink'
Katie Rife, New York magazine
Kyle Edward Ball's movie leaked and went viral before becoming a hit in theaters. He wishes it had gone differently.
Netflix Denies Serious Injury as 'Squid Game' Reality Series Players Compete in Sub-Zero Temperatures
Etan Vlessing, The Hollywood Reporter
The streamer rejected U.K. tabloid claims about players being stretchered off as "Squid Game: The Challenge" — based on the popular global dystopian series — shoots on a former air force base during a rare cold snap.
Hulu Follows Adult Swim By Splitting From Justin Roiland, Co-Creator Of 'Solar Opposites'
Lynette Rice, Deadline
Less than one day after Adult Swim severed ties with Rick and Morty creator Justin Roiland, Hulu announced that it, too, will distance itself from the performer/producer who's been accused of domestic violence.
'Titans,' 'Doom Patrol' Both Cancelled at HBO Max After 4 Seasons; James Gunn Says Decision Predates New DC Regime
Keisha Hatchett, TVLine
HBO Max is pulling the plug on "Titans" and "Doom Patrol."
Critical Role Developing 'Mighty Nein' Animated Series at Amazon Studios
Marco Vito Oddo, Collider
Amazon Studios and Critical Role have announced today they are bringing the "Mighty Nein" campaign of "Dungeons & Dragons" to the streamer as an animated series.
Ex-Convict Anna Sorokin to Film Reality Series 'Delvey's Dinner Club' During House Arrest
Emily Longeretta, Variety
"Inventing Anna" was just the start. Anna "Delvey" Sorokin has landed her own unscripted series, "Delvey's Dinner Club," set to be filming inside her New York City East Village apartment where she's serving house arrest.
'CoComelon' is getting spinoffs. Why the preschool show is streamed more than 'NCIS'
Kelly Lawler, USA Today
When you wonder what the most-viewed shows on streaming are, you might think of Netflix heavy hitters like "Stranger Things" or "Wednesday." But you might not expect to see a brightly colored musical preschool program with three-minute episodes set to the tune of "Row Row Row Your Boat" to be so popular it's racked up billions of minutes viewed. 
The New 'Bachelor' Season Already Has a Racism Scandal
Laura Bradley, The Daily Beast
Hours after Zach Shallcross' season premiere, his frontrunner has posted an apology for her past tweets defending blackface. For "Bachelor" fans, it's just more of the same.
Lloyd Morrisett, who helped launch 'Sesame Street,' dies
Mark Kennedy, The Associated Press
Lloyd Morrisett, the co-creator of the beloved children's education TV series "Sesame Street," which uses empathy and fuzzy monsters like Abby Cadabby, Elmo and Cookie Monster to charm and teach generations around the world, has died. He was 93.
Sara Fischer and Mike Allen, Axios
Meta will reinstate former President Trump's Facebook and Instagram accounts "in coming weeks" following a two-year suspension, according to Nick Clegg, the company's president, global affairs.
Justin Roiland out at 'High on Life' studio Squanch Games after felony charges
Nicole Carpenter, Polygon
Roiland resigned on Jan. 16, according to a tweet on the company's account.
Madison Square Garden's Use of Face Recognition Tech Under Investigation From NY Attorney General
Caitlin Huston, The Hollywood Reporter
NY Attorney General Letitia James is urging the venue owner to stop its practice of using the technology to deny entry to lawyers engaged in litigation with the company.
Fortnite on iOS and Google Play will be 18+ starting on January 30
Aisha Malik, TechCrunch
Starting January 30, v13.40 of Fortnite on iOS and Google Play will become unavailable to players under 18, Epic Games has announced.
Scooter Braun Becomes Sole CEO of HYBE America
Ellise Shafer and Patrick Frater, Variety
Scooter Braun has become the sole CEO of HYBE America, Variety has confirmed.
Sam Smith & Kim Petras, Bad Bunny, Lizzo & More Set to Perform at 2023 Grammy Awards
Paul Grein, Billboard
Mary J. Blige, Brandi Carlile, Luke Combs and Steve Lacy are also set to take the stage.
Marilyn Manson, Esme Bianco Settle Sexual Assault Lawsuit
Kory Glow, Rolling Stone
"Ms. Bianco has agreed to resolve her claims against Brian Warner and Marilyn Manson Records, Inc. in order to move on with her life and career," "Game of Thrones" actress's lawyer says.
Opinions, Editorials, Perspectives and Research
Julia Alexander, Puck News
A timely investigation into what the leading streamer is doing right and what it should probably fix as Hastings cedes control to co-C.E.O.s Greg Peters and Ted Sarandos.
'The Woman King' Snub and the Oscars' Continued Disrespect of Black Women
CT Jones, Rolling Stone
Academy voters have once again failed to give Black Women their flowers.
In 'Shrinking,' Jason Segel Does the Work
Alexis Soloski, The New York Times
The actor is a star, writer and executive producer of this new series about a therapist crushed by grief and trying to put himself back together. It's a comedy.
Four Recommendations for Rebuilding the DC Extended Universe
Daniel Chin, The Ringer
James Gunn and Peter Safran inherited what's left of the DC film universe, rechristening it DC Studios. Now they need to avoid the mistakes of the past.
The hottest red carpet in Hollywood is the … American Legion?
Mary McNamara, Los Angeles Times
The Hollywood Legion is now a hot spot for premieres. Where else can you find a theater, a poker room, the bar from "The Shining" and maybe even a ghost?
This email was sent by: Morning Consult
729 15th St. NW Washington, DC, 20005, US