Finance
Essential financial news & intel to start your day.
November 24, 2021
Morning Consult Finance will be off Thursday and Friday for the Thanksgiving holiday. The weekday newsletter will resume Monday. 
Events Calendar (All Times Local)
A MESSAGE FROM MORNING CONSULT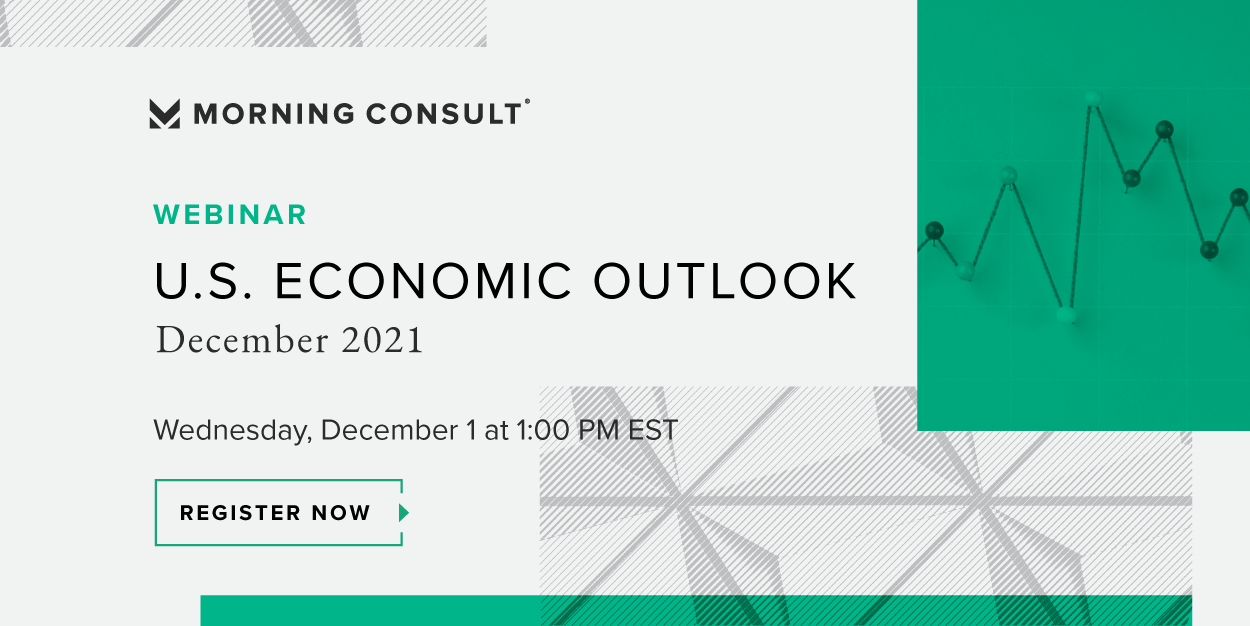 What Else You Need to Know
Thanksgiving Travelers Will Face High Gas Prices, Long Lines
Talal Anari, The Wall Street Journal
Gas prices remain high as millions of Americans take to the roads and sky this week to meet family and friends for Thanksgiving celebrations, according to AAA. The national average price for a gallon of regular unleaded gas is $3.40, according to AAA's weekly gas report.
Supply Shortages Are Easing in U.S. and Worsening in Europe
Bloomberg
The supply crunch that's helped drive inflation to multi-decade highs shows some signs of easing in the U.S. -– but it's still getting worse in Europe.  That's the takeaway from the latest readings on Bloomberg Economics' new set of supply indicators. The U.S. measure declined in October, while remaining at a historically elevated level, suggesting shortages are becoming less severe. 
Dollar Tree is raising prices 25 percent to $1.25
Abha Bhattarai, The Washington Post
Dollar Tree, which for 35 years has sold everything for $1, is raising prices by a quarter. The retailer said Tuesday it has begun marking up merchandise at its nearly 8,000 Dollar Tree stores across the country, the latest sign that higher manufacturing and transportation costs are trickling down to consumers.
Petroleum reserve sale seen having small impact on gas prices
Benjamin Hulac and Joseph Morton, Roll Call
As the U.S. braces for a busy holiday travel period, the Biden administration's decision Tuesday to sell 50 million barrels from the Strategic Petroleum Reserve should lower gasoline prices in the short term, analysts said. In an effort coordinated with other nations, the U.S. will make up to 32 million barrels of crude oil available and will sell an additional 18 million barrels of oil, as Congress mandated in budget legislation in 2018, the Energy Department said. 
NYC Mayor-elect Eric Adams considers Goldman Sachs CFO for a key economic role in his administration
Brian Schwartz, CNBC
New York City Mayor-elect Eric Adams is considering a Goldman Sachs executive for a role in his administration, according to people familiar with the matter. Adams and his allies have been discussing the idea of giving Stephen Scherr, Goldman's chief financial officer, a leadership position in the new administration, these people said. These people declined to be named in order to discuss ongoing private conversations.
As Federal Disaster Aid Languishes, Private Lenders Are Filling the Gap
Christopher Flavelle, The New York Times
 Private lenders will play a greater role in funding disaster recovery under a program announced Tuesday, moving to fill a gap left by sluggish federal aid programs that take years to get money to victims of floods, wildfires and other catastrophes. The program, funded in part by the financial giant Morgan Stanley, will pay owners of apartment buildings to rebuild more quickly, so they don't have to wait for federal funds. 
Elon Musk's Tax Bill on Stock Options Fell Along With Tesla's Share Price
Richard Rubin et al., The Wall Street Journal
Elon Musk already faces a federal tax bill topping $3.5 billion on exercising Tesla Inc. TSLA stock options. It would have been bigger if the company's share price hadn't fallen after he tweeted about selling stock.
Biden Bill Has Tax Cut for Mere Millionaires, Hike for Mega Rich
Laura Davison, Bloomberg
For millionaires trying to decipher if they will pay more or less in taxes under President Joe Biden's Build Back Better plan, the answer largely depends on just how much income they get, and how it's earned. Millionaires would collectively pay a higher average tax rate next year — 33.1%, up from 29.9% — under the version of the Build Back Better Act passed by the House last week, according to new data released Tuesday by the the congressional tax scorekeeper, the Joint Committee on Taxation.
Economy and Monetary Policy
Biden says Americans should 'rest easy' about gas, goods prices this Thanksgiving
Alex Gangitano, The Hill
The president said that high gas prices are a problem in the U.S. and globally. But he touted the release by the Department of Energy of 50 million barrels of oil from the nation's Strategic Petroleum Reserve, which the White House announced earlier on Tuesday. 
Biden Pick of Powell for Fed Chairman Marks Rare Split With Warren
Ken Thomas and Siobhan Hughes, The Wall Street Journal
Sen. Elizabeth Warren's opposition to President Biden's renomination of Federal Reserve Chairman Jerome Powell marks her most public break with her one-time presidential rival, whose economic policy and personnel choices she has helped shape. Ms. Warren said Monday that she would vote against Mr. Powell's nomination for a second term as Fed chairman, a move that was widely expected after she assailed Mr. Powell in September as a dangerous man who would weaken banking rules. 
Powell's historic bet: Shrugging off inflation to deliver on jobs
Victoria Guida, Politico
Progressives widely praised Federal Reserve Chair Jerome Powell last year for a historic shift in policy when he pledged to keep interest rates near zero until the economic recovery was felt by most Americans. Now, surging inflation could place that promise in jeopardy before it has barely taken hold.
Not since Americans came home from World War II has inflation run through the economy like it is now
Patti Domm, CNBC
Not since Americans came home from World War II has inflation percolated through the U.S. economy like it is now, and it could continue to do so for months to come. That's because the pandemic hit the economy like a sledge hammer, shattering the normal way business is conducted and consumers live their lives.
The Inflation Miscalculation Complicating Biden's Agenda
Jim Tankersley, The New York Times
President Biden's top economists have worried from the beginning of his administration that rising inflation could hamstring the economy's recovery from recession, along with his presidency. Last spring, Mr. Biden's advisers made a forecasting error that helped turn their fears into reality, a calculation that spread to this week's decision to renominate the Federal Reserve chair.
Biden Says He Wants to Diversify the Fed. He Has a Few Choices
Steve Matthews, Bloomberg
President Joe Biden has pledged that his nominations to the U.S. central bank will bring "new diversity" to the Federal Reserve, which he says "is much needed and long overdue." In the Fed's 107-year history, just three Black Americans have served as a governor on the central bank's board in Washington. 
How Biden Went for Stability Over 'Fresh Blood' With His Fed Pick
Nancy Cook et al., Bloomberg
For months, Federal Reserve Chair Jerome Powell was viewed on Wall Street and in Washington as the odds-on favorite to keep his job for a second term as President Joe Biden weighed his choice of the central bank's next leader. Then another contender — Fed Governor Lael Brainard — walked into the West Wing on a Thursday afternoon earlier this month and knocked Biden's socks off. Her interview ran past the allotted time as the two discussed everything from the fragile state of the economy to inflation, China and climate change, according to people familiar with the matter.
U.S. Households Likely Increased Spending in October
Sarah Chaney Cambon, The Wall Street Journal
U.S. consumers likely boosted spending in October, helping to power the broader economic recovery as businesses step up investment and the labor market tightens. Economists surveyed by The Wall Street Journal estimated that consumer spending rose 1% in October from a month earlier and that personal incomes edged up 0.2% last month. 
Why Is Biden Tapping the Strategic Oil Reserve, and Will That Lower Gas Prices?
Timothy Puko and Kathy Stech Ferek, The Wall Street Journal
The Biden administration said Tuesday that it would release 50 million barrels of oil from its Strategic Petroleum Reserve in a coordinated effort with other countries to bring down gasoline prices. 
U.S. Jobless Claims Expected to Edge Down
Gwynn Guilford, The Wall Street Journal
Filings for unemployment benefits likely continued their gradual decline last week amid a hot labor market. Economists surveyed by The Wall Street Journal estimate that weekly jobless claims, a proxy for layoffs, fell to 260,000 in the week ended Nov. 20 from 268,000 the prior week.
Treasury's 20-Year Bond Struggles to Catch On With Investors
Sam Goldfarb, The Wall Street Journal
U.S. government bonds have had a tough time this year. And then there's the 20-year old bond, which has faced its own unique problems. Reintroduced last year for the first time since 1986, the 20-year bond was intended to help the government get the lowest possible long-term borrowing costs. 
Financial Products and Investments
No, the housing market isn't about to crash—but Redfin does say some good news awaits buyers in 2022
Lance Lambert, Fortune
It's understandable that some sidelined home shoppers think this unprecedented housing market is set to pop. They see an ongoing real estate run—which has sent U.S. home prices soaring 19.9% over the most recent 12-month period—that echoes the last frenzy, which ultimately culminated in the 2008 housing crash and subsequent foreclosure crisis.
New York Targets Affluent Neighborhoods in Push for Affordable Housing
Mihir Zaveri, The New York Times
Under Mayor Bill de Blasio, New York City has moved to transform neighborhoods and carve out room for sorely needed affordable housing in communities with significant concentrations of Black and Latino residents. Like in many other American cities, white, wealthy areas seemed out of reach, even as the population boomed, rents soared and homelessness rose.
Unusual holiday home-buying surge pushes mortgage demand higher
Diana Olick, CNBC
An unusual surge in home buying, just as the market enters the historically slow holiday season, is driving mortgage demand higher. Total mortgage application volume rose 1.8% last week compared with the previous week, according to the Mortgage Bankers Association's seasonally adjusted index.
'Buy now, pay later' group Affirm backs tougher rules for 'wild west' market
Joshua Franklin and Imani Moise, Financial Times
BNPL soared in popularity during the pandemic but regulators are starting to worry about the potential for consumer harm.
There's a New Crypto Land Grab Going On
Kevin Dugan, New York magazine
When NFTs first came into the public consciousness, the whole idea behind them was a little weird. Here were these crypto certificates of ownership attached to pictures of bored apes or videos of Kevin Durant on the court, but they didn't give anyone the copyright to those specific media.
Stripe co-founder says the $95 billion fintech giant is 'very happy' staying private
Ryan Browne, CNBC
Online payments giant Stripe is still in no rush to go public, with co-founder John Collison telling CNBC the company is happy staying private for now. "We're very happy as a private company," Collison said, speaking in an interview with CNBC's Hadley Gamble at the Fintech Abu Dhabi festival.
What happened with blockchain in state government?
Colin Wood, StateScoop
When cryptocurrency entered the public consciousness several years ago, many seemed to believe that blockchain, the distributed-ledger technology underpinning it, would soon be everywhere, including state government. Officials began launching blockchain initiatives, excited by the potential of a technology tied to the creation of overnight digital millionaires.
Stripe says it's open to accepting crypto for payments, three years after ending bitcoin support
Ryan Browne, CNBC
Stripe isn't ruling out accepting cryptocurrency as a method of payment in the future, according to co-founder John Collison. The online payments company ended support for bitcoin payments in 2018, citing the digital coin's notoriety for volatile price swings and a lack of efficiency in making everyday transactions.
NFT Hype Gets Endorsed With Collins Word of Year Award
Vlad Savoy, Bloomberg
The Collins Dictionary declared NFT its word of the year for 2021 in recognition of the convergence of the worlds of money, tech and art in what became known as "non-fungible tokens." NFTs have exploded in popularity this year with the help of collectors, speculators and celebrity endorsers stirring up hype — and funding — for them. Collins defines them as "a unique digital certificate, registered in a blockchain, that is used to record ownership of an asset such as an artwork or a collectible." Some of this digital artwork has been selling for millions of dollars.
Opinions, Editorials and Perspectives
This email was sent by: Morning Consult
729 15th St. NW Washington, DC, 20005, US