Finance
Essential financial news & intel to start your day.
May 13, 2022
Top Stories
In a bipartisan 80-19 vote, the Senate confirmed Federal Reserve Chair Jerome Powell for a second term, following the confirmations earlier this week of Lisa Cook and Philip Jefferson to the central bank's board. (

Politico

) In an interview with Marketplace, Powell said managing inflation while avoiding a recession will be challenging and he couldn't promise a pain-free path forward, though there are "pathways" to threading that needle and a "soft landing" would be "getting back to 2% inflation while keeping the labor market strong." (

CNBC

)

Following volatility with stablecoins this week, Treasury Secretary Janet Yellen reiterated during a House hearing the need for federal regulation of cryptocurrency markets, saying the country needs "a comprehensive framework so that there are no gaps" in oversight. (The Associated Press) Yellen also said she believes the Federal Reserve can take action to tame inflation without causing a recession, calling it the most important issue facing the Biden administration. (Reuters)
Hester Peirce, the lone Republican commissioner on the Securities and Exchange Commission, said there may be "movement" with the agency to tighten regulations of stablecoins. Speaking at an online panel hosted by the Official Monetary and Financial Institutions Forum, Peirce said there are "different potential options for approaching stablecoins" but the SEC should "allow room for there to be failure." (Reuters)
Events Calendar (All Times Local)
A MESSAGE FROM MORNING CONSULT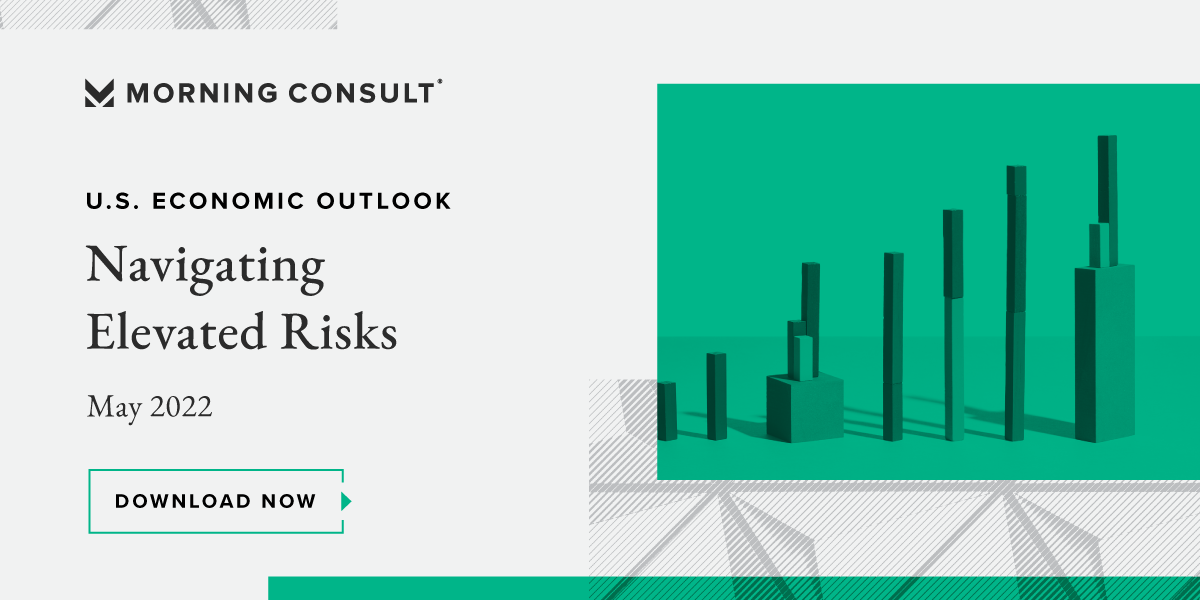 What Else You Need to Know
Financial giants tiptoe into TikTok

Chris Taylor, Reuters
As TikTok accounts focused on money gain huge followings, stodgy financial firms are wedging themselves into youth-oriented social media platforms for a piece of the action.
Ukraine Aid Delayed After GOP Senator Rand Paul Objects to Vote
Laura Litvan and Erik Wasson, Bloomberg
Paul said Ukraine will have received about $60 billion from the US since last year, an amount that exceeds the budget for the U.S. State Department and a level that could further stoke soaring inflation.
Coronavirus committee: Meat companies lied about impending shortage and put workers at risk
Parija Kavilanz and Danielle Wiener-Bronner, CNN
At the height of the pandemic, as the coronavirus infected tens of thousands of meat industry workers and caused hundreds to die, executives at the nation's largest meat producers were aware of the transmission risk in their plants and successfully lobbied the Trump White House and the USDA to circumvent coronavirus prevention measures and regulations, according to the latest findings of a congressional investigation.
AFL-CIO presses Biden to cancel student debt
Karl Evers-Hillstrom, The Hill
The AFL-CIO on Thursday urged President Biden to forgive student loans, putting additional pressure on the White House to cancel at least some of the nation's $1.6 trillion in student loan debt.
Lawmakers press for semiconductor manufacturing tax credits on China bill
Tobias Burns, The Hill
A joint effort by Republicans and Democrats to append tax credits onto an economic bill focused on competition with China is underway in the Senate as the bill entered conference negotiations on Thursday.
IRS Announces New Director of Whistleblower Office

The National Law Review
On May 12, the U.S. Internal Revenue Service (IRS) announced that John W. Hinman will serve as the Director of the IRS Whistleblower Office. Hinman will oversee the agency's highly successful whistleblower award program. Since 2007, the IRS has awarded whistleblowers over $1 billion based on the collection of over $6 billion in back taxes, interest, penalties, and criminal fines and sanctions.
Tax professionals 'horrified' by IRS decision to destroy data on 30 million filers

Kate Dore, CNBC
An audit by the Treasury Inspector General for Tax Administration revealed the IRS has tossed data for millions of payers, sparking anger from the tax community. The material, known as paper-filed information returns in accounting parlance, is sent yearly by employers and financial institutions, and covers taxable activity, such as W-2 forms, with copies sent to taxpayers and the IRS. "The continued inability to process backlogs of paper-filed tax returns contributed to management's decision to destroy an estimated 30 million paper-filed information return documents in March 2021," according to the report.
Lawmakers press for semiconductor manufacturing tax credits on China bill
Tobias Burns, The Hill
A joint effort by Republicans and Democrats to append tax credits onto an economic bill focused on competition with China is underway in the Senate as the bill entered conference negotiations on Thursday.
Economy and Monetary Policy
U.S. Senate panel to question Fed nominee Barr on May 19

Reuters
President Joe Biden's second pick to serve as the top regulatory official at the Federal Reserve will be questioned by the U.S. Senate Banking Committee on May 19, according to the panel's website.
U.S. labor market still tightening; producer price gains moderate

Lucia Mutikani, Reuters
The number of Americans filing new claims for unemployment benefits unexpectedly rose last week, touching the highest level in three months, but there is no material shift in labor market conditions amid strong demand for workers.
Warren Bill Would Require Companies to Explain Price Hikes

Laura Davison, Bloomberg
Senator Elizabeth Warren wants companies to disclose the rationale for charging more for their products and empowering federal regulators to go after companies ranging from oil producers to food sellers that have sharply increased prices.
Another key inflation measure slowed in April
Anneken Tappe, CNN
Economists and investors are hopeful that we're past the pandemic inflation peak, as another key price index showed a slower increase in April. The Producer Price Index, which measures wholesale inflation before goods and services reach consumers, rose 11% over the 12 months ending in April, not adjusted for seasonal swings, the Bureau of Labor Statistics reported Thursday. It was the fifth straight month of double-digit inflation.
California's minimum wage is going up again in January. Here's why

Andrew Sheeler, The Fresno Bee
California's minimum wage will increase again in January, rising to $15.50 an hour for all workers. California Gov. Gavin Newsom announced the increase in a statement Thursday, saying that the projected increase comes about as a result of inflation exceeding 7%. Newsom's office pointed to the COVID-19 pandemic resulting in supply chain issues and "labor market frictions," as well as Russia's invasion of Ukraine.
Newly public data show few Black economists at the Fed.

Jeanna Smialek, The New York Times
Black researchers made up about 1.5 percent of the Federal Reserve system's 945-person staff of doctorate-level economists at the end of 2021, a number that highlights the central bank's ongoing struggle to improve racial and ethnic diversity in its ranks.
Americans Hunt for New Banks as Inflations Stretches Their Budgets
Paulina Cachero, Bloomberg
Roaring inflation is testing how loyal US consumers are to their banks. With soaring prices stretching household budgets, consumers are increasingly switching banks as they hunt for better interest rates to boost their savings. Roughly 27% of retail banking consumers shifted some of their money from their primary bank to another institution in April, citing various reasons for seeking other options, according to a survey from J.D. Power.
JPMorgan's Dimon faces shareholder advisory vote on $52.6 mln retention award
David Henry and Ross Kerber, Reuters
Long-time JPMorgan Chase & Co. CEO Jamie Dimon will find out on Tuesday how shareholders feel about a special $52.6 million stock option award he received to stay on for five more years, which is opposed by two key investor advisory firms.
Black Bankers Fight to Hold Finance Accountable for Its Promises
Katherine Doherty et al., Bloomberg
In the two years since the murder of George Floyd, banking giants have touted intern classes and promotions with more Black people than in the past and unveiled a slew of programs aimed at making their workforces look more like the countries they serve.
Bank of America just lost a key tech executive who oversaw the bank's vendors and tech operations across all business lines.
Bianca Chan and Carter Johnson, Insider
Bank of America's senior technology leadership is changing once again. This May, Sumeet Chabria, one of Bank of America's top eight tech executives, announced his departure from the bank, Insider has learned.
Jamie Dimon gets brutally honest about Trump, Democrats, and corporate executives who refuse to take a stand
Jessica Mathews, Fortune
For the CEO of a trillion-dollar global bank, Jamie Dimon doesn't pull any punches. "We are dimwits when it comes to policy," Dimon said of the country's political officials while speaking at the Heartland Summit, a conference for leaders in the middle of the country that is taking place in the small city of Bentonville, Ark., where Walmart is headquartered. Dimon was on stage speaking to Olivia Walton, a former reporter and the granddaughter-in-law of Sam Walton, the late founder and CEO of Walmart.
Over 20 lawmakers sign on to bipartisan push for cannabis bill
Aris Folley, The Hill
More than 20 senators have signed on to a growing bipartisan push to include marijuana banking legislation in a larger package aimed at boosting U.S. competitiveness with China, despite previous resistance from leadership on both sides of the aisle.
Financial Products and Investments
Fed delivers mixed credit card data
Payments Dive
Americans' credit card debt in the first quarter rose 9% to $841 billion, over the same period last year, even as the balance dipped relative to 2021's fourth quarter, according to the New York Federal Reserve Bank's latest quarterly report on U.S. household debt and credit.
Brookfield pushes ahead with asset management business spin-off
Antoine Gara, Financial Times
Brookfield Asset Management, one of the world's largest alternative investment groups, is moving forward with a spin-off of its asset management business into a separate public company, in what is poised to become one of the largest Wall Street listings of the year. Brookfield will spin a 25% stake in its asset management unit by the year-end in a maneuver aimed at simplifying the structure of the sprawling Toronto-based company and unlocking shareholder value.
Investors Face a World Where Stocks No Longer Reign
Akane Otani, The Wall Street Journal
For years after the 2008-09 financial crisis, interest rates were so low that many investors argued that to get a decent return, you had to put a hefty chunk of your portfolio in the stock market. That conviction was so popular that Wall Street gave it a name: TINA, short for "there is no alternative" to stocks.
Mortgage rates edge up, adding hundreds to buyers' monthly payments
Susan Doyle and Michele Lerner, The Washington Post
Mortgage rates continued to climb this week, adding more financial strain on hopeful home buyers as they wade into the competitive spring and summer markets. The 30-year fixed-rate mortgage averaged 5.3 percent, a rise from last week, when it averaged 5.27 percent, according to data released Thursday by Freddie Mac. This time last year, the 30-year rate was 2.94 percent.
Troubled Student Housing Firm Would Pay Tens of Millions to Investors
Matthew Goldstein, The New York Times
Hundreds of investors in a troubled luxury student apartment building near the University of Texas at Austin are close to recouping much of the $75 million they committed to the project, with most of the bill footed by a management firm that has drawn complaints from tenants across the country.
The Biggest Problem for Recent College Grads: A Surge in Rent Prices
Will Parker, The Wall Street Journal
Recent graduates are in high demand, commanding higher pay and improved benefits. They are also entering what may be the toughest-ever market for renters. The National Association of Colleges and Employers says employers plan to raise pay for many 2022 graduates, though it doesn't yet have firm figures for the entire class. In the most recent complete data, the group said 2020 grads made average starting salaries of about $55,000, up more than 14% over the average about a decade before.
Tether Takes Victory Lap After Stablecoin Regains Peg
Olga Khariff, Bloomberg
Amidst worries that Tether, the world's biggest stablecoin, was losing its 1-to-1 peg to the dollar, Paolo Ardoino stepped in to reassure investors. Tether's chief technology officer emphasized that the private company behind the coin that plays a critical role in the crypto ecosystem had no problem with redemptions, including even a $600-million repayment in the last 24 hours.
How More Than $1 Trillion of Crypto Vanished in Just Six Months
Peter Santilli and Corrie Driebusch, The Wall Street Journal
Traders' flight from risky investments has halved the price of bitcoin and other cryptocurrencies, wiping out more than $1 trillion worth of digital money since November.
Crypto reckoning looms in Washington as investors lose billions
Sam Sutton, Politico
Crypto markets crashed again. This time, it's different. A major downturn in Bitcoin and Ether prices and the flailing death spiral of a popular stablecoin have erased hundreds of billions of dollars from investor portfolios in less than a week.
Ex-Meta Executive David Marcus Forms Company Focused on Bitcoin
Kurt Wagner and Hannah Miller, Bloomberg
Former Meta Platforms Inc. executive David Marcus, who spearheaded the social giant's digital currency efforts before departing last year, is launching a new company focused on building technology to promote Bitcoin. Marcus raised roughly $175 million in venture capital funding for the new company, according to a source familiar with the deal.
FTX Founder Sam Bankman-Fried Buys 7.6% Stake in Robinhood

Orla McCaffrey, The New York Times
One of the biggest names in cryptocurrencies is betting on individual investors. Sam Bankman-Fried, the 30-year-old billionaire who founded the cryptocurrency exchange FTX, bought a 7.6% stake in Robinhood Markets Inc., HOOD 5.03% according to a Thursday regulatory filing. He paid about $648 million for the stake, which would make him the trading app's third-largest shareholder.
BitMEX Co-Founder Deserves More Than a Year in Prison, US Says
Chris Dolmetsch, Bloomberg
BitMEX co-founder Arthur Hayes should spend significantly more than a year in federal prison for failing to implement an anti-money-laundering program at the pioneering cryptocurrency exchange, US prosecutors said.
Cryptocurrencies Melt Down in a 'Perfect Storm' of Fear and Panic
David Yaffe-Bellany et al., The New York Times
The price of Bitcoin plunged to its lowest point since 2020. Coinbase, the large cryptocurrency exchange, tanked in value. A cryptocurrency that promoted itself as a stable means of exchange collapsed. And more than $300 billion was wiped out by a crash in cryptocurrency prices since Monday.
Crypto's plummet tests the durability of a hype-driven industry
Tory Newmyer and Steven Zeitchik, The Washington Post
Amid a collapse in many cryptocurrency prices this week, fans of the Washington Nationals might have spotted an odd tweet from the baseball team's account. "Crypto 101," it read, as an embedded video played clips of Nats stars in action and a voice-over introduced basic concepts of digital money. "You have questions. We've got answers."
Opinions, Editorials and Perspectives
First-Time Buyers Were Undeterred by Rapid Home Price Appreciation in 2021
Donghoon Lee and Joseph Tracy, Federal Reserve Bank of New York
Tight inventories of homes for sale combined with strong demand pushed up national house prices by an eye-popping 19 percent, year over year, in January 2022. This surge in house prices created concerns that first-time buyers would increasingly be priced out of owning a home. However, using our Consumer Credit Panel, which is based on anonymized Equifax credit report data, we find that the share of purchase mortgages going to first-time buyers actually increased slightly from 2020 to 2021.
This email was sent by: Morning Consult
729 15th St. NW Washington, DC, 20005, US