Finance
Essential financial news & intel to start your day.
February 7, 2023
Today's Top News
Worth watching:

President Joe Biden

delivers his State of the Union Address

at 9 p.m.

Federal Reserve Chair Jerome Powell will be interviewed by Carlyle Group co-Executive Chairman David Rubenstein at The Economic Club of Washington, D.C.
Fed Vice Chair for Supervision Michael Barr will give keynote remarks at the Banking on Financial Inclusion Hope Economic Mobility Forum.
A MESSAGE FROM MORNING CONSULT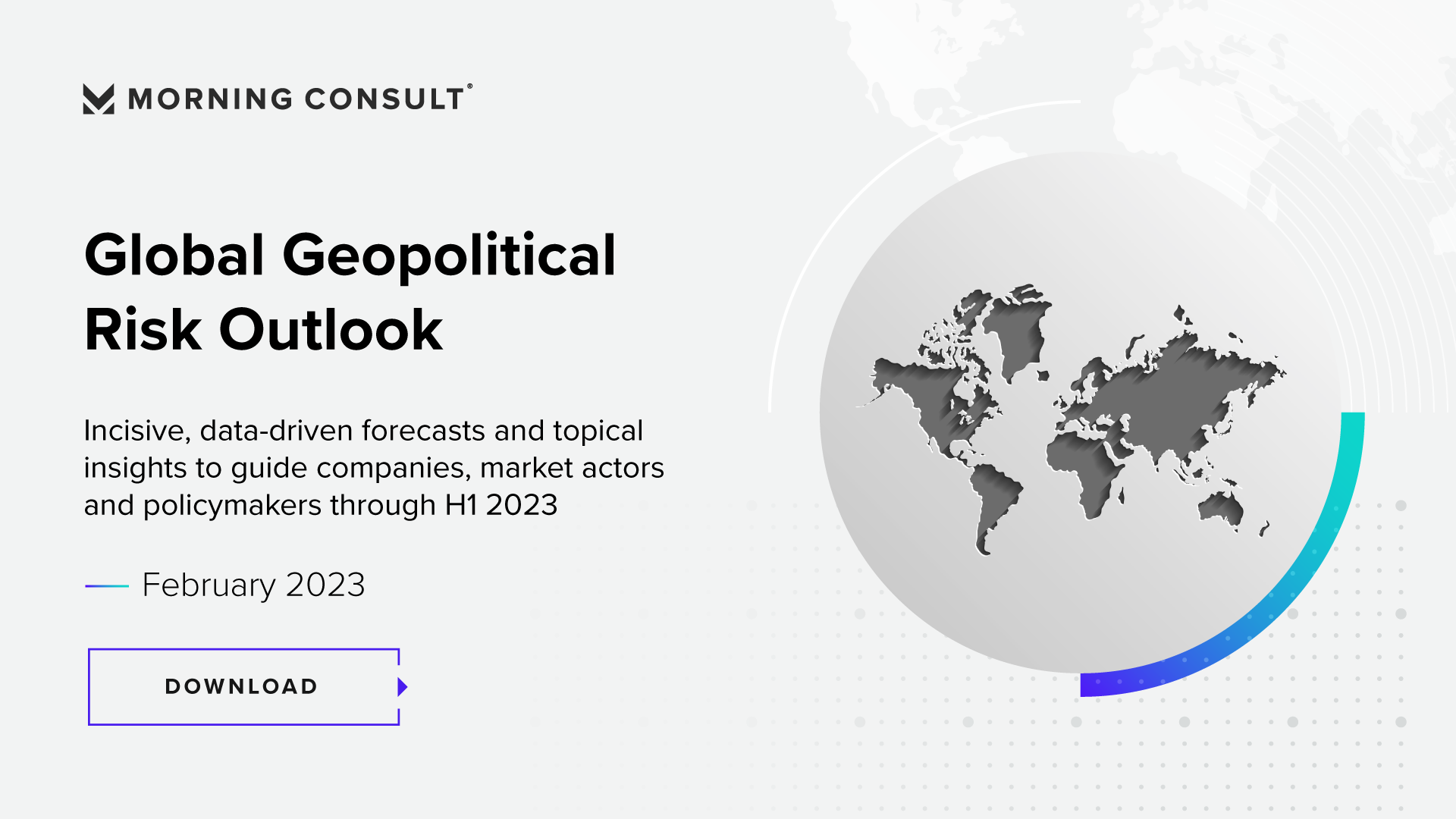 What Else You Need to Know
Florida Lawmakers Move to Take Over Disney's Special-Tax District
Robbie Whelan, The Wall Street Journal
If approved, the bill would give Gov. Ron DeSantis the power to appoint members to oversee the district, instead of eliminating it, as the governor had pledged.
Biden's 2022 State of the Union report card: Where he delivered — and fell flat
Myah Ward, Politico
Promises, promises. President Joe Biden's State of the Union address last year was loaded with them: from Ukraine to infrastructure, to immigration and reproductive rights.
Black small-business owners more confident about this year than their peers
Hope King, Axios
Black small-business owners feel more optimistic about this year than their peers, Goldman Sachs' latest 10,000 Small Businesses Voices survey shows.
35% of millionaires say retirement is 'going to take a miracle,' report finds
Jessica Dickler, CNBC
These days, fewer Americans — including millionaires — feel confident about their financial standing.
Economic and Fiscal Policy
Yellen: 'You don't have a recession' when U.S. unemployment at 53-year low
Andrea Shalal, Reuters
U.S. Treasury Secretary Janet Yellen on Monday said she saw a path for avoiding a U.S. recession, with inflation coming down significantly and the economy remaining strong, given the strength of the U.S. labor market.
Fed's Bostic Says Higher Peak Rate on Table After Jobs Blowout
Steve Matthews, Bloomberg
Federal Reserve Bank of Atlanta President Raphael Bostic said January's strong jobs report raises the possibility that the central bank will need to increase interest rates to a higher peak than policymakers had previously expected.
Failure to raise U.S. debt ceiling would lead to 'economic and financial catastrophe,' Yellen says
Chelsea Cox, CNBC
The U.S. government risks "economic and financial catastrophe" if the House fails to pass a bill to raise the $31.4 trillion debt ceiling, Treasury Secretary Janet Yellen said Monday.
Child Care Hasn't Recovered From Covid, Keeping Many Parents at Home
Harriet Torry, The Wall Street Journal
The high cost and limited availability of child care is keeping some parents out of the labor force when unemployment is at its lowest rate in more than half a century. There were about 58,000 fewer daycare workers in the U.S. last month compared with February 2020, just before the pandemic took hold, according to the Labor Department, even though the broader labor market has recovered all lost jobs.
US states offer their own green subsidies in bid to lure investment
Amanda Chu and Derek Brower, Financial Times
Inflation Reduction Act committing $370bn to clean energy 'switched on a lightbulb' for local officials
Businesses face worldwide push for more tax disclosure
Brian Faler, Politico Pro
Governments across the developed world are pushing to raise taxes on big corporations, but that's not all they want.
State stimulus checks: IRS plans to rule whether these payments are taxable this week
Rebecca Chen, Yahoo Finance
The Internal Revenue Service is expected to provide more guidance this week on whether stimulus checks that states issued in 2022 are considered taxable income on federal returns.
Side Hustles Are Twice as Common as US Jobs Data Suggest, Survey Finds
Alexandre Tanzi, Bloomberg
Side hustles are twice as prevalent as government data suggests, indicating that more Americans need to work multiple jobs to make ends meet amid historically high inflation.
Financial Products and Investments
Robinhood Hits Back at SEC, Warns of Threat to Zero-Commission Trading
Alexander Osipovich, The Wall Street Journal
Regulator's proposals would crimp payment for order flow, a key source of the brokerage's revenue.
Many on Wall St. Turned Down Carlyle Before It Hired Its C.E.O.
Maureen Farrell, The New York Times
In November, Bill Conway, then interim chief executive of Carlyle, the investing behemoth he helped to start in 1987, walked around the firm's Manhattan headquarters asking younger employees: "Would you like to take my job?"
New Carlyle CEO Schwartz Gets Shot at $180 Million Incentive
Dawn Lim, Bloomberg
Carlyle Group Inc. said it plans to give incoming Chief Executive Officer Harvey Schwartz a five-year stock incentive package valued at $180 million — if he can lift the firm's sagging share price.
Carlyle fundraising slowed sharply during chief executive hunt
Antoine Gara, Financial Times
Slowdown underlines pressure on Harvey Schwartz after he was appointed to the top job this week
NYSE Plans to Pay in Full Majority of Claims After Glitch
Katherine Doherty, Bloomberg
Investors burned by last month's malfunction on the New York Stock Exchange can recoup all of their losses, but only if their trades fit certain parameters. The rest may wind up with nothing.
Oklahoma joins in ESG backlash, creating its own boycott list
Margarida Correia, Pensions & Investments
Oklahoma State Treasurer Todd Russ announced Feb. 1 that he had started the process of compiling a list of financial institutions with which Oklahoma government entities will be prohibited from doing business because of their environmental, social and governance policies.
Credit Suisse markets CSFB as 'super boutique', sees revenue rebound
Paritosh Bansal, Reuters
Credit Suisse Group AG is marketing its First Boston investment banking unit to investors as a "super boutique" and sees revenue surging to as much as $3.5 billion, as the embattled lender seeks to raise funds for the revamped business, a company document seen by Reuters shows.
India's Adani still eligible to be part of influential JPMorgan bond indexes
Reuters
India's Adani group of companies, which in recent weeks has seen a brutal selloff in its bonds and shares after being targeted by a U.S. short-seller, is still eligible for inclusion in JPMorgan's influential bond indexes, the bank said in a note.
Goldman Sachs to invest over $1 bln in Europe biomethane venture
Virginia Furness, Reuters
Goldman Sachs Asset Management said on Monday it had launched a biomethane business called Verdalia Bioenergy and aimed to invest more than 1 billion euros ($1.08 billion) in Europe over the next four years.
Home-Buying Companies Stuck With Hundreds of Houses as Demand Slows
Will Parker and Nicole Friedman, The Wall Street Journal
Ribbon Home Inc. had a fast-growing business during the housing boom. The New York City-based startup purchased homes with cash on behalf of buyers. Then it sold the homes to the buyers at the same price, plus a fee, once the buyers got a mortgage.
The remote workers have left, but the housing havoc they created remains
Shannon Pettypiece, NBC News
The throngs of remote workers who flocked to rural communities throughout the pandemic have begun to thin as employers push a return to offices. But for many of the towns remote workers descended on, the housing crisis they fueled has remained.
Crypto and Financial Technology
Opinions, Editorials and Perspectives
Revisiting the Summer of Stagflation

Paul Krugman, The New York Times
I don't know whether there will be any surprises in the State of the Union address. I do know that the background to the speech will be very different from what a great majority of pundits expected just a few months ago.
$31 Trillion Is Not the Scariest Number in Debt-Ceiling Fight

Karl W. Smith, Bloomberg
With $31 trillion of debt, the US government has reached its borrowing capacity. President Joe Biden and Republican Speaker of the House Kevin McCarthy have started talks on ways to raise the so-called federal debt ceiling. If they don't come to an agreement, the US could default on its debt and send the economy and financial markets into a catastrophic tailspin.
This email was sent by: Morning Consult
729 15th St. NW Washington, DC, 20005, US