Global
Essential news & intel on how business, politics and economics intersect around the world to start your day.
May 13, 2022
Democrats Now More Likely to Back China Tariffs 
Democrats are now more likely to support maintaining Trump-era tariffs on imports from China than rescinding them, 44% to 28%, even if removing the tariffs could reduce inflation. At 59%, Republicans still overwhelmingly support keeping the tariffs as well.
Morning Consult's head of geopolitical risk analysis, Jason McMann, delves into the implications of this newfound bipartisan common ground in his latest: In a Sharp Reversal, Democrats No Longer Support Reducing Tariffs on China to Combat Inflation.
Events Calendar (All Times Local)
A MESSAGE FROM MORNING CONSULT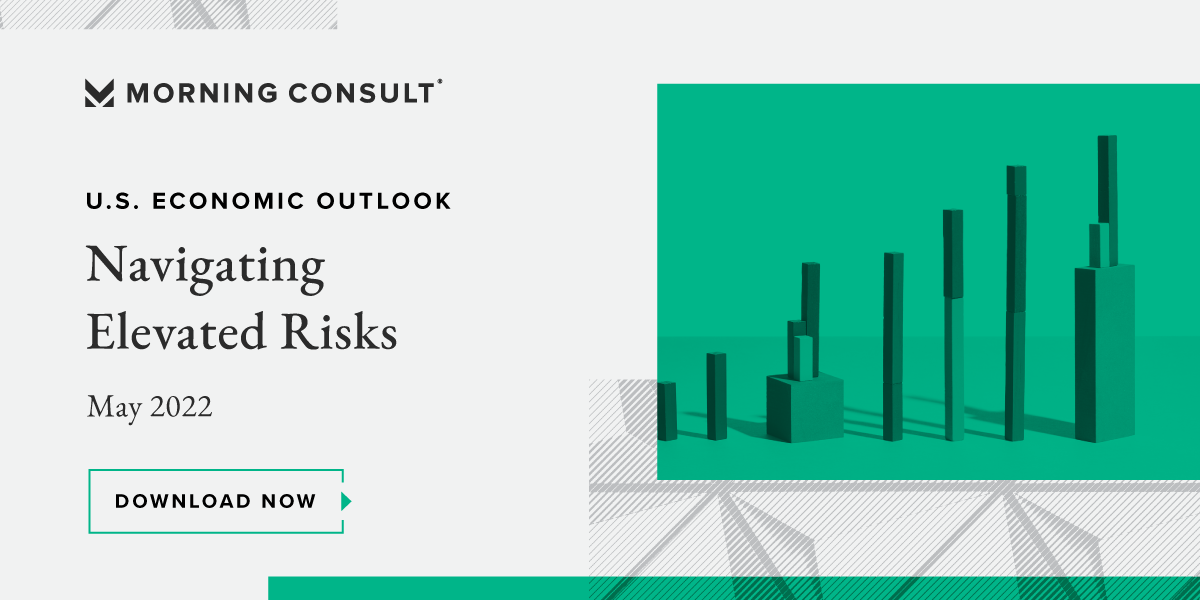 What Else You Need To Know
Ukraine: U.N. Human Rights Council considers war crimes probe in the Kyiv area 
Claire Parker, The Washington Post 
The United Nations Human Rights Council voted Thursday to deepen an investigation into alleged rights abuses by Russian forces near Ukraine's capital, Kyiv, and other regions of the country.
UN holds emergency meeting on Taliban crackdown on women
Edith M. Lederer, The Associated Press 
The U.N. Security Council held emergency closed consultations Thursday on the Taliban's latest crackdown on Afghan women as it considered a presidential statement that would express deep concern at the new ban by Afghanistan's rulers on women leaving home "without necessity" and wearing head-to-toe clothing when they do go out in public.
UN: Ukraine war is `child rights crisis' with school attacks
Edith M. Lederer, The Associated Press
The war in Ukraine is a "child rights crisis" where education is under attack, nearly 100 youngsters have been killed in just the last month, and millions more have been forced to flee their homes, the U.N. children's agency said Thursday.
Top EU diplomat hopeful for deal at Iran nuclear talks
The Associated Press 
The European Union's foreign policy chief said Friday he is hopeful that stalled talks with Iran over the country's nuclear program can yield reach an agreement.
China shuts down talk of zero covid hardship; users strike back with Shanghai video
Lily Kuo, The Washington Post 
The country's censors were defeated, for a while, as citizens found inventive ways to upload a protest video gone viral.
Australia accuses China of 'act of aggression' as spy ship hugs coast
Nic Fildes, Financial Times 
Intelligence vessel's path close to naval communications centre interpreted as a sign of Beijing's growing assertiveness.
China 'ready to go all out' to support North Korea after COVID outbreak
Ifang Bremmer, NK News 
As hundreds of thousands battle 'fever' in North Korea, China joins WHO and South Korea in offering COVID-19 aid.
Malaysian FM Says ASEAN Envoy 'Welcomes' Idea of Engaging Myanmar's NUG
Sebastian Strangio, The Diplomat 
Malaysian Foreign Minister Saifuddin Abdullah continues to push for a reassessment of ASEAN's stalled approach to the country's crisis.
India may be getting jittery about rising yields on government bonds 
Mimansa Verma, Quartz
The Indian government seems worried that the interest, or yield, on the bonds it issues has surged way too much. If this continues, it fears that repaying loans will drain it of considerable funds.
Arrest of Cardinal Zen send chills through Hong Kong's Catholic church
Primrose Riordan and Chan Ho-him, Financial Times 
Chinese city's diocese had already cancelled masses to commemorate Tiananmen Square protests.
Japan to launch first exchange for carbon emissions trading
Kensuke Yuasa and Hiroko Matsumoto, Nikkei Asia 
JPX and economy ministry will set up trial section on Tokyo bourse in September.
Ukrainian Forces Hold the Line in Donbas as Western Heavy Weapons Join the Battle
Yaroslav Trofimov, The Wall Street Journal 
With Russia failing to achieve a strategic breakthrough, a long and bloody battle for eastern Ukraine looms.
Ukraine Human Toll Grows, With 14 Million Displaced and 3,500 Civilian Deaths
Joanna Sugden et al., The Wall Street Journal
The U.N. says the number of deaths is likely far higher, and a top EU official says Russia is 'the most direct threat to the world order.'
Russia's Attacks on Ukraine Health Centers Show a Vicious Pattern
Lucy King and Jonah M. Kessel, The New York Times 
Whether the attacks against Ukraine's hospitals and medical personnel amount to war crimes may eventually be a matter for the International Criminal Court in The Hague, as well as other courts and special war crimes tribunals, to decide.
Russia accused of industrial-scale farm plunder in Ukraine
Ben Hall, Financial Times 
Grain seizures and destruction of tools and buildings evoke painful memories of historic famine.
'They were furious': the Russian soldiers refusing to fight in Ukraine
Pjotr Sauer, The Guardian 
Troops are saying no to officers, knowing that punishment is light while Russia is not technically at war
After 200 Years of Neutrality, Sweden Weighs Joining NATO
Steven Erlanger, The New York Times 
Russia's invasion of Ukraine created new fears, and the Swedes, dragged along by Finland, are expected to apply, reluctantly, to join the alliance and its collective defense.
Odesa residents say will stand defiant in face of Russian attacks
Eiji Furukawa, Nikkei Asia 
Putin's war unites people in multicultural port town under Ukrainian flag.
Germany finds hundreds of Nazi-linked staff in security agencies
Al Jazeera 
A German interior ministry report says a three-year-long review found 327 employees linked to right-wing extremism.
'Terrifying': Days of terror under Colombia's Gulf Clan cartel 
Inigo Alexander, Al Jazeera 
Colombian armed group lay siege to communities in response to extradition of its former leader, Otoniel, to the US.
Costa Rica declares emergency in ongoing cyber attack
Javier Còrdoba, The Associated Press
After a month of crippling ransomware attacks, Costa Rica has declared a state of emergency. In theory, the measure usually reserved to deal with natural disasters or the COVID-19 pandemic would free up the government to react more nimbly to the crisis.
'Now it will only get worse': Cuba grapples with impact of Ukraine war 
Marc Frank, Financial Times 
Russia's longtime ally is already struggling with food and fuel shortages and a collapse in tourism.
Cubans are arriving to the US in record numbers. Smugglers are profiting from their exodus
Patrick Oppman, CNN 
As Cuba confronts the worst shortages of food and medicine in decades and runaway inflation, a new exodus of the island's citizens is underway.
Official: Suspects break into Haiti court, ransack offices
Evens Sanon, The Associated Press 
Unidentified suspects broke into one of Haiti's main courthouses, ransacked judges' offices and stole items including cell phones, Government Commissioner Jacques Lafontant told The Associated Press on Thursday.
Opinions and Perspectives
Geopolitics and Narrative: Georgia — the View from Washington DC
John Lechner, The International Scientific Journal Of Humanities 
This paper focuses on the role of geopolitical narrative as it pertains to Georgia's relationship to the United States. Narratives play a critical role in foreign policy decision making and in the relationships between two countries.
This email was sent by: Morning Consult
729 15th St. NW Washington, DC, 20005, US