Health
Essential health care industry news & intel to start your day.
October 13, 2021
New Data: Where the Public Stands on COVID-19 Booster Shots
With the COVID-19 booster shot rollout well underway, new Morning Consult polling indicates 10 percent of vaccinated adults have already gotten an extra dose — and many more could join them if regulators clear boosters of Moderna Inc. and Johnson & Johnson's vaccines. An advisory group meets tomorrow and Friday to set off that process.
If the extra doses are authorized, we'll be keeping an eye on whether booster eligibility for Moderna and J&J will mirror the guidance for Pfizer Inc.-BioNTech SE's vaccine, which wasn't quite as broad as the Biden administration had hoped. We've got more data and details — check it out.
Events Calendar (All Times Local)
PRESENTED BY THE BETTER MEDICARE ALLIANCE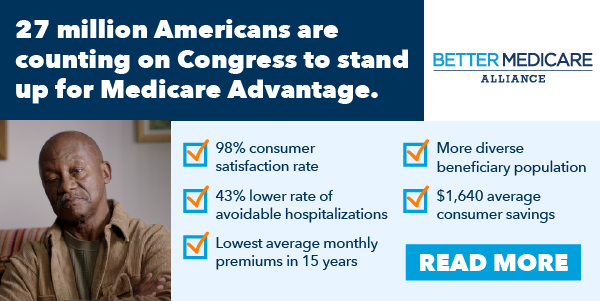 What Else You Need to Know
Biden lifting land border travel restrictions for fully vaccinated
Stef W. Kight, Axios
The Biden administration will open up U.S. land borders with Canada and Mexico to non-essential travel starting in November — but only to those fully vaccinated against COVID-19.
W.H.O. Will Announce New Team to Study Coronavirus Origins
Benjamin Mueller, The New York Times
"This new group can do all the fancy footwork it wants, but China's not going to cooperate," one expert said.
Caitlin Owens, Axios
Data collected by the National Institutes of Health show that people who received a shot of Johnson & Johnson's coronavirus vaccine have a stronger neutralizing antibody response if they receive an mRNA shot instead of a second J&J one, according to a person who has seen the data.
Philip Morris-backed group to launch first plant-based Covid vaccine
Kana Inagaki, Financial Times
A unit of a Japanese company backed by Philip Morris International is planning to launch the world's first plant-based Covid-19 vaccine that is potentially cheaper and easier to transport and store than conventional jabs.
WHO backs extra jab for Chinese-made vaccines, despite resistance to coronavirus boosters over supply strain
Adam Taylor, The Washington Post
When the World Health Organization gave its backing to two coronavirus vaccines produced by Chinese companies early this year, global health experts greeted the move as a much-needed boost to international vaccine supply.
Harvard Immunologist Champions At-Home Covid Tests to Beat the Pandemic
Emma Court and Jason Gale, Bloomberg Businessweek
Michael Mina says the U.S. should be following in the footsteps of Germany and the U.K. in making low-cost, rapid tests readily available to consumers.
Southwest, American airlines workers will have to get vaccinated, despite Texas order
Oriana Pawlyk, Politico
Texas Gov. Greg Abbott on Monday signed a sweeping order effectively banning vaccine mandates for private businesses with 100 or more employees.
Vaccines Could Have Spared 22,000 Lives in Texas and Florida
Augusta Saraiva, Bloomberg
More than 22,000 lives could have been spared in Texas and Florida, states where governors have spoken out against mask and vaccine mandates, if they had vaccinated three-quarters of their adult populations.
Why Some Nations Have Deadlier Outbreaks With the Same Vaccines
Jinshan Hong et al., Bloomberg
While it's clear vaccines led to a drop in fatalities during the most recent delta variant-driven waves compared with earlier bouts with the virus, some countries saw deaths fall to a greater degree than others, an outcome scientists still don't have answers for.
New Medicare Benefits Must Stay in Biden Bill, Progressives Say
Alex Ruoff, Bloomberg Law
New vision, dental, and hearing benefits under Medicare must be included in Democrats' social spending package if it's going to win support from progressives, two vocal lawmakers said Tuesday.
Democrats Eye Medicare Managed-Care Plans to Fund New Benefits
Tony Pugh, Bloomberg Law
Medicare managed-care plans say they'll have to increase premiums and reduce benefit offerings if Democrats cut their program reimbursements to help pay for new dental, vision, and hearing benefits in traditional Medicare.
The Hunt for the Riskiest, Most Lucrative Patients
John Tozzi, Bloomberg Businessweek
Privately run Medicare Advantage programs are squeezing money from the Medicare risk-adjustment system by coding sicknesses for maximum payout.
BCBS CEOs received bigger raises in 2020 than execs at for-profit insurers, report says
Nona Tepper, Modern Healthcare
The CEOs of Blue Cross and Blue Shield insurers received larger compensation increases in 2020 compared with their for-profit counterparts, a recent report found.
AmeriHealth Caritas enters ACA exchange as Medicaid redeterminations loom
Nona Tepper, Modern Healthcare
Medicare and Medicaid managed-care provider AmeriHealth Caritas will enter the Affordable Care Act exchange market in 2022, the Philadelphia-based insurer said Tuesday.
Pharma, Biotech and Devices
Older Adults Shouldn't Take Aspirin in Effort to Prevent First Heart Attack, Panel Says
Brianna Abbott, The Wall Street Journal
People in their 60s or older shouldn't take aspirin to prevent a first heart attack or stroke because risks likely cancel out the potential benefits, according to a government-backed panel of medical experts.
Covid success of mRNA vaccines opens way to a new generation of drugs
Nikou Asgari, Financial Times
Personalised cancer treatments are among those being developed using a technology once distrusted by big pharma.
Bristol-Myers Is Said to Have Weighed Offer for Acceleron
Michelle F Davis, Bloomberg
Acceleron Pharma Inc. engaged with several companies including Bristol-Myers Squibb Co. to gauge their interest in a potential acquisition before Merck & Co. agreed to buy the company for $11.5 billion in the biggest biotechnology deal of 2021, according to a person familiar with the matter.
Axial Therapeutics Grabs $37.3 Million for Autism Clinical Trials With Teens
Brian Gormley, The Wall Street Journal
Biotechnology startup Axial Therapeutics Inc. has raised $37.3 million in new venture capital to run clinical trials of a medication designed to help children with autism who exhibit serious mood swings and aggressive behavior.
New data on CRISPR Therapeutics' off-the-shelf CAR-T cancer therapy shows more remissions, no major safety issues
Adam Feuerstein, Stat News
More of the cancer patients who received CRISPR Therapeutics' experimental, off-the-shelf CAR-T cell therapy showed complete remissions compared to the drug's initial study results, according to a company update Tuesday. Some of the remissions are lasting six months or more, an important measure of durability.
A Message from the Better Medicare Alliance:
With a 98% beneficiary satisfaction rate, the lowest monthly premiums in 15 years, $1,640 in average annual savings, and better health outcomes for seniors, Medicare Advantage continues to prove its value. Now, seniors are counting on Congress to stand up for the health coverage they need and deserve. Learn more about how Medicare Advantage provides high-quality, affordable health coverage to a more diverse, more at-risk beneficiary population in our 2021 State of Medicare Advantage report.
Opinions, Editorials and Perspectives
This email was sent by: Morning Consult
729 15th St. NW Washington, DC, 20005, US