Tech
Essential tech industry news & intel to start your day.
November 24, 2021
Morning Consult Tech will be off Thursday and Friday for the Thanksgiving holiday. The weekday newsletter will resume Monday. 
Top Stories
The European Commission could announce as soon as Thursday new rules to force big tech companies and political parties to publish details on how they target voters through paid-for messaging, according to two officials and a draft of the rules obtained by Politico. The rules, tied to the European Union's proposed Digital Services Act, would require social media companies to limit how voters are microtargeted with advertising and other communications based on gender or sexual orientation, and make it harder for platforms, parties and foreign governments to deluge people with specific messages before elections. (

Politico

)

Apple Inc. sued Israeli software surveillance company NSO Group, alleging that its Pegasus spyware targeted Apple customers, products, servers and the company itself. Researchers say NSO has developed hacking techniques to install Pegasus on iPhones without the user's knowledge and gains access to the device's files, messages, microphone and camera, and Apple's lawsuit seeks to block NSO Group from using its products. (

The Wall Street Journal

)

The Federal Communications Commission said T-Mobile US Inc. will pay $19.5 million in a settlement agreement over a June 2020 outage that caused a "complete failure" of more than 23,000 calls to 911 after routing and software problems worsened a network failure. The FCC said T-Mobile also will commit to other measures, including improving communications of emergency call center outages. (

The Associated Press

)
Correction: Due to an editing error, a previous version of this newsletter misstated the timing of the expected release of Europe's new rules for political ads on social media. The rules are set to be announced Thursday, not Wednesday.
Events Calendar (All Times Local)
A MESSAGE FROM MORNING CONSULT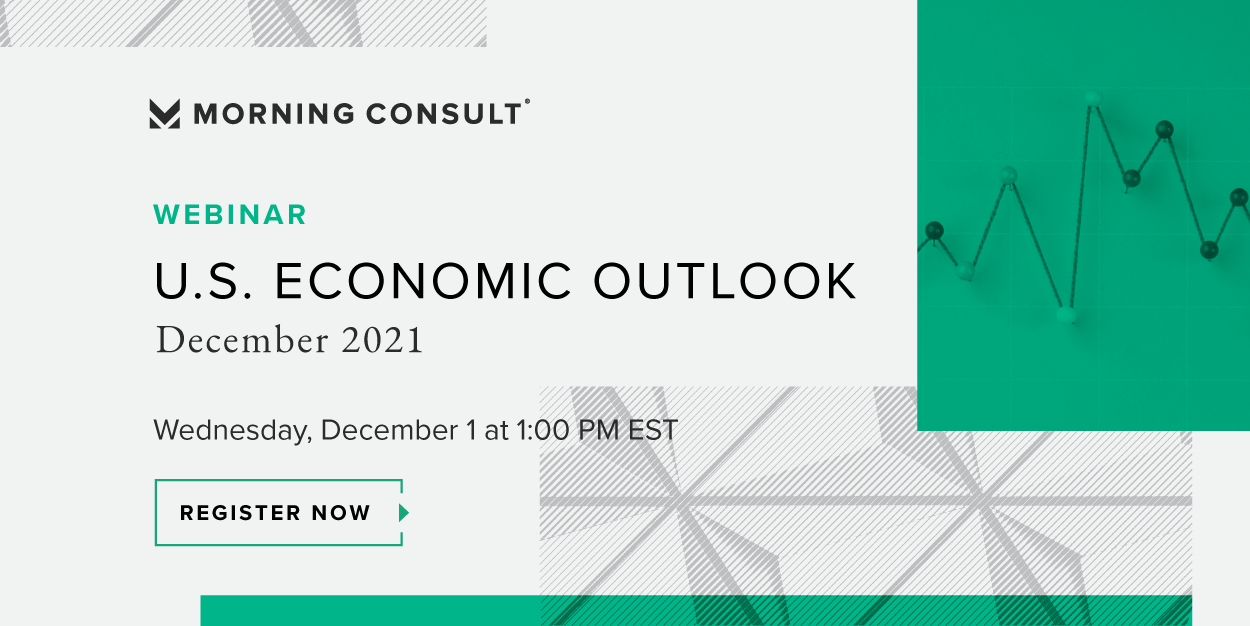 What Else You Need to Know
Dell's quarterly profit more than quadruples on strong PC demand
Eva Mathews and Nilanjana Basu, Reuters
Laptop maker Dell Technologies Inc said on Tuesday profit surged more than four-fold in the third quarter, as demand for its personal computers and servers was boosted by businesses increasingly adopting hybrid work models.
NASA's many science missions now include learning how to deflect killer asteroids
Christian Davenport, The Washington Post
The astronauts flying again from Cape Canaveral are getting a lot of attention. So are the celebrities and wealthy entrepreneurs plunking down millions to join suborbital flights that touch the edge of space in flights replayed in prime time. But don't forget about the robots. They are having a landmark year, too.
How the $4 Trillion Flood of Covid Relief Is Funding the Future
Charley Locke, The New York Times
Covid-19 put American infrastructure to the test — and by most measures, it failed, exposing the unstable, outdated systems that uphold our lives.
HP Exceeds Fourth-Quarter Sales Projections on Strong PC Demand
Ian King and Nico Grant, Bloomberg
HP Inc. reported quarterly revenue that exceeded analysts' projections, helped by a better supply of components to meet rising corporate demand for its personal computers. The shares surged in extended trading.
NIST seeks evidence on economic impact of 8 emerging technologies
Dave Nyczepir, FedScoop
The National Institute of Standards and Technology wants input on the marketplaces, supply chain risks, and policy and investment needs of eight emerging technologies, according to a request for information issued Monday.
What happened with blockchain in state government?
Colin Wood, StateScoop
When cryptocurrency entered the public consciousness several years ago, many seemed to believe that blockchain, the distributed-ledger technology underpinning it, would soon be everywhere, including state government. Officials began launching blockchain initiatives, excited by the potential of a technology tied to the creation of overnight digital millionaires.
Air Force Lab, New Mexico Institute Get Set for 'High-Powered Window to Space'
Brandi Vincent, Nextgov
The Air Force Research Laboratory is engaging in a new collaboration that will provide U.S. and U.K. researchers and astronomers with one of the largest and sharpest Earth-based optical telescopes to ever operate.
There's a New Crypto Land Grab Going On
Kevin T. Dugan, New York magazine
Now, there is a new object of hype in the crypto world: .eth domain names, an address for people to use exclusively on a crypto-based internet out of the reach of your typical browser.
Antitrust and Competition
Progress on new rules brings EU 'closer to a fair tech market'
Elena Sanchez Nicolas, EUObserver
The approved text is now expected to receive wide support in the next plenary in December – paving the way for negotiations with EU governments early next year, during the French presidency of the European Council. The move was welcomed by EU anti-trust chief Margrethe Vestager, who said that the agreement set the EU "one step closer to a free, fair and competitive tech market where all players stand a chance to make it".
Artificial Intelligence/Automation
Einride founder Robert Falck on his moral obligation to electrify autonomous trucking
Rebecca Bellan, TechCrunch
Robert Falck used to work at a Russian trucking factory by day, and by night, he built a nightclub guest list startup. He also collects old books, and once guessed that Chinese author Gao Xingjian would win the Nobel Prize in literature. He grew up on a farm, but has degrees in finance, economics and mechanical engineering.
Telecom, Wireless and Internet Access
High-speed internet could be coming to Antarctica
Jasmine Hicks, The Verge
On a volcanic rock just off the coast of Antarctica, McMurdo Station is abuzz with scientific research this time of year. Run by the US National Science Foundation, the station sees up to 1,000 visitors in the Antarctic summer from October to February, who travel here to conduct research on topics ranging from climate to ocean science.
Broadband infrastructure funding could be 'life-changing,' advocates say
Ryan Johnston, StateScoop
Since President Joe Biden signed the $1 trillion infrastructure act into law last week, state broadband officials have expressed optimism that its $65 billion in broadband funding can close their digital divides for good.
FCC OIG report flags fraud in Emergency Broadband Benefit program
Diana Goovaerts, Fierce Telecom
The Federal Communications Commission (FCC) is taking steps to verify that households participating in its Emergency Broadband Benefit (EBB) program are in fact eligible for support, after the agency's Office of Inspector General (OIG) flagged several instances of obvious fraud.
Cybersecurity and Privacy
Chip Flaws Left 'A Third Of World's Smartphones And IOT Devices Vulnerable To Eavesdropping'
Thomas Brewster, Forbes
A vulnerability in a chip manufactured by $60 billion market cap Taiwanese tech giant MediaTek left a third of all of the world's smartphones and internet of things devices open to remote snooping of phone calls and spying via the device microphone, researchers have claimed.
Clearview AI does well in another round of facial recognition accuracy tests.
Kashmir Hill, The New York Times
Beyond the privacy implications and legality of what Clearview AI had done, there were questions about whether the tool worked as advertised: Could the company actually find one particular person's face out of a database of billions?
Palantir CEO says companies working with U.S. adversaries should justify their position
Samantha Subin, CNBC
Technology companies doing business with China or U.S. adversaries need to justify their position, Palantir CEO Alex Karp told CNBC's "Squawk Box" on Tuesday.
GAO calls on CISA to review support programs for communications sector
John Hewitt Jones, FedScoop
The Government Accountability Office has called on the Cybersecurity and Infrastructure Security Agency to review the support programs and services it runs for the communications sector in a new report.
Government Watchdog Welcomes Treasury's Data Collection on Cyber Insurance Claims
Mariam Baksh, Nextgov
The Government Accountability Office expressed support for the Treasury Department expanding the amount of information it collects from insurance providers regarding cybersecurity claims under a program that allows the government to assist with payouts to policyholders in the case of a catastrophic event.  
Massive Hack Gave Police a Window on Cocaine, Cash and Killers
James Marson, The Wall Street Journal
The gangsters plotting to assassinate a judge thought they were leaving nothing to chance. But cops hundreds of miles away were on to them thanks to a stakeout with a modern twist.
Social Media and Content Moderation
Conservatives accuse social networks of prejudging Kyle Rittenhouse case
Cristiano Lima, The Washington Post
It took just days after the deadly encounter last year for a Facebook leader to publicly declare it a "mass murder" and for the social media platform and others to begin restricting some content tied to the shooting, which became part of a polarizing national debate on guns, race and self-defense.
Facebook Grants Afghanistan Government Limited Posting Rights
Sam Biddle, The Intercept
Following the U.S. military withdrawal from Afghanistan and the ascendance of the Taliban, Facebook has found itself with a power nearly unprecedented in history: an American corporation unilaterally controlling the most popular means through which an entire foreign government speaks to its people.
India Lawmakers Weigh New Regulator to Oversee Facebook, Twitter
Bibhudatta Pradhan, Bloomberg
An Indian parliamentary panel has recommended treating social media platforms like Twitter and Facebook as publishers and setting up a regulatory body to oversee them, potentially opening the companies up to more liability for user-generated content.
Several hundred Google employees sign manifesto against widened vaccine mandate
Jennifer Elias, CNBC
Several hundred Google employees have signed and circulated a manifesto opposing the company's vaccine mandate, posing the latest challenge for leadership as it approaches key deadlines for returning workers to offices in person.
U.S. tech execs hone approach to counter unions amid growing worker interest
Julia Love, Reuters
In June, managers at location data startup Mapbox came to employees with alarming news: The company had lost a $150 million investment, and worker organizing was to blame.
Nintendo executive calls Activision harassment allegations "disturbing"
Megan Farokhmanesh, Axios
Nintendo of America president Doug Bowser has joined the chorus of industry figures criticizing Activision Blizzard and its leadership over recent reports of company harassment and abuse.
Uber Accused of Undermining U.K. Ruling on Worker Rights
Ellen Milligan, Bloomberg
Nine months after the U.K. Supreme Court made a crucial decision that effectively forced Uber Technologies Inc. to provide worker rights for its drivers, the firm is back in court accused of trying to undermine the judgment.
A Tech Whistle-Blower Helps Others Speak Out
Erin Woo, The New York Times
Last month, Gov. Gavin Newsom of California signed a bill to expand protections for people who speak up about discrimination in the workplace. A new website arrived to offer tech workers advice on how to come forward about mistreatment by their employers.
Lawsuit against PlayStation alleges gender discrimination
Stephen Totilo, Axios
A former IT security analyst at Sony PlayStation filed a lawsuit against the company in California on Monday, alleging gender discrimination and wrongful termination after speaking up "about discrimination against females" at the gaming giant.
Amid calls for CEO resignation, Activision Blizzard announces a workplace committee
Ash Parrish, The Verge
In the fight against ongoing allegations of harassment, discrimination, and complaints of insufficient action to address such allegations, Activision Blizzard's board of directors has announced that the publisher is forming a new committee.
Opinions, Editorials and Perspectives
Imagine Not Living in Big Tech's World
Shira Ovide, The New York Times
I want to flash back to the rise and fall of a once popular storytelling website called Upworthy. It is one of a zillion examples of the power of Facebook and other technology superstars to make or break other companies' dreams.
A Few Hundred Billion Dollars Won't Fix All the Shortages
Anjani Trivedi, Bloomberg
Governments are making multibillion-dollar announcements to deal with the global chip shortage. That's unlikely to help at this point and only risks muddying priorities for the future.
This email was sent by: Morning Consult
729 15th St. NW Washington, DC, 20005, US