Tech
Essential tech industry news & intel to start your day.
May 13, 2022
Events Calendar (All Times Local)
A MESSAGE FROM MORNING CONSULT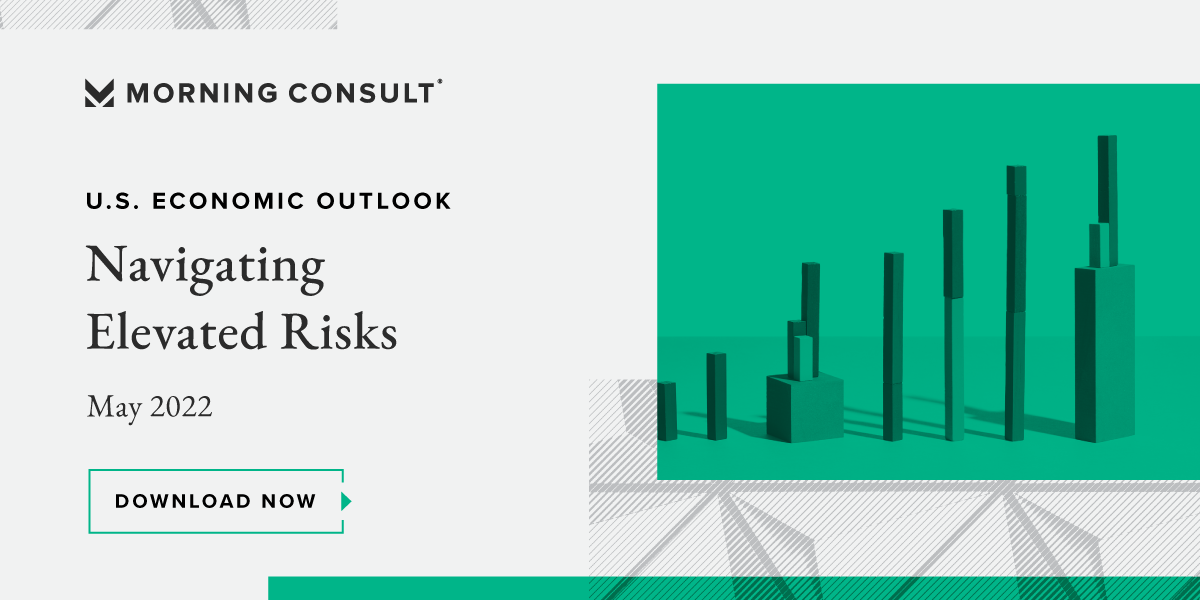 What Else You Need to Know
Mark Zuckerberg on his big metaverse bet: 'I feel a responsibility to go for it.'
Janko Roettgers, Protocol
Calling Meta's metaverse push ambitious is a massive understatement: The company is spending billions of dollars a year on the development of next-generation augmented and virtual reality devices and the software that will run on them, as well as all-new social VR platforms like Horizon to rival gaming giants and Web3 startups.
Technology-Focused Bills Advance Through Senate, House Committees
Alexandra Kelley, Nextgov
A slew of technology-centric legislation cleared Congressional chambers on Wednesday, notably the Senate version of the National Manufacturing Extension Partnership Supply Chain Database Act.
DOJ Loses Bid to Sanction Google for Withholding Documents
Peter Blumberg, Bloomberg
Alphabet Inc.'s Google dodged court sanctions after it was called out by the Justice Department for hiding documents from government lawyers.
D-Wave sets up latest quantum computer in California
Jane Lanhee Lee, Reuters
Vancouver-based quantum computing firm D-Wave Systems Inc said on Thursday it has deployed its latest quantum computer to the University of Southern California.
Apple Suppliers, Top Chipmaker Succumb to China Lockdowns
Bloomberg
China's biggest chipmaker and a major iPhone supplier cut their outlooks for the second quarter, joining a growing list of manufacturers warning about the fallout from lockdowns aimed at containing the country's worst Covid outbreak in two years.
Amazon Shareholders Should Reject CEO Pay Package, Advisers Say
Matt Day, Bloomberg
Amazon.com Inc. shareholders should vote to reject the pay packages of Chief Executive Officer Andy Jassy and other top leaders, two influential investor advisory firms recommended, citing massive stock grants executives are set to receive regardless of how well the company performs in the coming years.
Alphabet CEO Sundar Pichai on inflation, investing in growth and free speech on the internet
Jordan Novet, CNBC
Google CEO Sundar Pichai said that while consumers are putting the Covid pandemic in the rearview mirror, the economy is clearly a growing concern for the company and the broader market.
Samsung in Talks to Hike Chipmaking Prices by Up to 20%
Sohee Kim, Bloomberg
Samsung Electronics Co. is talking with foundry clients about charging as much as 20% more for making semiconductors this year, joining an industry-wide push to hike prices to cover rising costs of materials and logistics.
Antitrust and Competition
Democrats split on Big Tech measures in Congress
Fadel Allassan, Axios
Lawmakers could consider a slate of antitrust legislation in Congress ahead of the 2022 midterms. But conversations with Reps. Pramila Jayapal (D-Wash.) and Eric Swalwell (D-Calif.) at an Axios event Thursday signaled disagreement even among Democrats on the impact of those bills.
EU Parliamentarian Welcomes Tech Antitrust Push in Congress
Leah Nylen, Bloomberg
The European Union lawmaker behind the bloc's new gatekeeper rules for digital platforms endorsed US congressional efforts to rein in the largest technology companies, saying regulators can be more effective by acting together.
Artificial Intelligence/Automation
AI Hiring Tools Can Violate Disability Protections, Government Warns
Richard Vanderford, The Wall Street Journal
Employers that use artificial intelligence to assess workers and job seekers need to be careful to comply with laws protecting disabled people, two U.S. federal agencies said, expressing skepticism about a technology that many businesses have tapped amid widespread labor shortages.
Telecom, Wireless and Internet Access
Rural ISPs catch a break as FCC decides not to slash USF support
Diana Goovaerts, Fierce Telecom
Rural broadband providers breathed a sigh of relief this week, after the Federal Communications Commission (FCC) announced it would waive steep cuts to Universal Service Fund (USF) support which were set to take effect in July.
Cybersecurity and Privacy
F.B.I. Told Israel It Wanted Pegasus Hacking Tool for Investigations
Mark Mazzetti and Ronen Bergman, The New York Times
The F.B.I. informed the Israeli government in a 2018 letter that it had purchased Pegasus, the notorious hacking tool, to collect data from mobile phones to aid ongoing investigations, the clearest documentary evidence to date that the bureau weighed using the spyware as a tool of law enforcement.
Ukrainian cybercriminal sentenced to 4 years in U.S. prison for credential theft scheme
AJ Vicens, CyberScoop
A Ukrainian man convicted in February of trafficking in stolen username and password credentials was sentenced to four years in federal prison Thursday, the U.S. Department of Justice announced Thursday.
U.S. cities are backing off banning facial recognition as crime rises
Paresh Dave, Reuters
Facial recognition is making a comeback in the United States as bans to thwart the technology and curb racial bias in policing come under threat amid a surge in crime and increased lobbying from developers.
Texas man gets 5 years for stealing 38,000 PayPal account credentials
Suzanne Smalley, CyberScoop
A Texas man whom federal prosecutors say bought 38,000 compromised PayPal account credentials from an illegal online marketplace and used them to steal from the true account owners was sentenced to five years in prison Wednesday, the Justice Department said.
US signs multilateral treaty to combat cybercrime
Ines Kagubare, The Hill
The U.S. on Thursday signed the Second Additional Protocol to the Budapest Convention, a multilateral treaty aimed to protect citizens from cybercrime and hold cybercriminals accountable.
Anonymous Social Media App Yik Yak Exposed Users' Precise Locations
Lorenzo Franceschi-Bicchierai, Motherboard
Privacy researchers have found that it's possible to find out the precise location of Yik Yak posts, potentially exposing users to doxing or stalking.
Social Media and Content Moderation
Facebook Promised to Remove "Sensitive" Ads. Here's What It Left Behind
Angie Waller and Colin Lecher, The Markup
Facebook pledged to remove race, health conditions, and political affiliation from ad-targeting options, but The Markup found advertisers can still easily target the same people.
U.S. groups urge social media companies to fight 'Big Lie," election disinformation
Doina Chiacu, Reuters
Social media companies including Facebook, Twitter , YouTube and TikTok must act now to blunt the effect of false information – including Donald Trump's "Big Lie" that his 2020 defeat was the result of fraud – in this year's U.S. midterm congressional elections, rights groups said on Thursday.
Tech groups plan to ask SCOTUS to toss the Texas social media ruling
Issie Lapowsky, Protocol
Tech groups fighting Texas's social media "censorship" law may file an emergency application with the Supreme Court as early as Friday, according to two sources familiar with the case.
Democrats warn potential Trump return to Twitter could foment more violence
Mike Lillis, The Hill
Democrats on Capitol Hill are sounding alarms this week over the possibility that Donald Trump could return to Twitter, warning that providing the former president with such a powerful megaphone could lead to violence on par with last year's Capitol riot.
Taylor Lorenz et al., The Washington Post
Elon Musk was right that Twitter's most popular accounts have gone quieter over the years. Hollywood insiders explain what happened — and why Musk's ownership might only make it worse.
Prince Harry helping launch Global Child Online Safety Toolkit
Judy Kurtz, The Hill
Prince Harry, the duke of Sussex, is helping to launch an online safety toolkit aimed at children.
Congratulations, Elon Musk! Trump is your problem now.
Rebecca Kern, Politico
Donald Trump's potential return to Twitter could bring a whole new minefield for Elon Musk to navigate.
A mother is suing TikTok because she says her daughter died from a choking challenge that was allegedly recommended by its algorithm
Weilun Soon, Insider
A Pennsylvania mother is suing TikTok and its parent company ByteDance for allegedly recommending a choking challenge to her daughter. The 10-year-old girl died after taking part in the deadly dare.
Opinions, Editorials and Perspectives
America's sorely needed internet declaration is far from redundant
Ya'ara Barnoon, The Hill
After a somewhat fractious process, the United States launched the Declaration for the Future of the Internet last week with over 60 global partners. The signatories recommitted to an internet that is "open, free, global, interoperable, reliable and secure."
This email was sent by: Morning Consult
729 15th St. NW Washington, DC, 20005, US