Tech
Essential tech industry news & intel to start your day.
March 17, 2023
Today's Top News
The FBI and Department of Justice are investigating what led employees at TikTok parent company ByteDance Ltd. to surveil American journalists, according to sources familiar with the departments' actions. One source said the DOJ's Criminal Division, Fraud Section, and the Office of the U.S. Attorney for the Eastern District of Virginia have subpoenaed information from the Chinese firm, while two sources say the FBI has been conducting interviews related to the surveillance, with a ByteDance spokesperson saying the company has "strongly condemned" the actions of the individuals involved and that they are no longer employed at ByteDance (

Forbes

)

The Federal Communications Commission voted unanimously to finalize rules that will require mobile carriers to block illegal robotext messages, marking the agency's first regulations toward specifically addressing the problem of scam texts. The rules will require carriers to block texts that come from "invalid, unallocated, or unused numbers" and from numbers that "the subscriber to the number has self-identified as never sending text messages, and numbers that government agencies and other well-known entities identify as not used for texting" — a system similar to what the FCC requires for blocking spam calls. (

Ars Technica

)

Ahead of TikTok Chief Executive Shou Zi Chew's scheduled testimony in front of Congress next week, U.S. lawmakers and Silicon Valley executives including Peter Thiel plan to meet to discuss China, national security and competition between the U.S. and Chinese tech sectors. The group, which calls itself the Hill & Valley Forum and is headed by former Google policy adviser Jacob Helberg, expects as many as 200 attendees at the meet-up, which will be funded by venture capital firms 137 Ventures and Founders Fund. (

The Wall Street Journal

)
Happening today: 
PRESENTED BY NCTA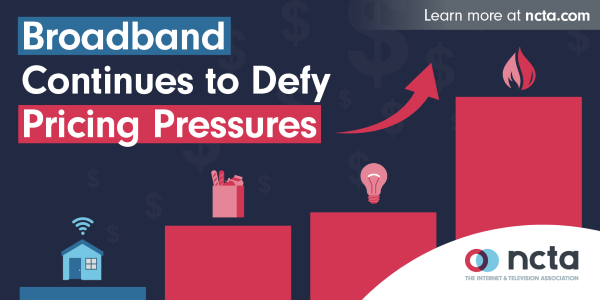 What Else You Need to Know
Here's how an AI tool may flag parents with disabilities
Sally Ho and Garance Burke, The Associated Press
The Hackneys, who have developmental disabilities, are struggling to understand how taking their daughter to the hospital when she refused to eat could be seen as so neglectful that she'd need to be taken from her home. They wonder if an artificial intelligence tool that the Allegheny County Department of Human Services uses to predict which children could be at risk of harm singled them out because of their disabilities.
Mortgages, Wine and Renovations: Silicon Valley Bank's Deep Tech Ties
Erin Griffith et al., The New York Times
More than many other banks, SVB catered to how risky tech start-ups and their backers do not adhere to normal business practices.
Peter Thiel had $50mn in Silicon Valley Bank when it went under
George Hammond, Financial Times
Prominent investor's Founders Fund among those that had warned about US bank's risks ahead of its collapse.
Shards of Silicon Valley Bank Are for Sale, but No One Is Buying Yet
Rob Copeland and Maureen Farrell, The New York Times
Five days after seizing control of Silicon Valley Bank, federal regulators were still in the process of auctioning off its remaining parts, but no single buyer appeared willing to take on everything.
Easy Loans, Great Service: Why Silicon Valley Loved Silicon Valley Bank
Katherine Bindley et al., The Wall Street Journal
Silicon Valley Bank used financial sweeteners and strategic networking to attract both venture capitalists and their nascent tech companies. That strategy powered spectacular growth for decades—and left the sector extraordinarily vulnerable when the bank collapsed.
Antitrust and Competition
Amazon Tax Structure Like Something Out of a Bond Movie, EU Says
Stephanie Bodoni, Bloomberg
Amazon.com Inc.'s efforts to minimize its taxes in the European Union were given a code-name evocative of a spy thriller with British agent 007, according to an EU lawyer, who claimed the arrangements broke the bloc's state-aid rules.
U.S. FTC asks social media, video streaming firms info on misleading ads
Eva Mathews, Reuters
The U.S. Federal Trade Commission (FTC) on Thursday issued orders to eight social media and video streaming firms including Meta Platforms Inc (META.O), Twitter, TikTok and YouTube seeking information on how the platforms screen for misleading advertisements.
Lenovo must pay $138.7 mln for InterDigital patents – London court
Sam Tobin, Reuters
China's Lenovo Group Ltd must pay U.S. technology firm InterDigital Inc $138.7 million for a licence for its portfolio of telecommunications patents, London's High Court ruled on Thursday in the latest round of a long-running dispute.
Europe Unveils Clean-Tech Plans in Bid to Rival U.S., China
Kim Mackrael, The Wall Street Journal
The European Union, fresh from targeting U.S. and Chinese green-tech subsidies, Thursday set out steps to make its industries more globally competitive in emerging environmental sectors.
Artificial Intelligence/Automation
Microsoft adds OpenAI technology to Word and Excel
Jonathan Vanian, CNBC
Microsoft said the new A.I. features, dubbed Copilot, will be available in some of the company's most popular business apps like Word, PowerPoint and Excel.
Microsoft tries to justify A.I.'s tendency to give wrong answers by saying they're 'usefully wrong'
Jonathan Vanian, CNBC
Current AI technologies like ChatGPT can often produce inaccurate responses, and some technologists are fretting over the possibility that people may place too much trust in the software. Microsoft is pitching the technology as being "usefully wrong." It's a spin on AI's tendency to occasionally stumble with facts.
Deepfake 'news' videos ramp up misinformation in Venezuela
Joe Daniels and Madhumita Murgia, Financial Times
UK tech company developed software used in fake news videos promoted by authoritarian government.
Microsoft Business Chat is like the Bing AI bot but as a personal assistant
Tom Warren and Richard Lawler, The Verge
The AI-powered 'knowledge navigator' syncs your documents, emails, and more to create summaries and even suggestions.
Meta AI Unlocks Hundreds of Millions of Proteins to Aid Drug Discovery
Eric Niiler, The Wall Street Journal
Facebook parent company Meta Platforms Inc. has created a tool to predict the structure of hundreds of millions of proteins using artificial intelligence. Researchers say it promises to deepen scientists' understanding of biology, and perhaps speed the discovery of new drugs.
Telecom, Wireless and Internet Access
Musk, Rivals Edge Closer to Satellite Phone Service With FCC Nod
Todd Shields, Bloomberg
US regulators gave preliminary approval to rules for offering phone calls via direct links to satellites, a potential $30 billion market that's attracted Elon Musk's SpaceX and competitors including AT&T Inc. partner AST SpaceMobile Inc.
Bullitt dongle allows Android, iOS phones to connect to satellite
Linda Hardesty, Fierce Wireless
Recently, Bullitt unveiled two new devices to provide its satellite-to-mobile messaging service — the Motorola Defy 2 rugged Android smartphone and the Motorola Defy satellite link, a Bluetooth device that provides satellite connectivity to any smartphone.
Cybersecurity and Privacy
Wave of Stealthy China Cyberattacks Hits U.S., Private Networks, Google Says
Robert McMillan, The Wall Street Journal
State-sponsored hackers from China have developed techniques that evade common cybersecurity tools and enable them to burrow into government and business networks and spy on victims for years without detection, researchers with Alphabet Inc.'s Google found.
Google warns users to take action to protect against remotely exploitable flaws in popular Android phones
Zach Whittaker, TechCrunch
Google's security research unit is sounding the alarm on a set of vulnerabilities it found in certain Samsung chips included in dozens of Android models, wearables and vehicles, fearing the flaws could be soon discovered and exploited.
Amazon sued for not telling New York store customers about facial recognition
Kevin Collier, NBC News
Thanks to a 2021 law, New York is the only major American city to require businesses to post signs letting customers know they're tracking biometric information.
Audit identifies 'ineffective' active directory security controls at FDIC
John Hewitt Jones, FedScoop
In a report published on Thursday commissioned by the FDIC's inspector general, examiners set out seven separate weaknesses found during a probe of the department's systems. According to the investigation, multiple privileged system users reused their passwords and shared passwords across multiple accounts. 
A Message From NCTA:
Despite record inflation that reached a 40-year high and led to surging prices for many essential goods and services, the cost of high-speed broadband in America has remained stable and affordable, delivering a great value to American consumers. Learn more.
Social Media and Content Moderation
TikTok to Let Users Reset 'For You' Feed to Freshen Recommendations
Aisha Counts, Bloomberg
Viral video-sharing app TikTok unveiled plans to let users reset their "For You" feeds, offering people a chance to get a clean slate of recommendations if their interests have shifted or they've grown tired of seeing the same kinds of content.
TikTok CEO's Message to Washington: A Sale Won't Solve Security Concerns 
Stu Woo, The Wall Street Journal
TikTok's boss has a message for the Biden administration and Congress: A sale won't resolve America's national-security concerns over the popular video app.
Inside Elon Musk's cost-cutting drive at Twitter
Hannah Murphy, Financial Times
His lieutenants have upended the company by identifying who to fire and refusing to pay vendors.
UK bans TikTok on government devices following U.S. move
Arjun Kharpal, CNBC
The United Kingdom on Thursday announced plans to ban the Chinese-owned video app TikTok on government devices.
New Zealand Bans TikTok From Parliamentary Devices, Citing Security Risks
James Glynn, The Wall Street Journal
New Zealand said it would ban TikTok on all digital devices linked to its parliament, joining the U.S. and some allies in limiting the use of the China-owned video-sharing app.
Great, tweets are showing another metric now
Mitchell Clark, The Verge
First, we got the view counter. Now, iOS users can see how many people have bookmarked a tweet.
France Plans to Recommend Ministers Give Up TikTok, Other Apps
Ania Nussbaum and Benoit Berthelot, Bloomberg
The French government is planning to ask cabinet ministers to avoid using TikTok and similar apps on their personal phones, according to two people with direct knowledge of the discussions.
U.S. lawmaker wants TikTok CEO to detail actions to protect kids
David Shepardson, Reuters
The chair of a U.S. House of Representatives panel wants TikTok CEO Shou Zi Chew to address questions next week about the popular Chinese-owned video app's efforts to protect children from inappropriate content and potential exploitation.
Amazon's Twitch CEO steps down nearly 10 years after acquisition
Annie Palmer, CNBC
Emmett Shear, the CEO of Amazon's livestreaming service Twitch, is stepping down from his role effective immediately, the company announced Thursday.
A $100 Billion Bet on Semiconductors Hinges on Remaking Upstate New York's Workforce
Annie Linskey and Joseph De Avila, The Wall Street Journal
Micron plans to hire 9,000 employees at a new suburban Syracuse campus amid shortage of skilled workers.
Google nixes paying out remainder of maternity and medical leave for laid-off employees
Jennifer Elias, CNBC
Google is indicating to ex-staffers, who got laid off while on maternity and medical leave, that they won't get paid for all of their remaining time off, according to former employees and written correspondence shared with CNBC.
Opinions, Editorials and Perspectives
GPT-4 is as astonishing as it is unnerving
John Thornhill, Financial Times
The new model is more accurate and powerful and has greater reasoning capabilities. But it is also open to abuse.
ChatGPT Libeled Me. Can I Sue?
Ted Rall, The Wall Street Journal
'I am programmed to provide objective and factual responses,' it claims, not under oath.
We're Drowning in Subscriptions
Leticia Miranda, Bloomberg
Netflix, Amazon Prime, Spotify, Sephora, 7-Eleven, Panera, phew! If it feels as if your membership fees are ballooning, you aren't wrong.
This email was sent by: Morning Consult
729 15th St. NW Washington, DC, 20005, US