Washington
Essential U.S. political news & intel to start your day.
May 13, 2022
Top Stories
The special Jan. 6 committee subpoenaed five House Republicans, including House Minority Leader Kevin McCarthy of California, for their testimony related to the early 2021 Capitol attack after the lawmakers declined to sit for interviews. The move to subpoena sitting members of Congress, which is virtually without precedent on Capitol Hill, constitutes the most aggressive inquiry made by the panel thus far. (

Politico

)

Kentucky Sen. Rand Paul (R) prevented the Senate from swiftly passing a $40 billion Ukraine aid package after leaders refused to allow a vote to add a provision that would create a special inspector general to provide oversight of the funding's disbursement. The bill, which passed the House in overwhelming and bipartisan fashion, is now expected to clear the Senate next week. (CNN)
A grand jury investigation is underway into whether classified White House documents that ended up at Mar-a-Lago were mishandled, according to two people familiar with the matter. Federal prosecutors are said to have subpoenaed the National Archives and Records Administration for the documents and to have requested interviews with people who worked under former President Donald Trump during the final days of his presidency. (The New York Times)
Events Calendar (All Times Local)
A MESSAGE FROM MORNING CONSULT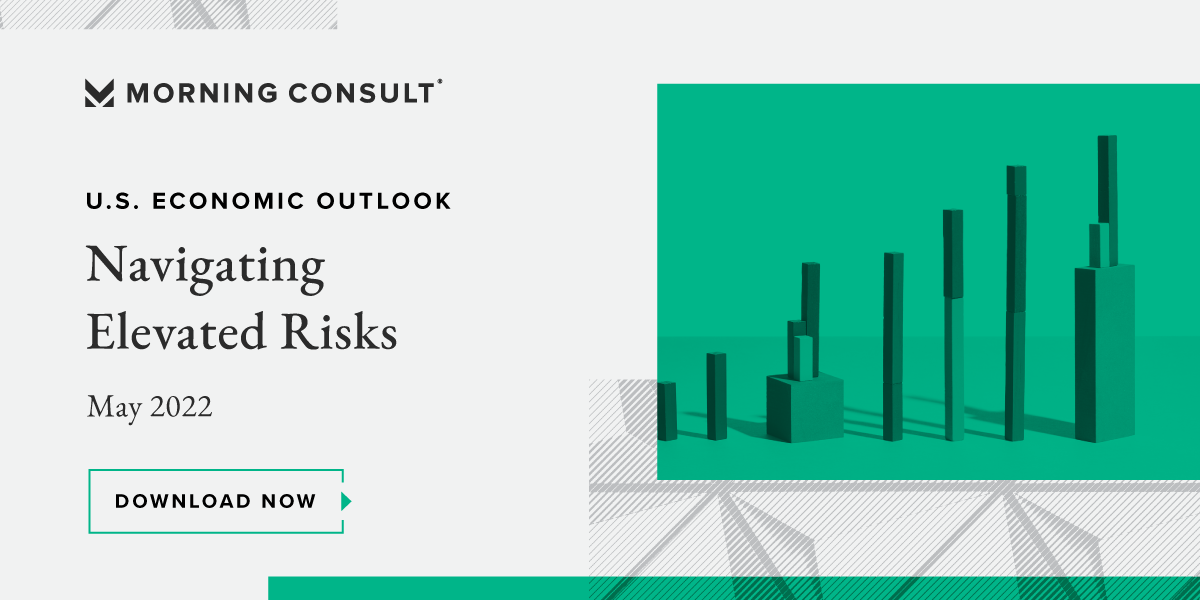 What Else You Need To Know
White House & Administration
White House announces measures to ease baby formula shortage
Nathaniel Weixel, The Hill
The White House on Thursday announced new steps to try to ease the ongoing baby formula shortage, as the Biden administration fends off political attacks ahead of the congressional midterm elections. The steps include urging states to expand formula access for people who receive benefits from the Women, Infants and Children (WIC) program at the U.S. Department of Agriculture, cracking down on price gouging of formula sales and increasing imports.
With China in focus, Biden makes $150 million commitment to ASEAN leaders
Trevor Hunnicutt, Reuters
U.S. President Joe Biden opened a gathering of Southeast Asian leaders with a promise to spend $150 million on their infrastructure, security, pandemic preparedness and other efforts aimed at countering the influence of rival China.
Biden to urge local leaders to boost public safety spending
Josh Boak and Darlene Superville, The Associated Press
Mayors, police chiefs and other local officials were invited to the White House on Friday to share with President Joe Biden how they are spending money from the $1.9 trillion coronavirus relief package on policing and public safety programs.
Biden Raises Pressure Over China's 'Horrific' Uyghur Abuses
Bloomberg
The US State Department outlined plans to boost pressure on China over what it called "horrific abuses" of Uyghur and other ethnic minorities in the Xinjiang region, an issue that is becoming one of the biggest points of tension between the world's two biggest economies.
Justice Dept. Tries to Shift Environmental Justice Efforts From Symbolic to Substantive
Glenn Thrush and Lisa Friedman, The New York Times
The agency has announced a series of policies intended to elevate those efforts, including the creation of an office meant to address the "harm caused by environmental crime, pollution and climate change."
Harris Emerges as the Voice of Abortion Rights in the Biden Administration
Michael D. Shear and Alisha Haridasani Gupta, The New York Times
The threat to Roe v. Wade presents Vice President Kamala Harris with an opportunity to recover from early political stumbles.
Iran Prisoners' Families Ask Biden to Push for Their Release as Chances of a Deal Dim
Stephen Kalin, The Wall Street Journal
The families of four U.S. citizens detained in Iran years ago on espionage charges are appealing to President Biden to secure their release, as nuclear talks with Tehran that were expected to include their release have stalled. 
US intelligence community launches review following Ukraine and Afghanistan intel failings
Katie Bo Lillis and Natasha Bertrand, CNN
The US intelligence community is carrying out a sweeping internal review of how it assesses the fighting power of foreign militaries amid mounting pressure from key lawmakers on Capitol Hill who say officials have failed twice in one year on the two major foreign policy crises faced by the Biden administration in Ukraine and Afghanistan.
Republicans tread carefully after Jan 6 subpoenas
Mike Lillis et al., The Hill
House Republicans are treading carefully in their initial reactions after the special committee investigating last year's attack on the U.S. Capitol took the remarkable step of issuing subpoenas for their cooperation.
Senate Confirms Jerome Powell to Second Term Leading Federal Reserve
Nick Timiraos, The Wall Street Journal
The Senate confirmed Federal Reserve Chairman Jerome Powell to a second four-year term that is shaping up to be every bit as trying as his first term as the central bank faces the highest inflation in 40 years.
House will act on judicial security bill
John Bresnahan et al., Punchbowl News
The House will follow the Senate's lead and take action on legislation to provide police protection for the families of Supreme Court justices, Majority Leader Steny Hoyer announced Thursday night. House Democrats, though, want to go further and extend those protections to judicial clerks and court staffers if needed.
'He's Not OK': The Entirely Predictable Unraveling of Madison Cawthorn
Michael Kruse, Politico
A string of embarrassing incidents has led many to question whether the young congressman from North Carolina was really ready for the job.
House Democrats urge Biden to lift Venezuela sanctions
Rachel Scully, The Hill
A group of 18 progressive House Democrats sent a letter to President Biden, urging him to lift all sanctions against Venezuela that "exacerbate the humanitarian situation" in the country.
Congress leaps to action after Supreme Court protests
Michael Macagnone, Roll Call
Members have pushed for measures on judicial safety and a Justice Department crackdown on allegedly illegal protests.
Court set to rule on planned end to border expulsion policy
Suzanne Monyak, Roll Call
A federal judge in Louisiana appears poised to step in as early as Friday to block the Biden administration from ending pandemic-related asylum restrictions later this month, something Republicans and some Democrats have pushed to do in Congress.
What's the Point of Going to Brett Kavanaugh's House?
Elaine Godfrey, The Atlantic
Demonstrators have largely given up on changing the Supreme Court justices' minds. But they're still showing up.
13 dead, dozens rescued after migrant boat capsizes near Puerto Rico, officials say
Hannah Knowles, The Washington Post
A makeshift boat overloaded with migrants capsized Thursday near Puerto Rico, officials said, leaving at least 13 people dead as dozens more were rescued.
Futures climb, Twitter slumps as Musk puts deal on hold
Reuters
U.S. stock index futures rebounded on Friday at the end of a bumpy week marked by rising concerns over tighter monetary policy and slowing economic growth, while Twitter plunged after Elon Musk put his deal for the social media company on hold.
Bannon Is Using an FBI Interview to Undermine the Jan. 6 Panel
Jose Pagliery, The Daily Beast
Steve Bannon is trying to use the Department of Justice's strategy against the Jan. 6 committee to argue it has no authority to subpoena him.
Russian Shipping Traffic Remains Strong as Sanctions Take Time to Bite
Ana Swanson, The New York Times
Shipping traffic in and out of Russia has remained relatively strong in the past few months as companies have raced to fulfill contracts for purchases of energy and other goods before the full force of global sanctions goes into effect.
Ukraine puts Russian soldier accused of war crime on trial
Oleksandr Stashevskyi, The Associated Press
The trial of a Russian soldier accused of killing a Ukrainian civilian opened Friday, the first war crimes trial since Moscow's invasion of its neighbor. Scores of journalists packed inside a small courtroom in the Ukrainian capital where the suspect appeared in a small glass cage for the start of a trial that has drawn international attention amid accusations of repeated atrocities by Russian forces.
President Sheikh Khalifa bin Zayed Al Nahyan dies: UAE media
Al Jazeera
United Arab Emirates President Sheikh Khalifa bin Zayed Al Nahyan has died, Emirati state news agency WAM reported. He was 73.
For Democratic Female Governors, the Roe Leak Alters the Midterm Calculus
Leah Askarinam, The New York Times
As the constitutional right to an abortion hangs in the balance, Democratic women who occupy or are vying for governors' mansions are on the front lines of the messaging fight.
Conor Lamb Had All the Makings of a Front-Runner. So Why Is He Struggling?
Trip Gabriel, The New York Times
In the Democratic primary on Tuesday in Pennsylvania, Mr. Lamb, the congressman running for Senate, has been a less competitive candidate than his supporters had hoped.
The 'knives are coming out' for Kathy Barnette as Republicans, and Trump, scramble to stop her
Jonathan Tamari et al., The Philadelphia Inquirer
The frenetic moment was embodied by a statement from former President Donald Trump, who urged Republicans to support Mehmet Oz, but also predicted a bright future for Barnette.
Alito reluctant to discuss state of Supreme Court after Roe leak
Robert Barnes and Lauren Lumpkin, The Washington Post
In his first public address since the explosive leak of a draft Supreme Court opinion he wrote that would overturn Roe v. Wade, Justice Samuel A. Alito Jr. breezed through a detailed examination of statutory textualism, and renewed a disagreement over the court's decision saying federal discrimination law protects gay and transgender workers. But he was a little stumped by the final audience question from a crowd at Antonin Scalia Law School at George Mason University: Are he and the other justices at a place where they could get a nice meal together?
La. Republicans advance abortion bill without homicide charge
Caroline Kitchener, The Washington Post
Louisiana Republicans voted Thursday night to gut a highly controversial law that would have classified abortion as homicide and allowed prosecutors to criminally charge women who undergo the procedure. The measure attracted national attention when it passed out of committee last Wednesday with a 7-to-2 vote, less than 48 hours after the leak of a draft opinion that showed the Supreme Court is potentially poised to overturn Roe v. Wade.
California's minimum wage projected to rise to $15.50 under inflation trigger
Steve Gorman, Reuters
California's minimum wage will rise to $15.50 an hour for workers at all businesses, large and small, on Jan. 1, 2023, under an automatic inflation trigger built into state law and never previously activated, the governor's office projected on Thursday. The announcement came a day before Governor Gavin Newsom, a first-term Democrat, was slated to present his revised budget plan to the state legislature controlled by his party, including a proposed $11.8 billion inflation-relief spending package.
Opinions, Editorials and Perspectives
Research Reports and Polling
This email was sent by: Morning Consult
729 15th St. NW Washington, DC, 20005, US