Washington
Essential U.S. political news & intel to start your day.
March 17, 2023
PRESENTED BY NCTA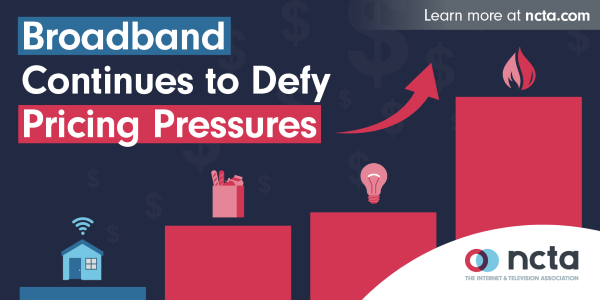 What Else You Need To Know
White House & Administration
Biden becomes increasingly comfortable defying the wishes of his own party.
Jonathan Lemire and Daniella Diaz, Politico
The president is calculating that liberals will stick with him despite decisions on oil drilling, immigration, crime bill and more.
Biden's Italian mystery
Hans Nichols, Axios
With the Senate finally voting to confirm Eric Garcetti as ambassador to India, senators and Democratic donors are turning their attention to something of a Biden-era mystery: the open embassy in Italy.
Biden expected to designate largest national monument of his presidency next week
Kevin Liptak, CNN
President Joe Biden plans to designate Avi Kwa Ame in Nevada as a national monument next week, according to a person familiar with the plans. At nearly half-a-million acres, it would mark the largest area Biden has placed under national conservation since taking office.
Fed Blocked Mention of Regulatory Flaws in Silicon Valley Bank Rescue
Jim Tankersley et al., The New York Times
Federal government officials wanted a joint statement to include a reference to regulatory shortcomings that they believe helped lead to the bank's demise.
Credit Suisse Woes Are a 'Distinct Situation,' Biden Administration Says
Jordan Fabian, Bloomberg
For the Biden administration and Congress, the problems facing Credit Suisse Group AG have nothing to do with the US economy. 
In Iowa, Kamala Harris Says Republicans Won't Stop at Abortion
Zolan Kanno-Youngs, The New York Times
Vice President Kamala Harris said on Thursday that a lawsuit seeking to overturn federal approval of a widely used abortion pill amounted to an attack on "our public health system as a whole."
Trump-commissioned report undercut his claims of dead and double voters
Josh Dawsey, The Washington Post
A report commissioned by the former president's campaign and obtained by The Post did not back up his claims of fraud and did not provide evidence to overturn the 2020 election.
Border crossings from Canada into New York, Vermont and N.H. are up tenfold. Local cops want help.
Julia Ainsley and Didi Martinez, NBC News
On the snowy border between New York and Canada, the local sheriff's office is calling for the U.S. Border Patrol to put more manpower behind what the locals call a growing crisis: The number of illegal border crossings in the area over the last five months is nearly 10 times what it was over the same time last year, and the border crossers are in danger of freezing to death. 
Wall Street rides to the rescue as 11 banks pledge $30 billion to First Republic Bank
Jesse Pound, CNBC
A group of financial institutions has agreed to deposit $30 billion in First Republic Bank in what's meant to be a sign of confidence in the banking system, the banks announced Thursday afternoon.
Louis DeJoy's Surprising Second Act
Eric Cortellessa, Time
Louis DeJoy thought his workday was done as he arrived home one evening in February 2022. The Postmaster General was locked in a grueling, monthslong battle with Congress over a bill to shake up the Postal Service.
Who Blew Up Nord Stream? Investigators Focus on Six Mysterious Passengers on a Yacht
Bojan Pancevski et al., The Wall Street Journal
The small marina on the edge of this north German city is a popular summertime spot for recreational sailors. German intelligence believes it was also the jumping-off point for the sabotage of the Nord Stream gas pipelines, an assault on Europe's civilian energy infrastructure unprecedented since World War II.
DeSantis' anti-woke law remains blocked in Florida colleges
Andrew Atterbury, Politico
U.S. District Judge Mark Walker determined the anti-woke law is "positively dystopian."
Florida Faces Federal Lawsuit Over Signature Rules for New Voters
Neil Vigdor, The New York Times
The state does not accept digital signatures on voter registration applications. There are similar rules in Texas, Georgia and Oklahoma.
Michigan Democrats are getting their way for the first time in nearly 40 years
Colin Jackson, Michigan Public Radio Network
In her State of the State address this year, Gov. Gretchen Whitmer had something no other Democratic governor has had since the early 1980s – a legislature willing to pass her agenda, even if with only a two-seat majority in both chambers.
Kentucky lawmakers pass ban on youth gender-affirming care
Bruce Schreiner, The Associated Press
Republican lawmakers in Kentucky passed a measure Thursday to ban gender-affirming care for transgender minors, completing whirlwind voting on a repackaged proposal that triggered outrage and tears among opponents unable to stop the sweeping policymaking on a culture wars issue.
North Dakota High Court Upholds Pause On State Abortion Ban
James MacPherson and Trisha Ahmed, The Associated Press
The state's only abortion clinic hopped across the state line to Minnesota over the summer, while the lawsuit proceeds.
Utah governor signs bill banning abortion clinics across the state
Mary Kekatos, CBS News
The clinics have to close by the end of the year or when their license expires.
A Message From NCTA:
Despite record inflation that reached a 40-year high and led to surging prices for many essential goods and services, the cost of high-speed broadband in America has remained stable and affordable, delivering a great value to American consumers. Learn more.
TikTok CEO's Message to Washington: A Sale Won't Solve Security Concerns
Stu Woo, The Wall Street Journal
TikTok's boss has a message for the Biden administration and Congress: A sale won't resolve America's national-security concerns over the popular video app.
SVB Collapse Turns Banker Island Retreat Into Lobbying Blitz
Lydia Beyoud et al., Bloomberg
The collapse of Silicon Valley Bank and Signature Bank and the ensuing news that US regulators were jacking up lenders' fees for deposit insurance quickly transformed the Hilton Hawaiian Village this week into ground zero for a lobbying blitz by community lenders. 
Sanofi announces insulin price cap after actions by Eli Lilly and Novo Nordisk
Berkeley Lovelace Jr., NBC News
Sanofi will cap the out-of-pocket cost of its most popular insulin, Lantus, at $35 per month for people with private insurance, the French drugmaker said Thursday. The change will take effect Jan. 1, 2024.
Public Health vs. Economic Growth: Toxic Chemical Rules Pose Test for Biden
Eric Lipton, The New York Times
Key industries — including some that the White House is backing through other policies — are lobbying to water down the first major new rules in a generation on chemicals that pose risks to humans.
Everybody in Washington wants a byte of the CHIPS law
Brendan Bordelon and Caitlin Oprysko, Politico
Lobbyists are descending on Washington, all hungry for a piece of the CHIPS and Science Act — even if some bids have little chance of making the cut.
The Federalist Society Isn't Quite Sure About Democracy Anymore
Ian Ward, Politico
After recent Supreme Court wins, the society's youth arm debates the next stage for the conservative legal movement.
Opinions, Editorials and Perspectives
DeSantis, on Defense, Shows Signs of Slipping in Polls
Nate Cohn, The New York Times
It's been a tough few months for Ron DeSantis. Donald J. Trump and his allies have blasted him as "Meatball Ron," "Ron DeSanctimonious," a "groomer," disloyal and a supporter of cutting entitlement programs. 
Mike Pence Shows the World that Washington is a Bunch of Cheap Dates
Michael Schaffer, Politico
As ambitious Republicans steer clear of Beltway rituals, the bar keeps getting lowered.
Chatbot Fever Drives Renewed Focus on Artificial Intelligence
Jonny Montano, Invariant
OpenAI's powerful chatbot ChatGPT hit 100 million monthly active users just two months after its release, the fastest online platform to hit that milestone. This week, a new version — GPT-4 — was released, promising even more precise responses.
Research Reports and Polling
This email was sent by: Morning Consult
729 15th St. NW Washington, DC, 20005, US