Washington
Essential U.S. political news & intel to start your day.
November 24, 2021
Morning Consult Washington will be off tomorrow and Friday for the Thanksgiving holiday. We'll be back in your inbox on Sunday to wrap up this week and look ahead to the next.
Events Calendar (All Times Local)
A MESSAGE FROM MORNING CONSULT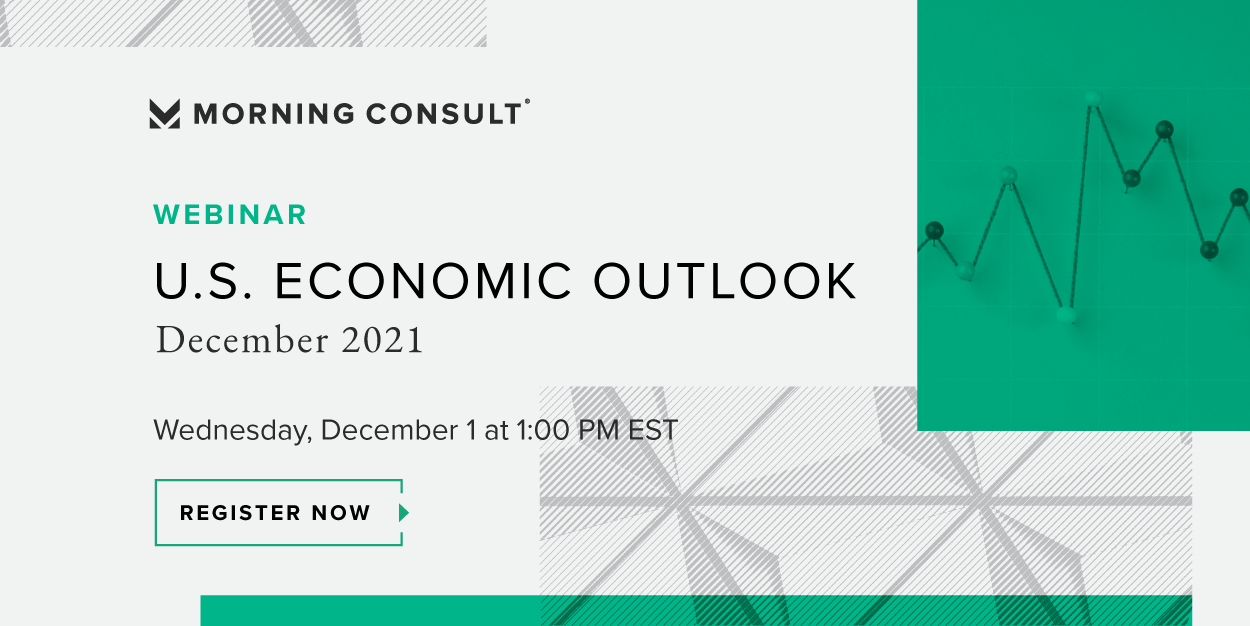 What Else You Need To Know
White House & Administration
How Biden Went for Stability Over 'Fresh Blood' With His Fed Pick
Nancy Cook et al., Bloomberg
For months, Federal Reserve Chair Jerome Powell was viewed on Wall Street and in Washington as the odds-on favorite to keep his job for a second term as President Joe Biden weighed his choice of the central bank's next leader.
FDA nomination slips after Biden admin fails to send papers to Congress
Adam Cancryn, Politico
A plan to speed Robert Califf's nomination for FDA commissioner through the Senate next month is on hold after the Biden administration failed to submit the necessary paperwork to Congress in time, three people with knowledge of the matter told POLITICO.
US to require vaccines for all border crossers in January
Zeke Miller, The Associated Press
President Joe Biden will require essential, nonresident travelers crossing U.S. land borders, such as truck drivers, government and emergency response officials, to be fully vaccinated beginning on Jan. 22, the administration planned to announce Tuesday.
U.S. to Drop Colombian Rebel Group FARC From Terrorist List to Bolster Five-Year-Old Pact
Vivian Salama and Juan Forero, The Wall Street Journal
The Biden administration will remove a former Colombian rebel group from a list of foreign terrorist organizations, a measure intended to demonstrate American support for a fragile peace agreement with the guerrillas in Colombia, said U.S. and congressional officials with knowledge of the coming announcement.
Pentagon Forms a Group to Examine Unexplained Aerial Sightings
Julian E. Barnes, The New York Times
The Pentagon on Tuesday night announced a new group to investigate reports of unidentified aerial phenomena in sensitive areas, work that will be overseen by both the military and the intelligence agencies.
Biden's Low-Key Media Strategy Draws Allies' Concern
Michael M. Grynbaum, The New York Times
As president, Donald J. Trump was a media maximalist whose unavoidable-for-comment style helped generate saturation news coverage, for better or worse.
Biden's safety net package would raise, not lower, taxes on millionaires, new estimates show
Teaganne Finn, NBC News
President Joe Biden's Build Back Better package would raise, not lower, taxes on the wealthiest Americans, according to the nonpartisan Joint Committee on Taxation in a major correction from the group's original analysis.
Beyond Manchin: Dems' $2T bill faces Senate gauntlet
Alan Fram, The Associated Press
It took half a year but Democrats have driven President Joe Biden's $2 trillion package of social and climate initiatives through the House. It gets no easier in the Senate, where painful Republican amendments, restrictive rules and Joe Manchin lurk.
Appeals court order in Jan. 6 documents case may be bad news for Trump
Pete Williams, NBC News
An order from a federal appeals court late Tuesday may be a worrisome sign for former President Donald Trump in his effort to assert executive privilege over documents sought by a House committee investigating the Jan. 6 attack on the Capitol.
House Jan. 6 committee intensifies focus on law enforcement failures that preceded Capitol attack
Aaron C. Davis et al., The Washington Post
The House select committee investigating the Jan. 6 attack on the Capitol is increasingly focused on law enforcement failures that preceded the insurrection, scrutinizing in particular multiple warnings of possible violence that went unheeded by the FBI, according to people familiar with its work and individuals who have been contacted by the committee.
Rep. Jim Jordan says he won't commit to cooperating with Jan. 6 committee
Taylor Popielarz, Spectrum News 1
The House select committee investigating the Jan. 6 Capitol attack has not yet subpoenaed any sitting members of Congress, but it has left the door open to do so. One of the lawmakers who could receive one is Rep. Jim Jordan, R-Ohio, the top Republican on the House Judiciary Committee.
'Toxic is spot-on': House members describe roiling animosity among lawmakers
Lauren Fox, CNN
Many members within the House of Representatives have told CNN in recent days that they find themselves in a toxic work environment, wrought with bitter exchanges, threats and fears about what the erosion of decorum in the chamber will mean for a body that has still not recovered 10 months after the Capitol Hill riot.
U.N. Nuclear Chief Leaves Iran Without a Deal on Factory Inspection, Diplomats Say
Laurence Norman, The Wall Street Journal
The head of the United Nations atomic watchdog agency left Iran late Tuesday after failing to reach a deal to allow inspectors access to a factory making equipment for Tehran's nuclear program, diplomats said Wednesday, casting a fresh shadow over international nuclear talks set for next week.
Jan. 6 Organizers Used Anonymous 'Burner Phones' to Communicate with White House and Trump Family, Sources Say
Hunter Walker, Rolling Stone
Some of the organizers who planned the rally that took place on the White House Ellipse on Jan. 6 allegedly used difficult to trace burner phones for their most "high level" communications with former President Trump's team.
Under Trump, ICE aggressively recruited sheriffs as partners to question and detain undocumented immigrants
Debbie Cenziper et al., The Washington Post
Frederick County Sheriff Chuck Jenkins had spent years advocating for the removal of undocumented immigrants when he received a prized photo in his inbox in February 2019. It came from a group that has long fought to slash the number of immigrants allowed into the United States.
Frustrated with CIA, Trump administration turned to Pentagon for shadow war with Iran
Zach Dorfman, Yahoo News
In the final month of his presidency, Donald Trump signed off on key parts of an extensive secret Pentagon campaign to conduct sabotage, propaganda and other psychological and information operations in Iran, according to former senior officials who served in his administration.
NYC Mayor-elect Eric Adams considers Goldman Sachs CFO for a key economic role in his administration
Brian Schwartz, CNBC
New York City Mayor-elect Eric Adams is considering a Goldman Sachs executive for a role in his administration, according to people familiar with the matter.
Trump says Kyle Rittenhouse visited him in Mar-a-Lago after trial
Myah Ward, Politico
Former President Donald Trump said Tuesday that Kyle Rittenhouse visited him in Mar-a-Lago after the 18-year-old was found not guilty of shooting and killing two men, and wounding a third, during an intense racial justice protest in Kenosha, Wis.
Oklahoma GOP Head: RNC Chair 'Must Resign' For LGBTQ Support
Roger Sollenberger, The Daily Beast
RNC Chair Ronna McDaniel crossed conservative Christians when she announced the creation of an "RNC Pride Coalition" at an annual dinner put on by Log Cabin Republicans.
Trump's False Claims of Voter Fraud Test Republican Candidates
Michael C. Bender et al., The Wall Street Journal
Former President Donald Trump's yearlong campaign falsely claiming he won the 2020 election and demanding redress is turning voter fraud into a litmus test for Republicans seeking office as the party seeks to reclaim the House and Senate in 2022.
The Buttigieg presidential buzz has penetrated the White House
Alex Thompson, Politico
Pete Buttigieg has long been a man in a hurry. Since 2010, he has run for treasurer of Indiana, mayor of South Bend, chair of the Democratic National Committee, and president of the United States.
Exclusive: 'If I ran for governor … I'm the only candidate that can win'
A.D. Quig, Crain's Chicago Business
That's Adam Kinzinger, assessing the current field of GOP contenders to take on Gov. J.B. Pritzker, in an exclusive interview for the next Crain's "A.D. Q&A" podcast. Hear a snippet.
He Wants to Win Missouri as a Populist. Just Don't Compare Him to Josh Hawley.
Kathy Gilsinan, Politico
Steering a Ford Focus through soggy mist toward the northeast Missouri farm town of Palmyra, Lucas Kunce — Marine veteran, millennial, populist Democratic contender for a U.S. Senate seat in this very Republican state — is explaining Missouri voters by way of a story about socks.
Illinois congressional map drawn by Democrats with aim of cementing control of state's Washington delegation signed by Gov. J.B. Pritzker
Rick Pearson, Chicago Tribune
Gov. J.B. Pritzker on Tuesday signed into law a congressional map drawn by Democrats and aimed at expanding the party's control of its Washington delegation through the decade, starting with next year's election.
Maryland lawmakers settle on draft congressional map ahead of redistricting special session
Bryn Stole, The Baltimore Sun
Maryland Democratic lawmakers settled on a new proposed congressional map that would continue to give Democrats strong advantages in seven of Maryland's eight congressional districts and make the state's final district, currently a Republican stronghold, more competitive as well.
With federal oversight in short supply, state AGs step in to probe troubled police
Kimberly Kindy, The Washington Post
Police in Aurora, Colo., shot 20-year-old Jamaal Bonner in the back three times with a submachine gun during a sting operation, killing him. Four years later, the department formally apologized for killing the unarmed Black man and signed a legal agreement promising systemic changes.
Kevin Strickland exonerated after 43 years in one of the longest wrongful-conviction cases in U.S. history
Timothy Bella, The Washington Post
For the first time in more than four decades in prison, Kevin Strickland allowed himself to make a wish list of all the things he would do if he were to be exonerated for a triple murder he has long said he did not commit.
These days, Capitol Hill townhomes aren't for living in. They're for lobbying.
Hailey Fuchs and Emily Birnbaum, Politico
Just a few blocks from the U.S. Capitol, is a five-bedroom townhouse with an unobtrusive presence on New Jersey Ave S.E. To the casual observer, it looks like any other home in this quaint, historic neighborhood in Washington D.C. But this one has a small placard and doormat distinguishing it from the row of other residences.
NRA Acknowledges New Findings of Excessive Benefits Paid to CEO Wayne LaPierre
Mark Maremont, The Wall Street Journal
The National Rifle Association said it had found additional examples of excessive benefits paid by the nonprofit gun rights organization in recent years to CEO Wayne LaPierre, including $44,000 in private jet flights, according to a new tax filing.
Targeting foreign cash behind congressional testimony
Lachlan Markay, Axios
New legislation would force policy experts who testify before Congress to disclose any foreign government funding for nonprofits employing them, Axios has learned.
Opinions, Editorials and Perspectives
Democrats Are In Trouble, but Joe Biden Isn't
Ben Koltun (Beacon Policy Advisors LLC), Morning Consult
Joe Biden turned 79 last weekend. If he had one political wish when blowing out the birthday candles, it should've been for Donald Trump to run for president in 2024.
Biden Needs an Enemy
Molly Jong-Fast, The Atlantic
Less than a year ago, America was led by a man who governed to please the Fox News host Tucker Carlson and toyed with the idea of imposing martial law. After Donald Trump, you'd think the American people would just enjoy having a normal president who doesn't use his Twitter account to threaten neighboring countries or corporations. But they don't.
The Biggest Victim in 2021 Redistricting So Far: Competition
David Wasserman, The Cook Political Report
Heading into Thanksgiving, new congressional maps have either passed or are awaiting signature in 20 states — almost half of the 44 states with two or more seats. And although Republicans are poised for modest mapping gains, the most dramatic trend is anti-competitive.
The Inflation Miscalculation Complicating Biden's Agenda
Jim Tankersley, The New York Times
President Biden's top economists have worried from the beginning of his administration that rising inflation could hamstring the economy's recovery from recession, along with his presidency. Last spring, Mr. Biden's advisers made a forecasting error that helped turn their fears into reality, a calculation that spread to this week's decision to renominate the Federal Reserve chair.
Research Reports and Polling
This email was sent by: Morning Consult
729 15th St. NW Washington, DC, 20005, US