BRAND INTELLIGENCE
How COVID-19 Is Changing the Holiday Shopping Season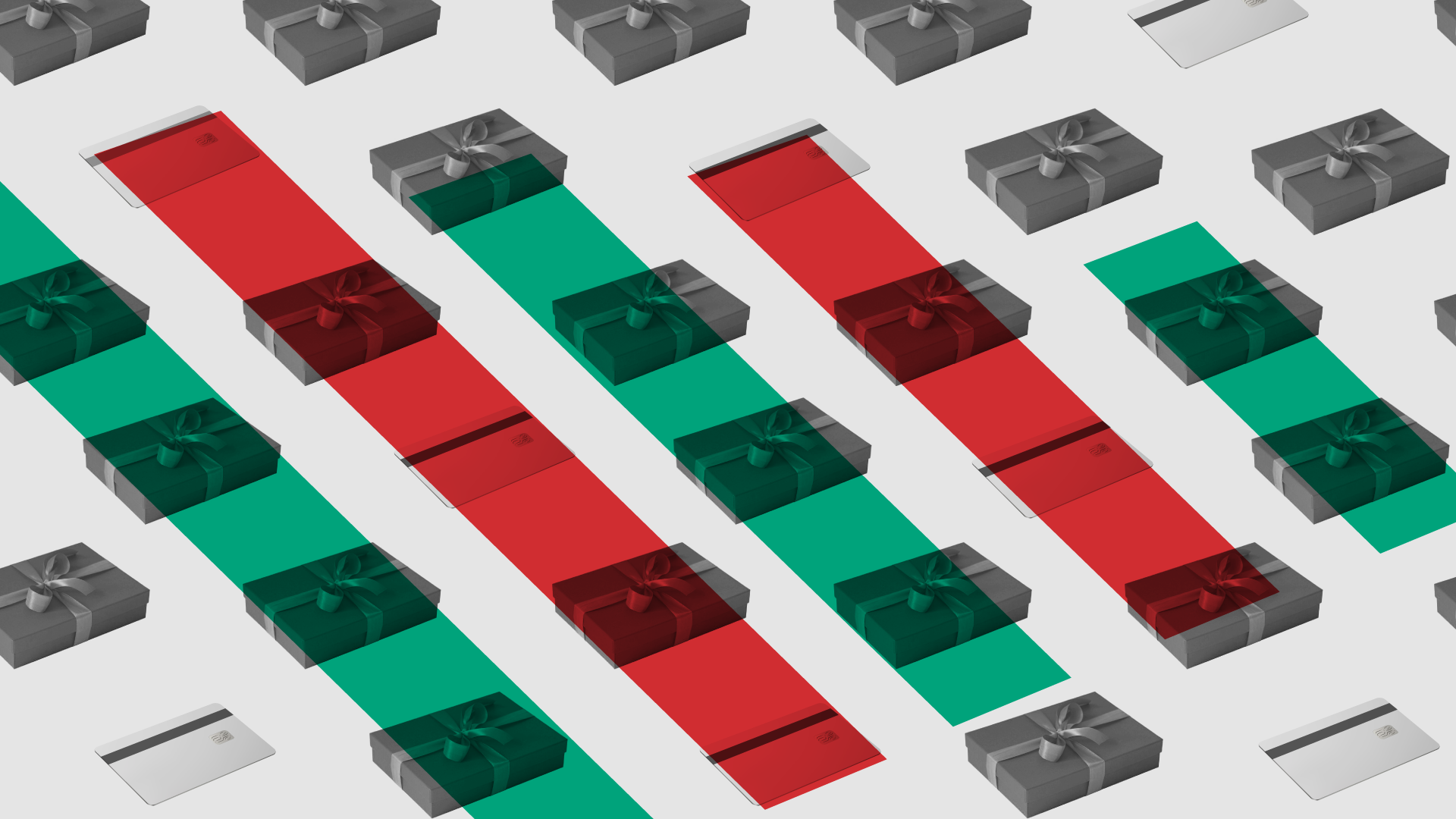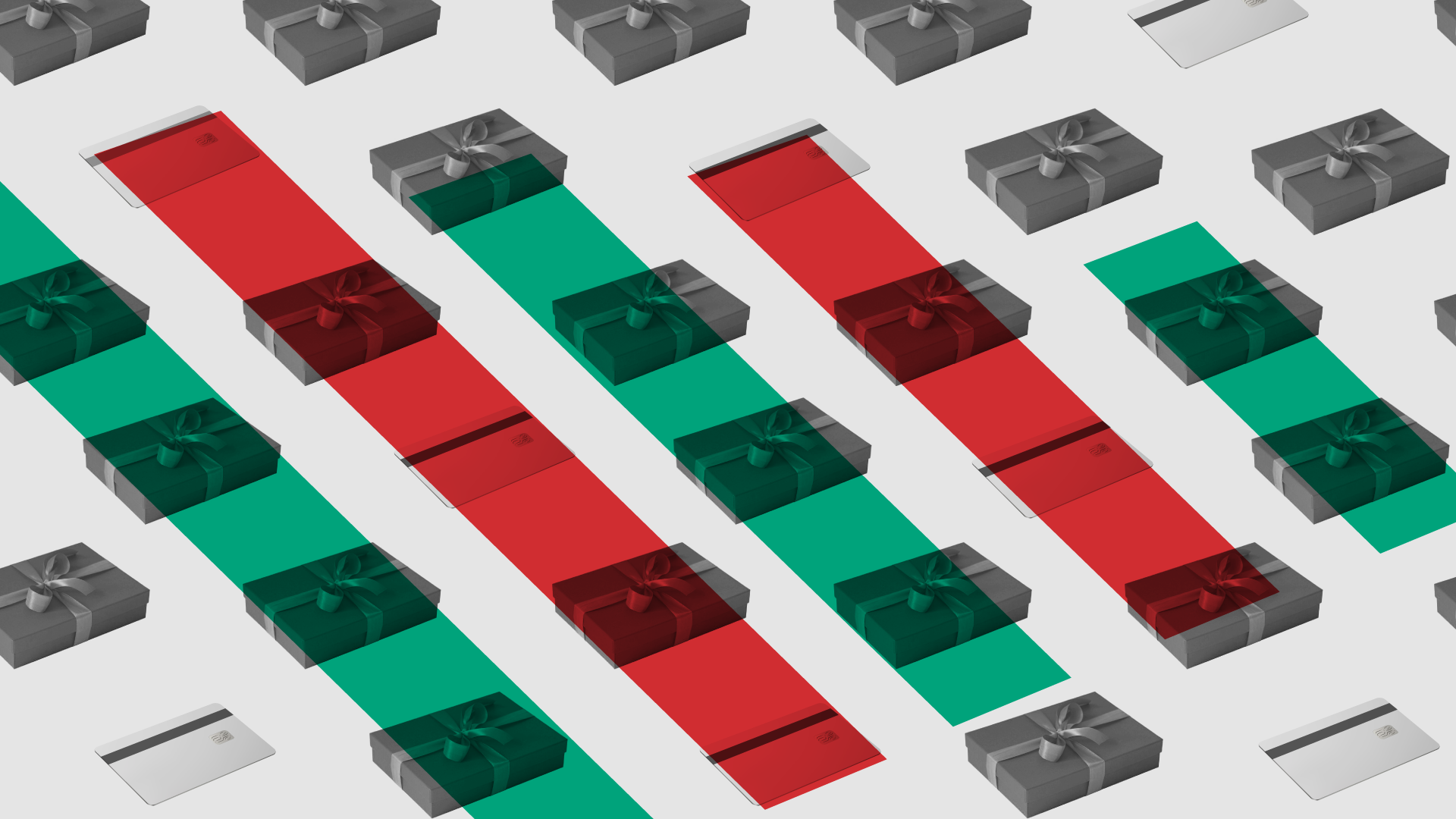 Published: September 10, 2020 | By: Victoria Sakal
Like much of 2020, this year's holiday season will be a moving target for brands. 
COVID-19 and other events defining this year more broadly are dramatically reshaping the way Americans will celebrate and shop in 2020.  Seventy-one percent of Americans said their holiday traditions will change, already up 10 points from early August. 
These changes will have dramatic consequences for brands.
From the way consumers plan to celebrate, travel, spend, and shop, Morning Consult will be closely monitoring how consumer spending and shopping needs and habits change this holiday season, and what brands can do to navigate this landscape as it evolves.
Sign up to get alerts on our latest holiday shopping data and shopper insights this season
How will consumers celebrate?
Most Americans still plan to celebrate major holiday events this year, though only about half plan to celebrate New Year's Eve or Day (51 percent and 45 percent, respectively), while 42 percent plan to celebrate Halloween.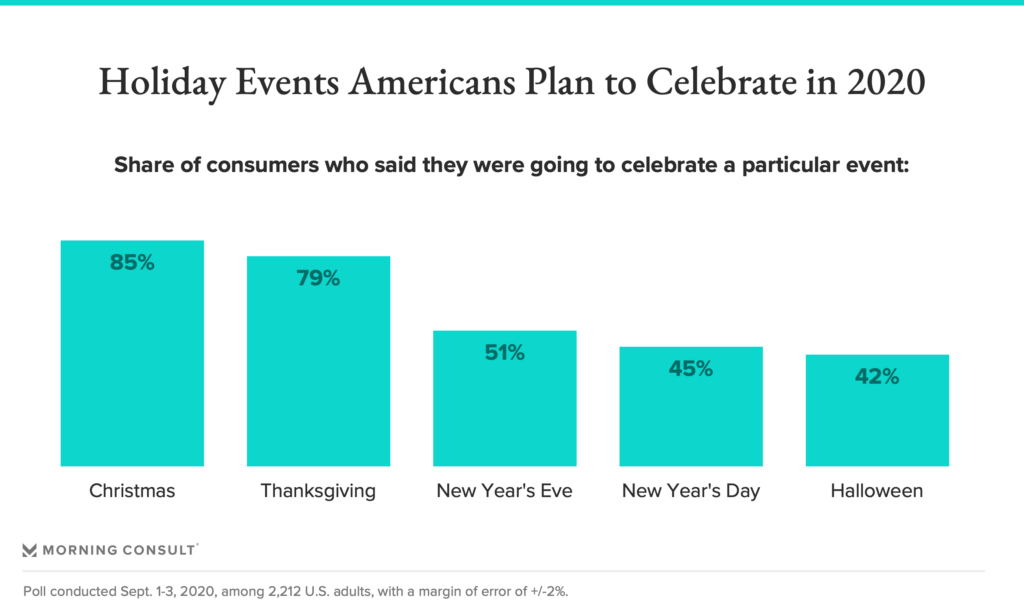 While a slim majority (53 percent) said their family's usual holiday get-togethers will go on as planned this year, 47 percent already report that they will be canceled altogether. Democrats are most likely to entirely cancel their usual holiday get-togethers this year: 59 percent expect this to happen compared to 47 percent of all adults and just 35 percent of Republicans. 
The jury is still out as to whether this means holiday gatherings will shift online, with a near 50-50 split in the share that said some or all of their family's holiday gatherings will shift from being in-person to being virtual this year versus those who don't anticipate that to happen.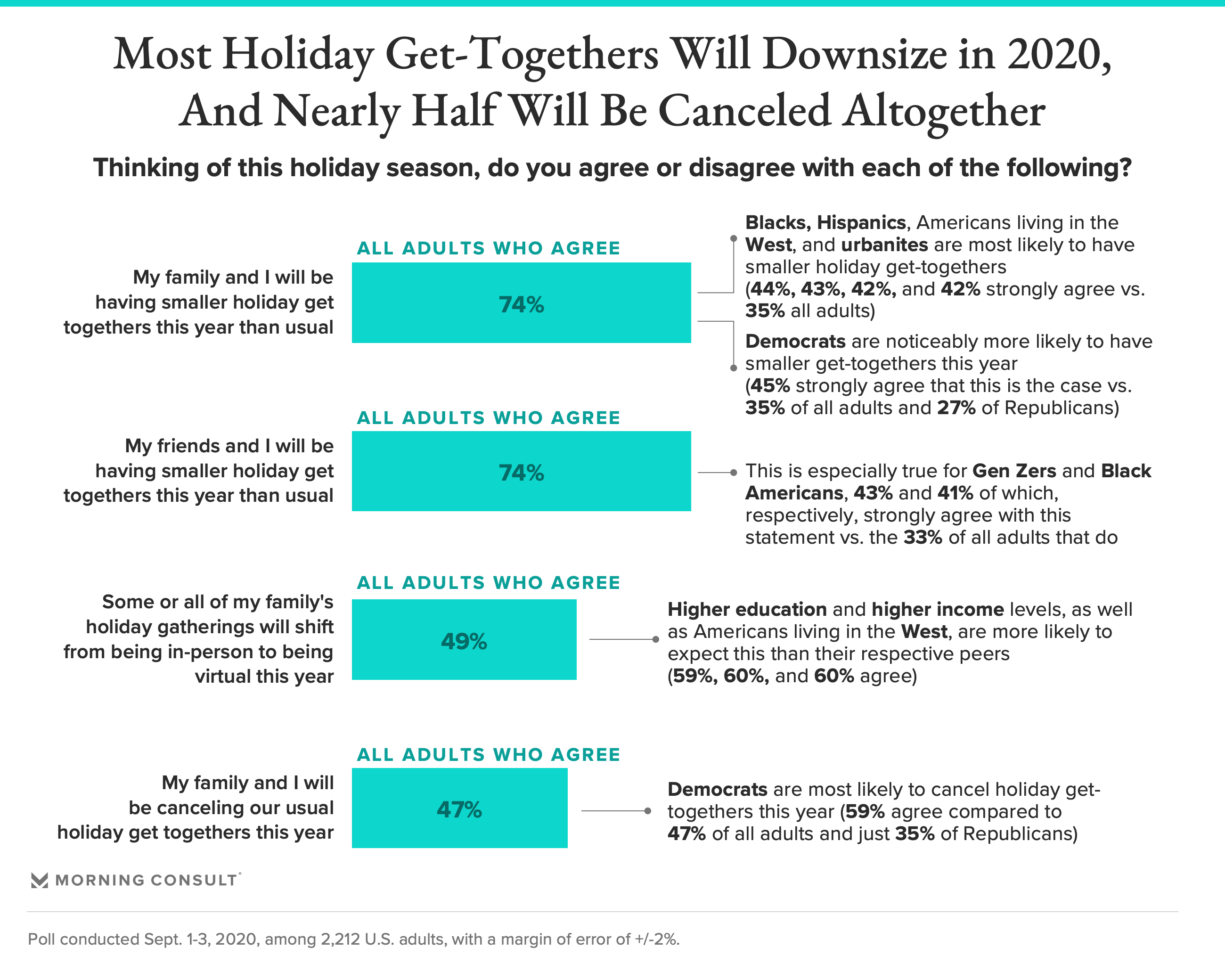 How will consumers travel?
2020 will see massively stunted travel this holiday season: 68 percent will be traveling less this holiday season than usual, and more than half of Americans (54 percent) know someone who will be traveling less this year – or who has even canceled their holiday travel plans altogether.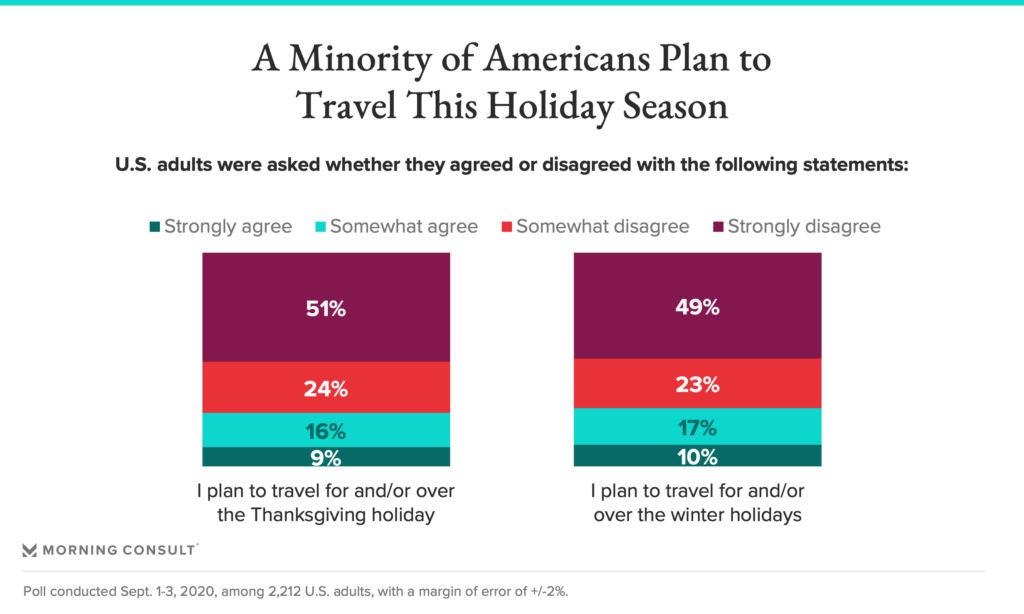 Seventy-five percent of Americans don't plan to travel for or around the Thanksgiving holiday and 72 percent don't plan to travel at all for or around any of the winter holidays. 
Among those that do plan to travel this holiday season, most (85 percent) are comfortable traveling by car, but are significantly uncomfortable traveling by both public transportation and plane (78 percent and 77 percent, respectively, are uncomfortable traveling these ways). Americans are also largely uncomfortable using ride-hailing services this holiday season; 50 percent of U.S. adults are "very uncomfortable" doing this. 
What seems clear is that those planning to travel less won't necessarily be spending those cost savings elsewhere: Just 8 percent plan to purchase more gifts for their family or friends, while a whopping 66 percent plan to save any money not spent on travel.
How will consumers spend?
Financial concerns around this holiday season are mixed: Only 20 percent are explicitly worried about their finances this holiday season, with women notably more concerned than men. That being said, as of early August, 67 percent planned to cut back spending in order to reserve funds for holiday shopping.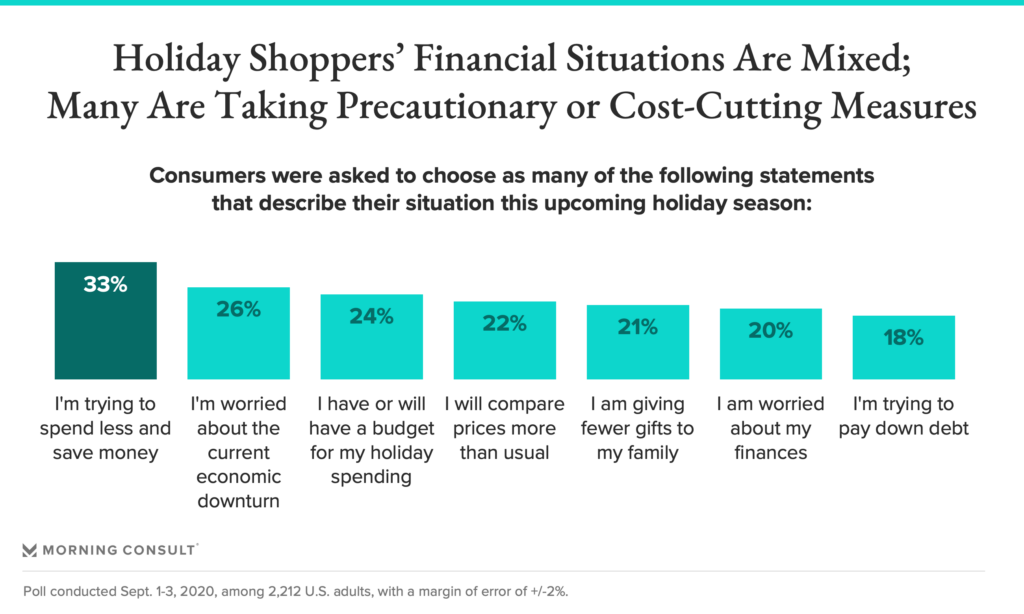 The vast majority will be spending less on holiday celebrations this year: 71 percent will be spending less than usual on celebrations with friends, and 67 percent will be spending less than usual on celebrations with family. A similarly substantial share of shoppers (62 percent or higher) plans to spend less on key categories this holiday season as well, from alcohol and other beverages to holiday snacks and other food. This trend is similar across generations and other demographics.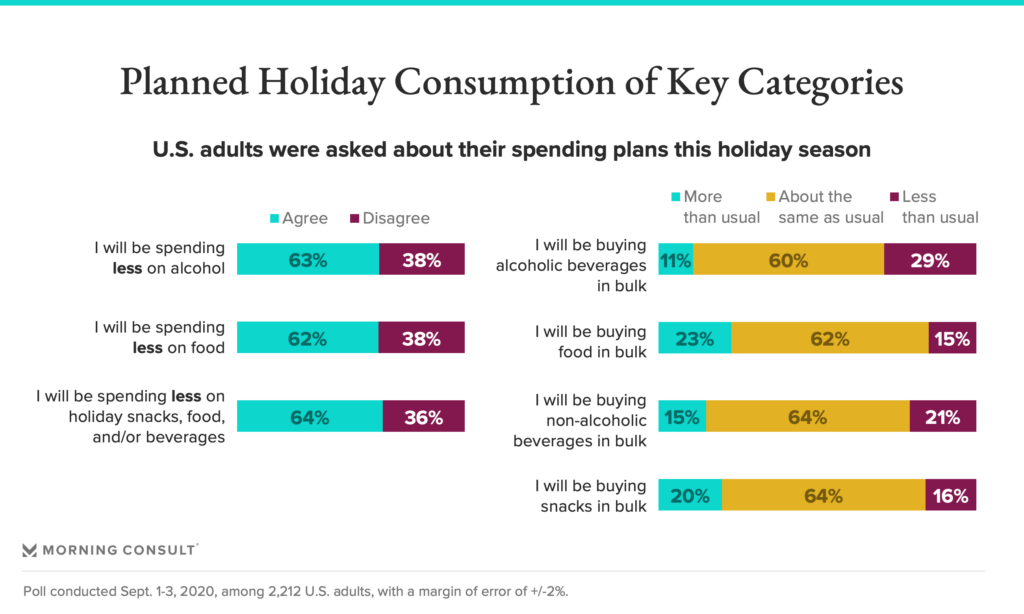 The combination of a struggling economy and a health pandemic will almost certainly impact holiday spending negatively this year: The share of U.S. adults planning to spend $300 or less on holiday gifts has increased by 9 percentage points while the share planning to spend more than $400 has declined by 8 percentage points.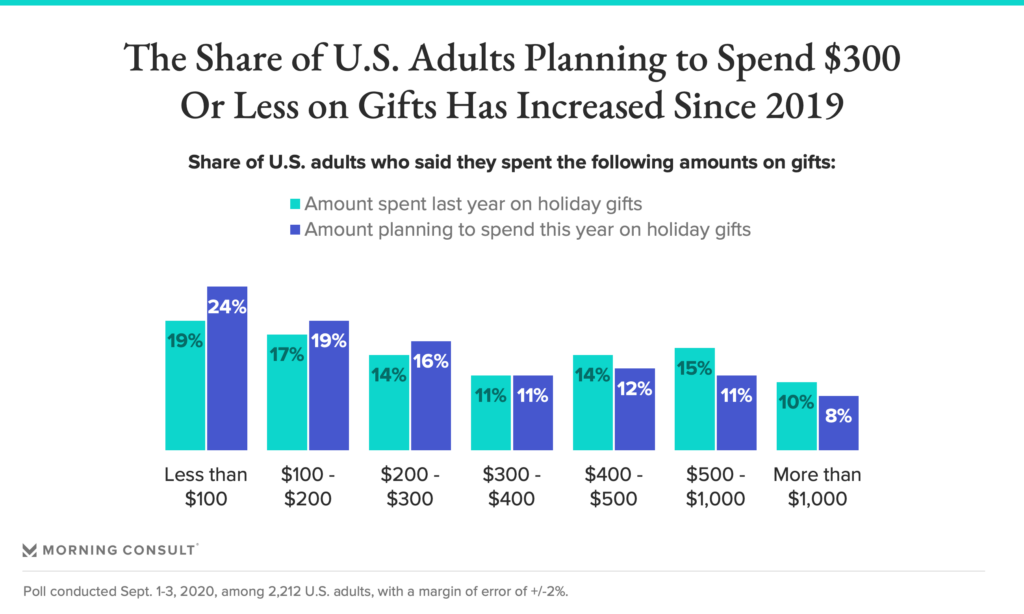 Shoppers are most likely to spend the same amount on gifts this year, but nearly 4 in 10 (39 percent) do plan to cut back:
– Boomers are notably less likely to spend more on gifts this year (most, 57 percent, will spend the same amount on gifts this year),
– Younger generations, Blacks and urbanites are more likely to spend more on gifts this year, and
– Hispanics are significantly more likely to spend less this year.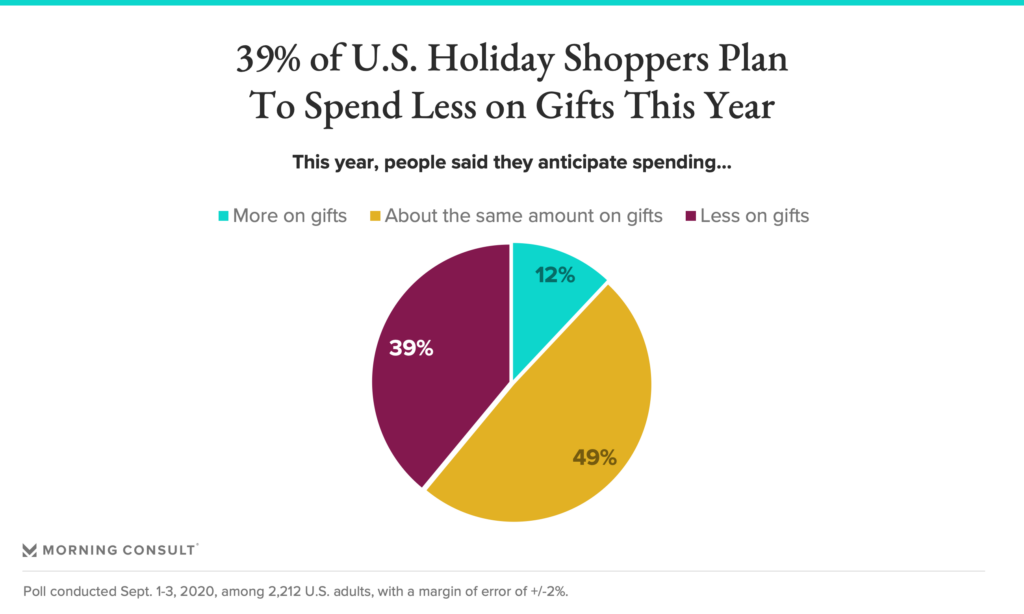 Unsurprisingly, financial concerns will directly translate to the type of gifts people buy.
Fifty-nine percent said they planned to buy gifts from their go-to brands in early August — but a similar share, 51 percent, planned to explore new brands when shopping for holiday gifts this year. 2020 appears to have decimated demand for premium and luxury products: The vast majority of Americans (73 percent) anticipate buying less or none at all this year.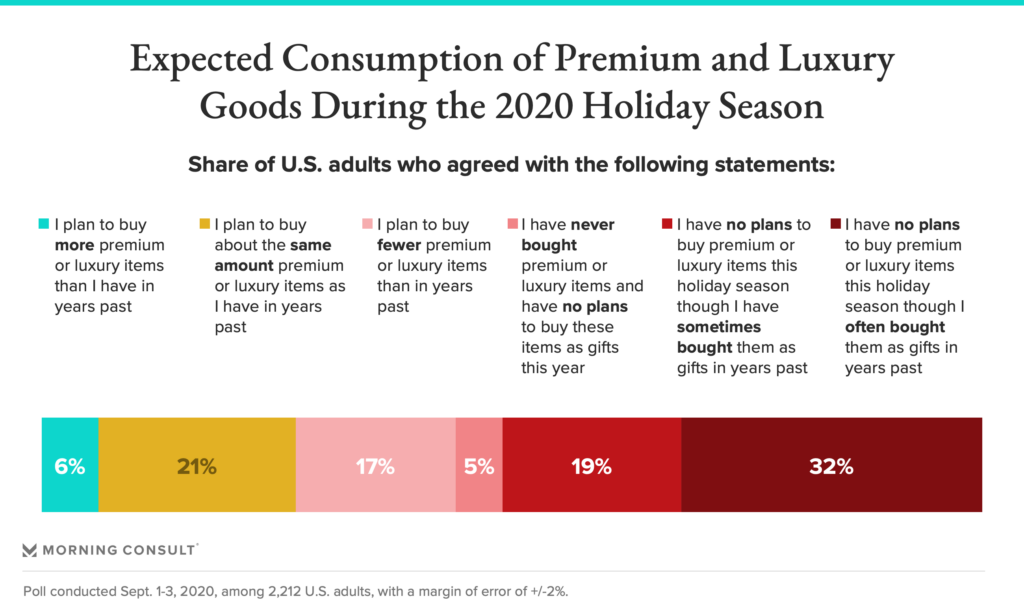 Most plan to give practical gifts, gifts that can be used at home or fun or entertaining gifts.
The most popular gift this year will likely be gift cards: 48 percent of adults plan to buy or give gift cards this holiday season, and three times as many shoppers said they will spend most on these versus the next-highest gift type (apparel, which 9 percent plan to spend most on). The most unpopular gifts tend to fall in the spiritual, luxury and experiential categories.
From popular product categories and types of gifts to specific retailers and everything in between, Morning Consult's in-depth holiday research is closely tracking what holiday shoppers will spend on; much more is to come in the weeks and months ahead as preferences shift and the holidays approach.
2020 has transformed consumers' shopping needs, priorities, and expectations, and holiday shopping won't be any exception. Given upended traditions and tighter budgets, Americans are preparing for a holiday season that starts earlier, is more online and raises more health and safety concerns than ever before.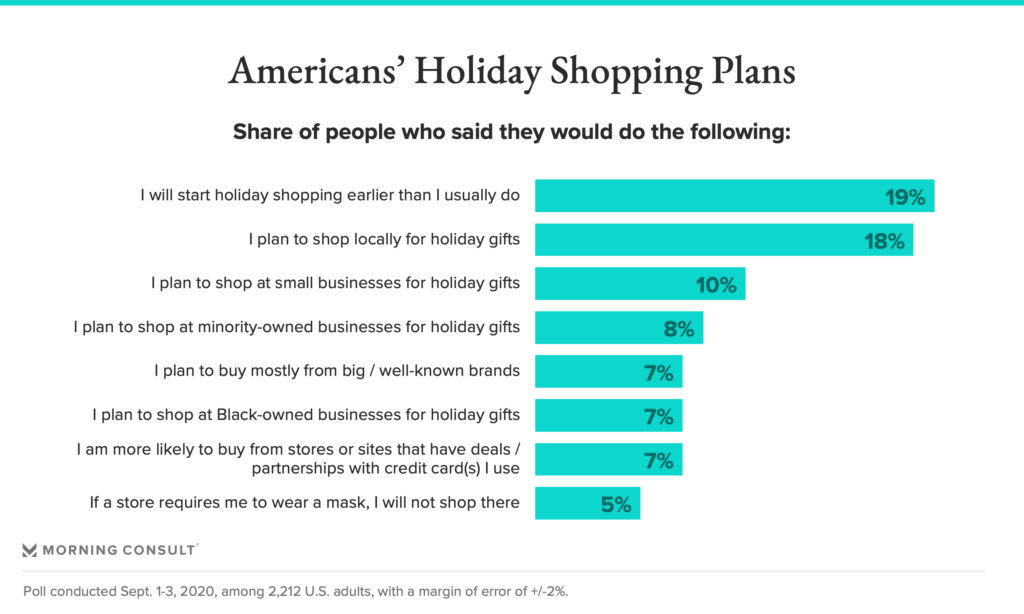 Nearly half (47 percent) of Americans plan to do most of their holiday shopping online, with 48 percent of those that do citing safety concerns as the primary reason why; convenience is the main reason for nearly a third (29 percent) and a preference for online shopping driven by increased usage in recent months is top for just over a fifth (21 percent). Thirty-one percent plan to roughly split their holiday shopping between online and in store while 27 percent plan to do most holiday shopping in stores.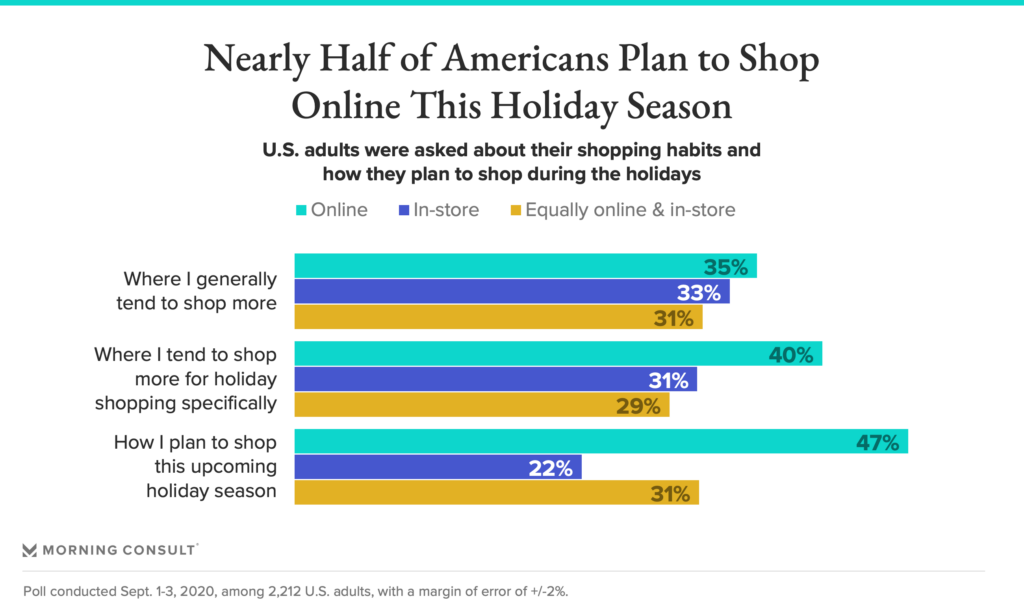 Millennials are notably less likely to do their holiday shopping in stores, while Democrats and higher education levels are more likely to do most of their holiday shopping online. Gen Zers planning to do holiday shopping predominantly online this year are significantly more likely to cite safety concerns as the top reason for doing so (65 percent vs. 48 percent all adults).
Ruralites appear least preoccupied with safety this holiday season: They are more eager than other community types to do most of their holiday shopping in-store and, among those planning to shop primarily online, are less likely to cite safety concerns as the reason why. As might be expected, pandemic-induced adoption of online shopping is the top reason behind ruralites' stronger preference for doing their holiday shopping online. 
Unsurprisingly, online marketplaces saw the greatest uptick in interest year-over-year: Americans plan to lean heavily on online marketplaces like Amazon for holiday shopping in 2020 (78 percent).
Meanwhile, in-store shopping should expect dramatic drops. Thirty-five percent of consumers said they will be shopping less at malls this year, unsurprising considering 59 percent of Americans indicate they're uncomfortable going to a shopping mall this holiday season. While nearly two-thirds (64 percent) said they're likely to shop in-store this year, that category experienced the second second-largest drop in interest year-on-year with 33 percent of Americans anticipating shopping in-store less. 
Department stores may face a tough season as well, though perhaps less devastating than some pundits have suggested. Thirty-five percent plan to shop at department stores this year, and 30 percent said they will shop at these less than last year. But Americans are largely split as to whether they're comfortable or uncomfortable going to department stores (48 percent vs. 52 percent, respectively) and 63 percent said they'll shop at these about as much as they did in 2019.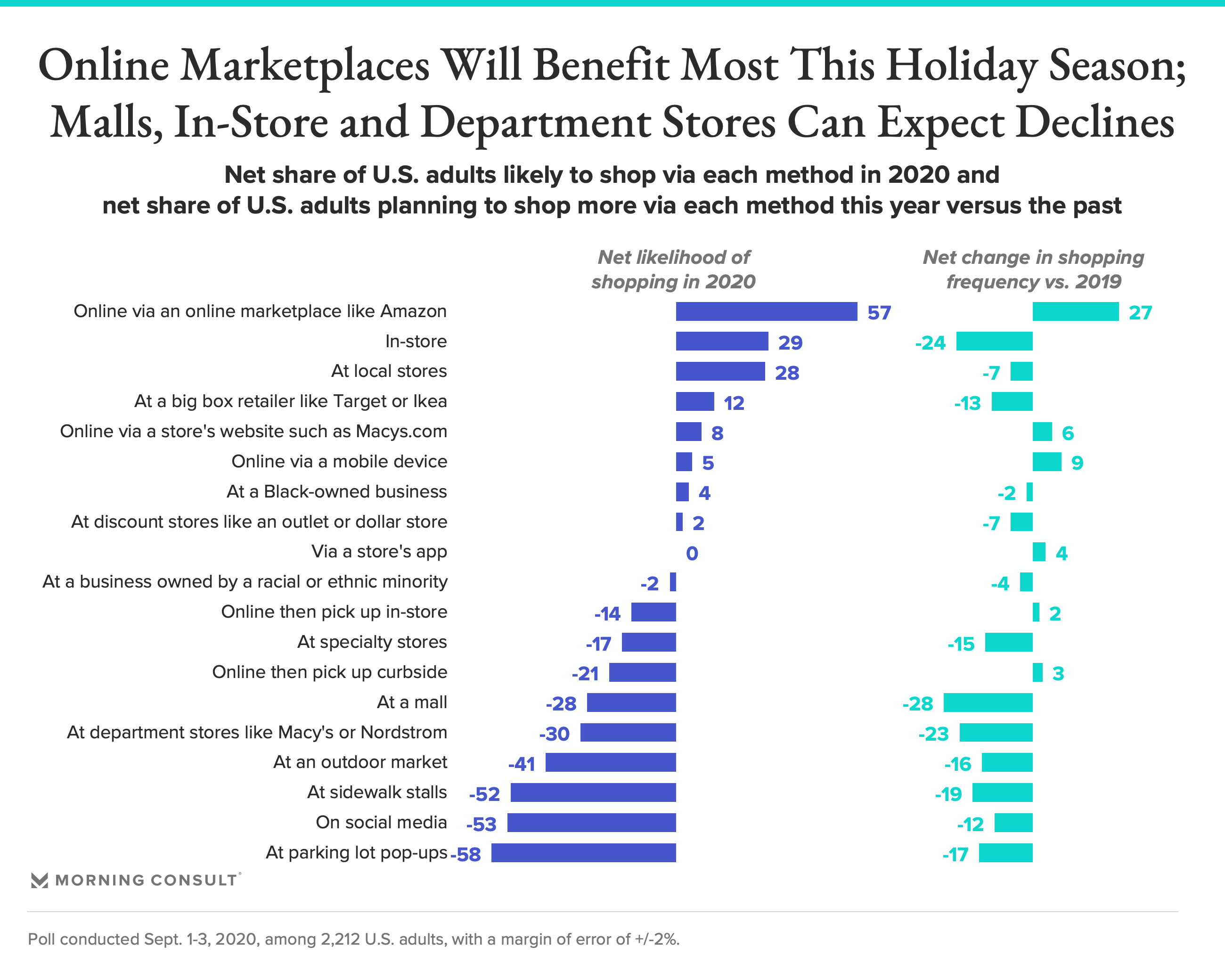 Early expectations: what do consumers want from brands and companies?
It's important for brands to remember that 90 percent of Americans aren't looking forward to this year's holiday season (only 10 percent said they are).
Still, only 5 percent of Americans think companies shouldn't advertise this holiday season — though this nearly triples among Gen Zers, 14 percent of which are not in favor of companies doing holiday advertising. 
Americans are more likely to buy from companies whose ads either explain how they're keeping shoppers safe or provide gift ideas, or those with realistic or optimistic ads. Serious or somber ads will most likely lead to net decreases in purchasing.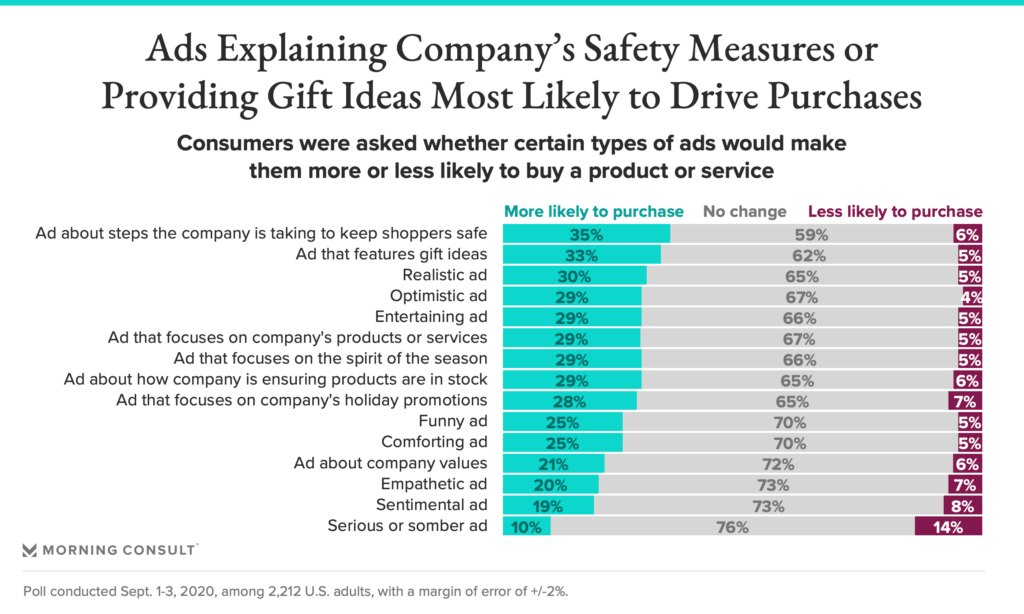 A few clear demographic nuances in ad tone preferences exist:
– Gen Zers are notably more interested in funny, sentiment, optimistic, empathetic, comforting ads or those that offer gift ideas than older generations, while Boomers are much more interested in entertaining and serious or somber ads. 
– Ads about company values may actually mute interest among Gen Z, a generation increasingly more interested in action over words: 19 percent of this generation indicates that an ad of this nature would make them less likely to buy from the company advertising (vs. only 6 percent of all adults).
– Empathetic and sentimental ads are likely to increase buying among Democrats, but least likely to do so among Independents, with impact among Republicans between these two extremes.  
Most Americans have pandemic-related concerns this holiday season. Delivery speeds are a concern for slightly more than half, but the good news for retailers is that time constraints around holiday shopping and finding gifts that won't disappoint are not concerns for most shoppers.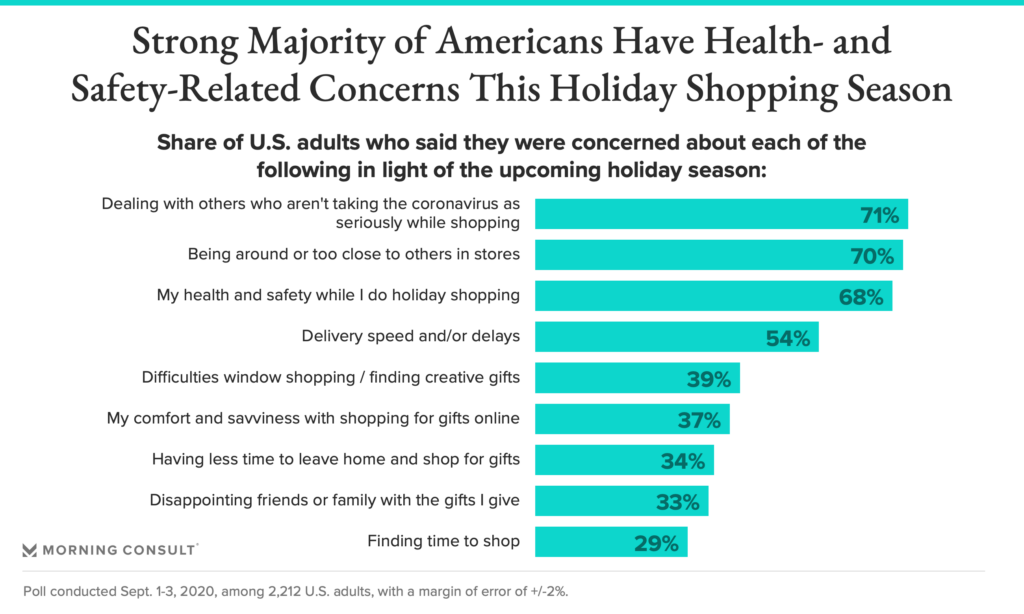 From supply chains to shopping outings, much of the 2020 holiday season will be drastically impacted by the coronavirus pandemic, with a struggling economy and enduring social unrest making it especially unprecedented. These highlights set the scene for what's already a unique season, but be sure to stay on top of evolving insights and critical business implications related to the 2020 holiday shopper as Morning Consult tracks the season ahead including plans for celebrating, traveling and entertaining, what, where and how consumers will buy and much more.