Approval Rises for World Leaders Amid Pandemic
Boris Johnson's approval soars, up nearly 30 points in 10 days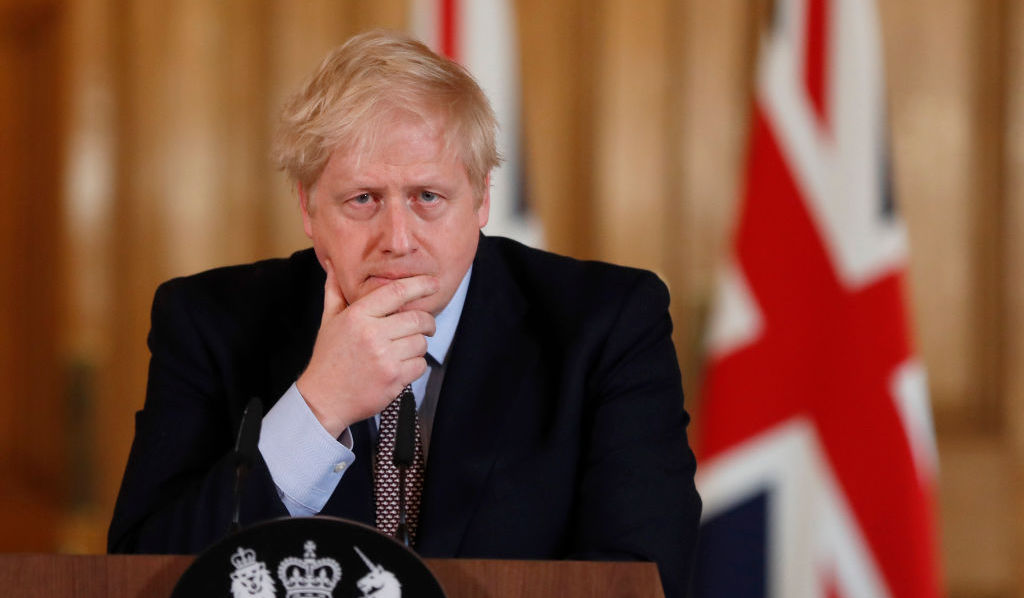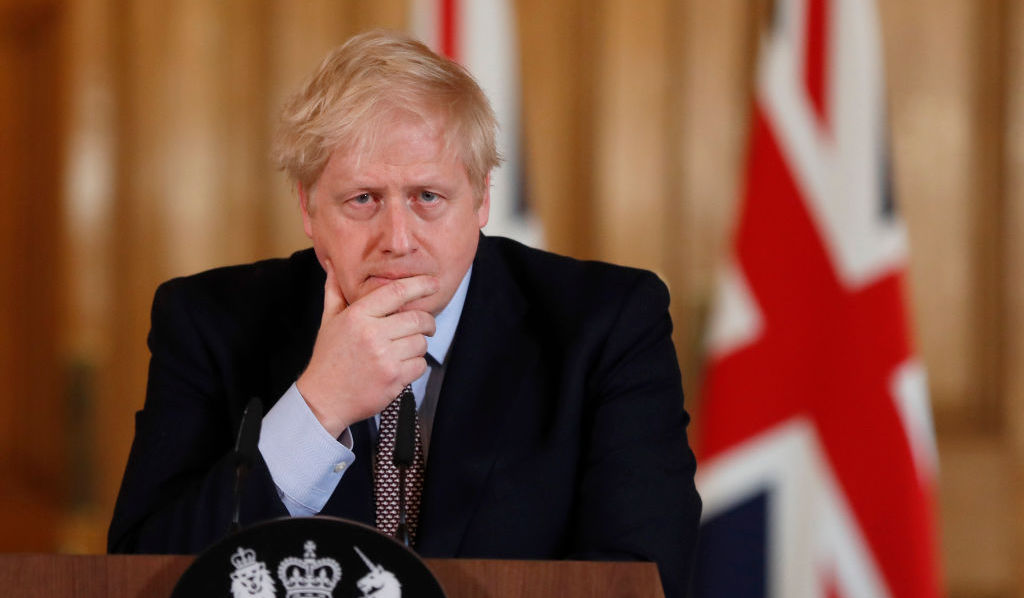 Faced with a sprawling global crisis, world leaders have begun setting policies into motion that will have vast economic and health implications, and will almost certainly play an outsized role in defining their legacies. The coronavirus outbreak has already shifted the political terrain in a number of countries, swiftly impacting how heads of state are viewed by their constituents, as new Morning Consult Political Intelligence data illustrates. 
British Prime Minister Boris Johnson has had the most dramatic shift in fortune: his net approval rating has risen by nearly 30 points in a matter of days. French President Emmanuel Macron, German Chancellor Angela Merkel, Canadian Prime Minister Justin Trudeau, and Australian Prime Minister Scott Morrison have all had their net approval rating increase by double digits since March 11, when the World Health Organization (WHO) declared the coronavirus to be a global pandemic. 
The data stems from daily approval tracking in nine countries, with between 315 and 616 survey interviews in each country per day, released in seven-day rolling averages. In the United States, results are based on an average of 7,126 daily interviews with U.S. adults (Note: Morning Consult's Trump approval rating releases are typically among registered voters).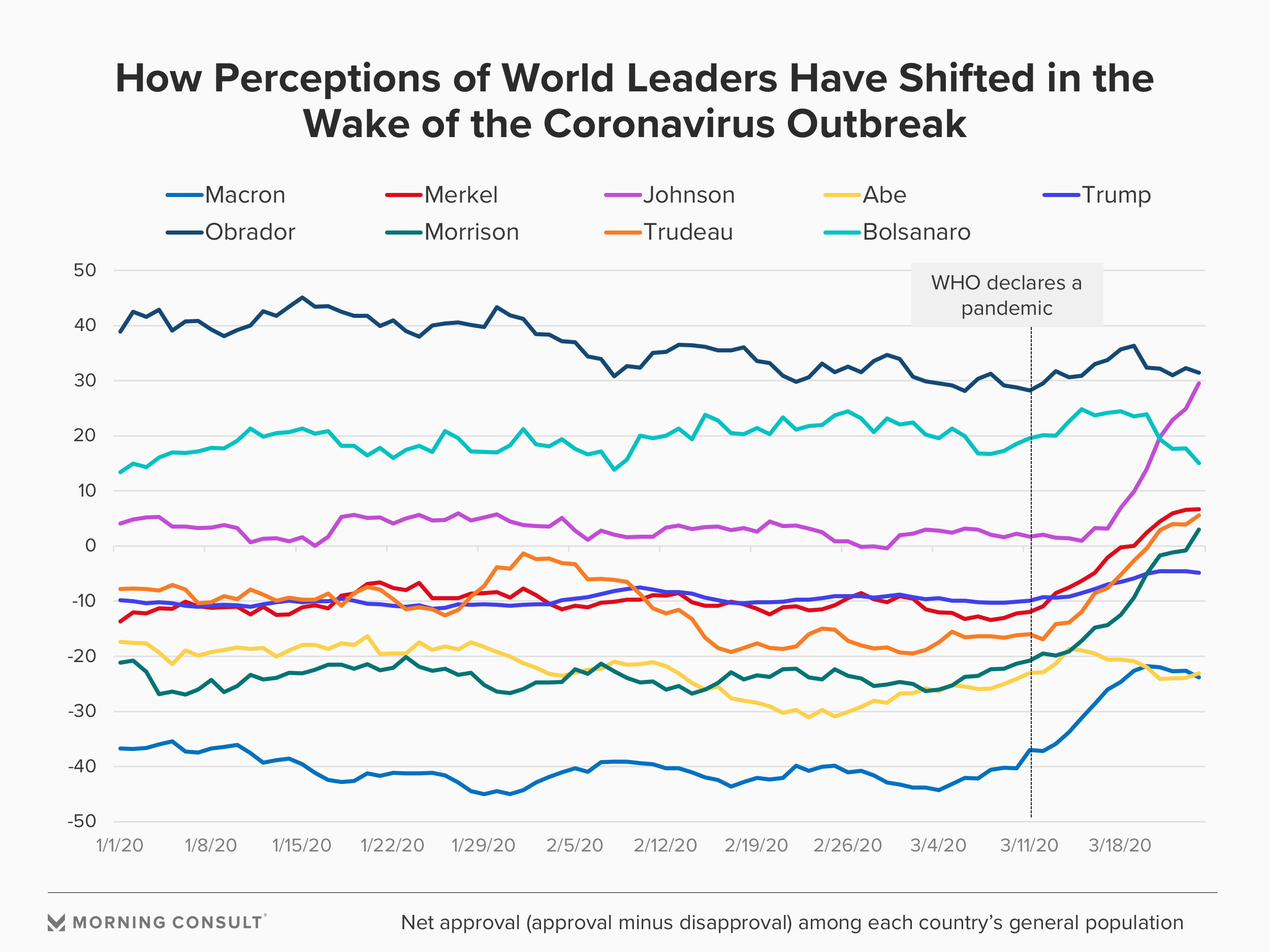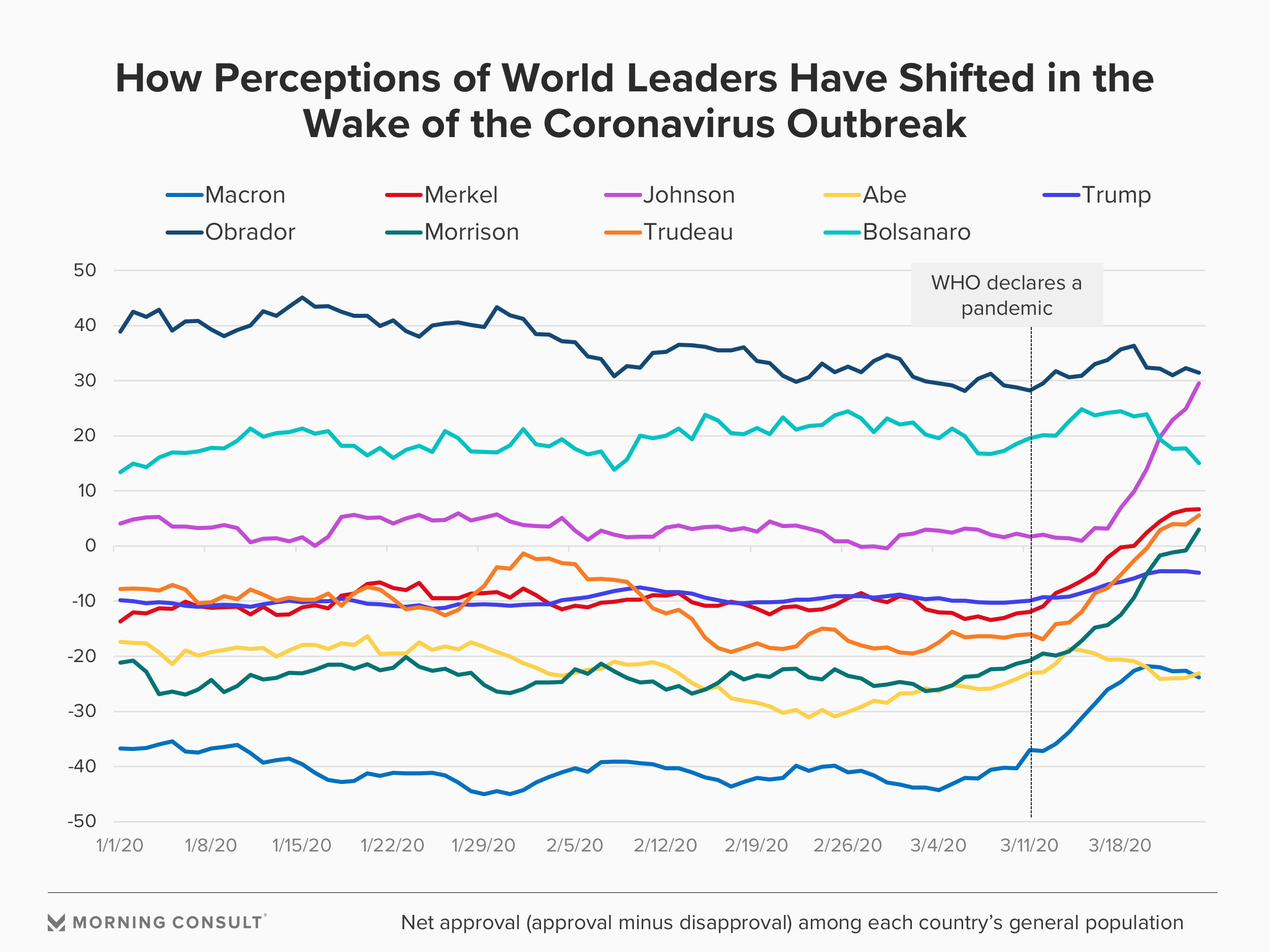 Changing Course Hasn't Hurt Johnson
Facing a rise in coronavirus cases, the British government initially resisted calling for the widespread lockdowns seen in other parts of Europe, instead allowing most of the country to stay open as usual. As conditions worsened and criticism mounted, Johnson's government changed course and ramped up restrictions on movement. Morning Consult's approval data indicates Brits were comfortable with Johnson's initial approach but appear to have grown more favorable after tighter restrictions were put in place. On March 16, when Johnson announced the new response tactics, his net approval stood at +3. By March 24, after a week of bolstered restrictions, his net approval had risen to +30.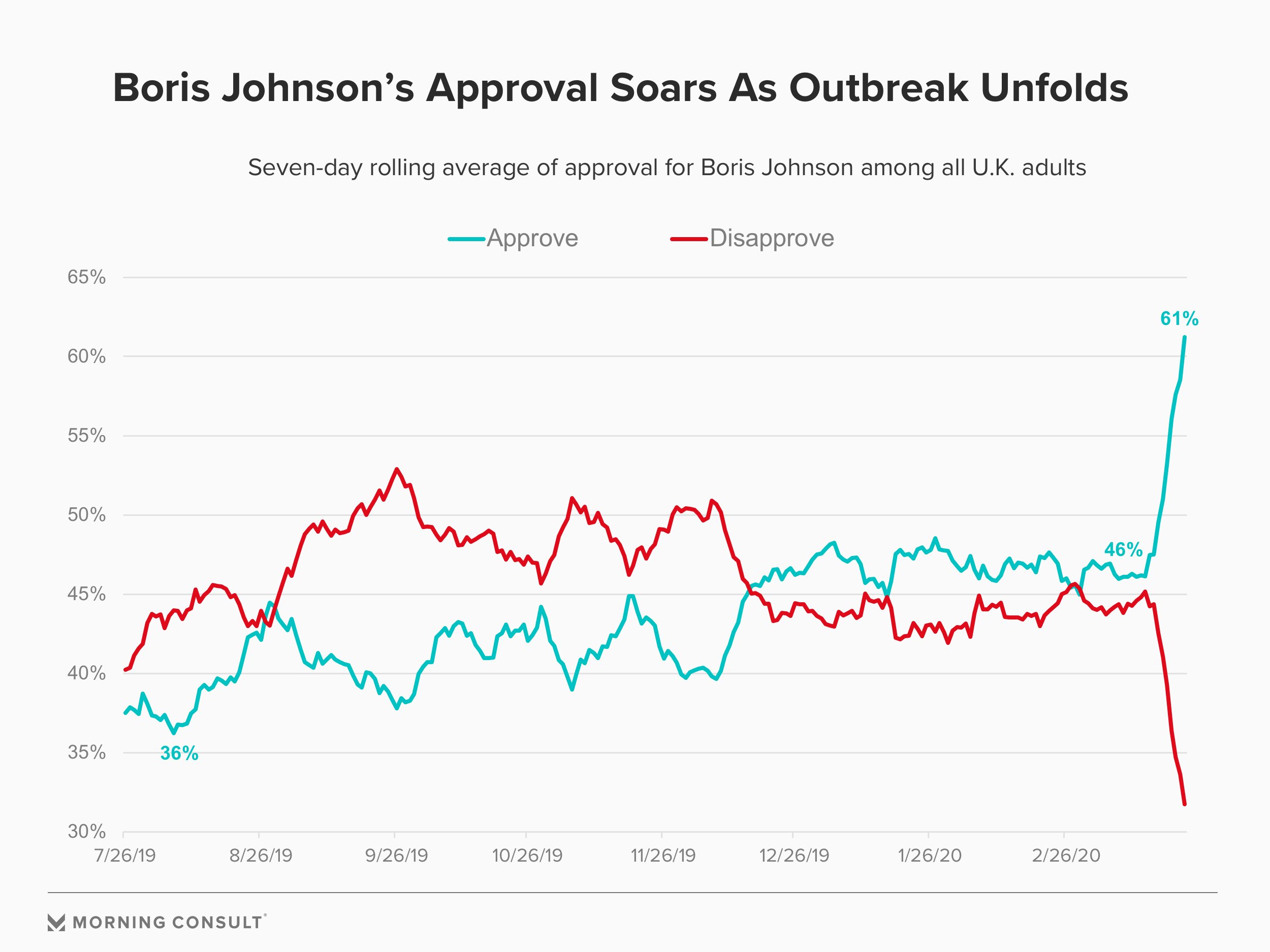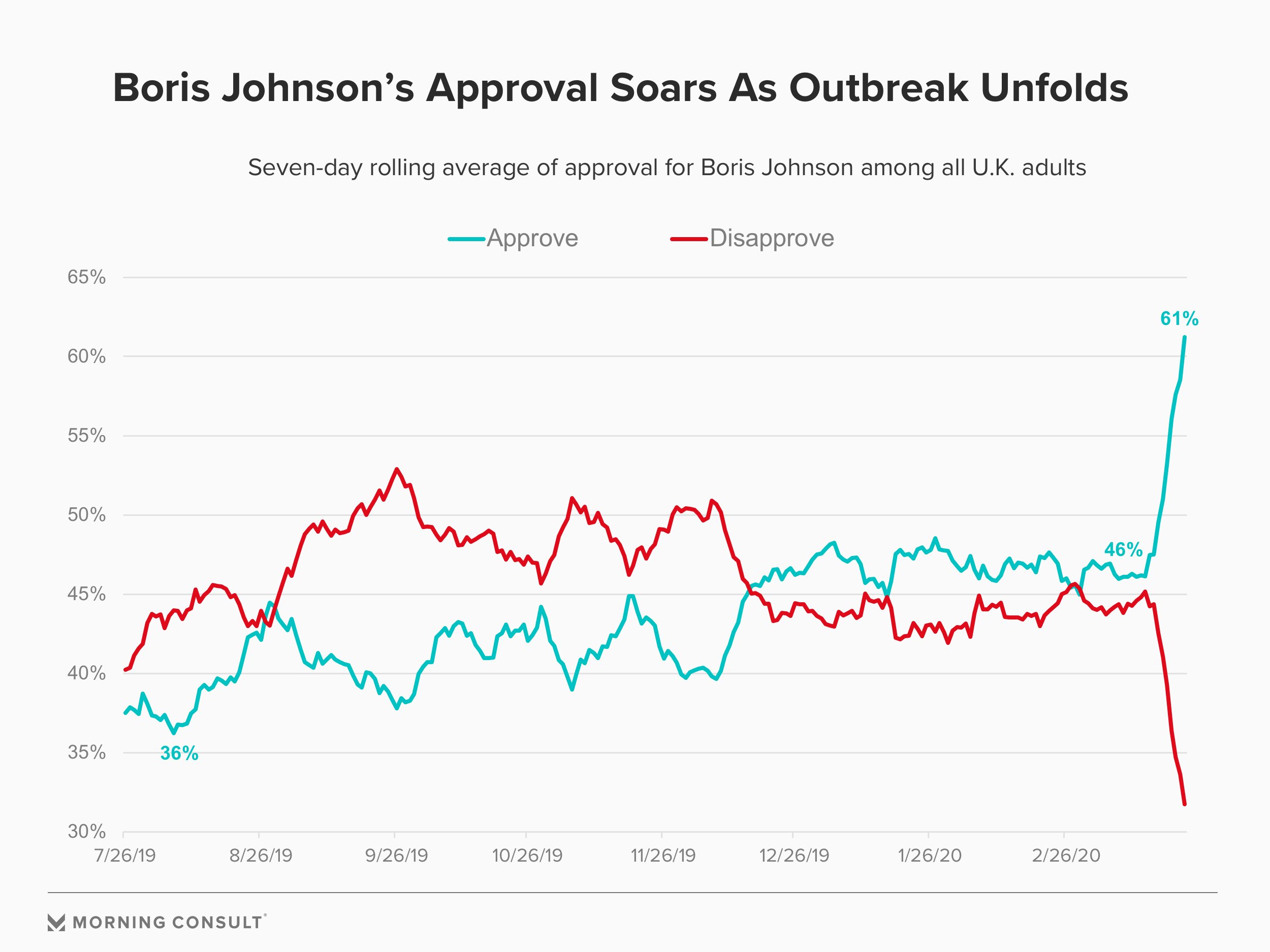 Despite Japan's Relative Success Containing Coronavirus Spread, Abe's Standing Worsens 
As one of the first countries outside of China to experience a coronavirus outbreak, Japan didn't get the same response lead time as most other countries. However, as of March 24, there were just 1,307 cases in Japan, compared to over 62,000 in the United States and 37,000 in Germany. The comparative success of Japan's response thus far has not yet translated to a boost in popular support for Prime Minister Shinzō Abe, who's one of only two heads of state tracked with a net approval lower now (-23) than at the beginning of the year (-17).
Consumer Confidence Declines Haven't Translated to Head of State of Approval
In five of the largest economies, consumer confidence has declined sharply in recent weeks with the largest shifts occurring in the U.S. and U.K. This approval data indicates consumers don't put the onus on their head of state. A recent Morning Consult survey found Americans were more likely to blame the outbreak on China and "individuals who are not staying in their home" than they were to blame President Donald Trump.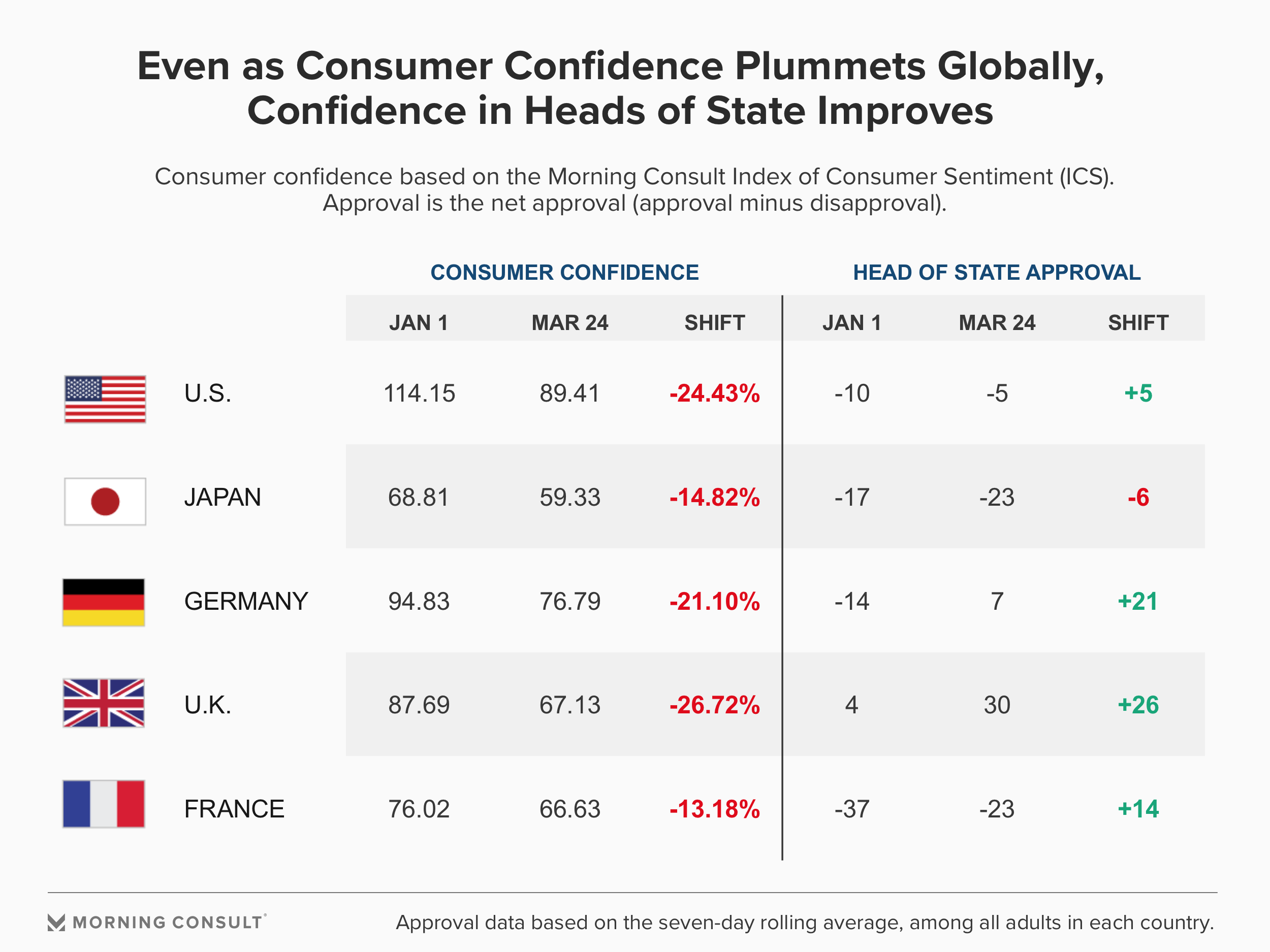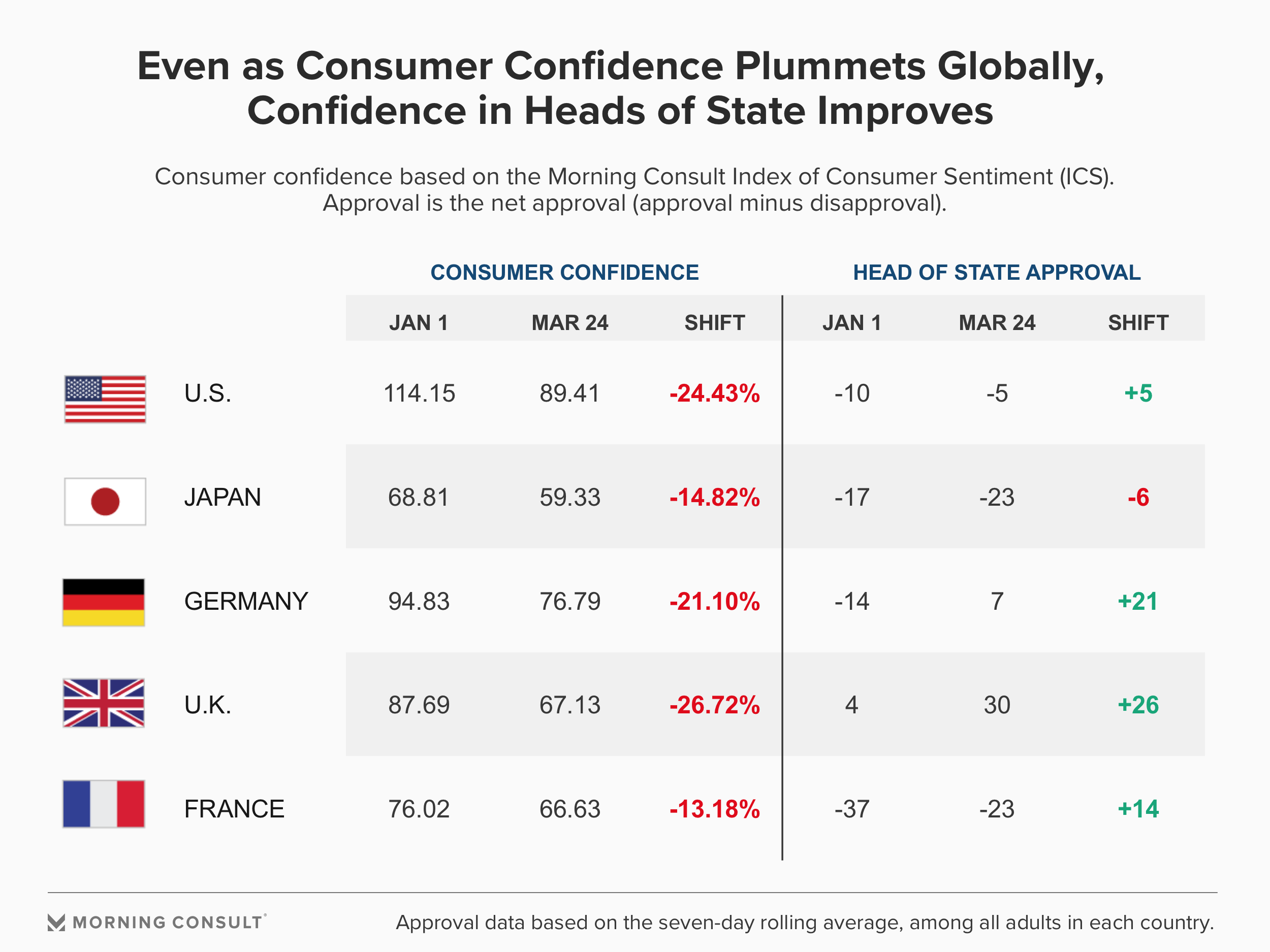 Trump Hits 52-Week High in Approval
When compared to some of his counterparts, President Trump's recent approval gains are modest. But for a president whose approval has been remarkably stable over the last year, the relatively minor shift is still notable. The six-point upward swing between March 8 – 21 is the largest swing in approval over any two-week interval in the last year in either direction. Morning Consult tracking data finds registered voters give Trump a net positive (+10) approval rating when it comes to his handling of the coronavirus.
Note: In order to measure sentiment throughout the country, the approval ratings on this page include all adults, not just voters. In Morning Consult's other Trump approval rating releases, such as the Tracking Trump page, the sample includes just registered voters.
About this data
Morning Consult Political Intelligence tracks the perceptions of political leaders across 12 countries on a daily basis. The global results on this page are based on daily surveys taken between January 1 and March 24, 2020, with between an average of 315 and 616 daily interviews per country. Each data point represents a seven-day rolling average. In the United States, results are based on an average of 7,126 interviews daily.