BRAND PERCEPTIONS AND THE 2020 PRIMARY
Consumer Preferences Illustrate Cultural Divides Within the Democratic Party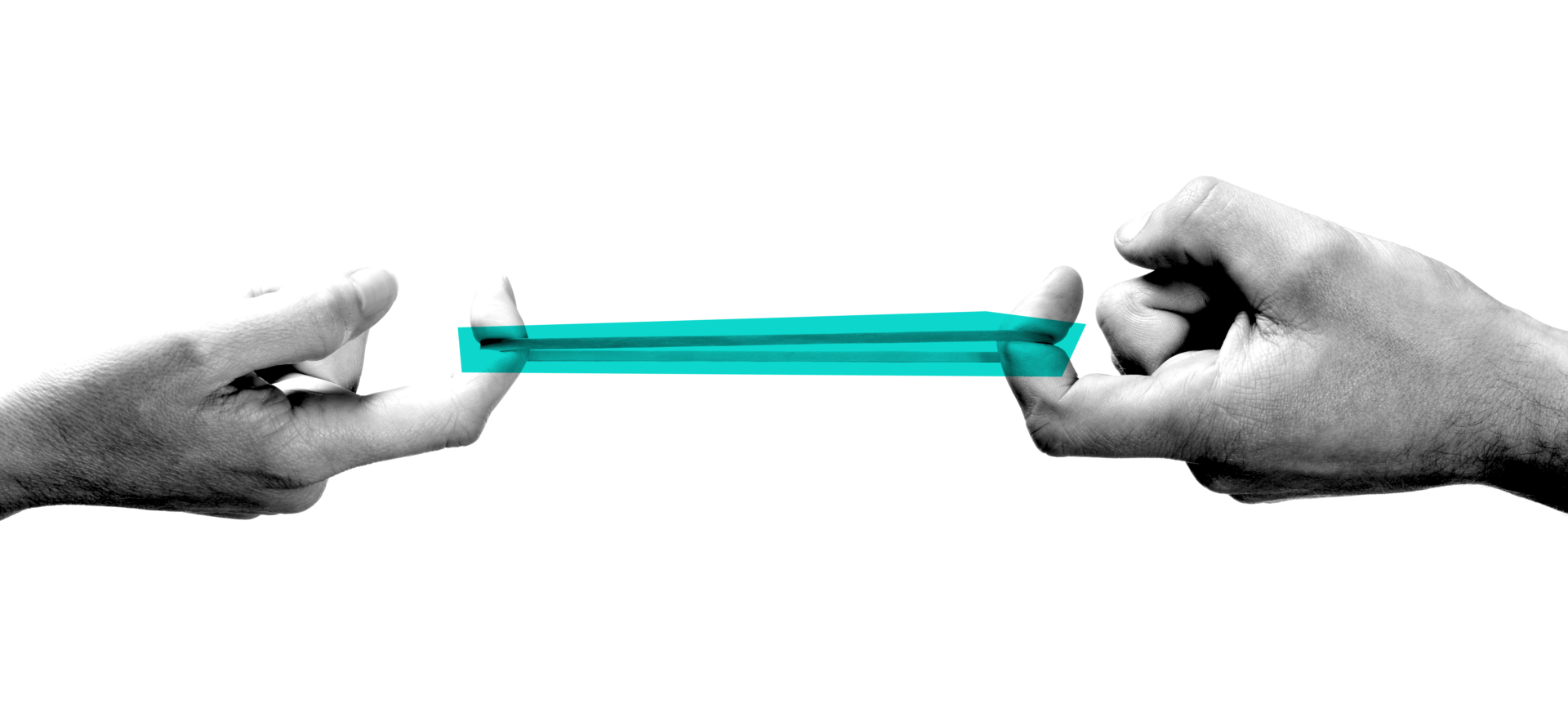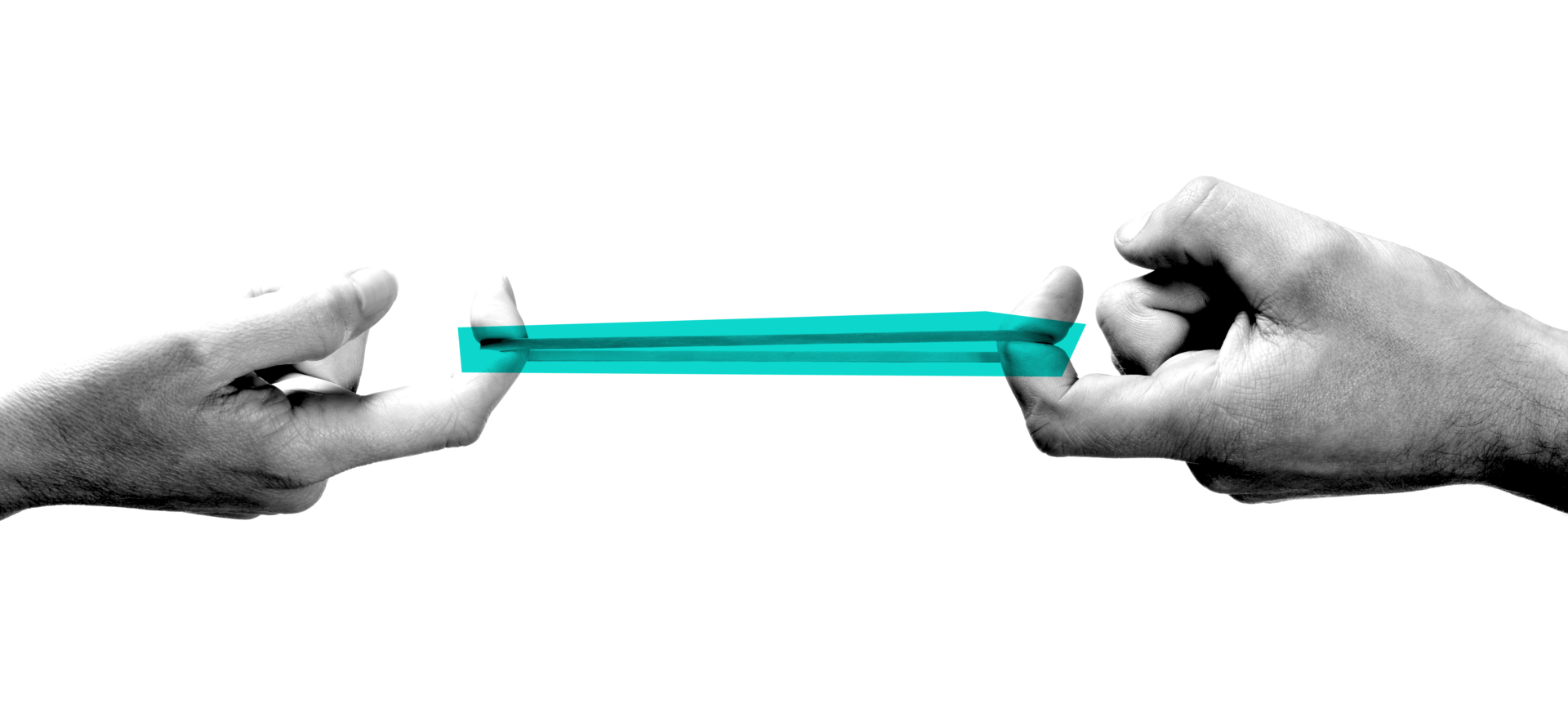 On a daily basis, Morning Consult surveys at least 5,000 Americans on nearly 2,000 brands and 600 elected officials. In a first-of-its-kind study, we analyzed the intersection between presidential candidate support and brand preferences.
The results offer a look at the cultural cleavages within the Democratic party and spotlight key trends such as a pro-corporate bent among Biden supporters and a higher propensity for boycotting among Warren's.
This study is based on survey interviews taken from July 1 – August 8, 2019. A full methodology and explanation of how this study was conducted is available below.
Warren supporters best fit the demographic profile of consumers who boycott.
A new Morning Consult study finds consumers who say they've stopped purchasing from a brand for political reasons tend to be more liberal, well educated, and wealthy. Of the four Democratic frontrunners, Elizabeth Warren's supporters are most disproportionately represented by those groups. Twenty-eight percent of Warren's supporters (potential Democratic primary voters who say Warren is their first choice) identify as very liberal, 24 percent have a post-graduate degree, and 17 percent have an income above $100k.
DEMOGRAPHIC PROFILES OF CANDIDATE SUPPORTERS
Each head represents the share of each candidate's supporters who fit the listed category.
For example, 24% of Warren supporters have a post-graduate degree.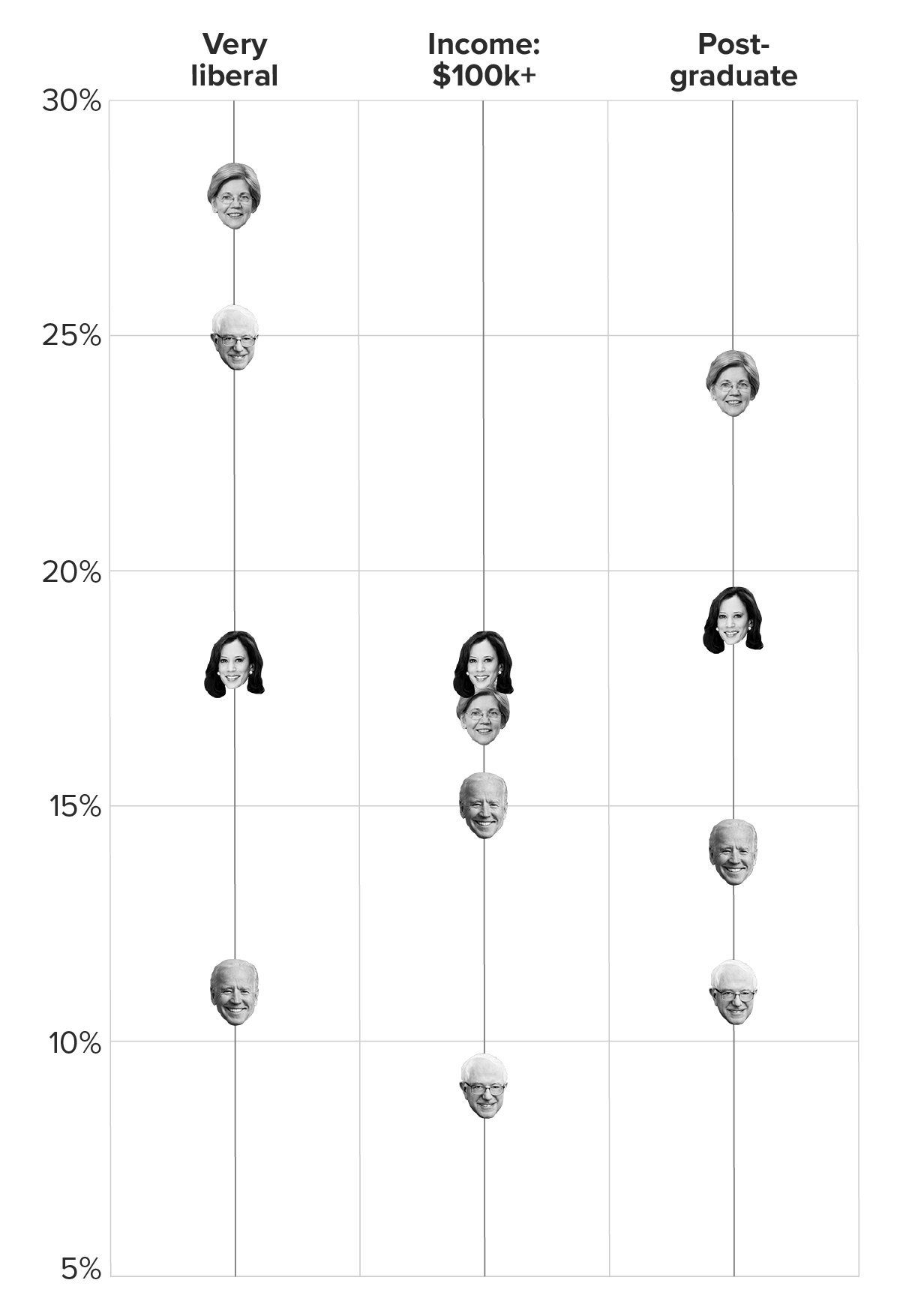 Among the frontrunners, Sanders supporters are the youngest, while Biden supporters are the oldest. Warren's supporters are most likely to be female and white.
Biden supporters are the most pro-corporate and Warren supporters are the most anti-corporate.
In order to gauge which voters are more or less pro-corporate, we looked at the favorability for a range of brands across 16 industries. For each industry, we looked at the five most well-recognized brands (based on highest overall name recognition) and took the average net favorability among each voting bloc.
The results show Warren supporters are notably more critical across the board. In three quarters of the industries studied, her supporters had the most negative average rating, including in relatively apolitical industries. Overall, Warren's supporters registered an average net favorability of +25 for the 80 brands included in this section – 16 points lower than Biden supporters.
AVERAGE NET FAVORABILITY BY INDUSTRY
Each number in the table represents the average net favorability for the five brands in each industry listed. For example, looking at the top left: Respondents who say Sanders is their first choice in the Democratic primary have an average net favorability of +30 for the five airlines listed.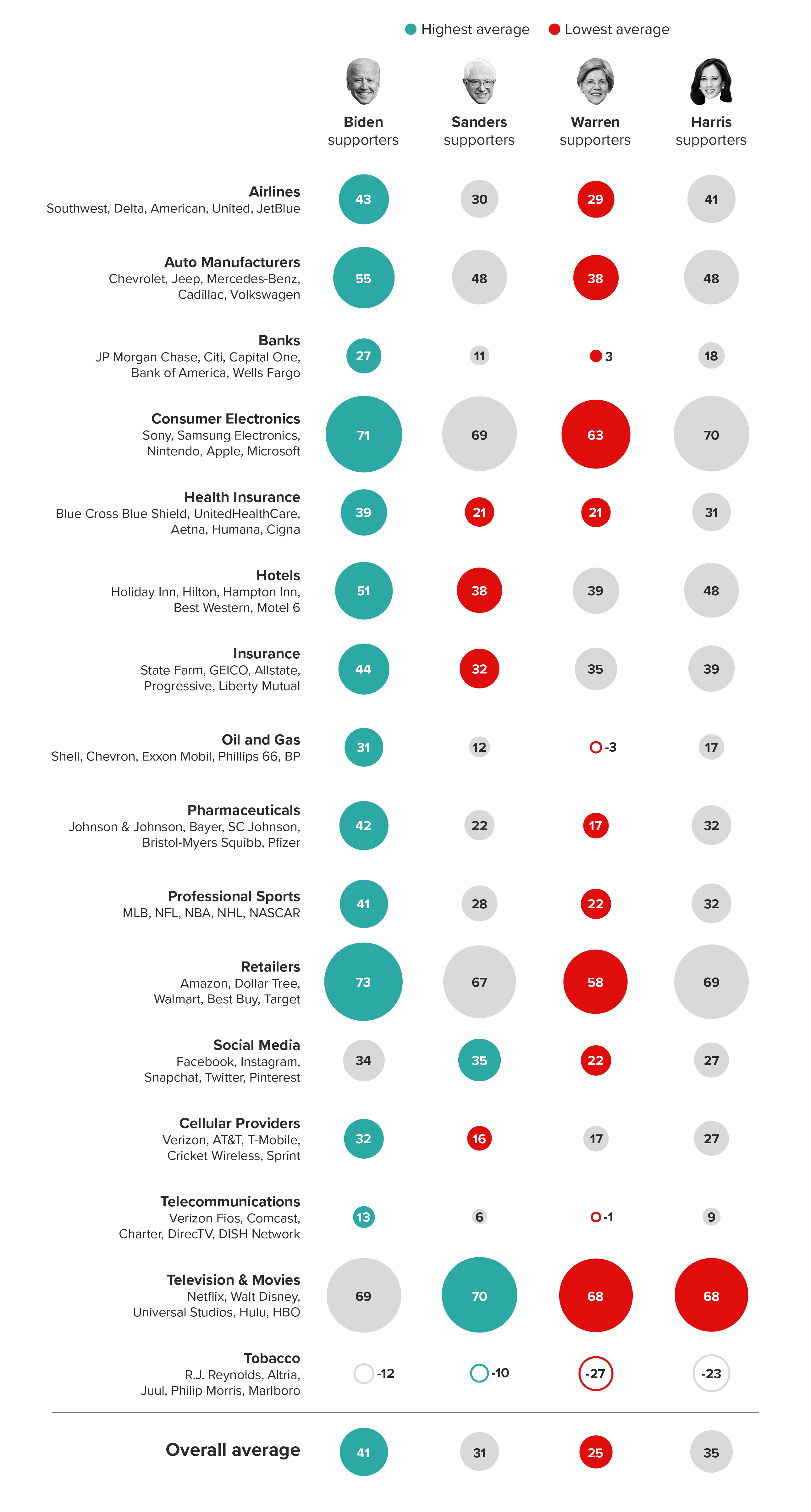 The brands that most divide Democratic factions include Fox News and Seaworld.
In this section, we look at the brands that are most divisive within three different factions of Democratic support – Biden, Sanders, and Warren supporters. The brands are sorted by difference in net favorability. For example, Chick-Fil-A is the brand where Warren and Biden supporters have the largest gap in net favorability (a 57 point difference).
A brand's divisiveness doesn't necessarily indicate one voting bloc has a favorable view and the other has an unfavorable view. For example, BBC is one of the brands that most divides Warren and Biden supporters. This is driven by degrees – Biden supporters have a favorable view of BBC (+49), just not as favorable as Warren supporters (+71).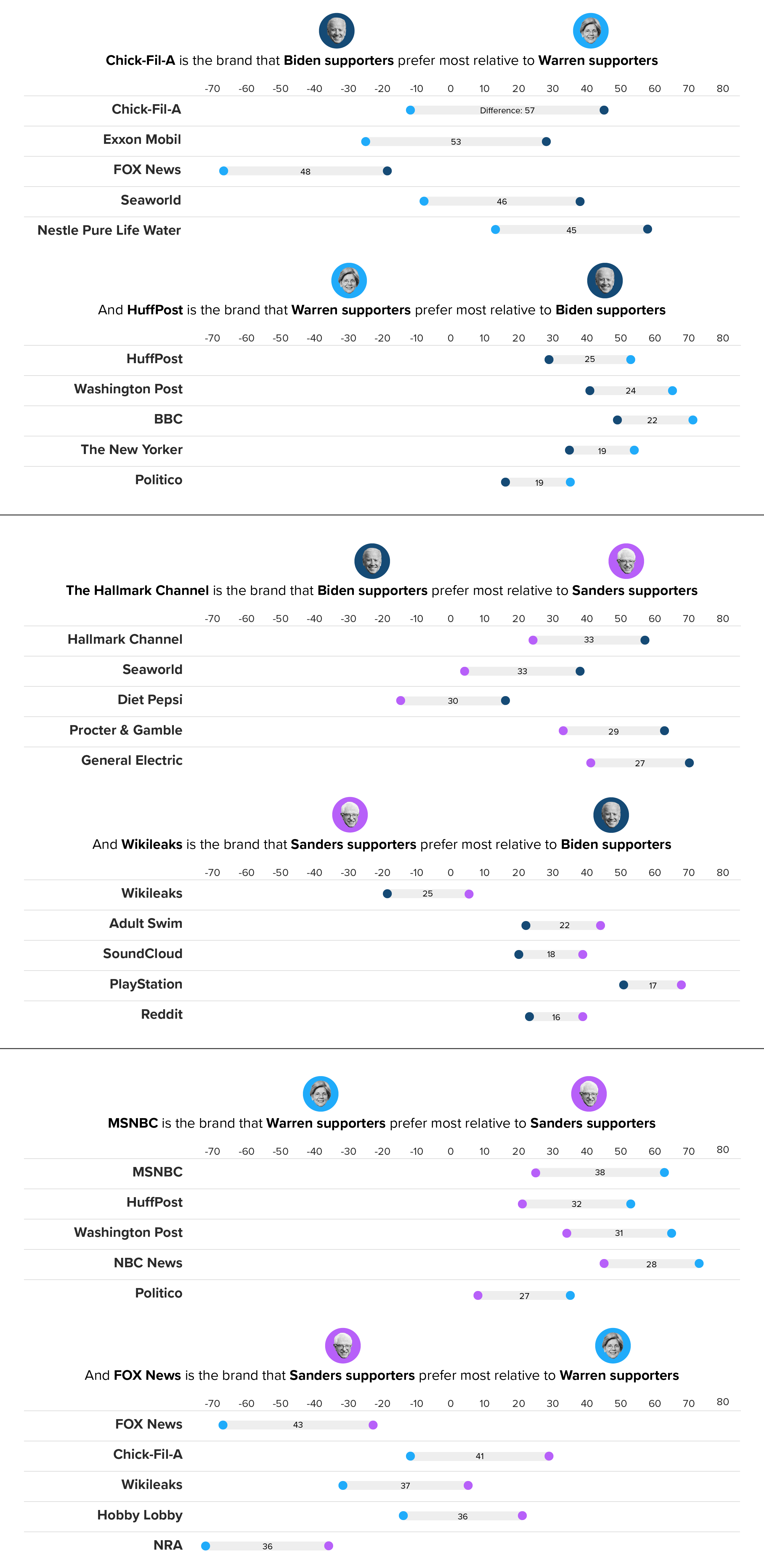 Biden's supporters are more similar to Trump's than Warren's when it comes to brand preferences.
As detailed above, Elizabeth Warren's supporters hold a largely negative view of SeaWorld, with a net favorability of -8. Biden supporters, on the other hand, generally like SeaWorld, with a net favorability of +38. That gap between Biden and Warren supporters is far larger than the one between Biden and Trump supporters, who have a net favorability of +45.
This data point is not an outlier – on average, Biden's supporters brand preferences are more similar to Trump's than Warren's, including for a number of brands that have dealt with highly publicized political scandals, such as Papa John's.
Taking the absolute difference in net favorability of the nearly 2,000 brands studied, there is, on average a 7.98 percentage point gap between Biden and Warren supporters. A gap of 0.0 would mean no difference in brand preferences. Between Biden and Trump supporters that gap is 5.73, indicating the two groups generally have more similar brand preferences.
This trend separating Warren and Biden supporters appears to be driven, at least in part, by a hyper-awareness of brand scandals among Warren's supporters. Morning Consult's research shows just 13 percent of Americans say they pay a lot of attention to political and ethical issues relating to brands. But as with boycotting, the groups who are most likely to pay attention to ethical issues are wealthier, more well-educated liberals, who make up an outsized share of Warren's support base.
This shows up consistently throughout the data – Warren's supporters generally have more negative views of brands that have undergone ethical scandals, while most other Americans are either indifferent or unaware.
No matter who they want to win in 2020, all Americans love M&M's.
Looking at the brands with the highest net favorability, M&M's are at the very top of the list for each political support group – from Warren to Trump supporters.
THE 5 MOST FAVORED BRANDS BY VOTING BLOC
Brands are ordered by net favorability (next decimal not displayed, but serves as tie-breaker)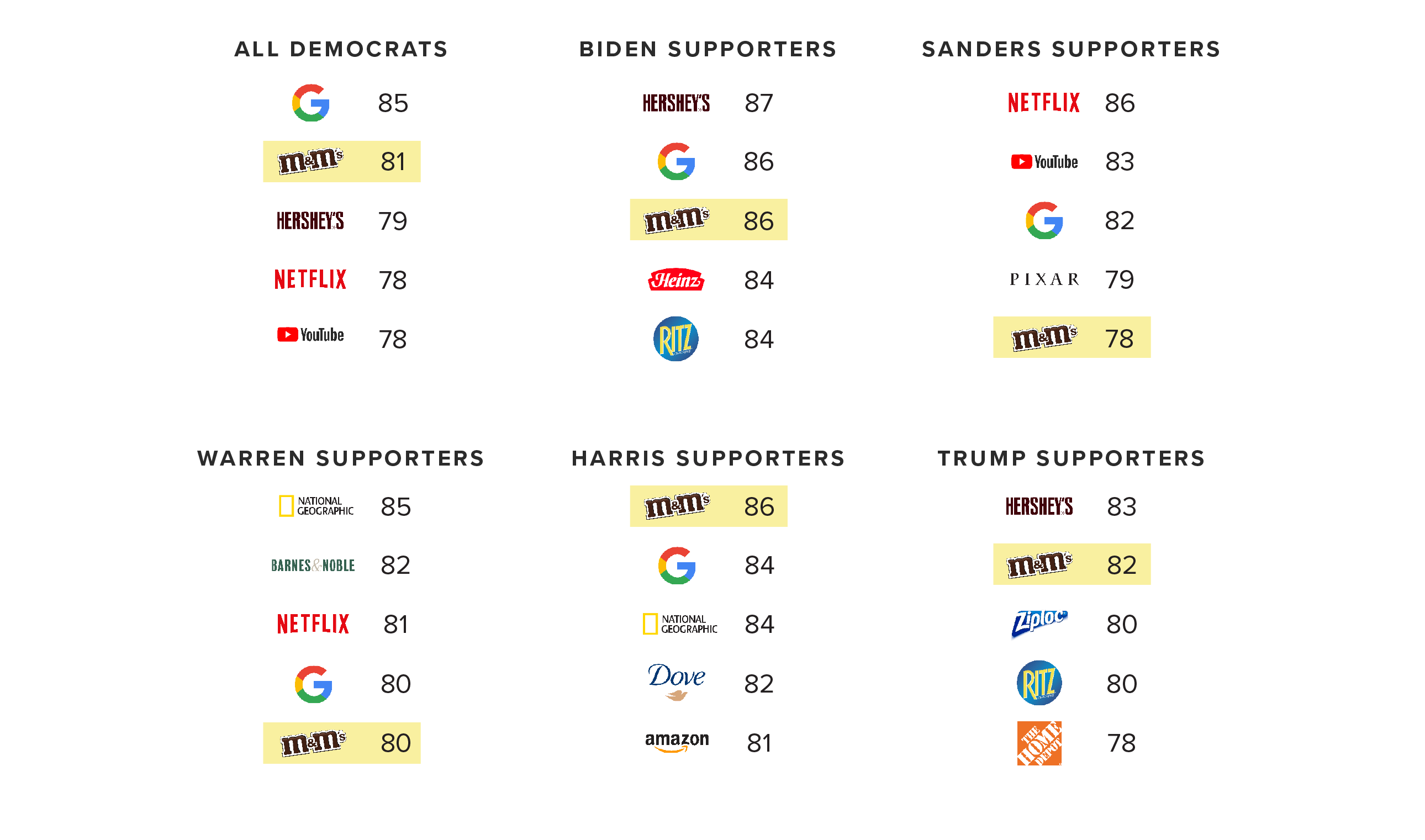 The 2020 Survival Guide for Brands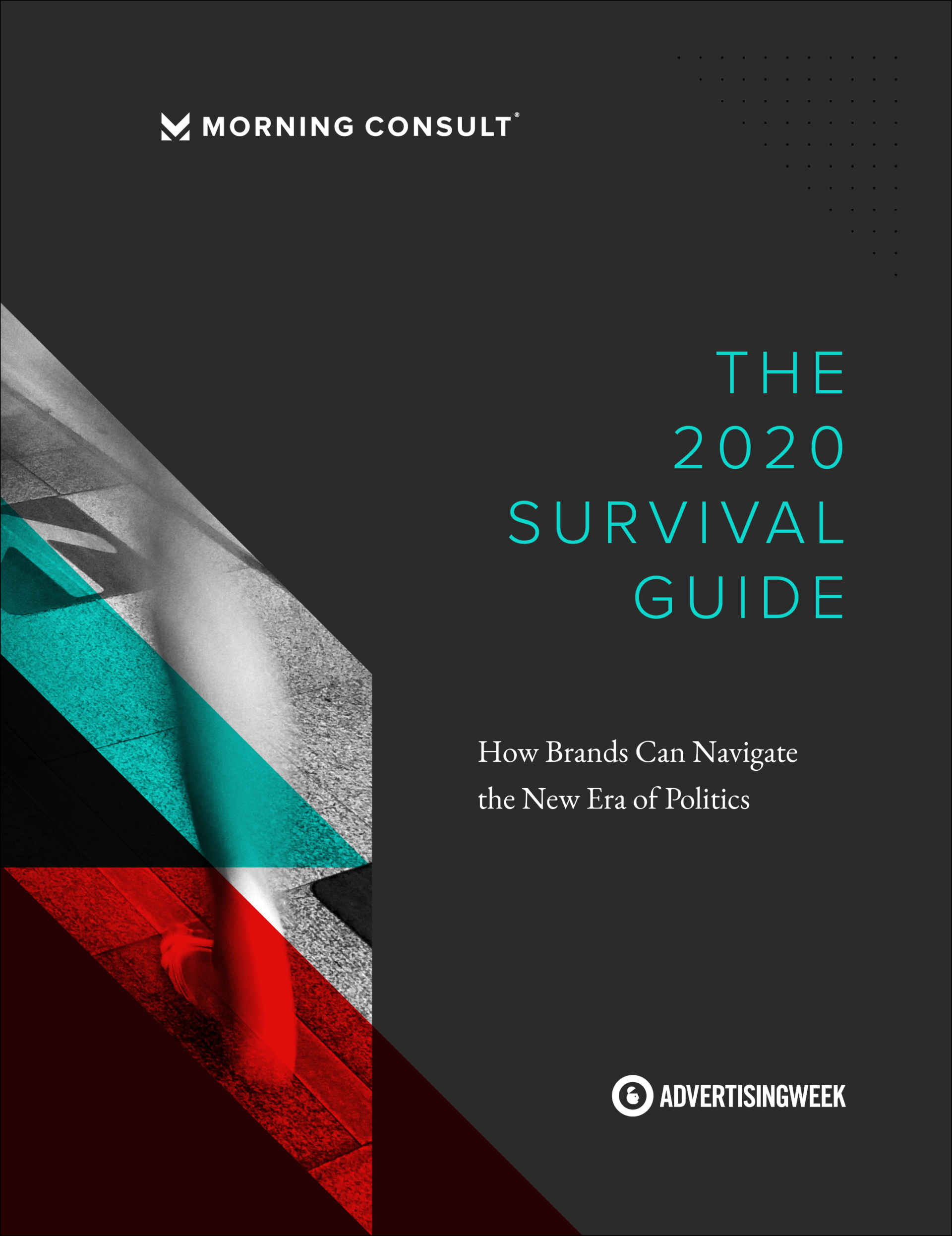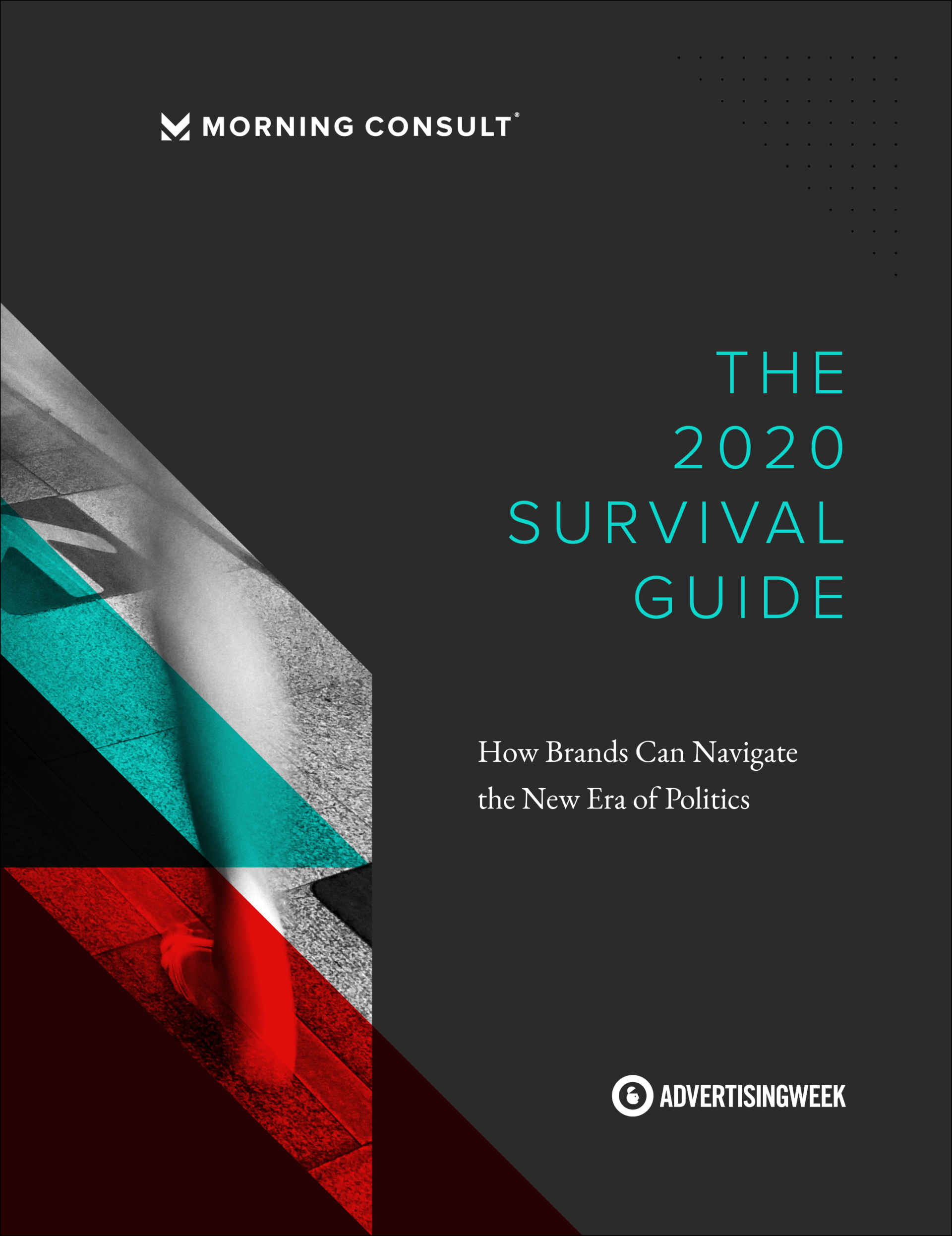 On a daily basis, Morning Consult Intelligence tracks the perceptions of nearly 2,000 consumer brands and products, as well the candidates running for the Democratic primary and over 600 elected officials. On average, Intelligence collects over 5,000 survey interviews per day, with each respondent answering questions about a selection of brands and political questions, as well as other topics. Learn more about the brand tracking here, and the full results Democratic primary tracking here.
To study the intersection between brand and political preferences, Morning Consult isolated supporters of each candidate among voters who say they may vote in the Democratic presidential primary, and then evaluated their brand preferences as distinct demographics. The two metrics studied were:
Brand favorability – "Do you have a favorable or unfavorable opinion of the following?" and
Democratic primary first-choice support: 'If the Democratic presidential primary or caucus in your state were being held today, for whom would you vote?"
During the period this study was conducted – July 1 – August 8, 2019 – Brand Intelligence collected an average of 13,419 survey interviews per brand, with an average margin of error of +/- 1 percent per brand. Of those 13,419 interviews per brand, on average 1,509 were Biden supporters, 894 were Sanders supporters, 545 were Warren supporters, and 437 were Harris supporters. The precise number of interviews per brand per candidate support varies, as does the margin of error, which ranges from 2 to 6 percent.
Additionally, there are there are two places where Trump's supporters are listed. These are voters who approve of Trump's job performance, and there is an average of 5,412 interviews per brand with this demographic.