How the Coronavirus Outbreak Is Affecting Consumer Perceptions of the Cruise Industry
As concerns relating to the coronavirus abound globally, the cruise industry finds itself at the center of early negative coverage. A mass outbreak of the virus on a Princess Cruise line quickly became a major international news story, and subsequent events have sent cruise stock prices plummeting. A new Morning Consult survey report offers a 360 degree look at how consumers are responding by tracking economic considerations, perceptions of the industry at large, and perceptions of major cruise brands. The data comes from three sources: Morning Consult Economic Intelligence, Morning Consult Brand Intelligence, and a custom survey of 2,200 U.S. adults fielded from February 20-22, 2020.
Consumer Awareness is High
According to the new Morning Consult survey, more than half of all adults (53 percent) had seen, read, or heard something in the past week about cruise lines in general, with the tenor of the coverage being overwhelmingly negative (46 percent negative, compared to 26 percent positive).
Princess Cruises and Carnival Cruises have garnered the most attention, with 37 percent of consumers saying they're aware of news relating to each.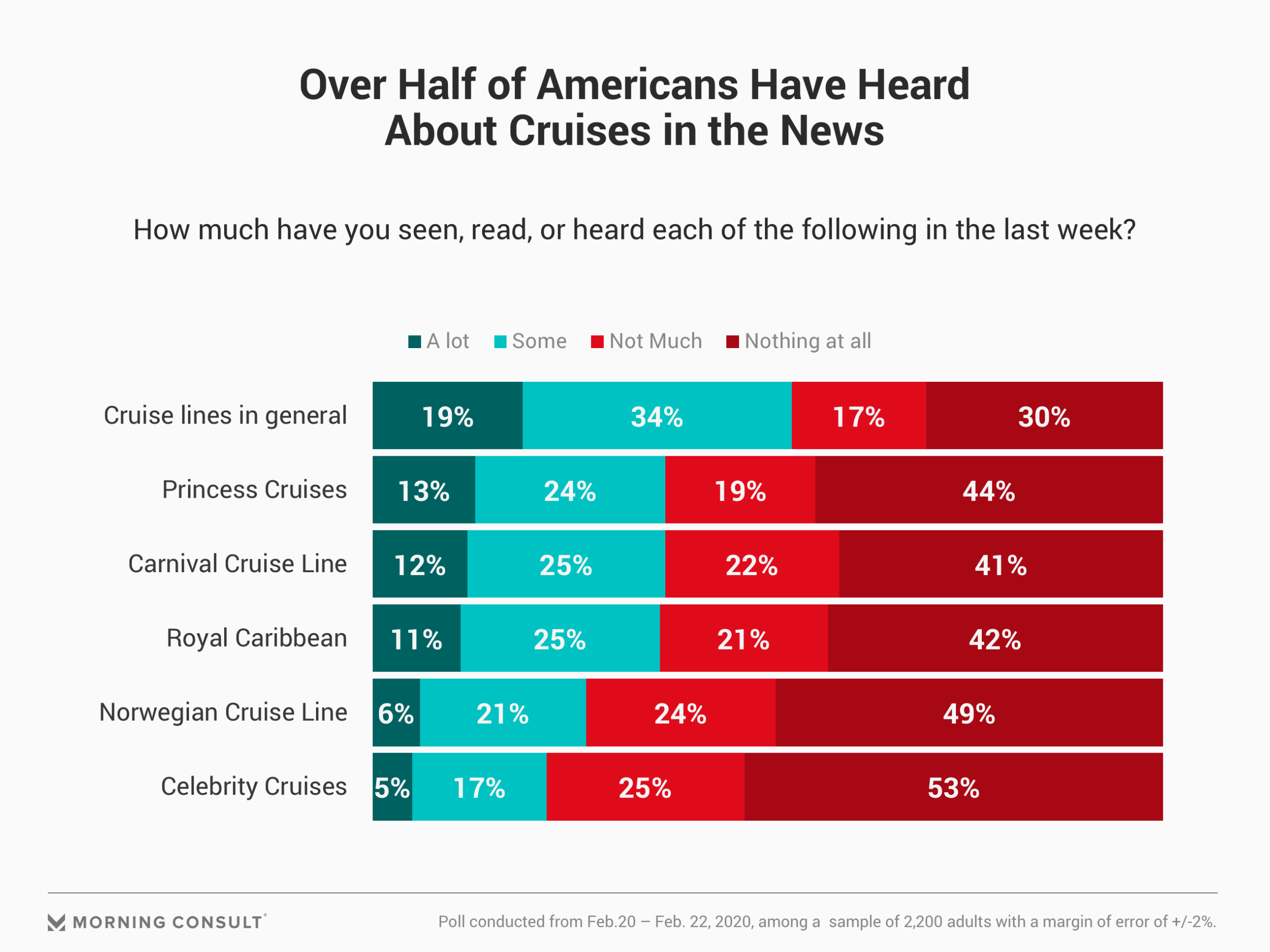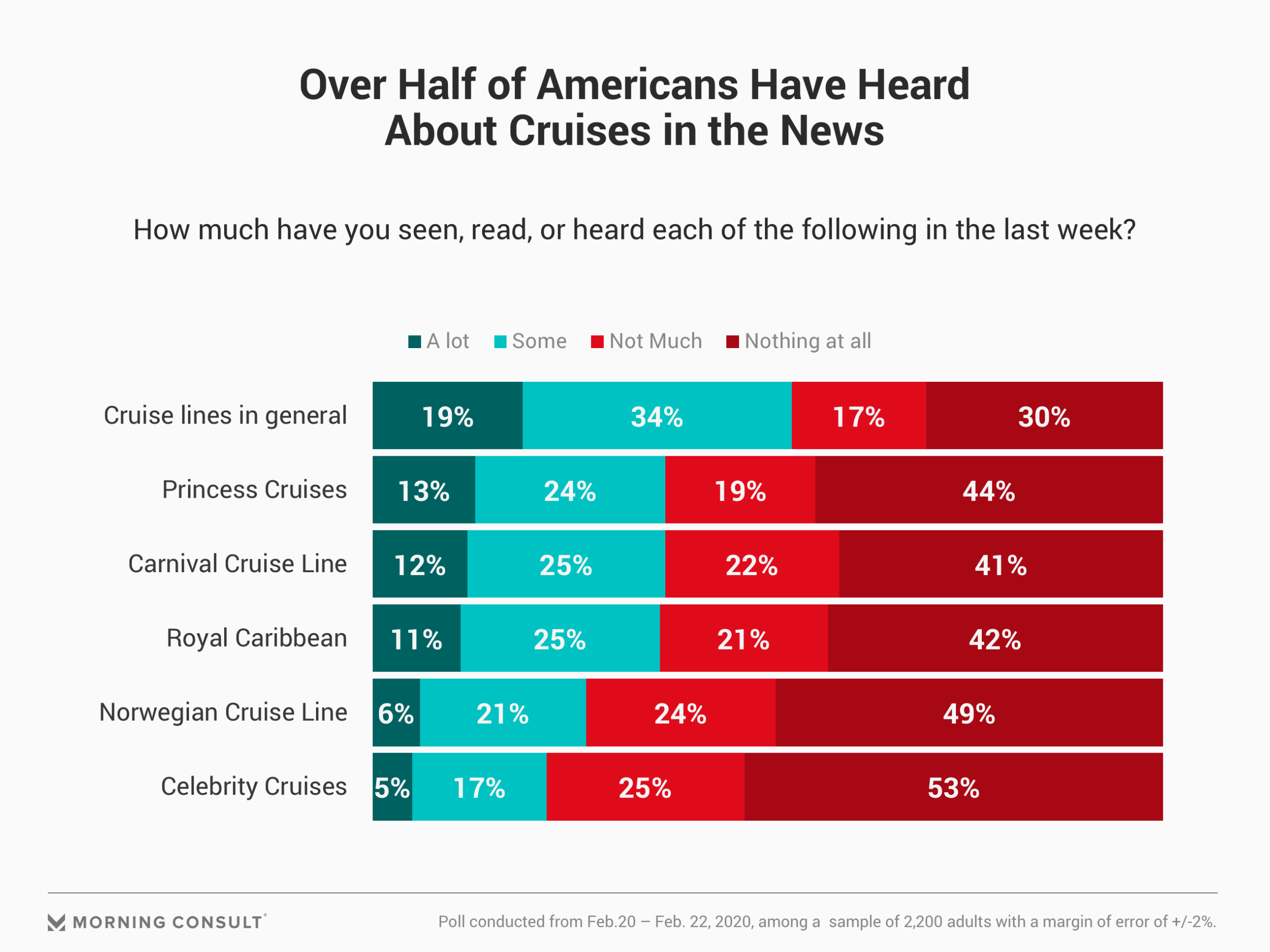 Cruise Industry has Higher Hurdles for Building Consumer Perceptions of Safety
The survey also finds cruise lines may have a tougher road ahead than other players in the transportation and hospitality industries. Almost two in three adults (65 percent) say that cruise ships are not safe and sanitary, compared to 57 percent for airplanes and 31 percent for hotels.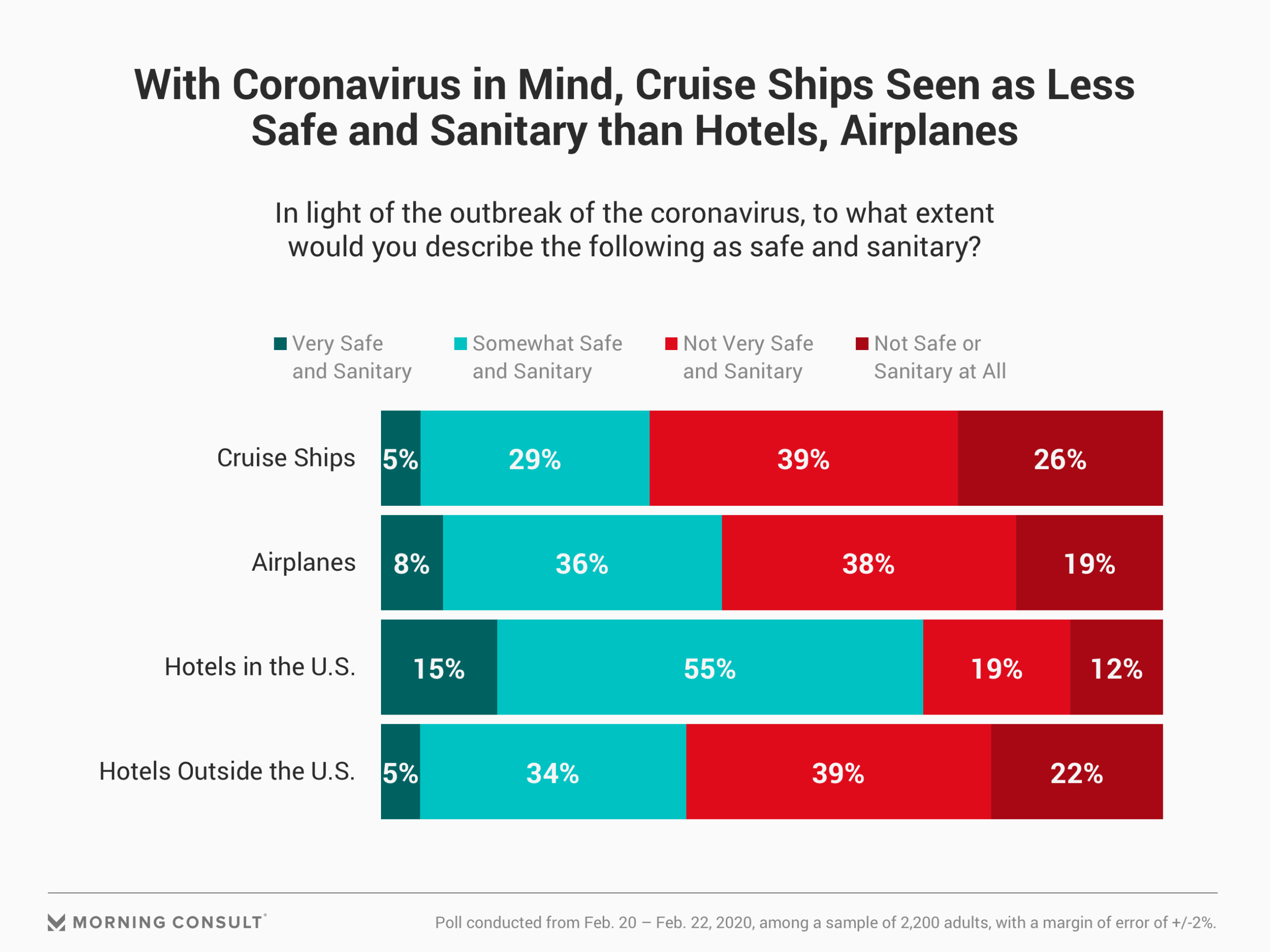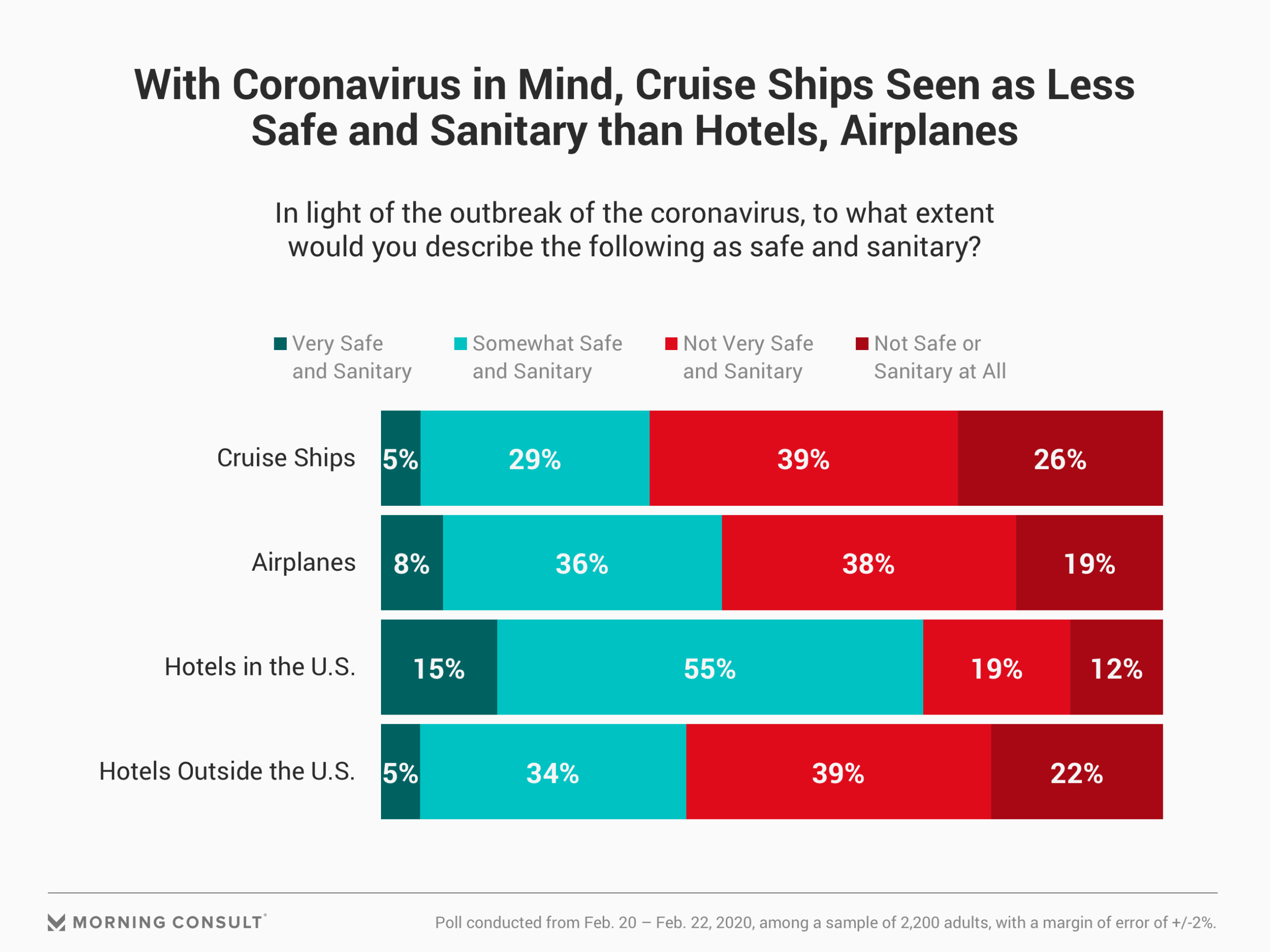 Princess Cruises Faces an Uphill Battle
For more than two weeks, passengers on the Diamond Princess ship were quarantined in the Japanese port of Yokohama. Nearly 3,500 passengers and crew were stuck on board, with hundreds of passengers infected and a number of reported deaths. As news of the Diamond Princess spread widely, negative buzz jumped 11 points from 6 percent to 17 percent.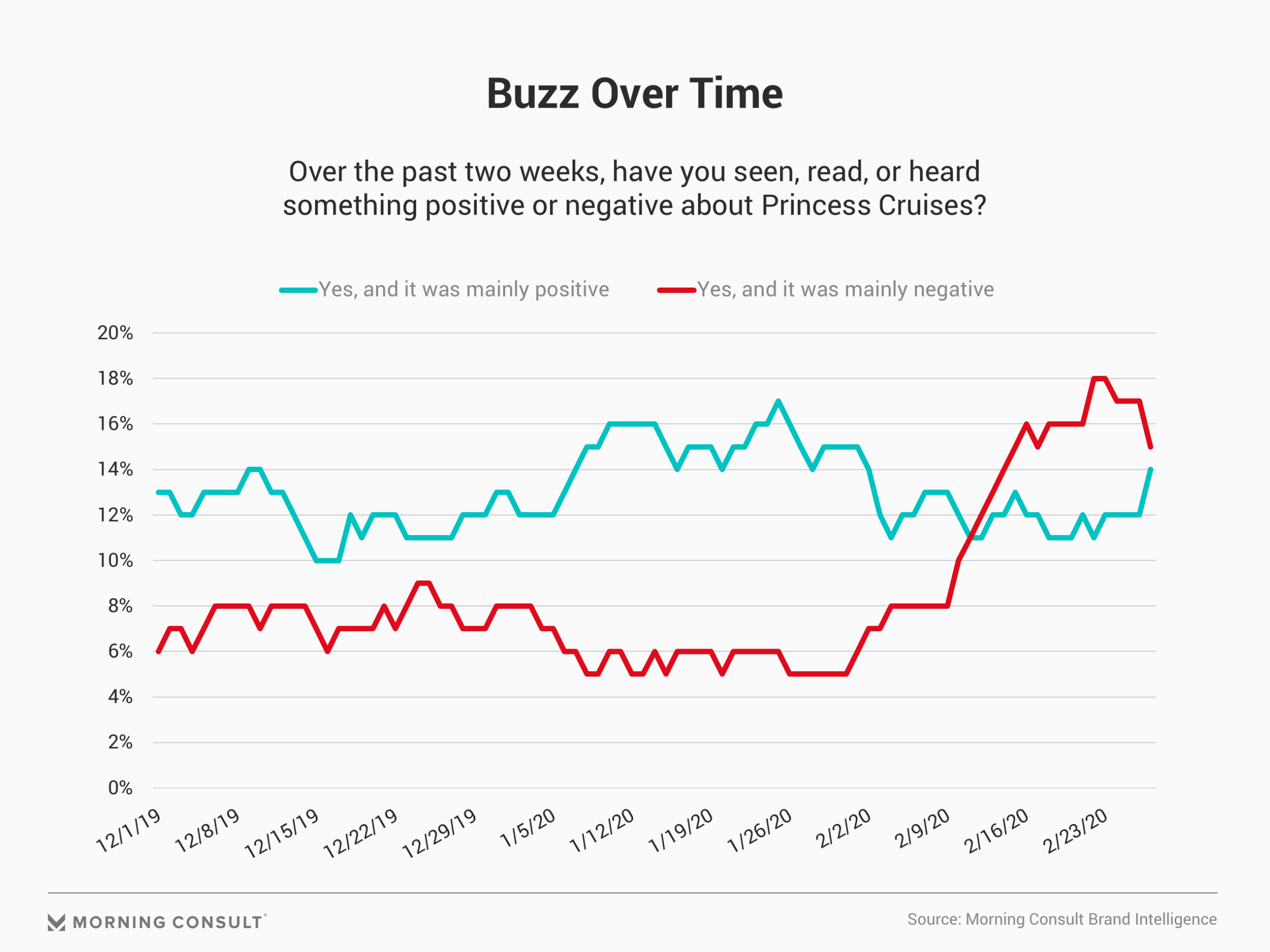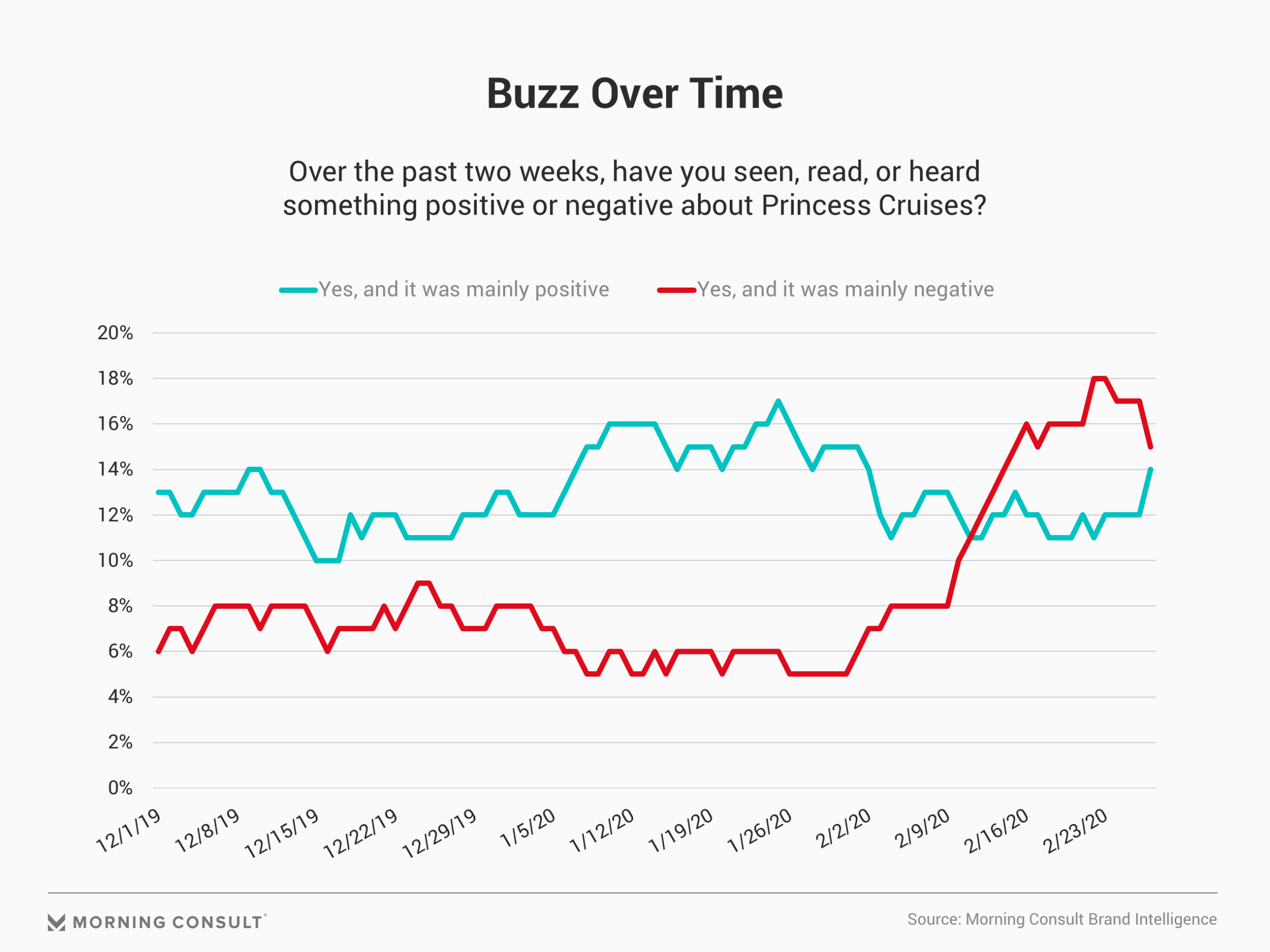 After hearing about the onboard coronavirus outbreak, 23 percent of respondents said they approve of the job that Princess Cruises is doing in handling the spread of coronavirus, while another 23 percent  disapproved and 55 percent weren't sure. For cruise lines in general, 28 percent approve of how they are handling the outbreak.
Morning Consult brand tracking data shows that the stock price for Carnival Cruises (which owns Princess Cruises) fell while purchasing consideration remained relatively flat, suggesting fears about the impact a continued outbreak will have on the cruise industry are driving the dip more than current conditions.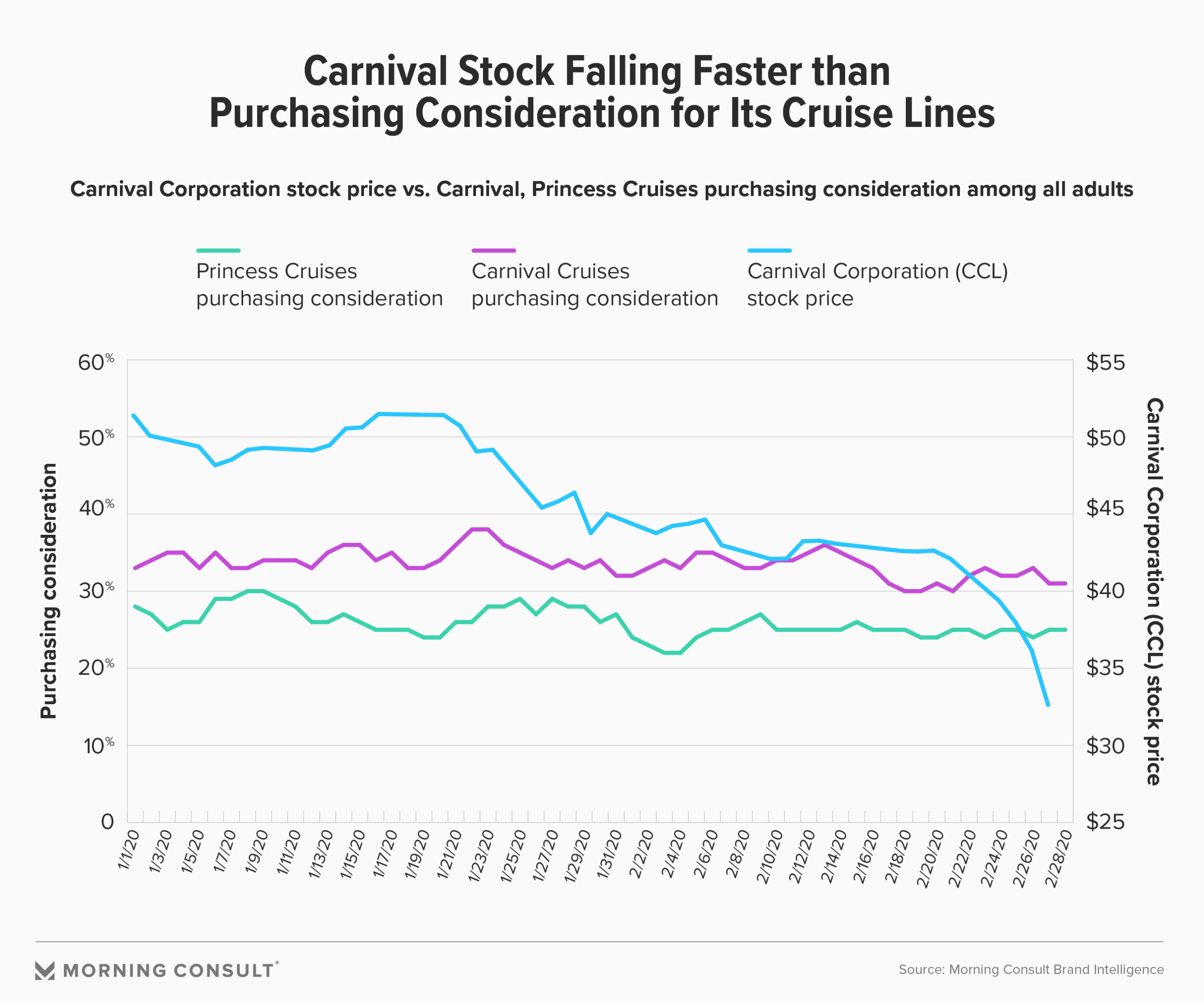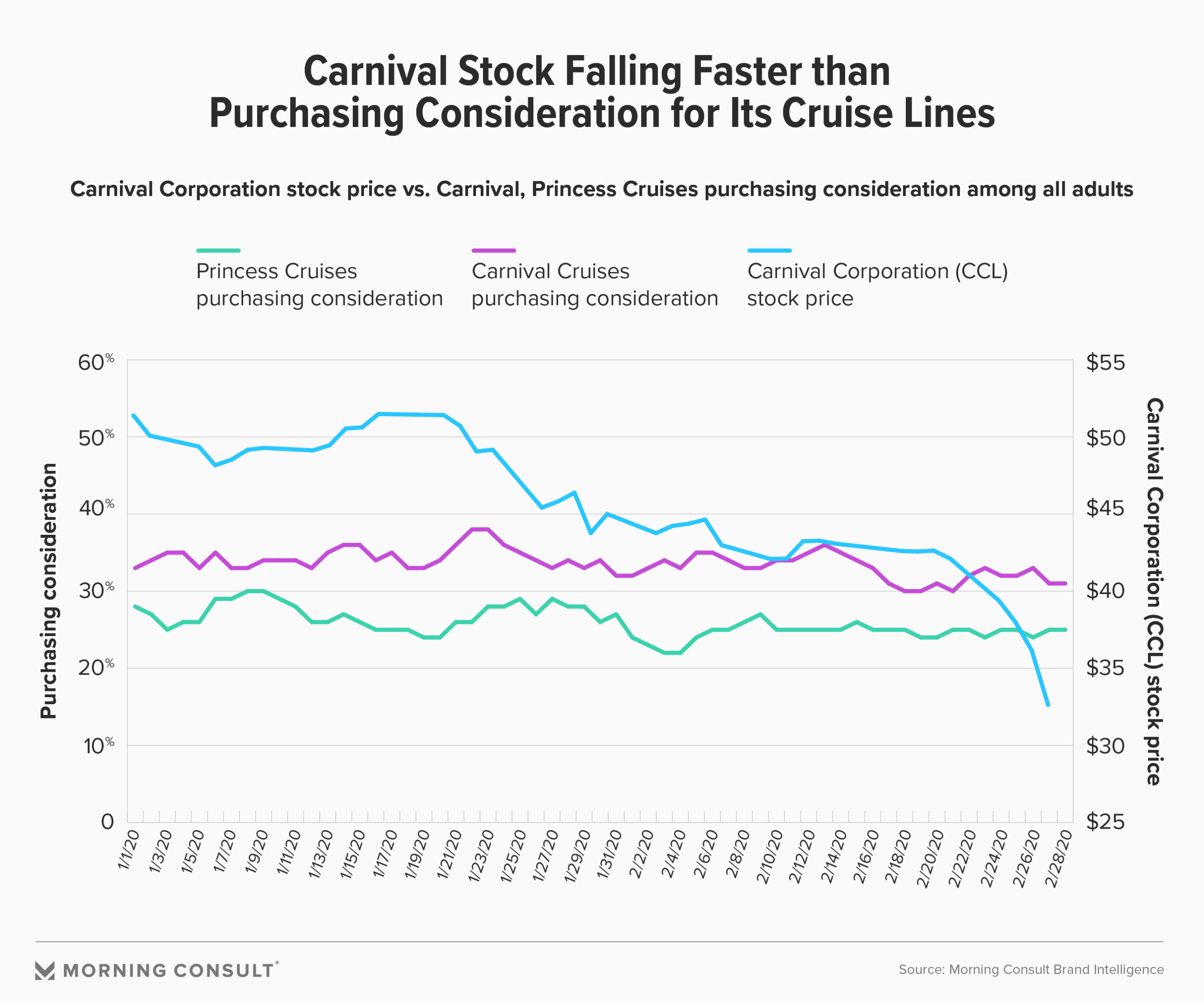 Morning Consult survey data shows that in light of the coronavirus outbreak, 43 percent of Americans say they are less likely to take a cruise in the next six months.
With Princess Cruises planning to set sail on the Diamond Princess again by the end of April, there are some preventative safety steps respondents  said would make them more likely to consider a cruise to be safe. More than half of adults would be more likely to take a cruise if companies cancelled all of their scheduled dates in China and Hong Kong, while 44 percent would be more likely to travel by cruises if mandatory pre-boarding health screenings were implemented.