GLOBAL RESEARCH INTELLIGENCE
The Decline of the American Brand in Europe
How COVID-19 Is Upending European Consumers' Relationship with American Brands
In the United States, the number of COVID-19 cases has surged to about 30,000 new cases per day, compared to around 3,000 new cases per day in the European Union.
Europeans have taken notice.
In a series of new Morning Consult surveys conducted among 5,000 adults in France, Germany, Italy, Spain, and the United Kingdom, the U.S. ranked among the worst of any country or region when it came to perceptions of how it is handling the pandemic.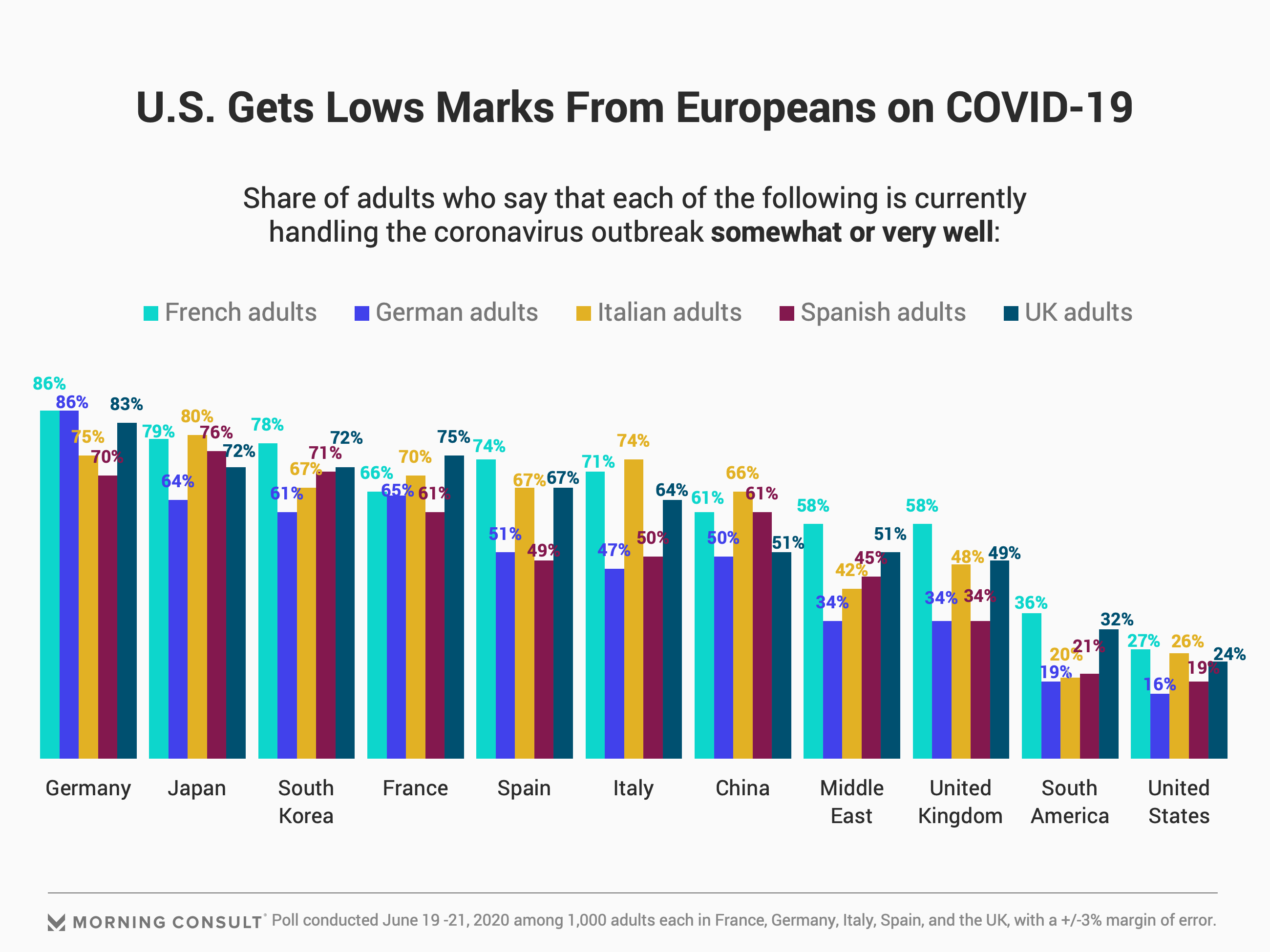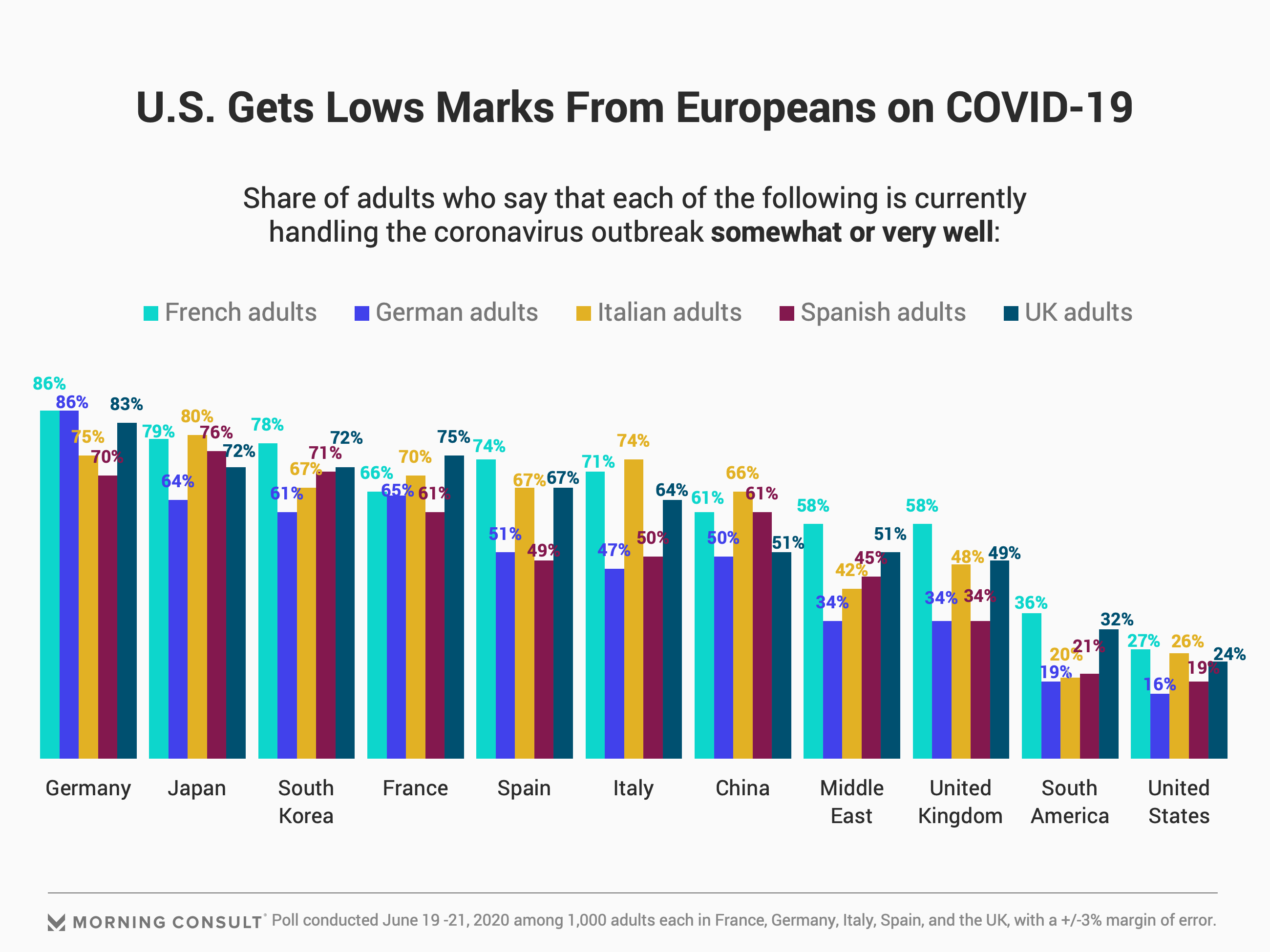 That perception is starting to have serious implications for American brands in Europe.
1) Europeans Believe American Companies Should Be Doing More in Response to COVID-19

Forty percent or more of adults in each market (including 49% of Germans) believe American companies are not doing enough in response to the coronavirus, with Italians significantly more satisfied with American brands' responses to the outbreak than their French or U.K. peers are.
2) The American Brand Is Fading in the Eyes of European Consumers

While the coronavirus pandemic has especially soured European consumer perceptions of Chinese brands, they've also become notably more pessimistic towards American brands too. On average, over 40% of consumers in the five European countries said the coronavirus had made them less favorable towards American brands, raising an important red flag for companies that identify as uniquely American, but play on a global stage.
An additional analysis of Morning Consult Brand Intelligence tracking data shows that a number of iconic American brands have seen noteworthy declines in net trust, net favorability, NPS and community impact among European consumers since the coronavirus outbreak.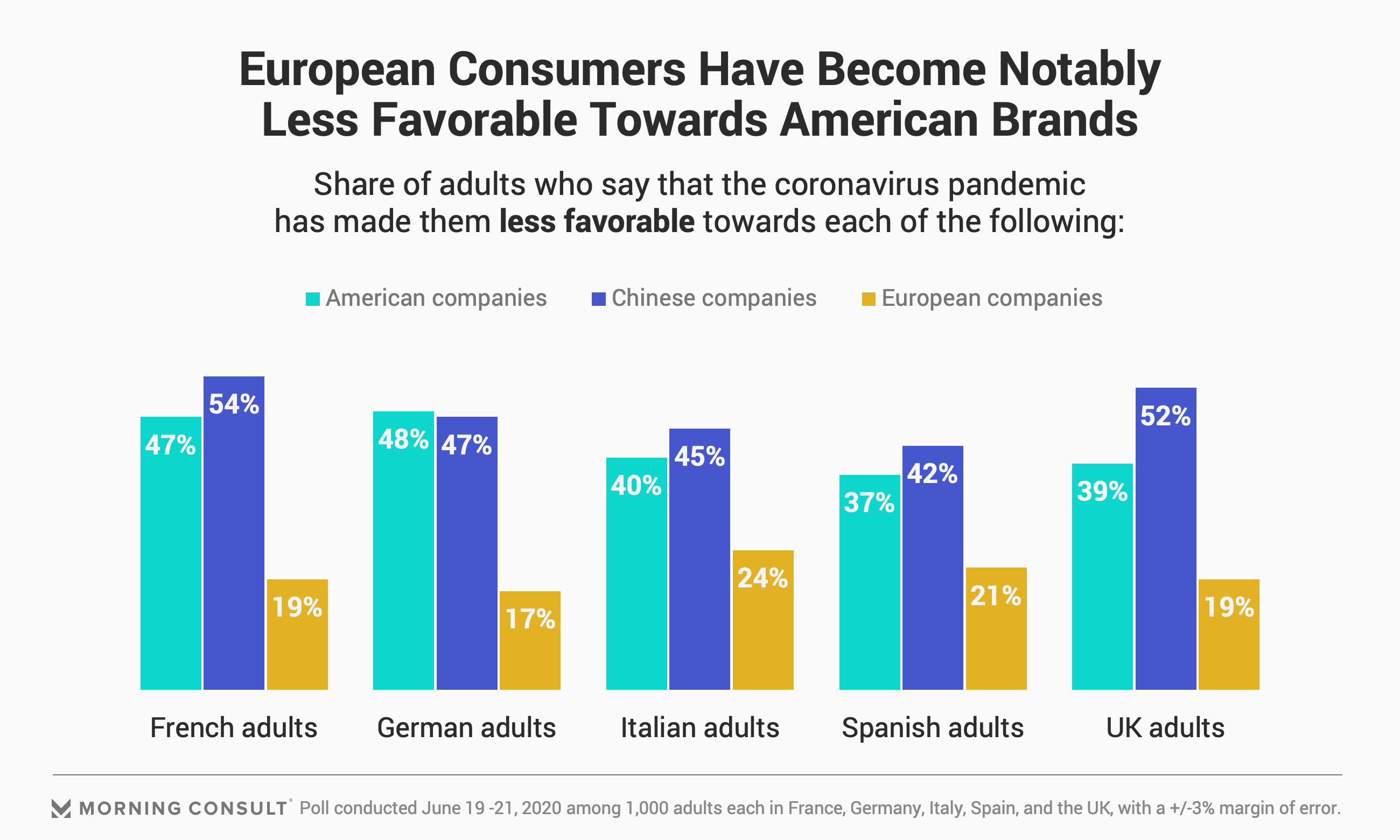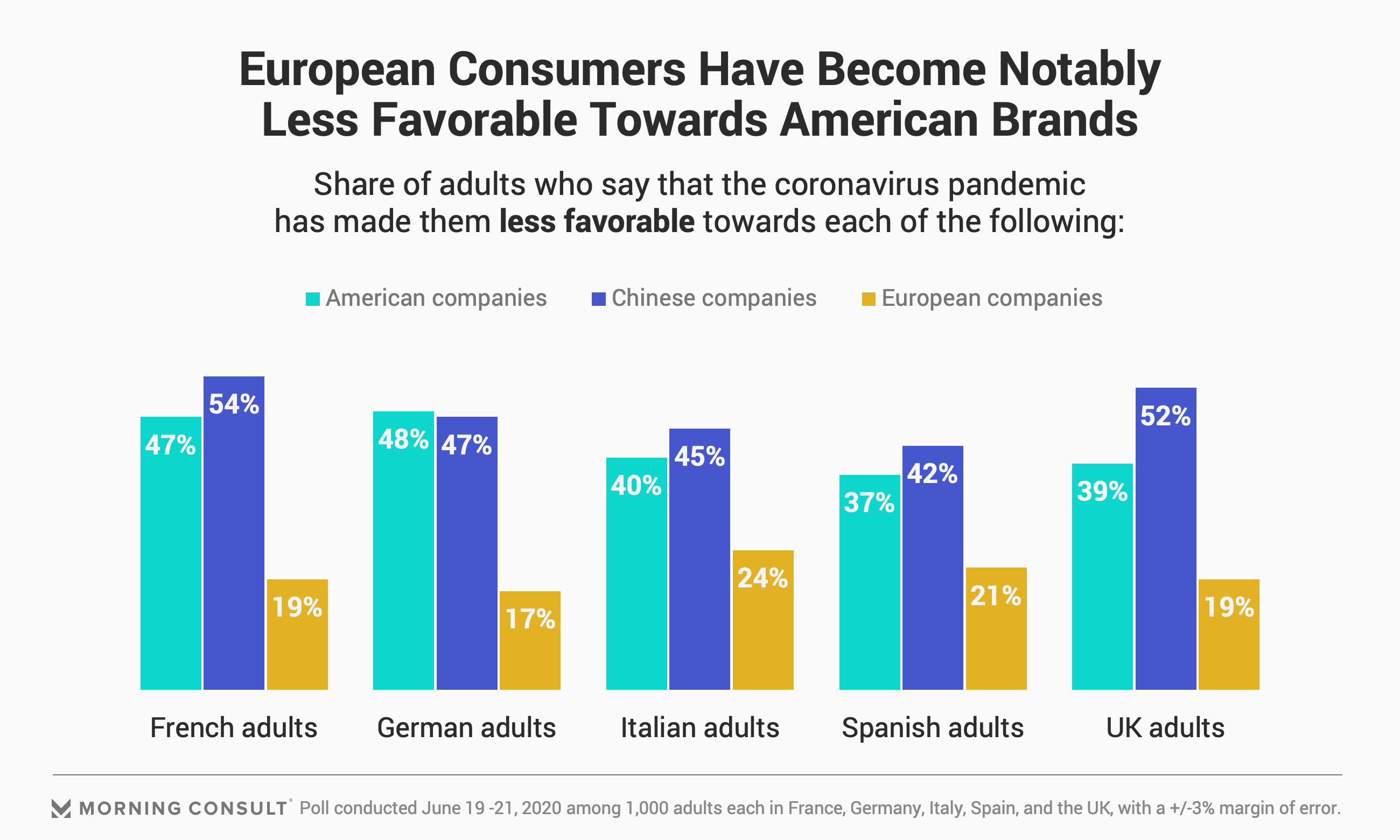 3) Weakening Perceptions Are Impacting Who European Consumers Are – and Aren't – Buying From During the Pandemic
The decline of the "American brand" in Europe is translating to a sharp drop-off in purchasing of American brands and international brands since the pandemic. European consumers report that instead, they are consuming more domestic brands and maintaining their pre-pandemic consumption of both brands private/store label brands, and those they were loyal to before the pandemic. This has strong implications from a competitive landscape perspective, especially given this is the same battle U.S. brands are fighting domestically.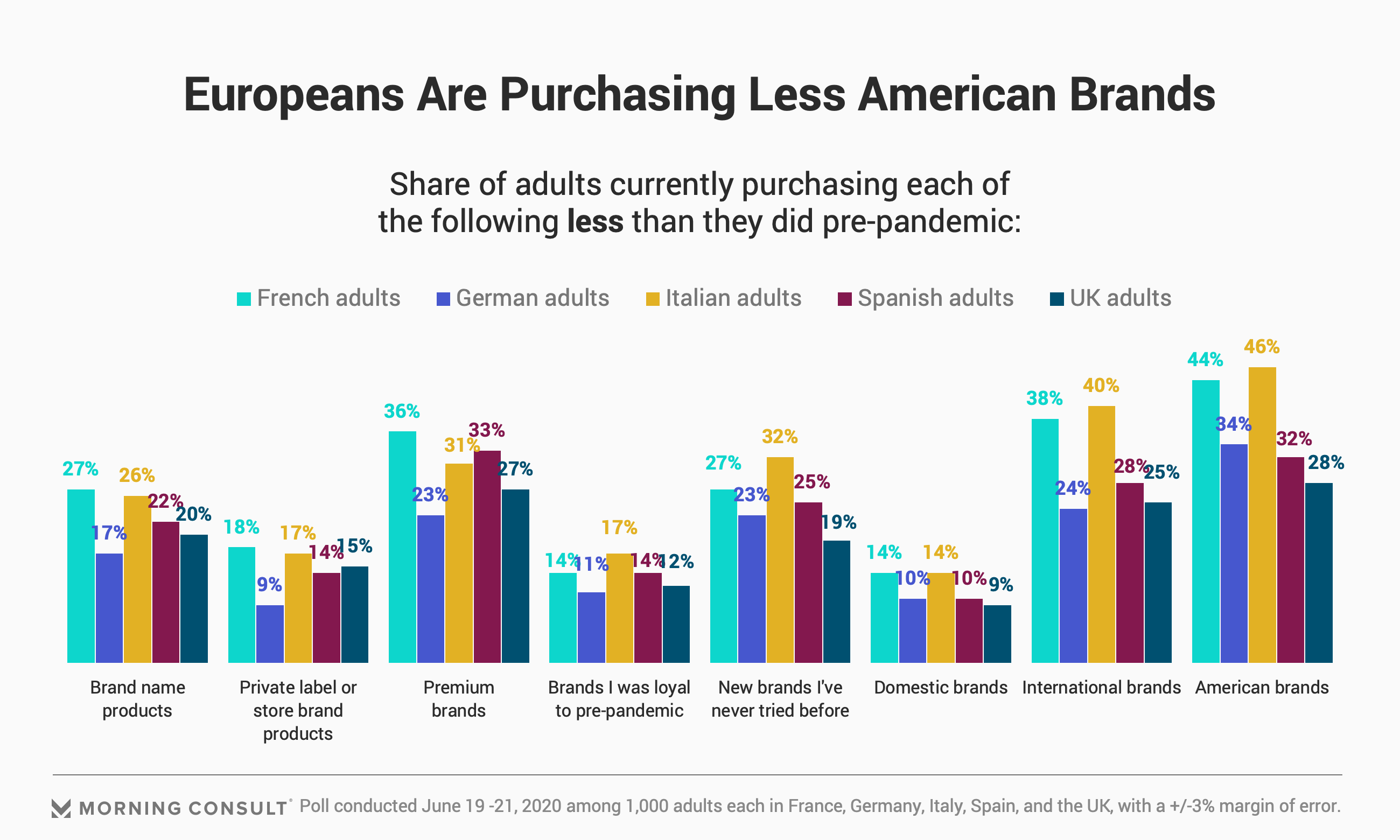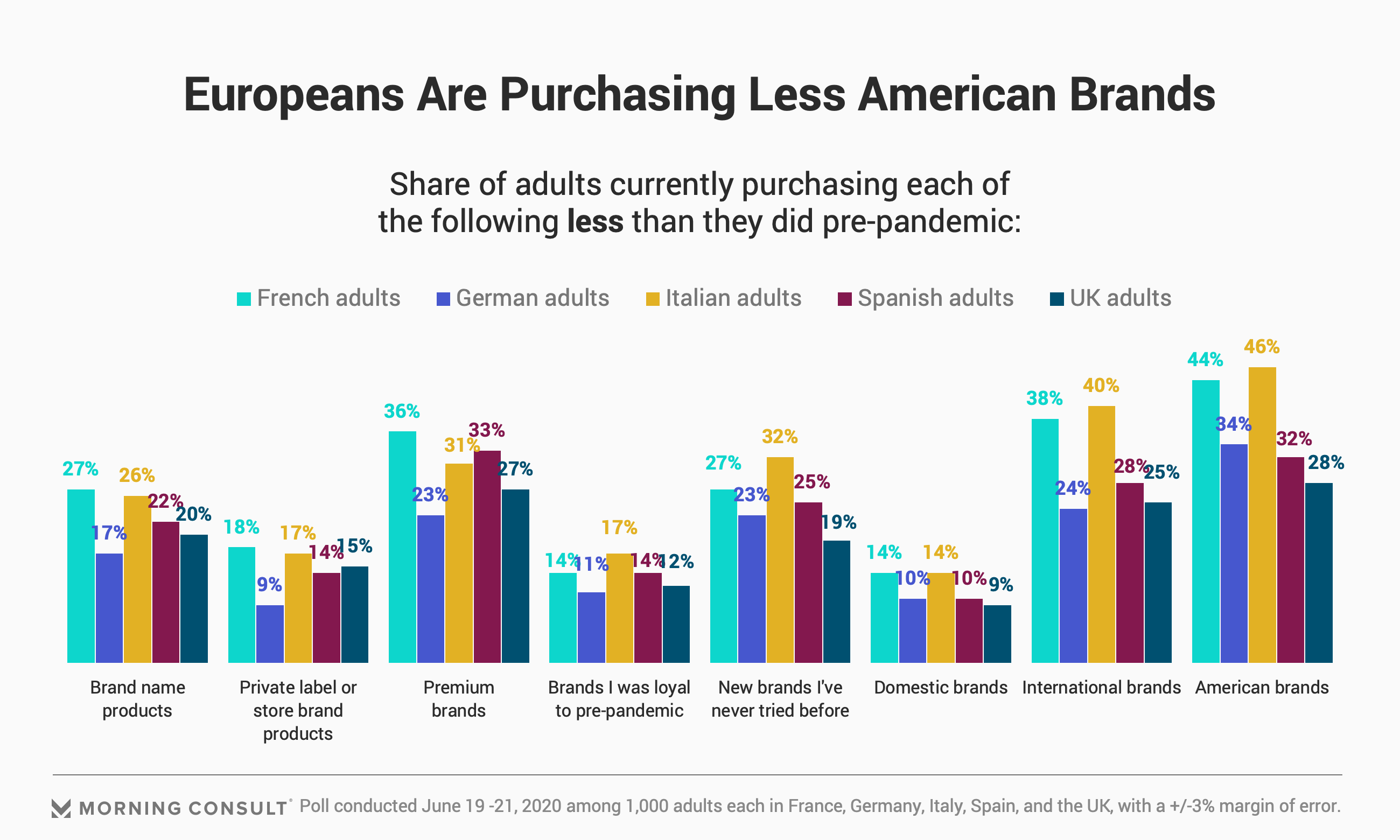 So, what should American brands do?
Given the confluence of reduced spending, concerns about the coronavirus, and poor perceptions of the  "American brand," American companies operating or selling products in Europe must act quickly to address a European market that is quickly evolving.
1) In the Coronavirus Era, Europeans' Needs Are Functional, Emotional, and Local
While top drivers of purchase are generally consistent across markets, clear distinctions around the importance of different functional and emotional needs – especially as compared to U.S. adults – provide insight on how to best appeal to consumers in different countries during the pandemic. While safety, effectiveness, and control are more likely to drive purchases among Americans than Europeans, French consumers are more likely to say that items which are new, interesting, or exciting or that minimize loneliness are major reasons for purchases. German and UK consumers, however, strongly emphasize function.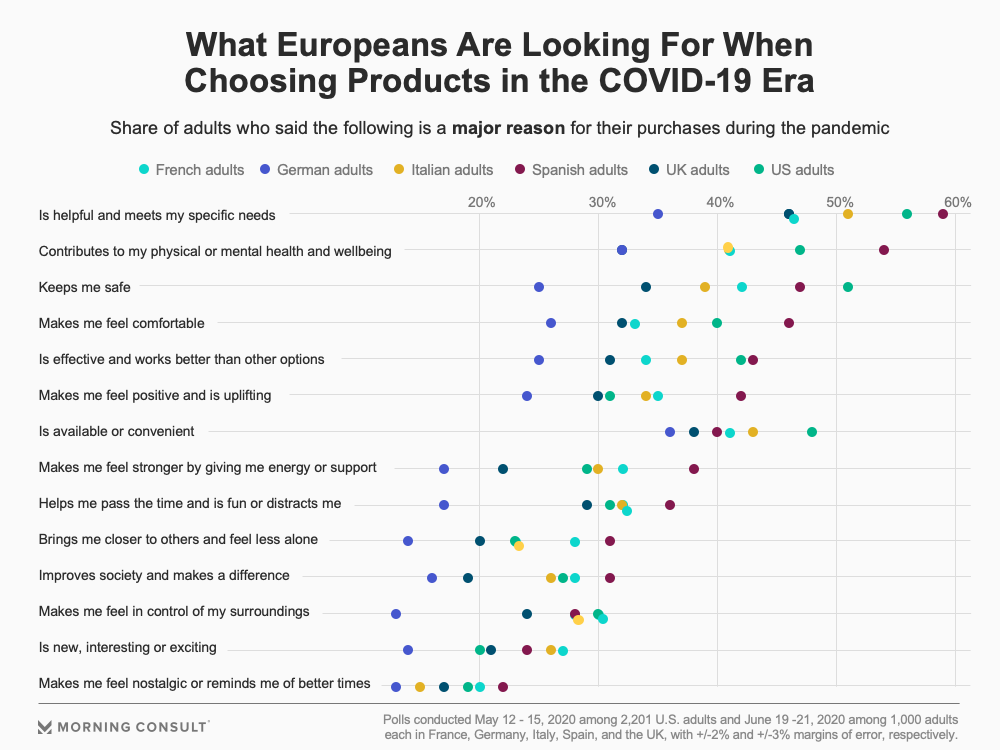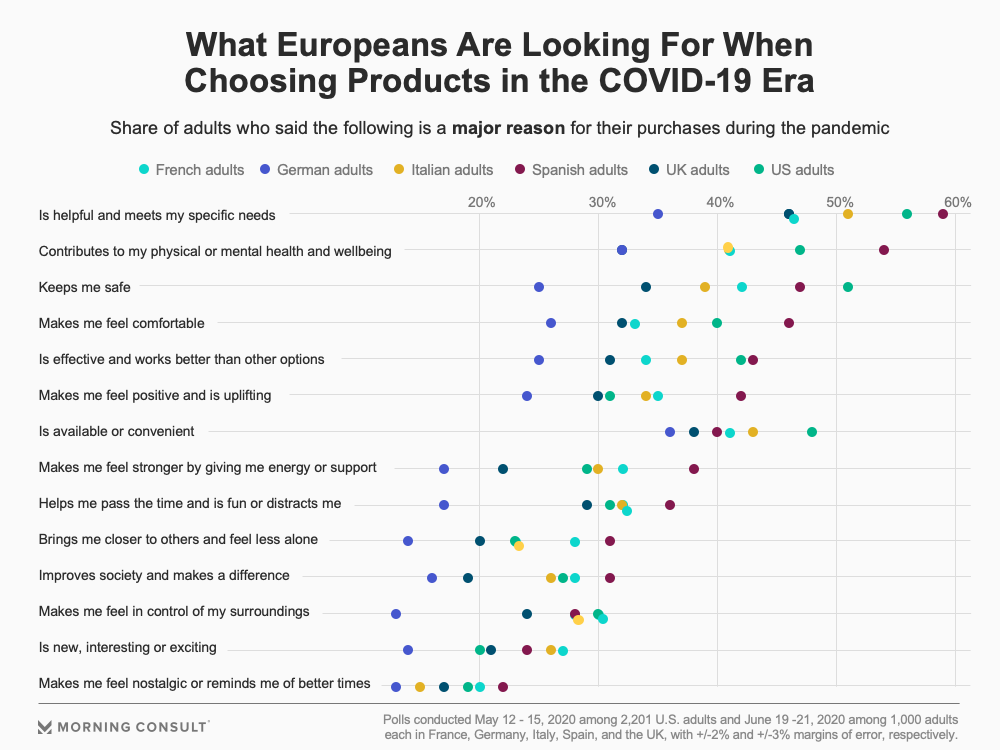 2) As Life Returns to Normal, A One-Size Fits All Approach Won't Cut It in the Diverse European Market 
Just as in the U.S., life changes caused by the coronavirus will permanently impact what Europeans buy in a post-pandemic world. Like Americans, most Europeans in each market plan to return to their trusted brands once they're able to, but there's also a desire in some countries to better support local businesses post-pandemic.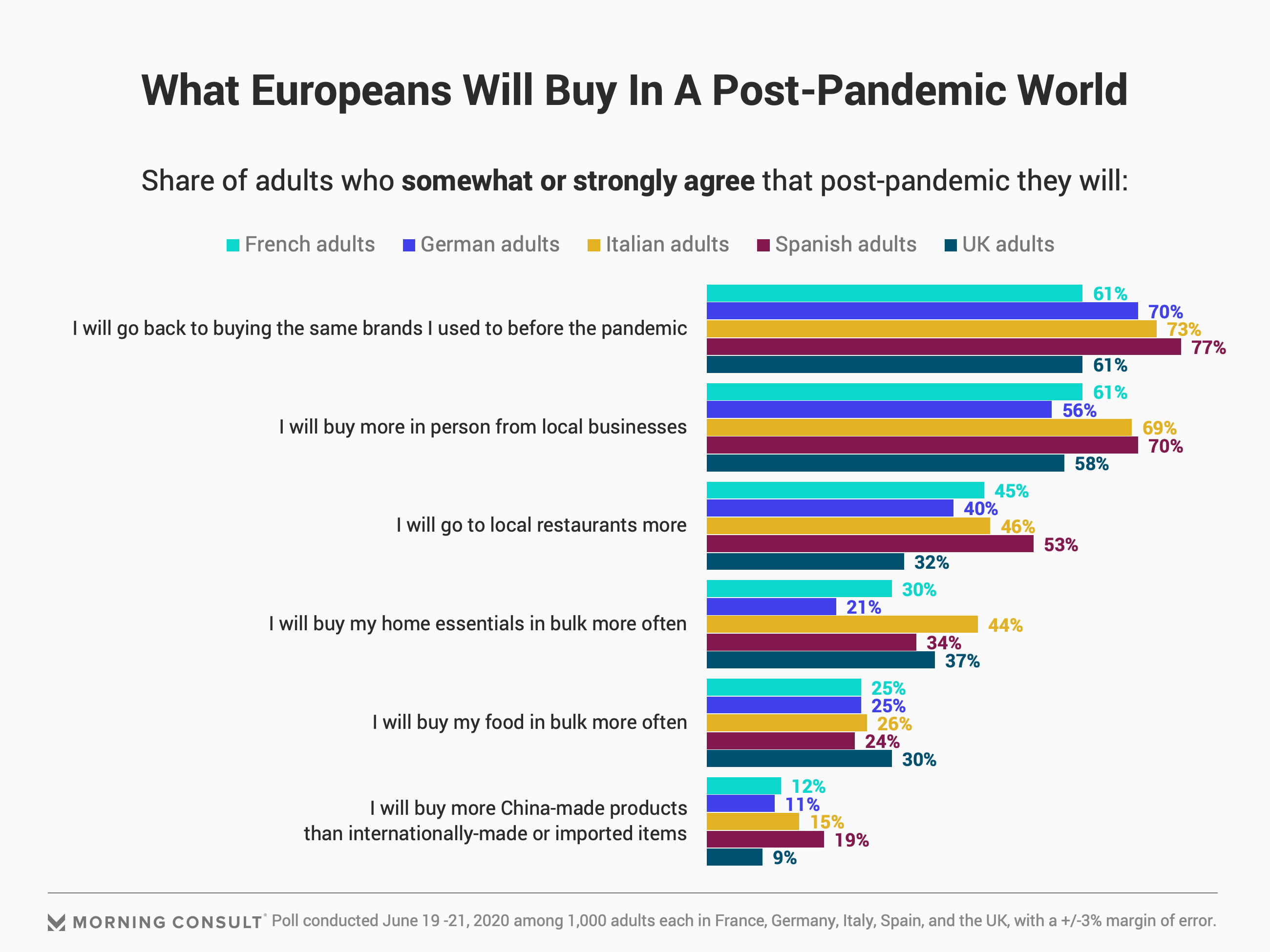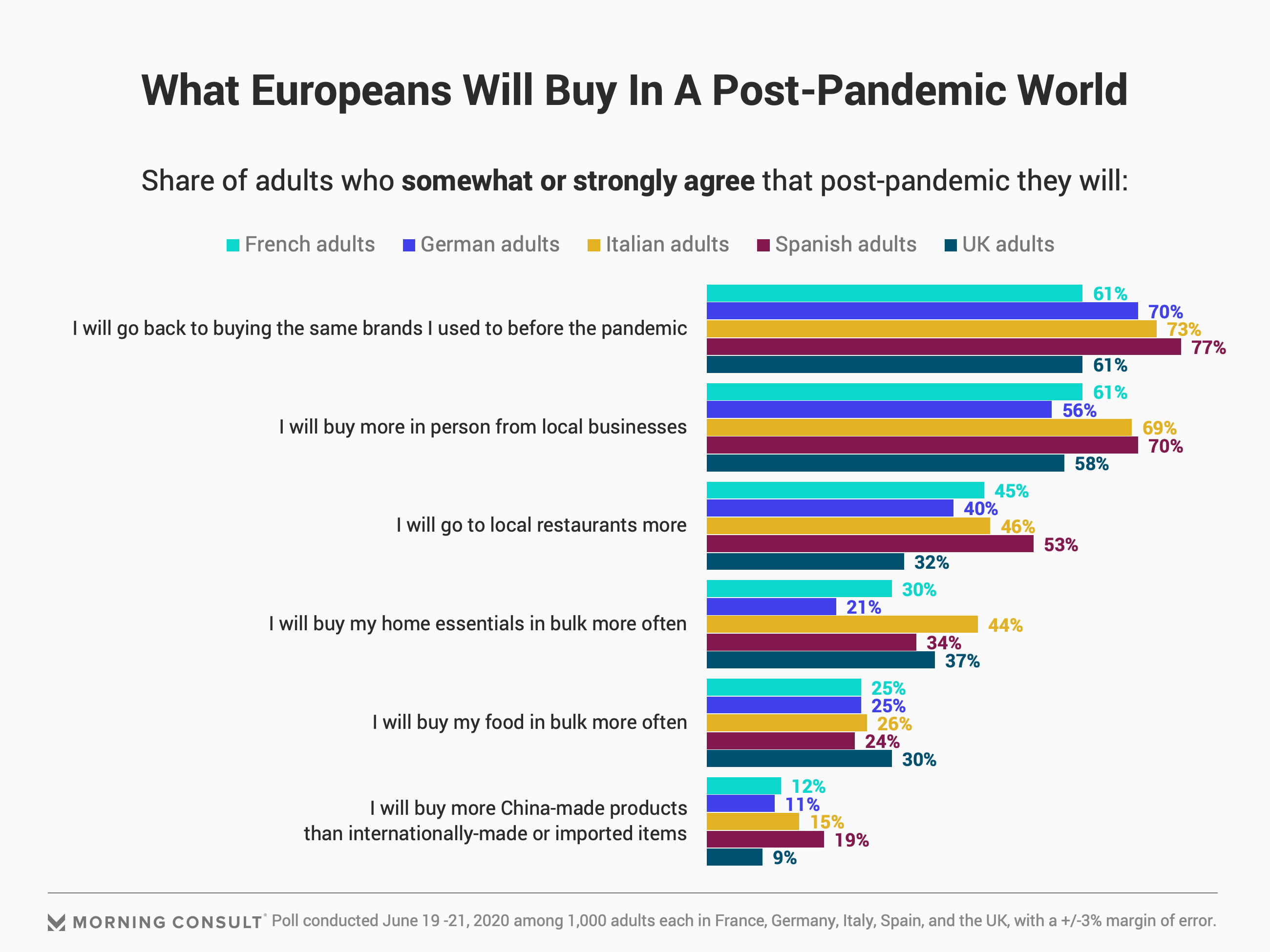 These changes will also impact how they buy – though there are stark differences in receptivity to online, mobile and in-store options across European markets.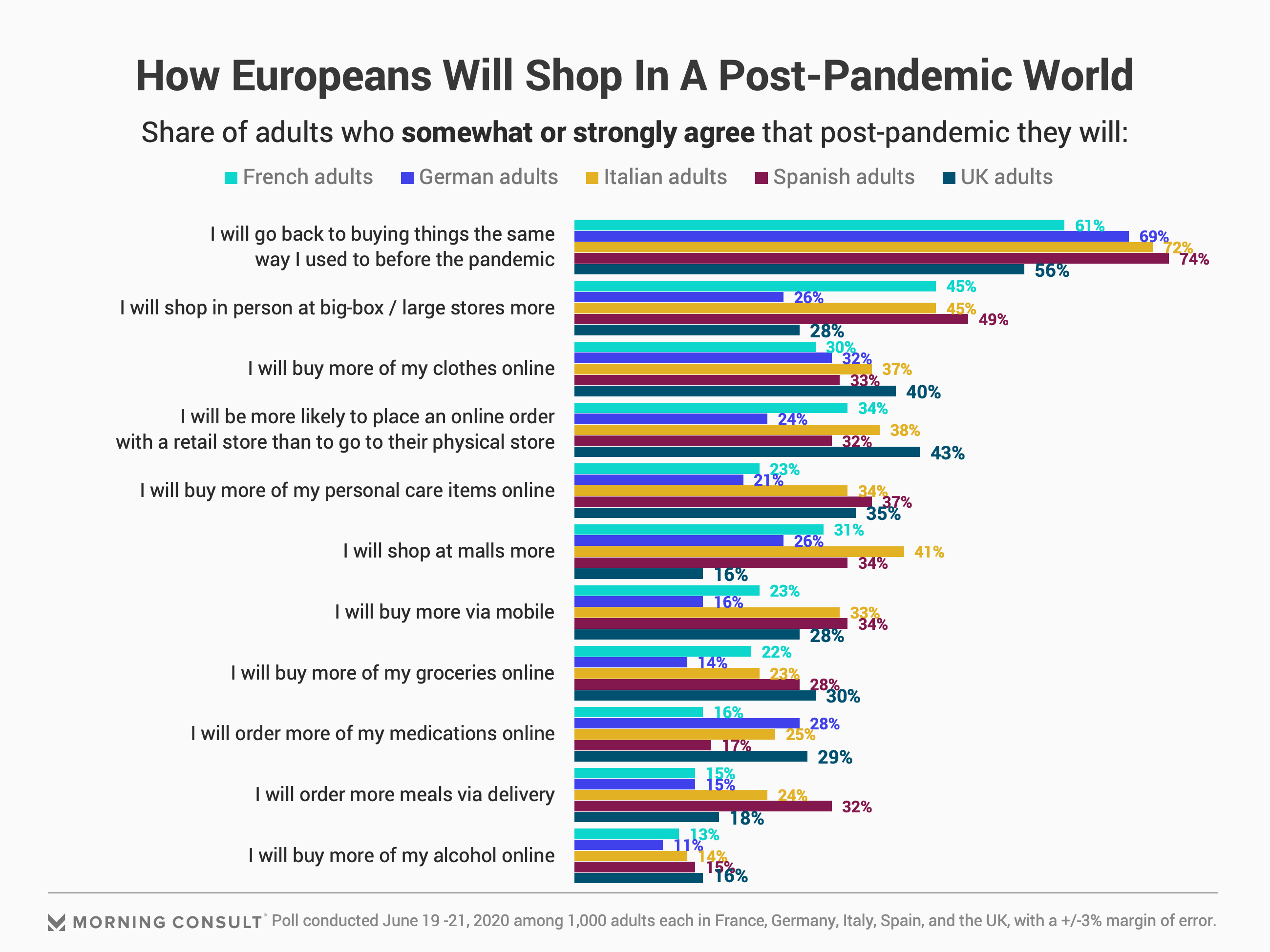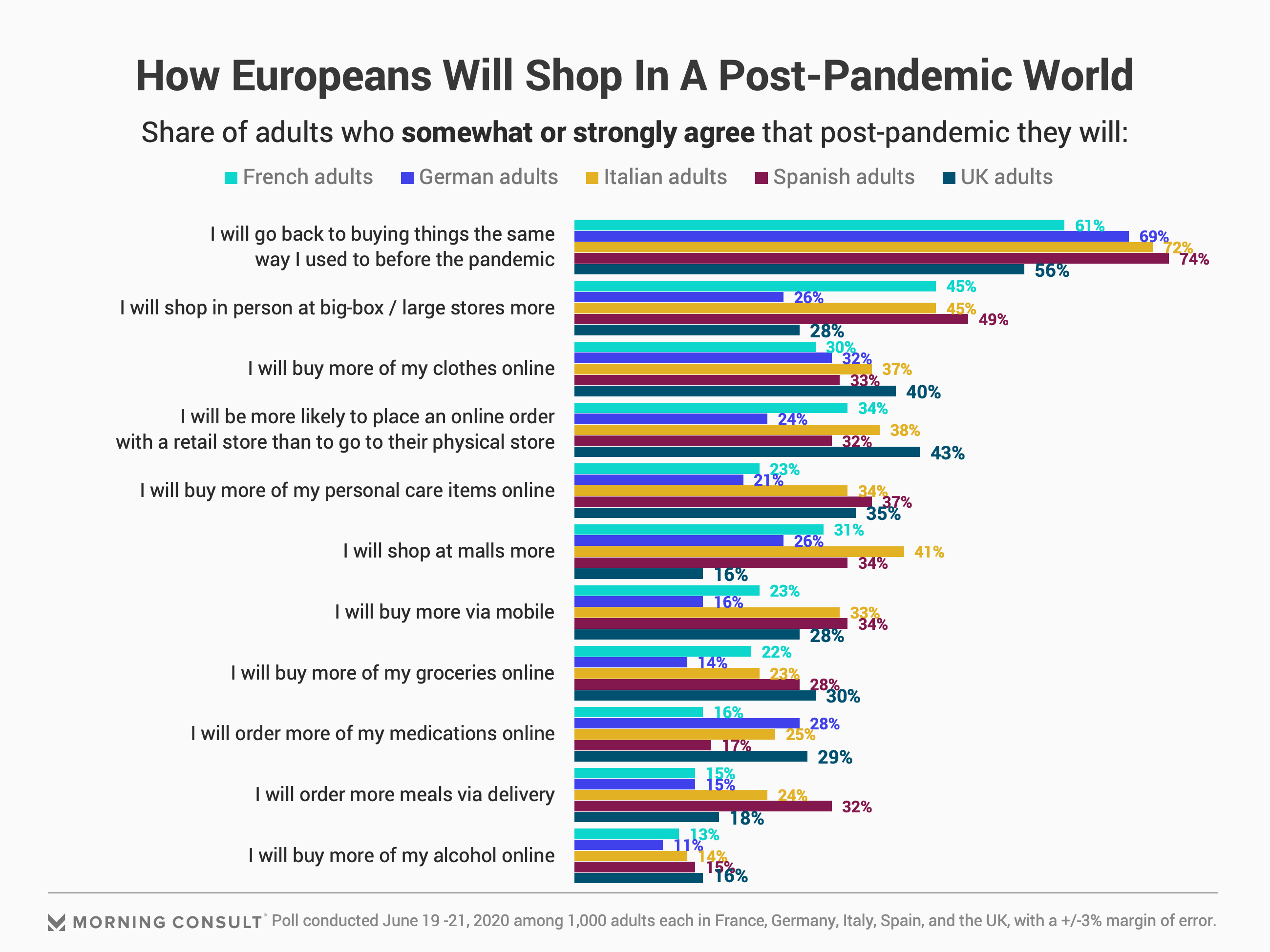 As American companies look to protect their brand from any fallout caused by the coronavirus in European markets and reaffirm their relevance in a post-pandemic world, it's clear a one-size-fits-all approach won't work. How European consumers perceive, assess, and even engage with brands – American brands in particular – varies by country, further underscoring the need for proactive yet carefully nuanced strategies to ensure U.S. brands are viewed by Europeans as not only relevant and essential, but also uniquely able to meet evolving needs, both now and into the future.
–Victoria Sakal, Managing Director, Brand Intelligence
To learn more about how Morning Consult's on-demand international survey research in 50+ countries is helping companies navigate COVID-19, please contact us below.
CUSTOM BRAND & ISSUE TRACKING IN 50+ COUNTRIES
Learn More About Our On-Demand Custom Research Capabilities