GLOBAL POLITICAL INTELLIGENCE
The View From Europe: Trump's Coronavirus Response Panned, Merkel's Viewed as Most Successful
New surveys conducted in four European countries shed light on which leaders are perceived as best handling the coronavirus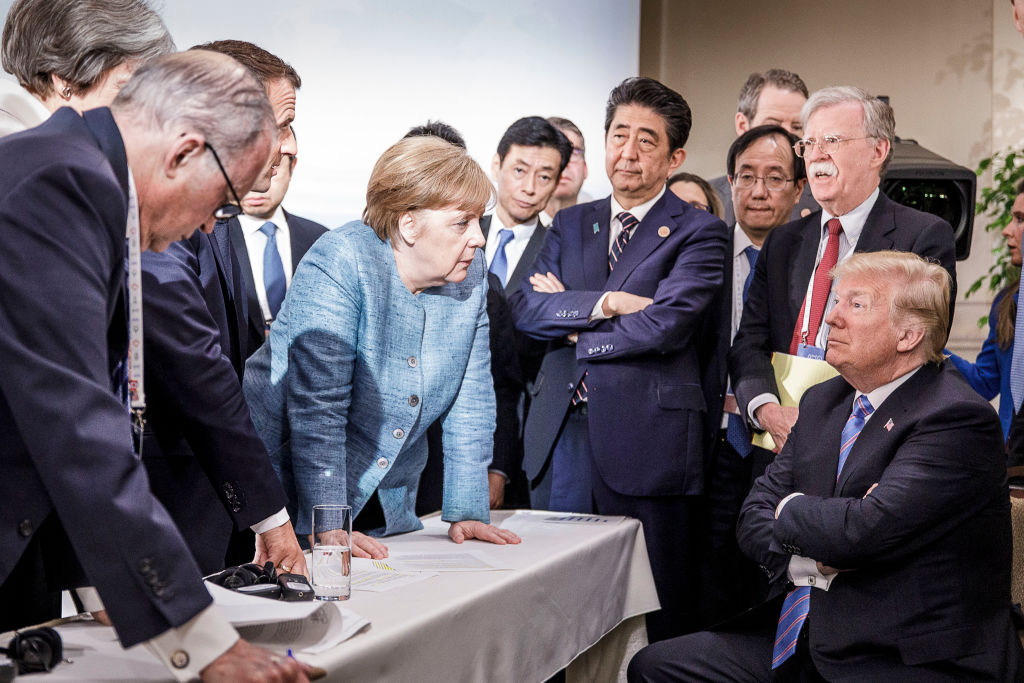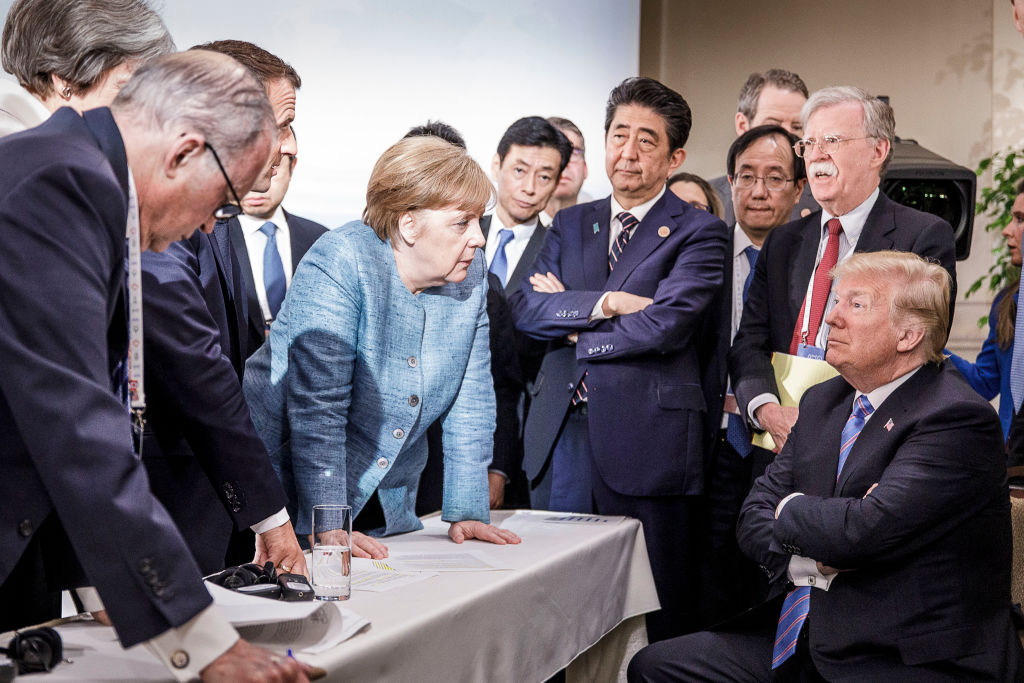 Published: Wednesday, June 24, 2020
The Germans, British, Spanish and French all agree: President Donald Trump has badly mishandled the coronavirus pandemic. But they see plenty to criticize closer to home as well. 
New Morning Consult survey data from those four countries shows Trump's coronavirus approval rating is underwater by significant margins. Across Europe, U.K. Prime Minister Boris Johnson's response is also viewed poorly, while German Chancellor Angela Merkel received the highest marks in each country.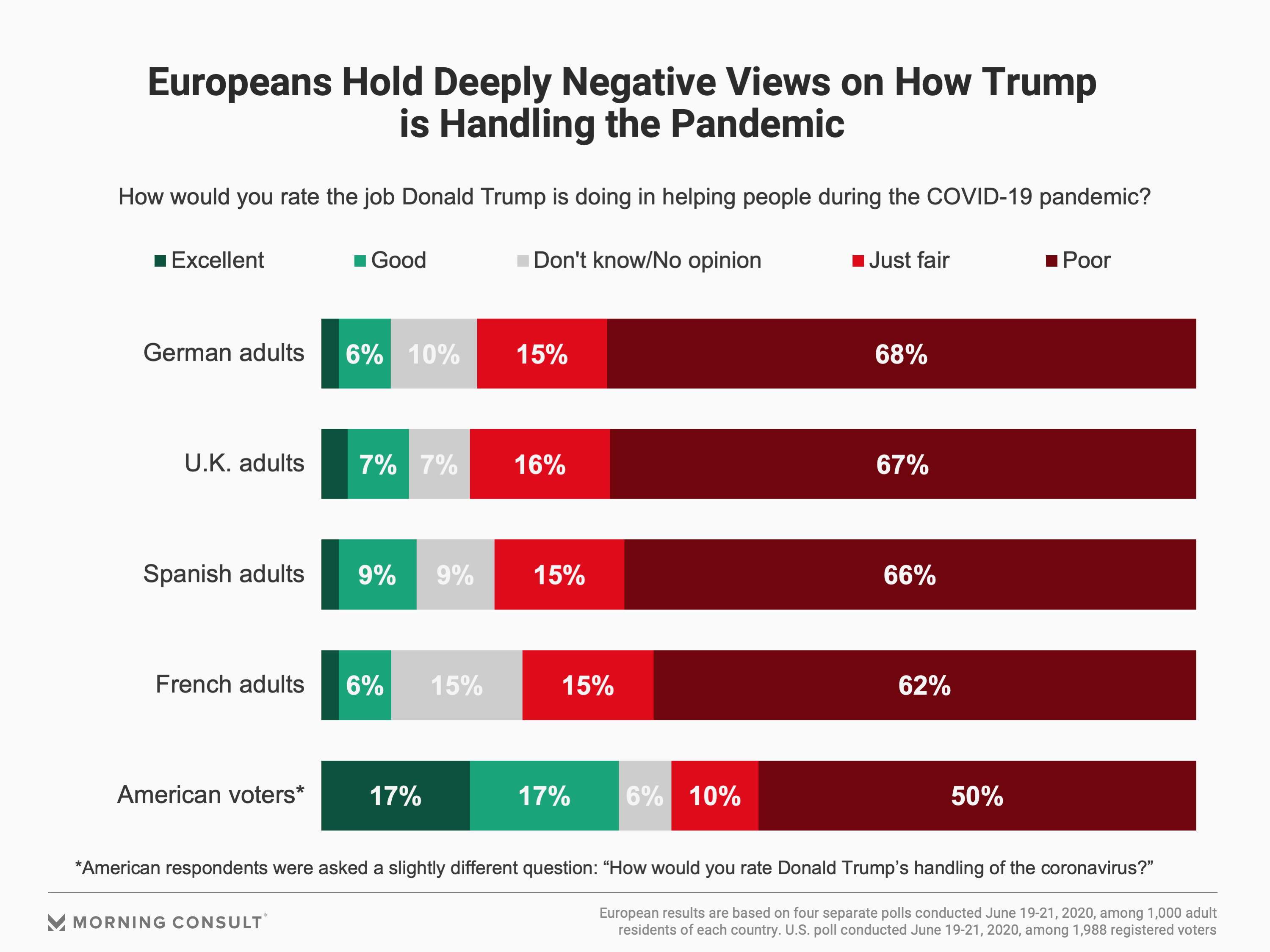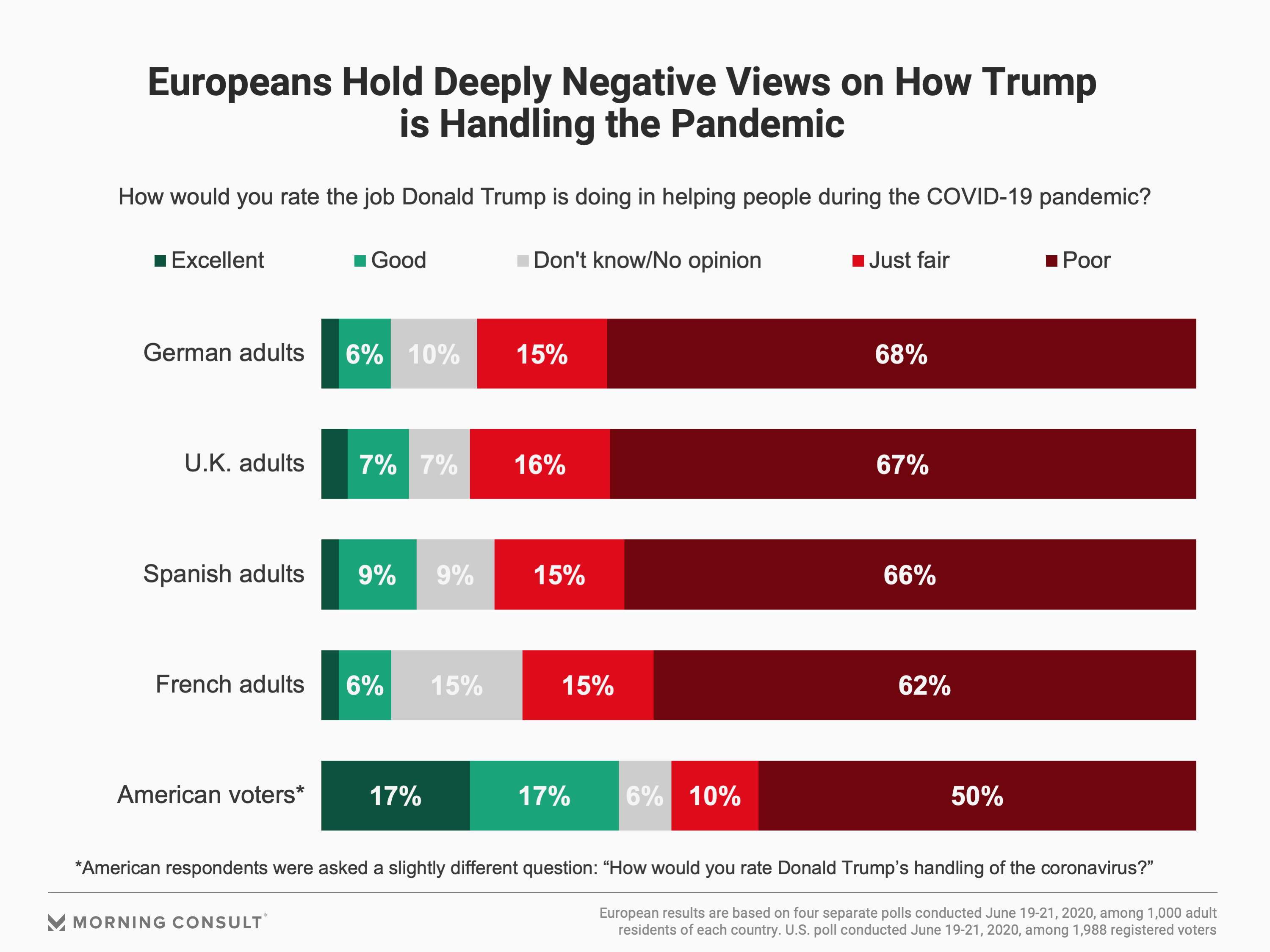 In each of the four countries, at least 62 percent of the population say that Trump has done a "poor" job in helping people during the pandemic, while just around 2 percent say he's done an "excellent" job. 
The surveys were conducted June 19-21, 2020, among a nationally representative sample of 1,000 adults in each country, each with a margin of error of 3 percentage points.
While Trump's rating is the lowest in each of the four countries surveyed, other European leaders also don't fare particularly well, including Spanish Prime Minister Pedro Sánchez and French President Emmanuel Macron.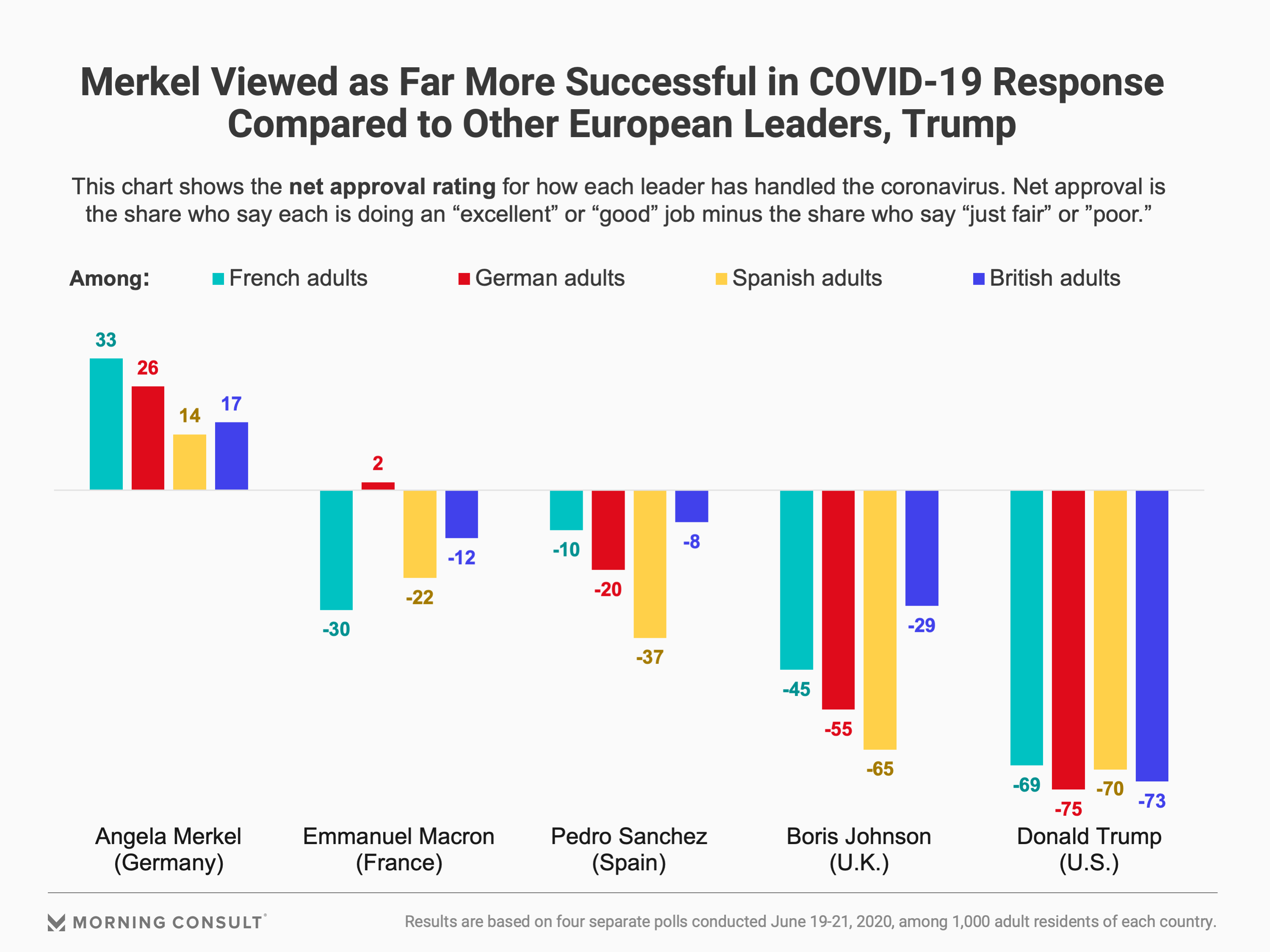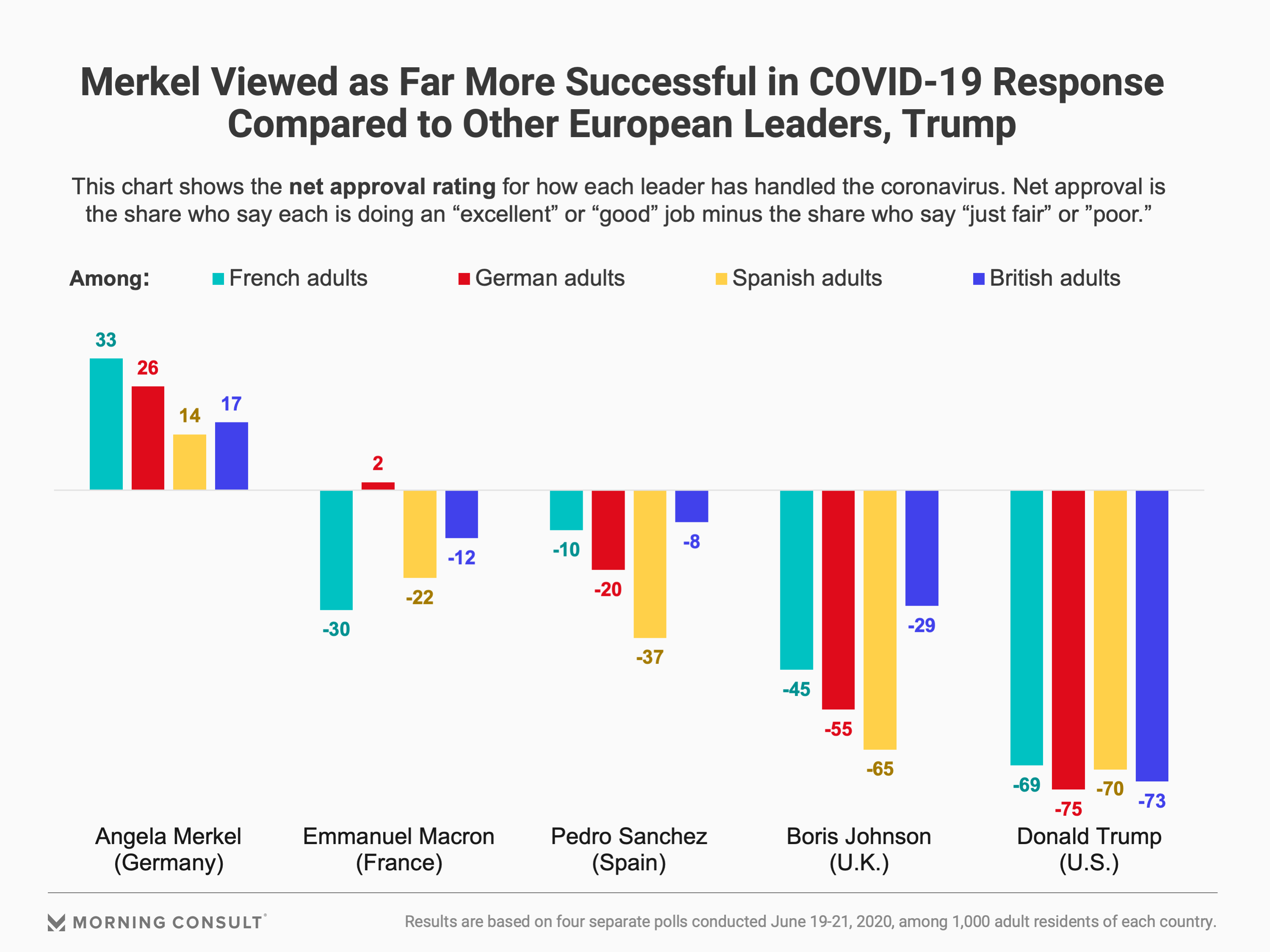 The polling indicates Europeans are generally dissatisfied with how governments and relevant organizations have reacted to the pandemic. Taking an average of the responses from the four countries, Merkel is the only person or entity in the poll whose share of "excellent" or "good" respondents outpaces the share of "just fair" or "poor." Only 5 percent of Europeans surveyed say the European Union or United Nations has done an "excellent" job.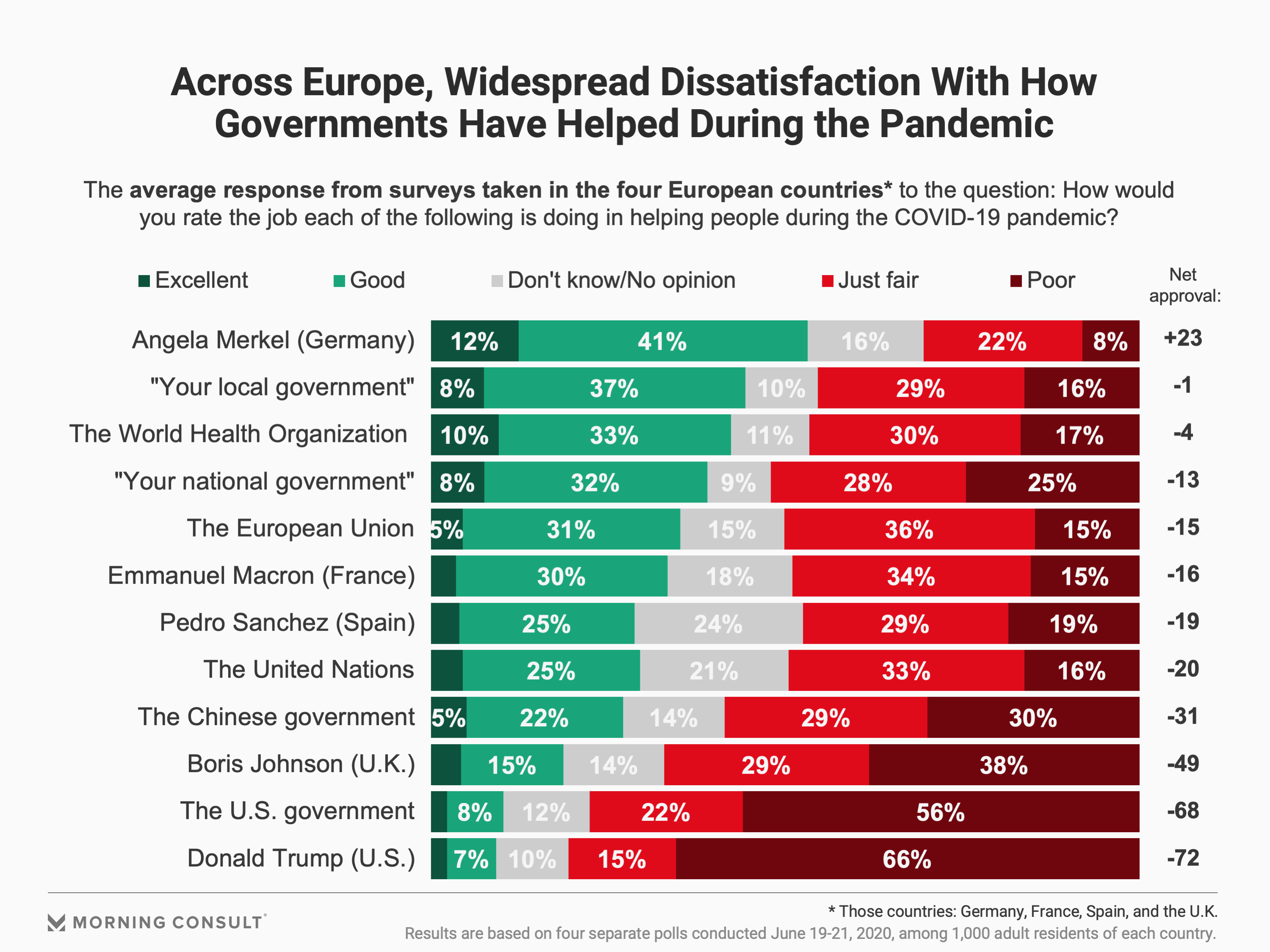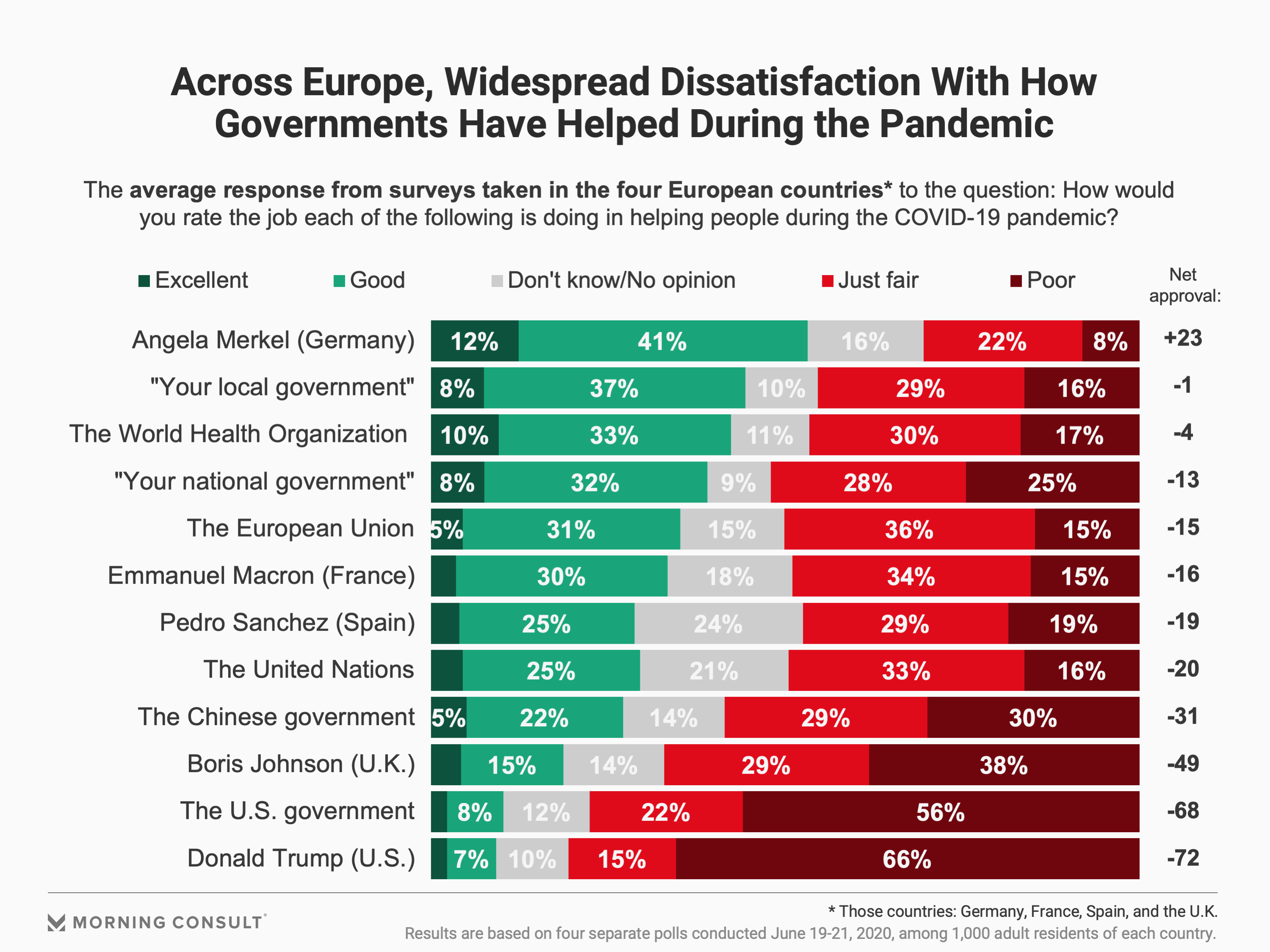 While Europeans have a generally unfavorable view of how the Chinese government has responded, it is nonetheless a far more favorable rating than for the U.S. government's, which closely mirrors Trump's. 
World leaders' approval ratings reflect shifting pandemic outcomes
At the onset of the coronavirus pandemic, Morning Consult Political Intelligence tracking data registered a clear "rally-around-the-flag" effect, in which a number of world leaders saw their approval ratings spike up. In the United Kingdom, for example, Boris Johnson's net approval rating (approval minus disapproval) surged by nearly 40 points in the month of April, even as cases steadily rose. 
In the subsequent months, however, the initial tide of goodwill citizens extended to their leaders has seemingly given way to a more calculated reflection of outcomes. In countries where the pandemic has largely been contained, such as Germany, Canada and Australia, leaders continue to see elevated approval ratings. But in countries where the virus has been more destructive, such as the United States, Brazil, and the United Kingdom, leader approval has waned.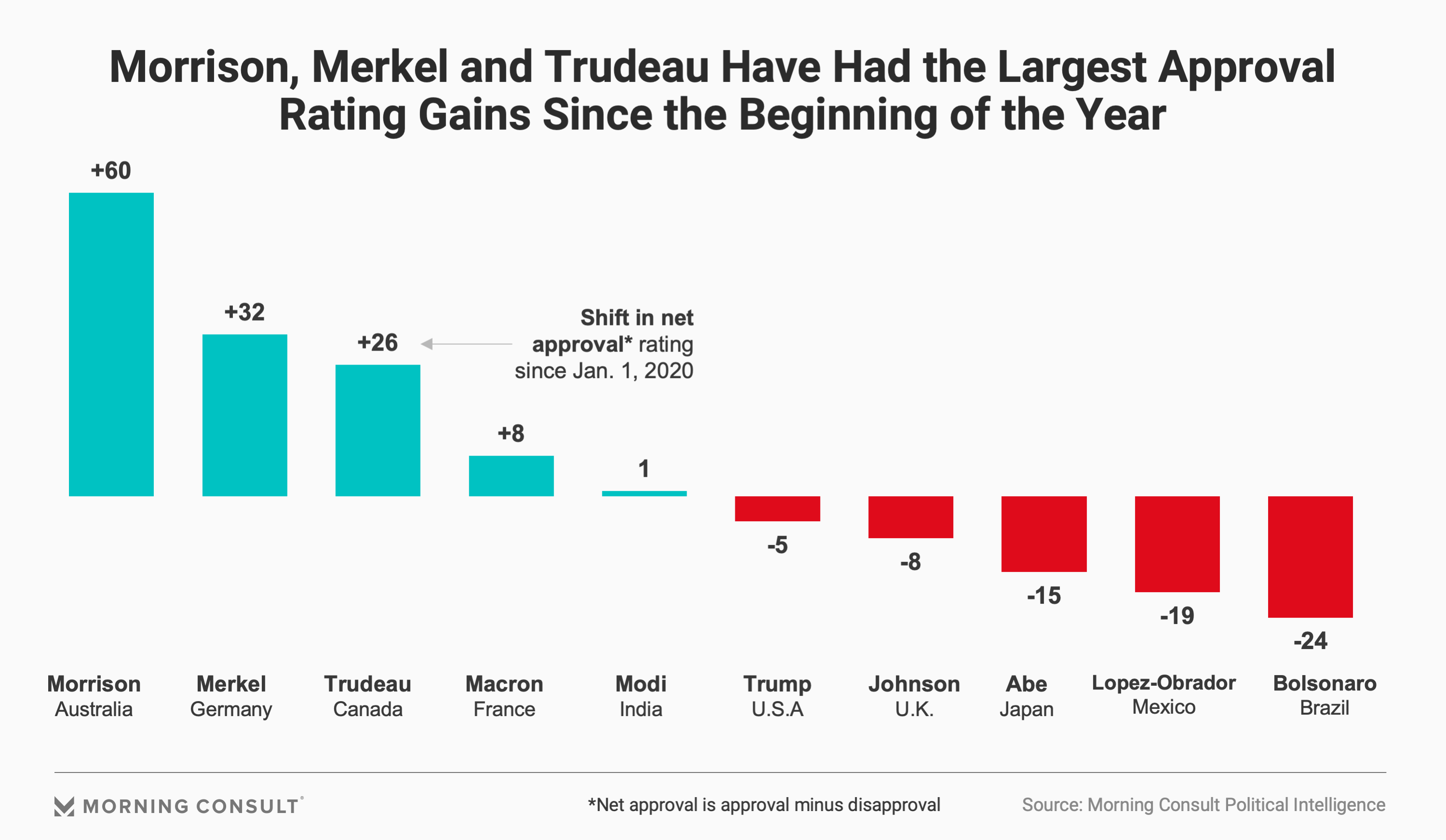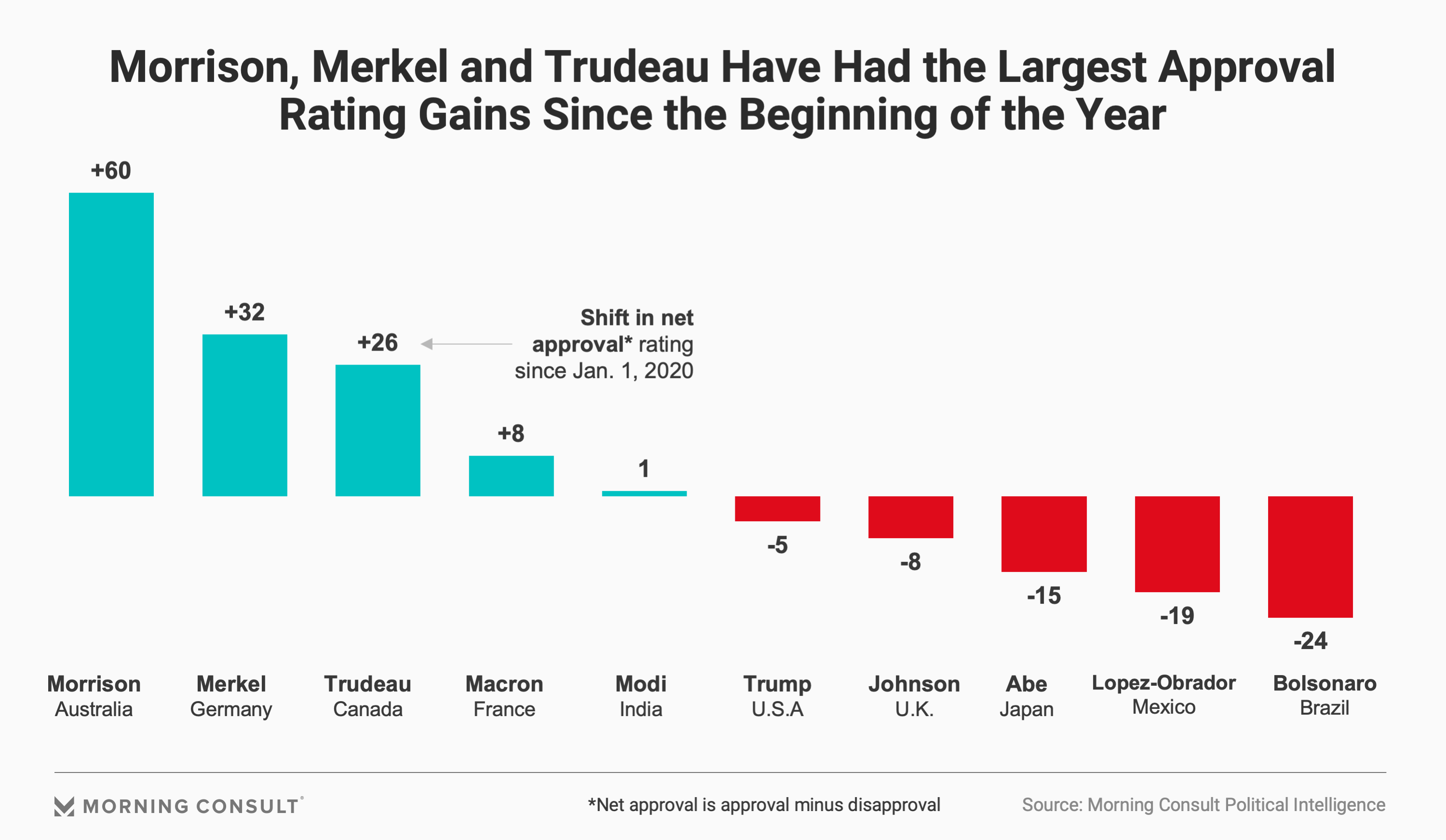 There are exceptions, of course, as the pandemic isn't the only factor driving approval ratings. In Japan, for instance, where the virus has been largely under control for months, Prime Minister Shinzo Abe's approval rating remains low.
How Approval Ratings for World Leaders Have Shifted Since the Beginning of the Year
The share of adult residents in each country who approve of their respective head of state:
This data comes from Morning Consult Political Intelligence and is based on an average of over 3,000 weekly interviews per non-U.S. leader, and over 49.000 weekly interviews for Trump. The latest data is based on surveys conducted June 17-23, 2020