Survey: Younger Americans Less Skeptical of Globalization
Less than a quarter of millennials say globalization has hurt the United States
A new Morning Consult survey, conducted in conjunction with the Bloomberg Global Business Forum, finds that Americans are divided about the impacts of globalization. Overall, 36 percent say that globalization has mostly helped the U.S., while 30 percent say it has mostly hurt. Thirty-four percent didn't know or had no opinion.
However, the survey also revealed a notable age gap in perceptions of globalization. Specifically younger Americans were less likely to see globalization as harmful and more likely to be unsure of its effects: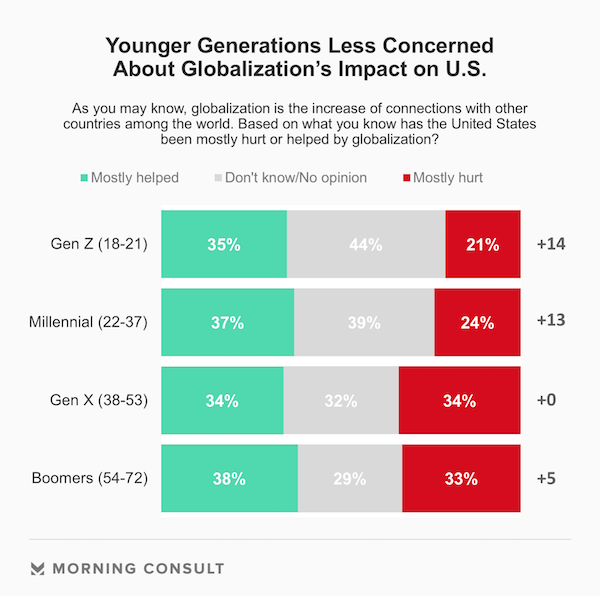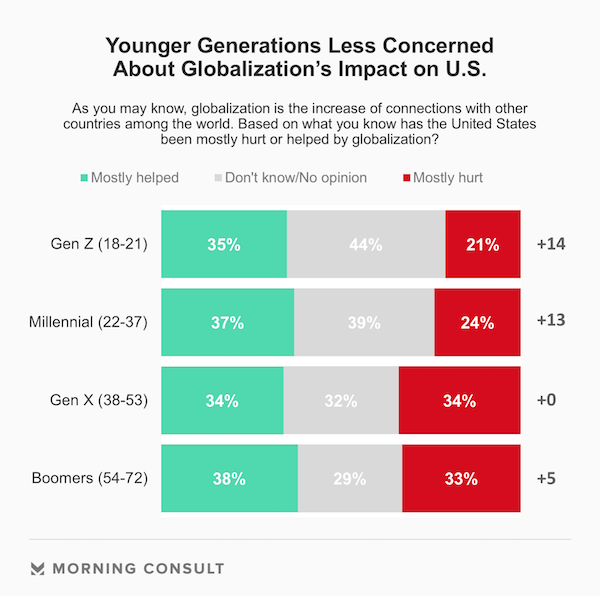 Clinton voters and more educated Americans are also more supportive of globalization than their respective counterparts:
Fifty-seven percent of Americans with a postgraduate degree said globalization has been helpful, compared to 45 percent of those with a bachelors degree and 30 percent of those who took some college or less.
Fifty-two percent of Clinton voters say globalization has been helpful, compared to just 29% of Trump voters.

The survey, conducted September 20-24, 2018 among a nationally representative sample of 2,201 U.S. adults, also provides insights into perceptions of free trade, tariffs, the strength of the global economy, and more. To get a rundown on the full results of the survey, request a briefing below.