The Gen Z Threat: Why Winning the Shopper of the Future Requires a New Approach to Brand-Building
What's worked for surviving and thriving in the past won't work for brands with this generation of the future, Morning Consult's Victoria Sakal writes.
COVID-19 has drastically impacted spending behavior, shopping habits and even selection criteria for American consumers. But Generation Z, born 1997-2012, and its decidedly different priorities, sense of purpose and brand expectations presents unique challenges for today's companies, according to a new Morning Consult report based on thousands of interviews with the up-and-coming generation.
Morning Consult surveyed thousands of Gen Zers to understand how this year of upheaval is transforming Gen Z's relationship with brands. Their skepticism of brands, compounded by the range of niche and new brands they experiment and engage with, mean the war for this generation's love is won on a much more crowded, selective and impassioned battleground than with prior generations.  
Gen Z's awareness of and love for top brands are significantly lower than among older generations, and these measures have only continued to weaken since the COVID-19 outbreak. Just as this generation's brand preferences are more dispersed across newer, more niche and disruptive brands, so too is their loyalty toward, consumption of, and affinity for the wider range of brands in their universe.
The majority of Gen Zers (50 percent or more) have only heard of about three-quarters the number of brands their elders have. And the bucket is leaking: While brand awareness has marginally increased since March across all other generations, it's declined among Gen Z.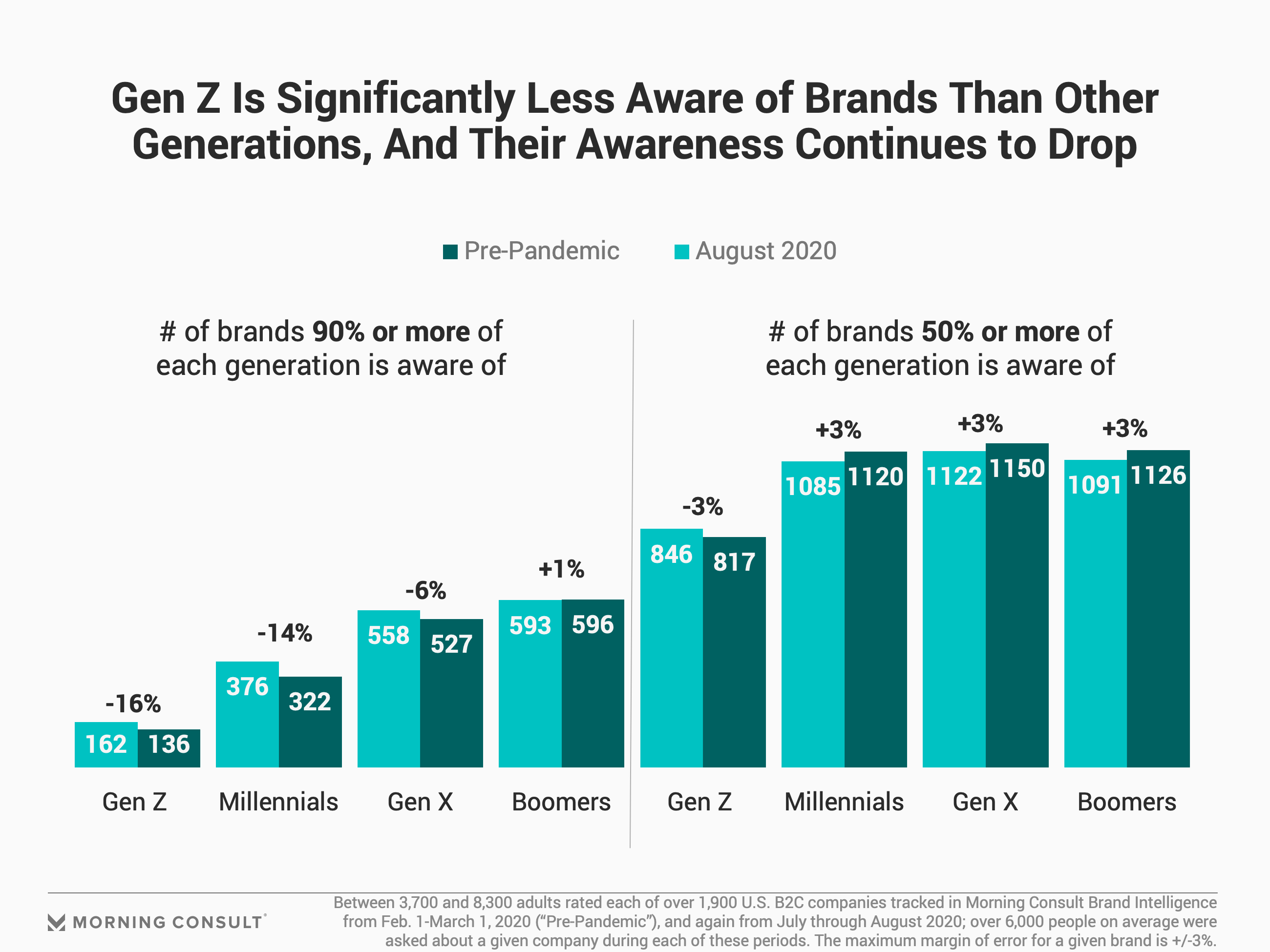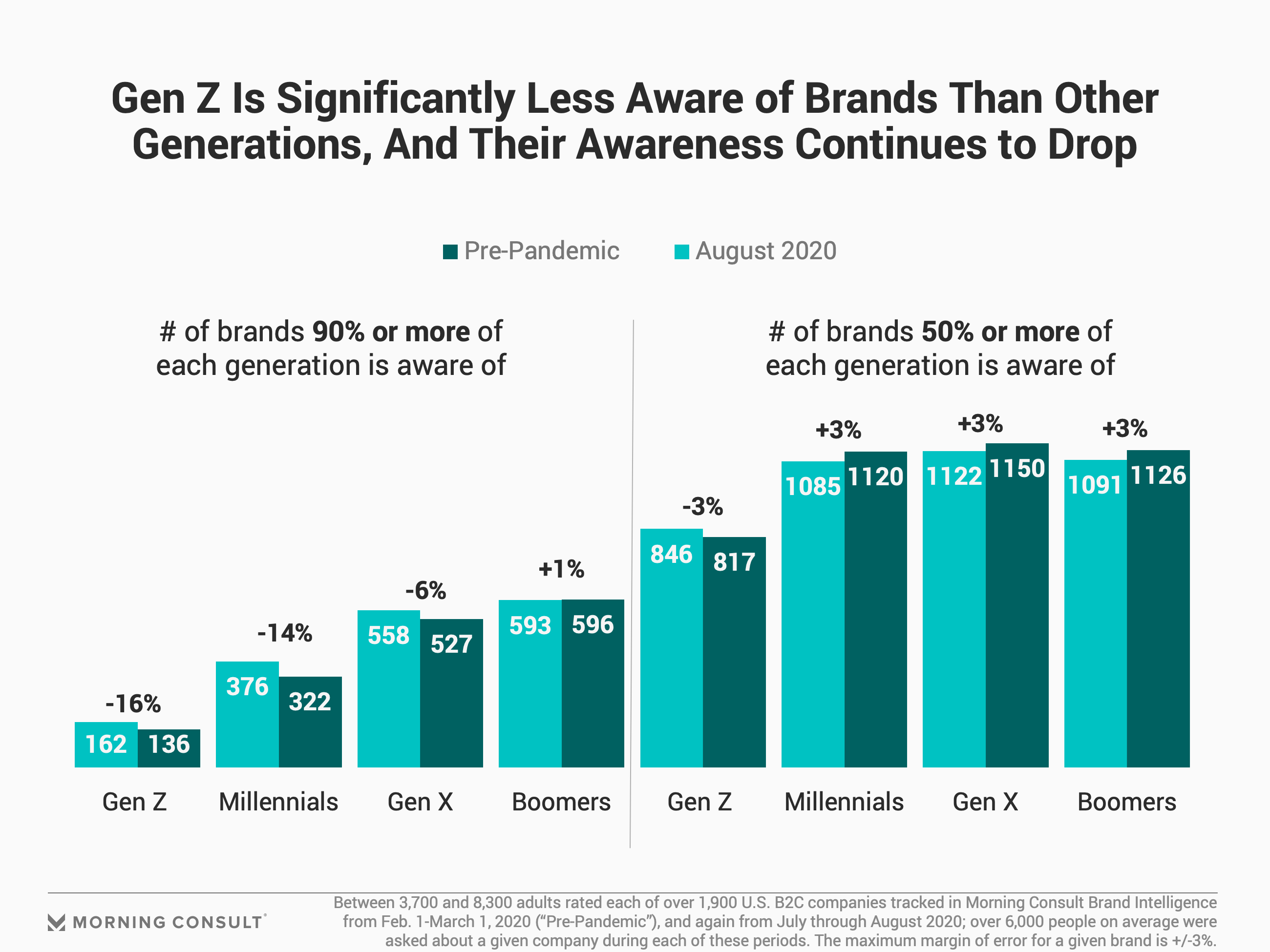 Gen Z's affinity for brands, measured by love, is also weaker. Not only are a whopping 50 percent of this generation's most-loved brands inconsistent with the all-adult top 50 (a much larger share than for any other generation), they love their own top 50 most-loved brands less than any other generation loves their respective top 50. This weaker sentiment transcends specific brands to entire categories: Gen Z's Brand Love is lowest across key consumer categories.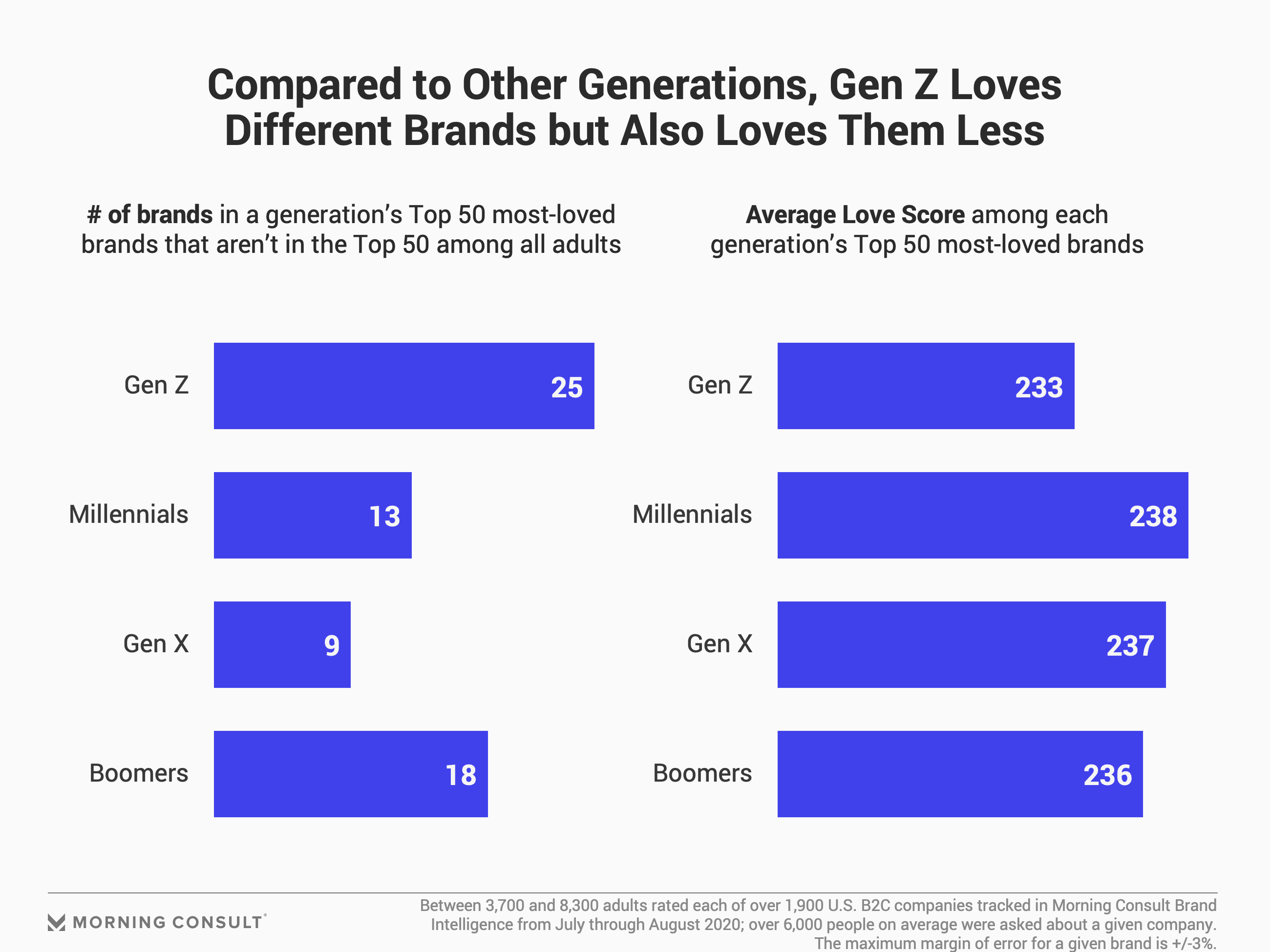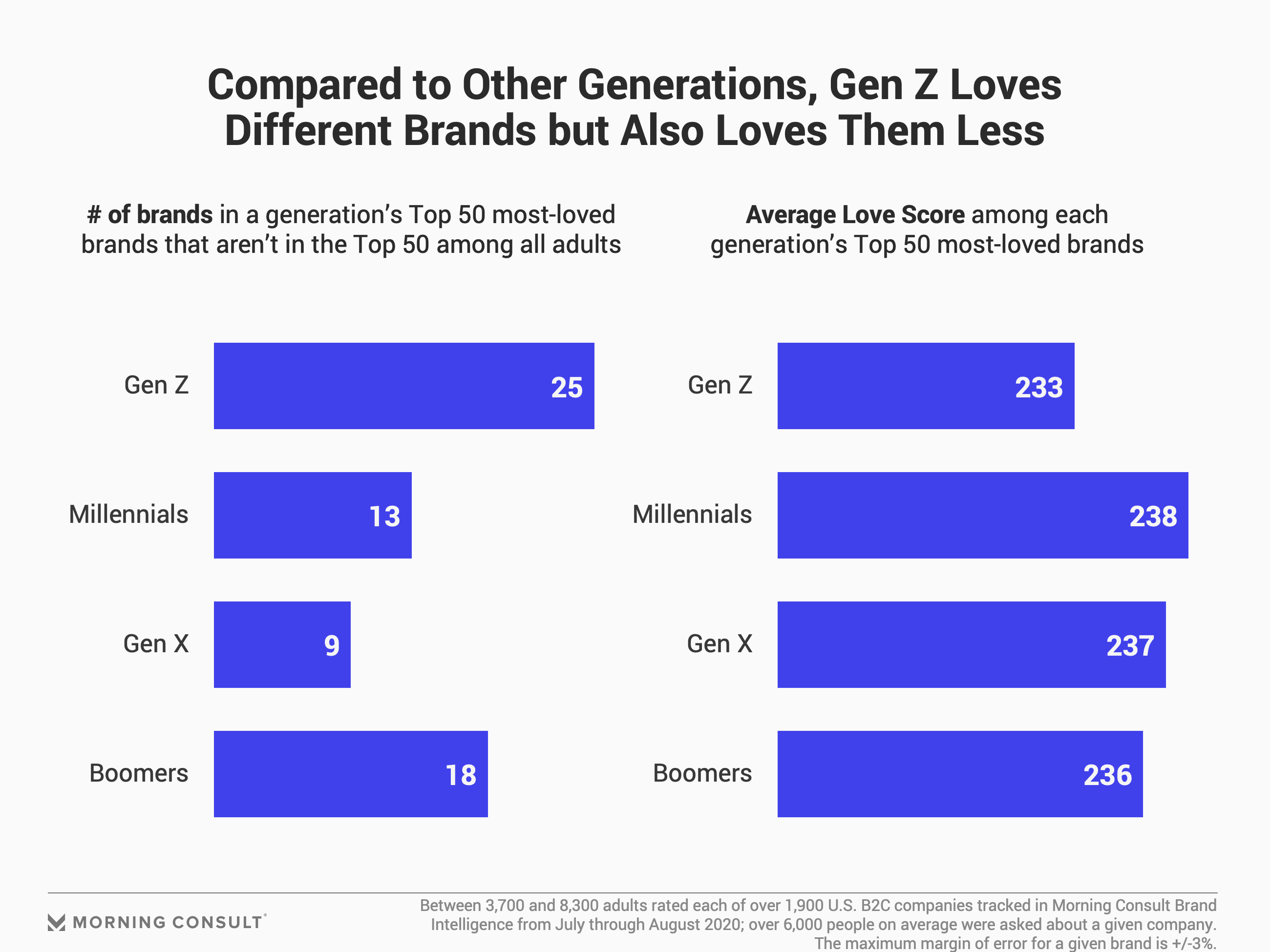 Gen Z is much more interested in new, fun and innovative brands than those that have been around for a long time. More prevalent among this generation's top 50 brands than they are for all adults' most-loved brands, these traits are also stronger drivers of Brand Love among Gen Z. This explains the biggest Brand Love gainers among Gen Z since pre-pandemic times: Three of the top five gainers are entertainment brands known for constantly delivering fun, creative and innovative experiences; AirPods also reflect Apple's reputation for innovation.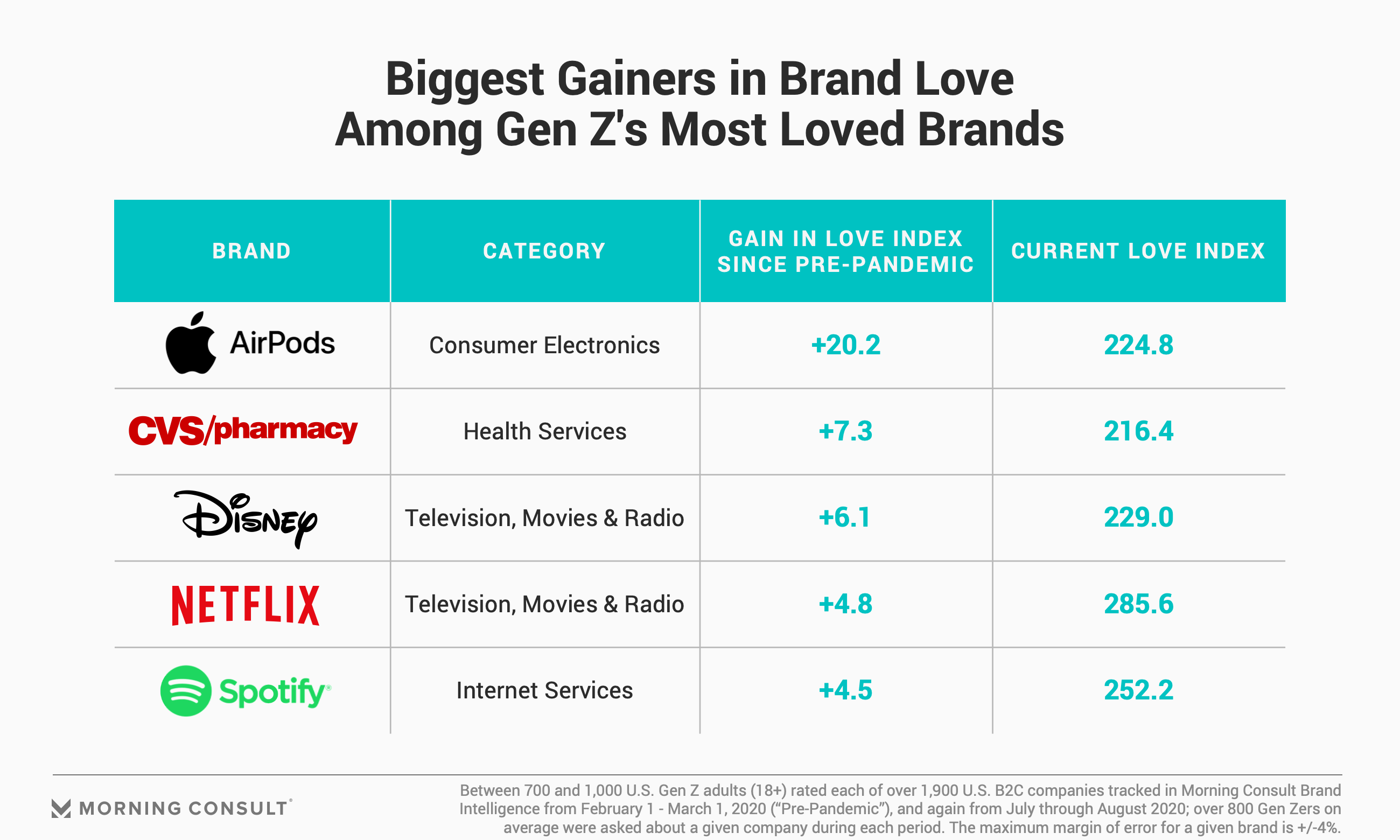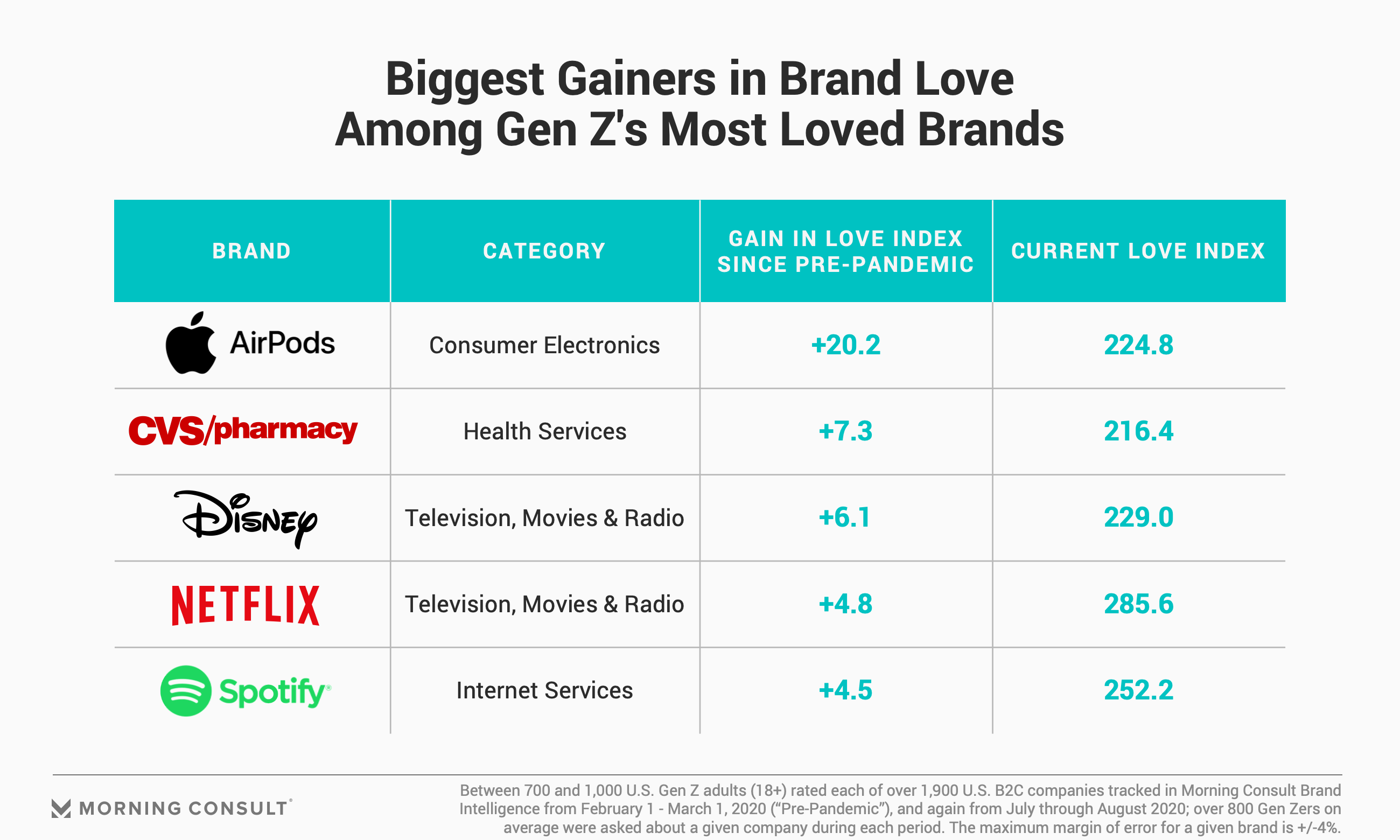 This preference extends from consumer brands to employer brands, particularly important given Gen Z is the future of the workforce and the very talent that today's brands will rely on to survive and thrive in a post-pandemic world. Many of the brands that have gained appeal as a prospective employer — Zoom, Quibi, TikTok and HBO Max to name a few — have only come into their own in recent years, if not months.
Beyond these, qualities related to a brand's stakeholder orientation — ranging from customer-centricity to concern for employees — are especially differentiating in driving Gen Z's perceptions of and relationships with winning brands.
Indeed, new attitudes, expectations and needs are surfacing within Gen Z amid the many life-changing events this generation is facing in 2020, and with these come the likelihood of very new consumption behaviors, preferences and priorities that will shape the future of commerce. 
Disillusioned by digital: Though the generation best-prepared to stay connected and seamlessly transition everything from socializing to schooling online, Gen Z is tiring of incessant virtual connection, with 78 percent saying they miss spending time with their friends how they used to: in-person. Most (71 percent) are anxious to get back to in-person hangouts, and while they are more than twice as likely as other generations to have discovered new hobbies and new methods of socializing that they intend to continue post-pandemic, a clear majority (79 percent) will be looking for new ways to spend their time in a post-COVID world when they can socialize freely again.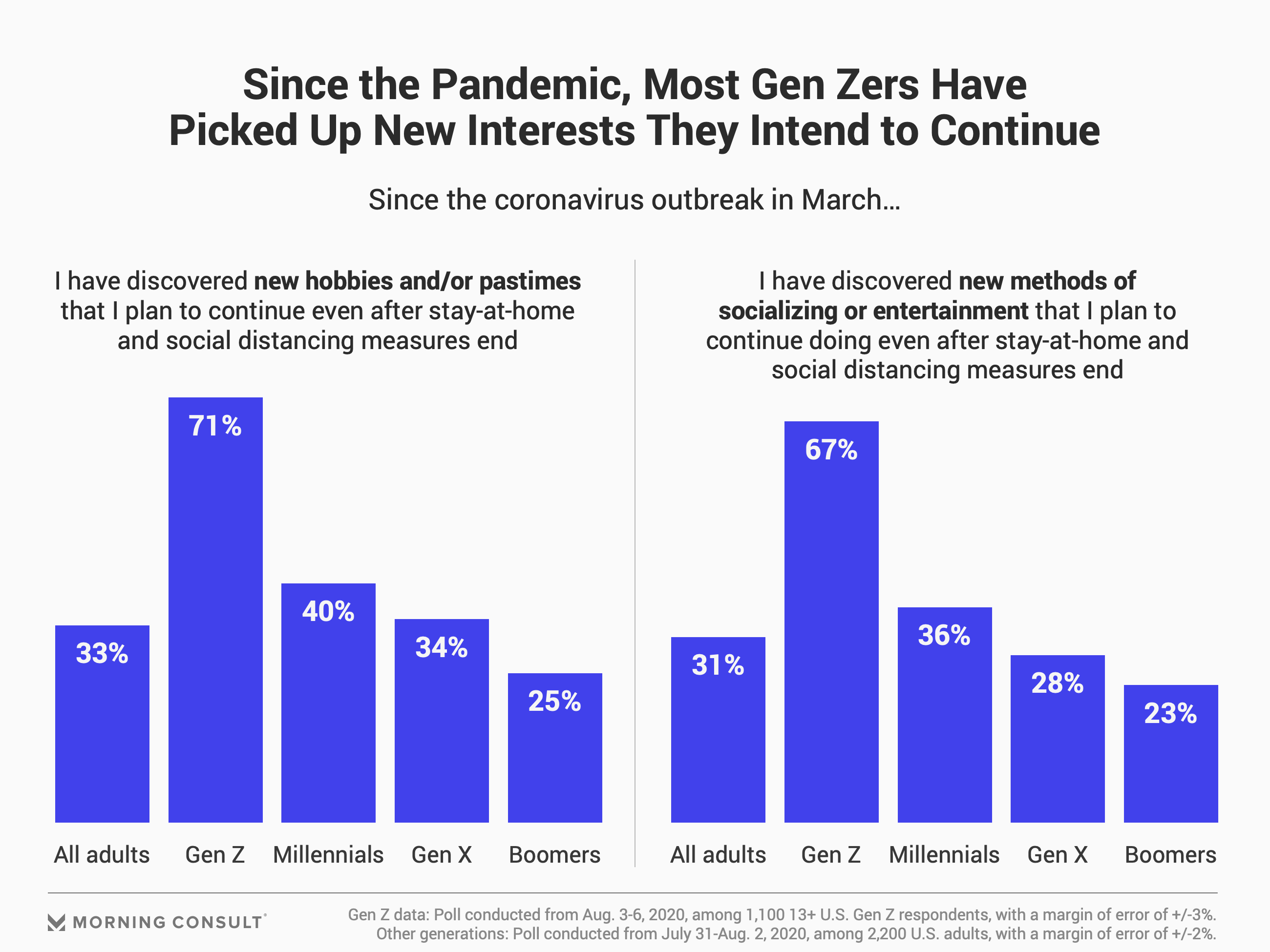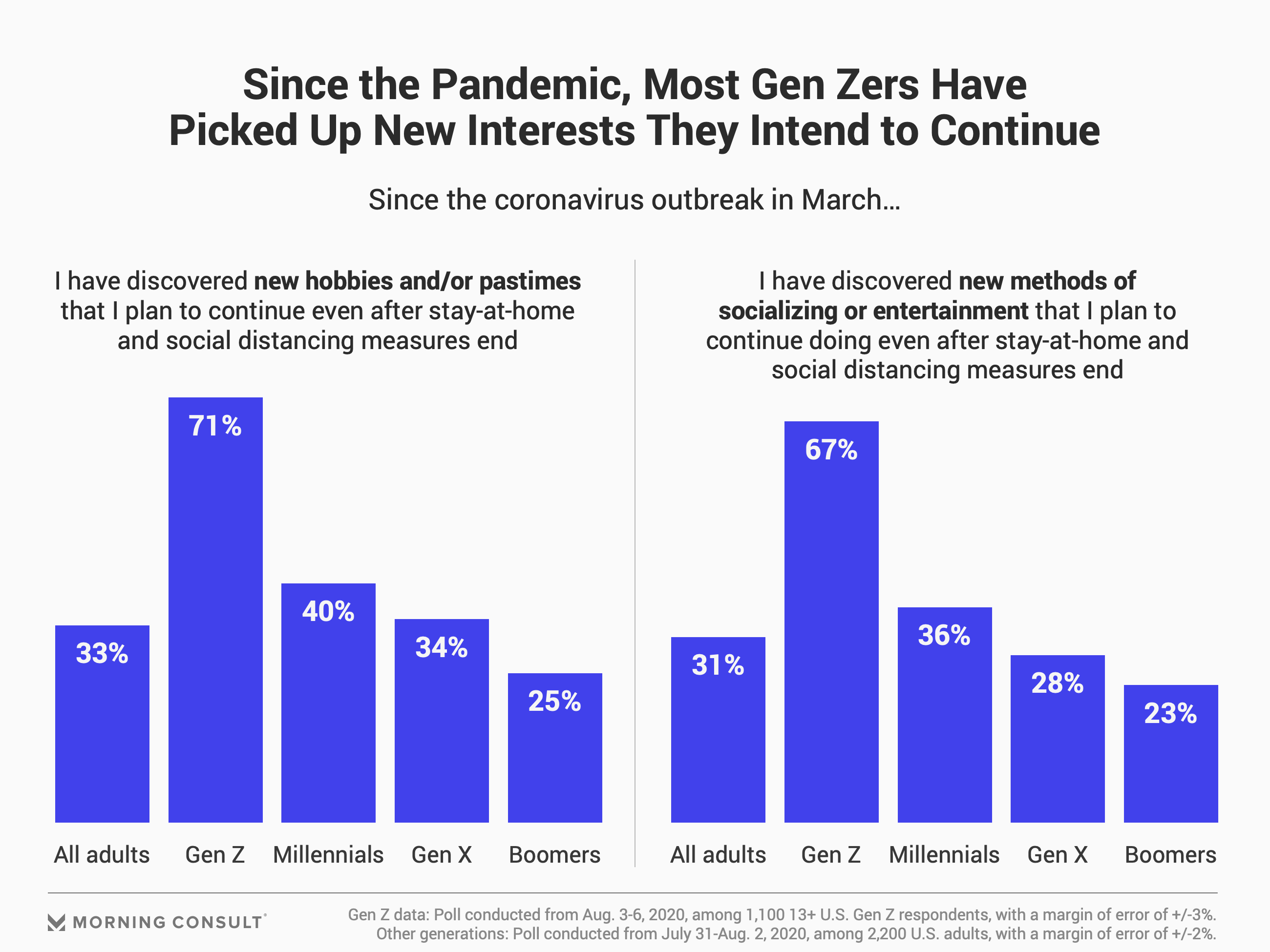 Evolving brand biases and channel preferences: Most Gen Zers (64 percent) say their brand preferences have not changed, and the majority (76 percent) plan to return to the same brands they bought pre-pandemic. Still, most (68 percent) will continue buying new brands they've discovered in recent months, and many (56 percent) won't return to brands they've stopped buying as much since March. Gen Z is currently embracing new brands and brand-name items more than their elders, but largely expects to buy fewer brand names and premium goods post-pandemic. And despite being digital natives, majorities of this generation don't anticipate ordering more meals, medication or grocery delivery online compared to pre-pandemic.
Activating their wallets: A generation known for leading the charge on important societal changes they wish to see, Gen Z is significantly more likely than other generations to have been buying more goods from local, Black- and minority-owned businesses since March; they are also most likely to continue supporting these businesses post-pandemic.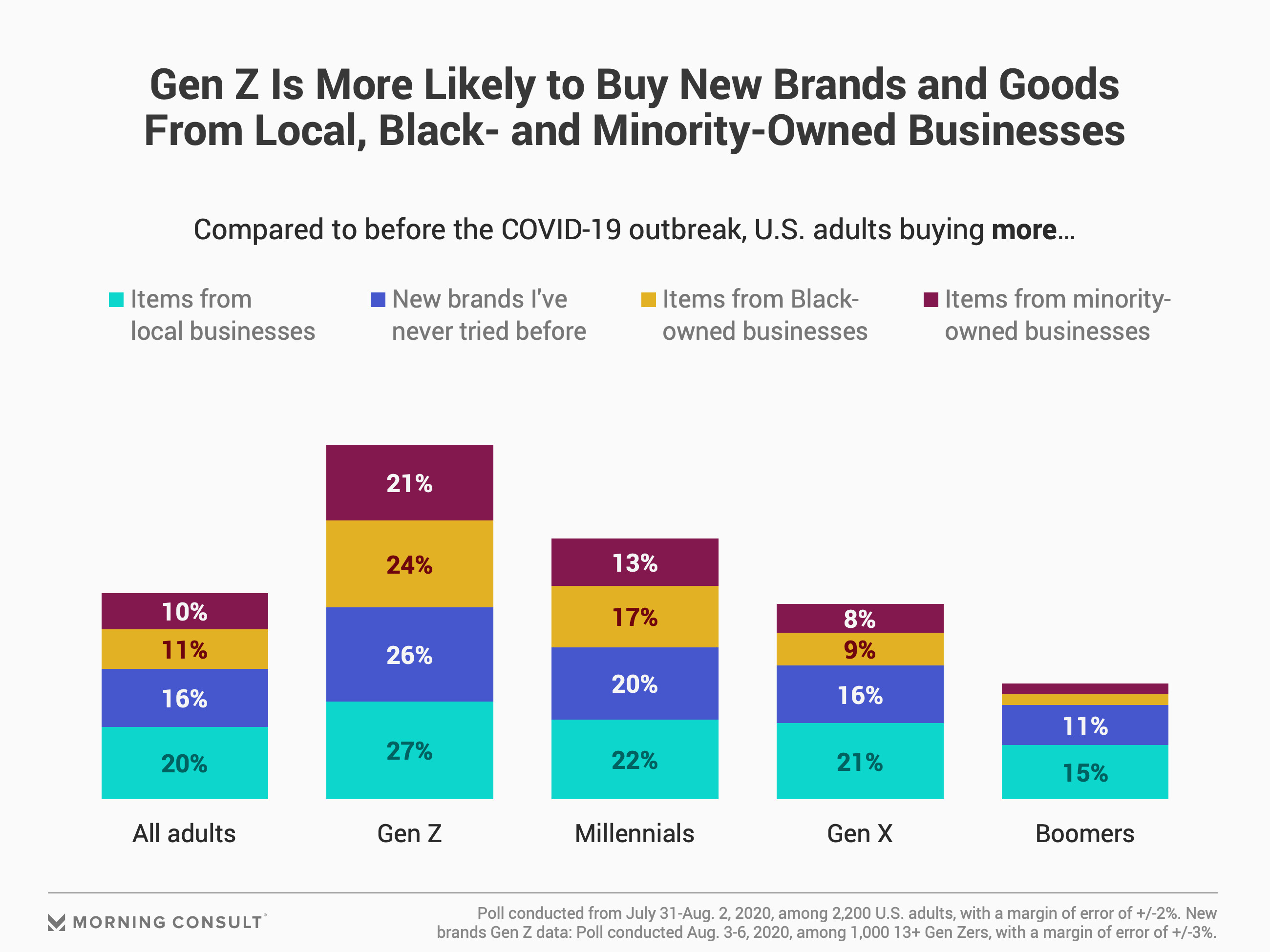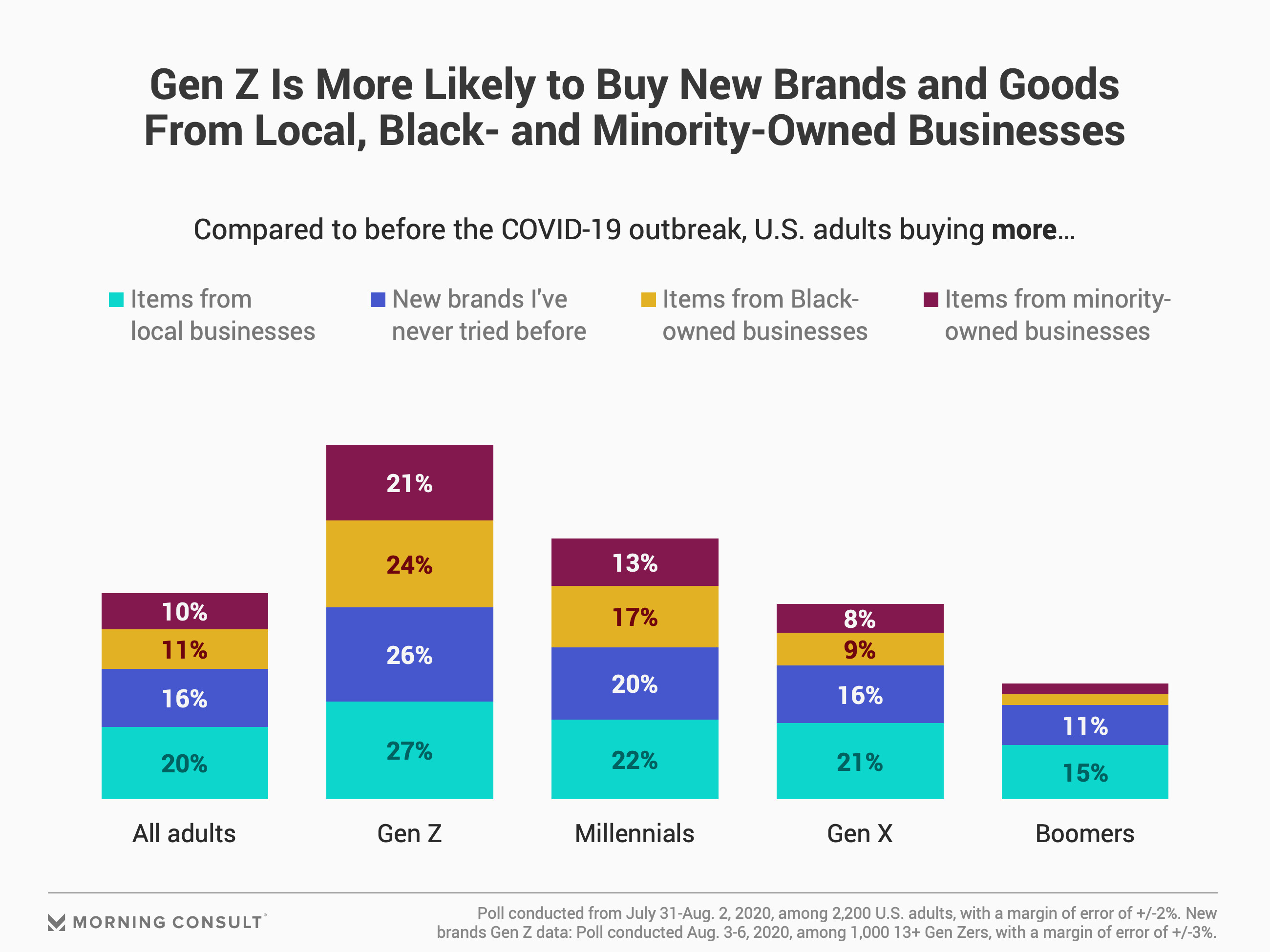 What's worked for brands in the past won't work with this generation of the future. Critical nuances in brand awareness, receptivity and attitudes define Gen Z, with clear implications for what today's brands should do to build long-lasting relationships that extend far past this pandemic and usher in a new era of brand-led business growth with Gen Z at the helm.
Published: August 26, 2020 | By: Victoria Sakal