What Sustainability Means to Consumers
A Brand's Guide to Consumer Attitudes, Behavior and Expectations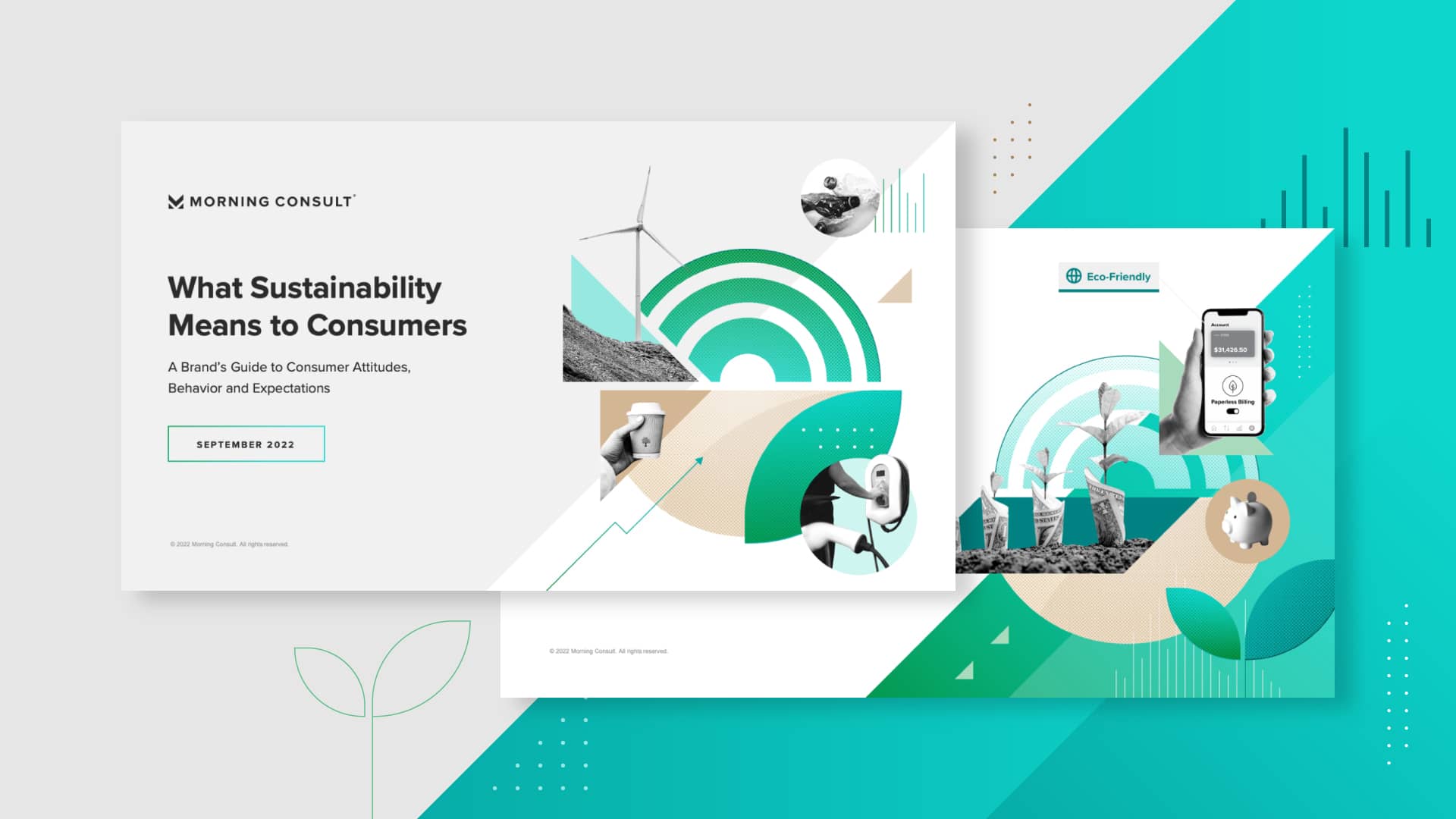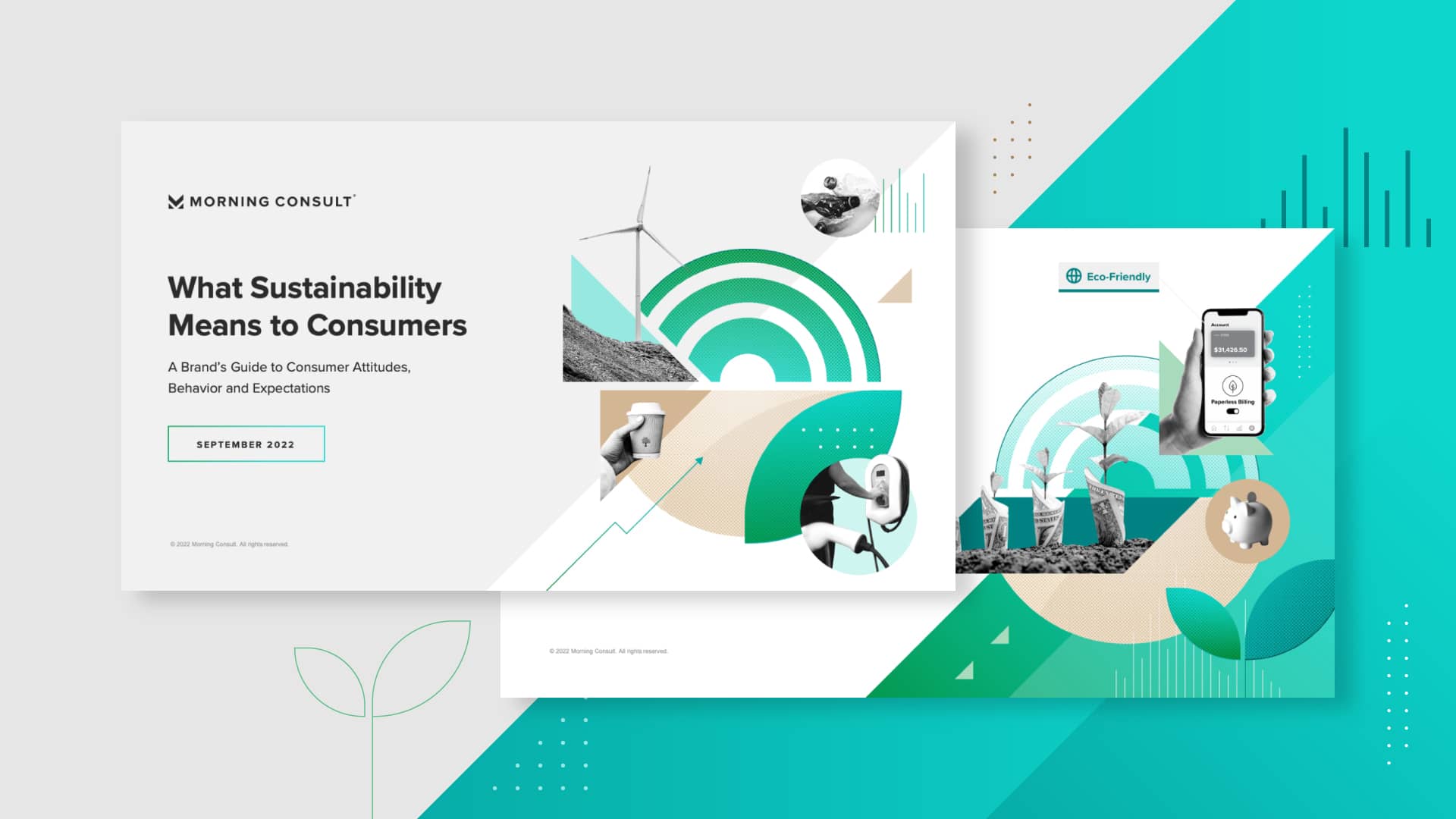 As the reality of climate change becomes more pronounced in our everyday lives, consumers are holding institutions more accountable —including corporations.
But when it comes to sustainability, there remain more questions than answers in understanding what sustainability means to consumers.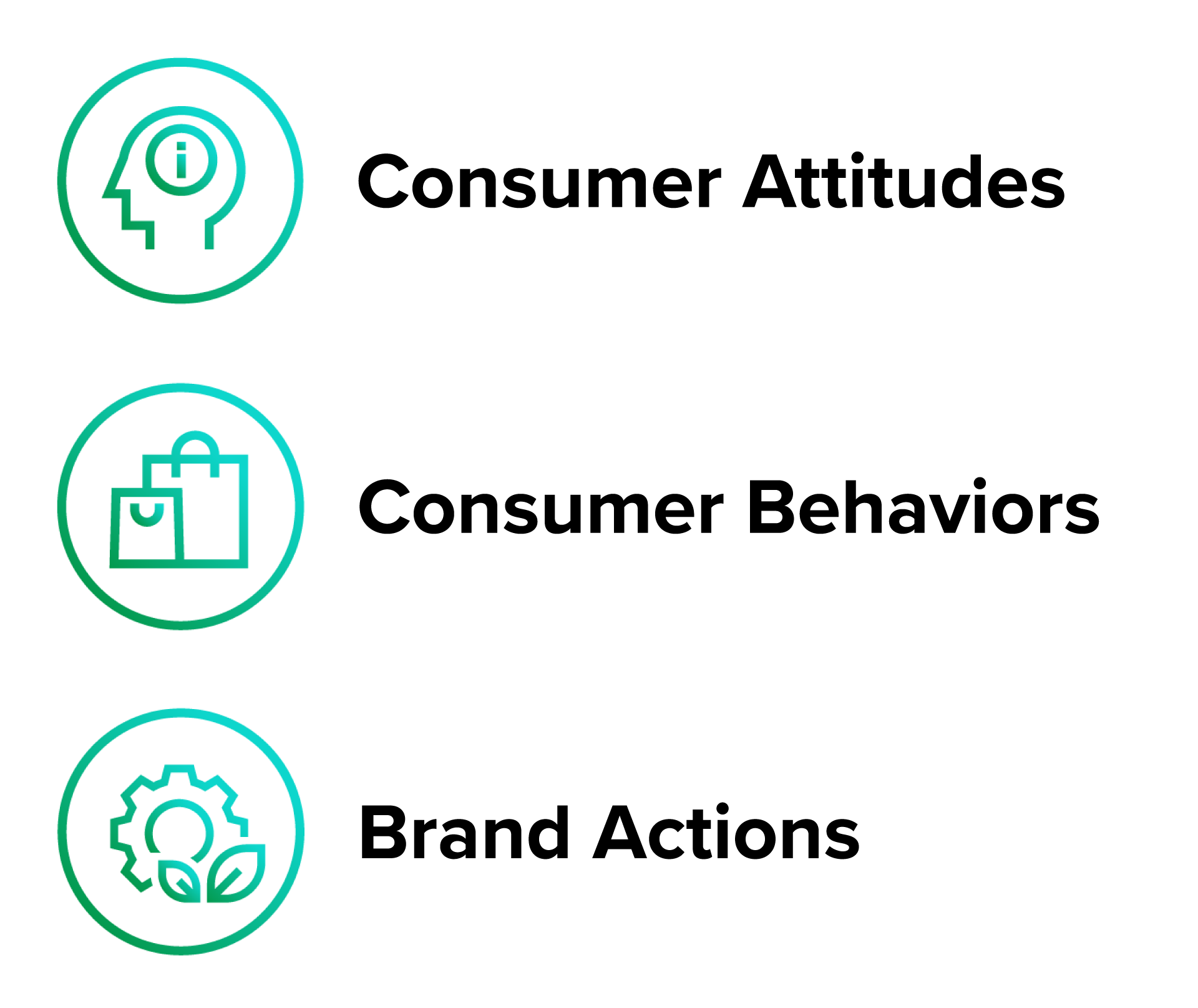 The report series "What Sustainability Means to Consumers" aims to answer questions about what consumers know about sustainability, what they're currently doing to curb their impact on the environment and what sustainability efforts they want to see out of their favorite brands. 
Our team of industry analysts tackles each of these questions from a sector-specific perspective, exploring consumer attitudes in financial services, food and beverage, media and entertainment, retail and ecommerce, tech, travel and hospitality. We also approach the topic of sustainability from an overall perspective.
In Morning Consult's commitment to driving leaders' decision-making, this report series exclusively debuted at the 2022 Clinton Global Initiative, which convenes global leaders to create and implement solutions to the world's most pressing challenges.
Below are a few of the key takeaways from that report.
Bulk of consumers believe they should share equal responsibility for sustainability with brands, but they are looking for companies to lead the way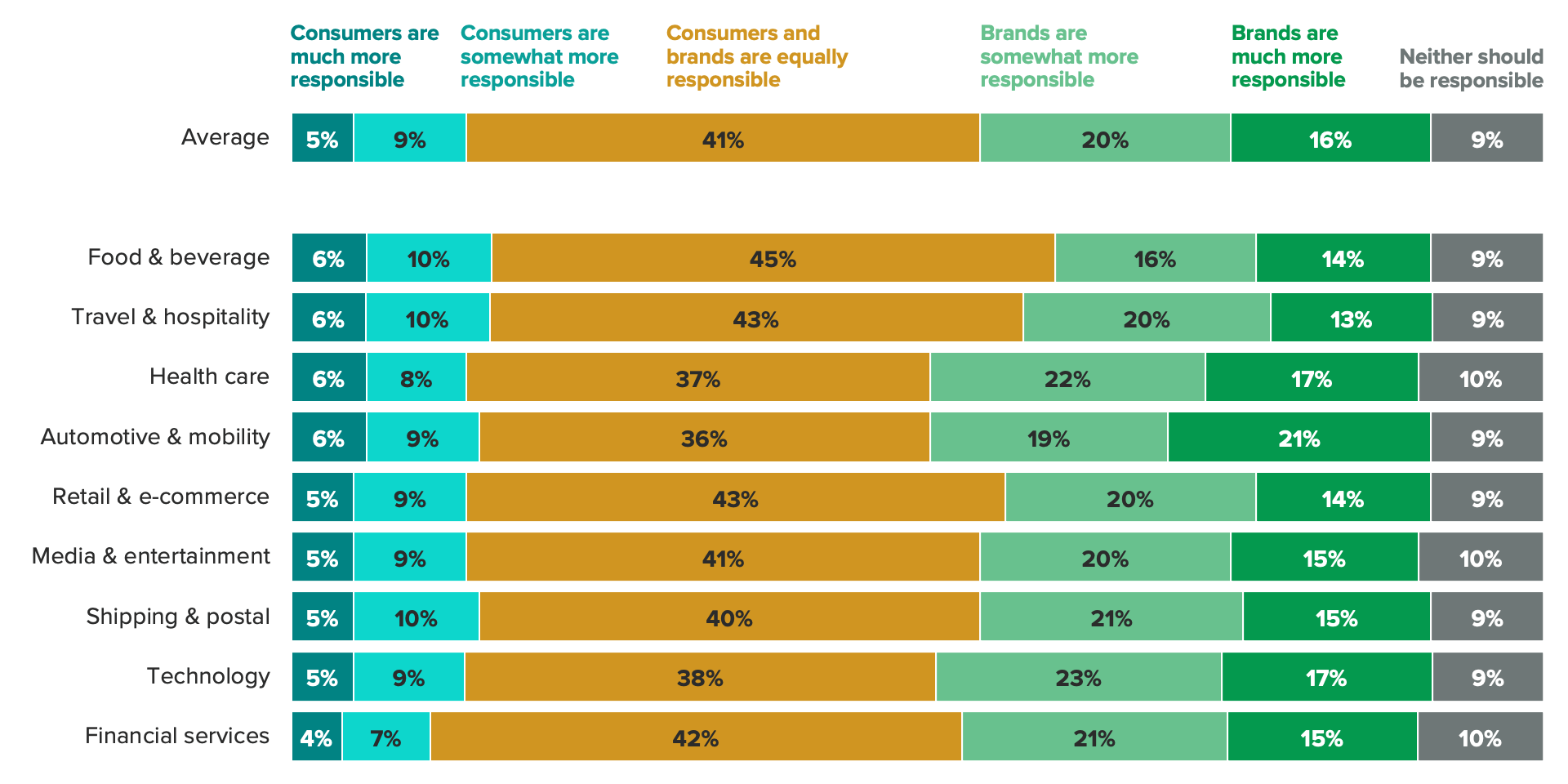 A plurality of U.S. adults believe consumers and brands should be

equally responsible for the sustainability of industries

, but they're looking for brands to take the lead.

About 1 in 10 consumers believe

neither companies nor consumers should be responsible

for the sustainability of industries. 

Consumers place the

strongest burden on companies in the auto & mobility industry

to ensure their industry is sustainable: More than 1 in 5 say companies in that sector are much more responsible.
How often consumers practice sustainable actions, and how that relates to their self-grading on sustainability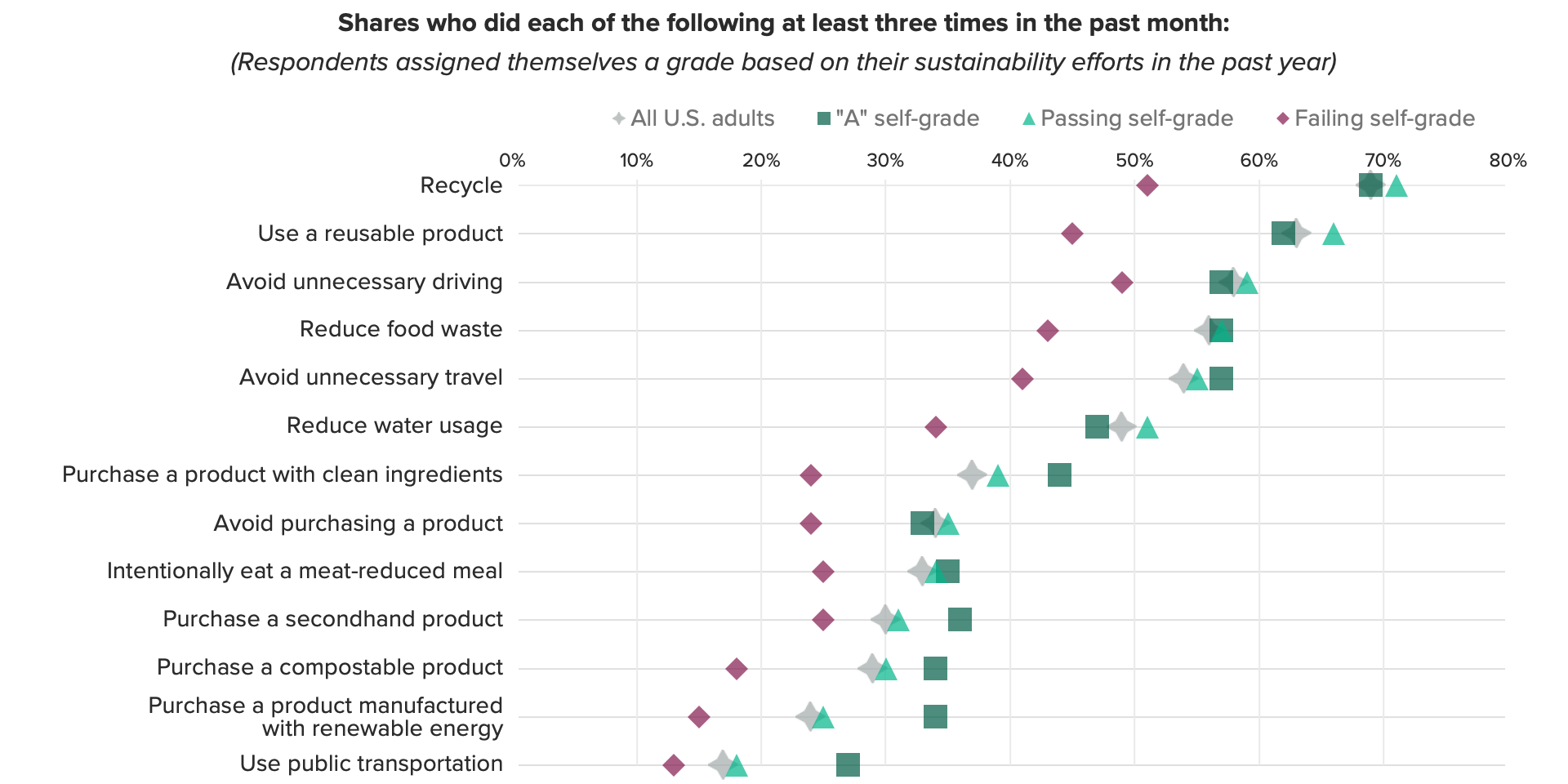 Recycling

is the most common sustainable action of the list we provided. Even half of those who gave themselves a failing grade do it at least three times per month.

Avoiding unnecessary travel

and

intentionally eating a meat-reduced diet

have the largest political divides: Democrats are 16 percentage points more likely than Republicans to do both activities.

The actions that the fewest share of consumers report doing — purchasing a product made with renewable energy and using public transportation — are also the activities with the biggest gaps from "A" self-graders.
Food & beverage has the most to gain from prioritizing sustainability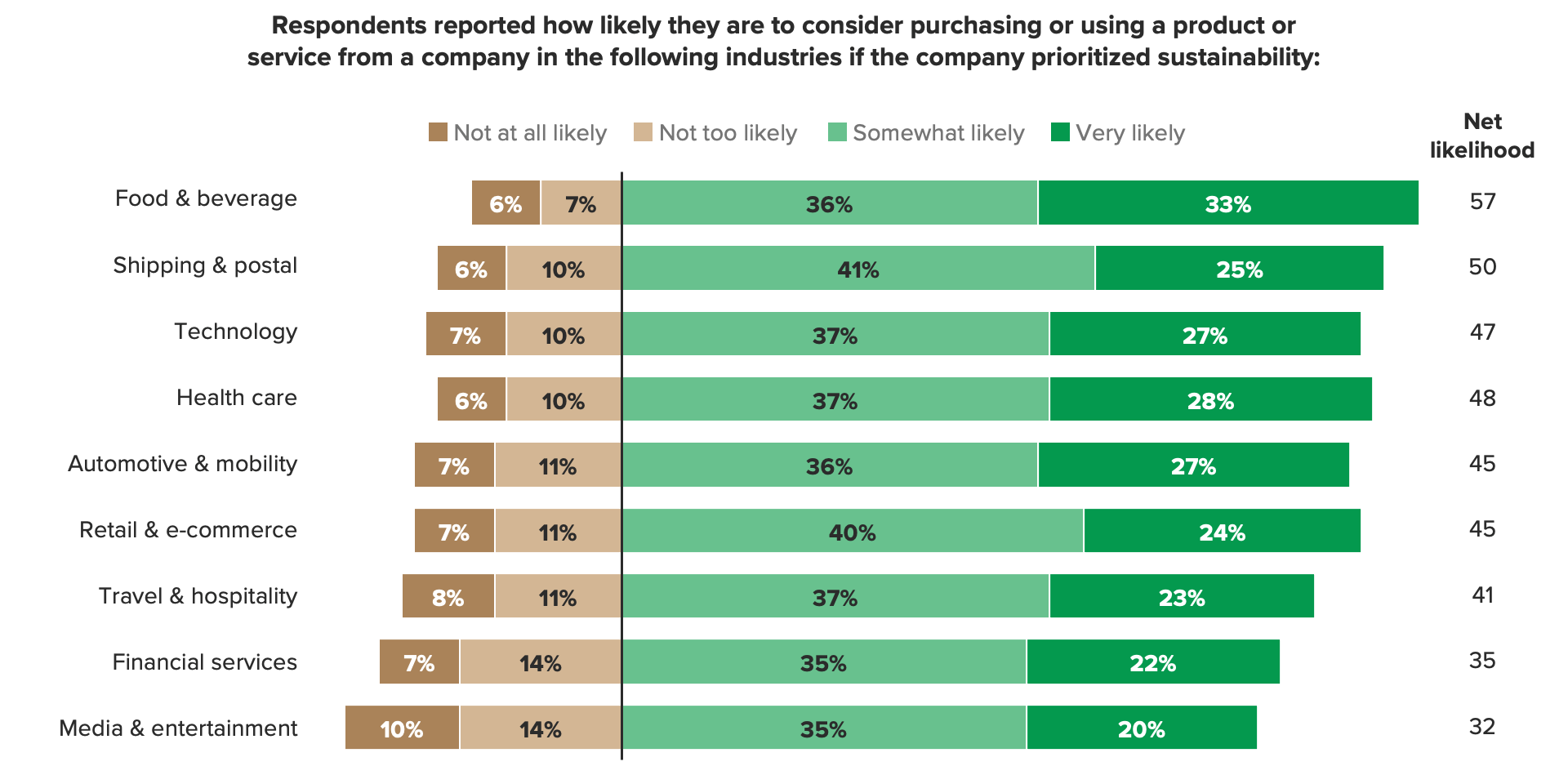 So how does this translate at the industry level?
Food & beverage companies have the most to gain in the eyes of consumers if they prioritize sustainability, while media & entertainment companies have the least. 

Similar to other research in this data set, Democrats and younger consumers, who tend to be more concerned about sustainability and climate change, were more likely to report an increase in purchase consideration if they felt that a company prioritizes sustainability. Although no prominent demographic reported a negative net likelihood, about 1 in 4 Republicans on average said they would be unlikely to consider purchasing from a brand that prioritizes such a cause. 

The main message here: Know your consumer base. Broadcasting your sustainability efforts will have different ROIs depending on the demographic makeup of your audience.
Methodology
This project draws from survey research conducted throughout June 2022 among a representative samples of 2,200 U.S. adults. The interviews were conducted online, and the data was weighted to approximate respective populations of adults based on gender, educational attainment, age, race and region. Topline results from the survey have an unweighted margin of error of +/-2 percentage points.