The United Scandal That Wasn't
Company fell in favorability after customer service scandal, but recovered less than six months later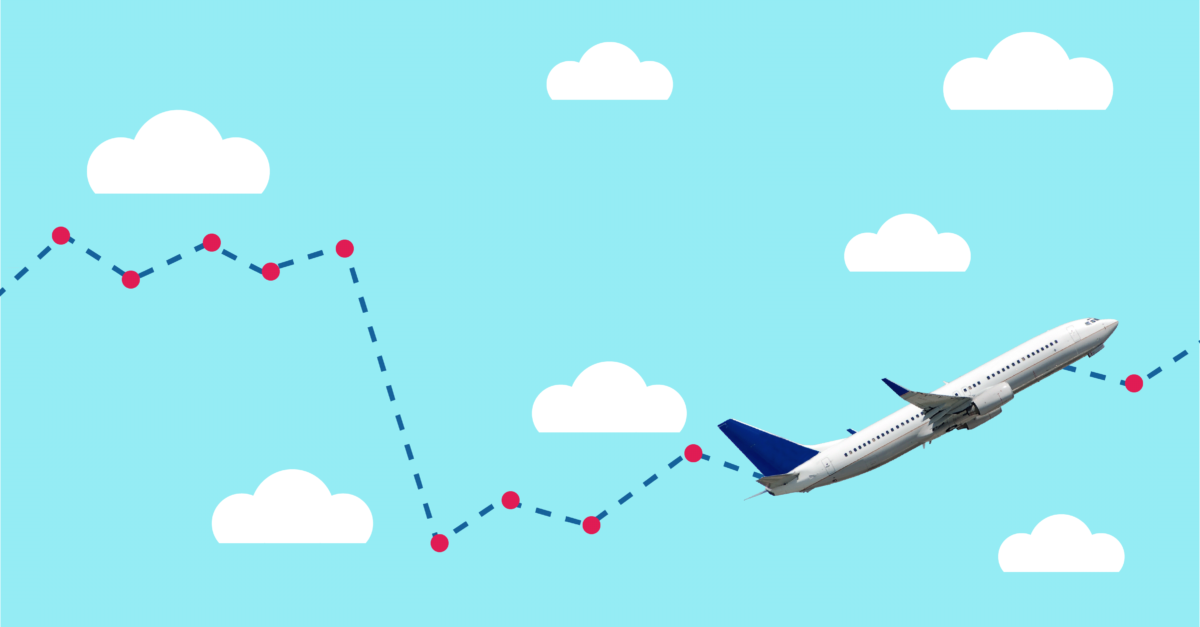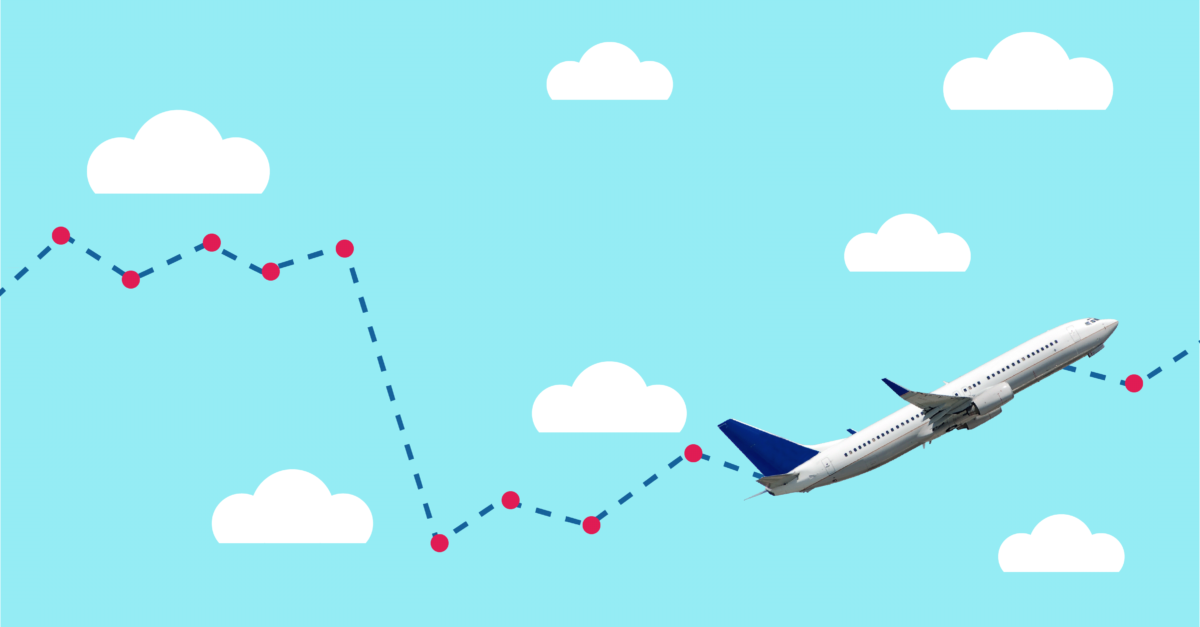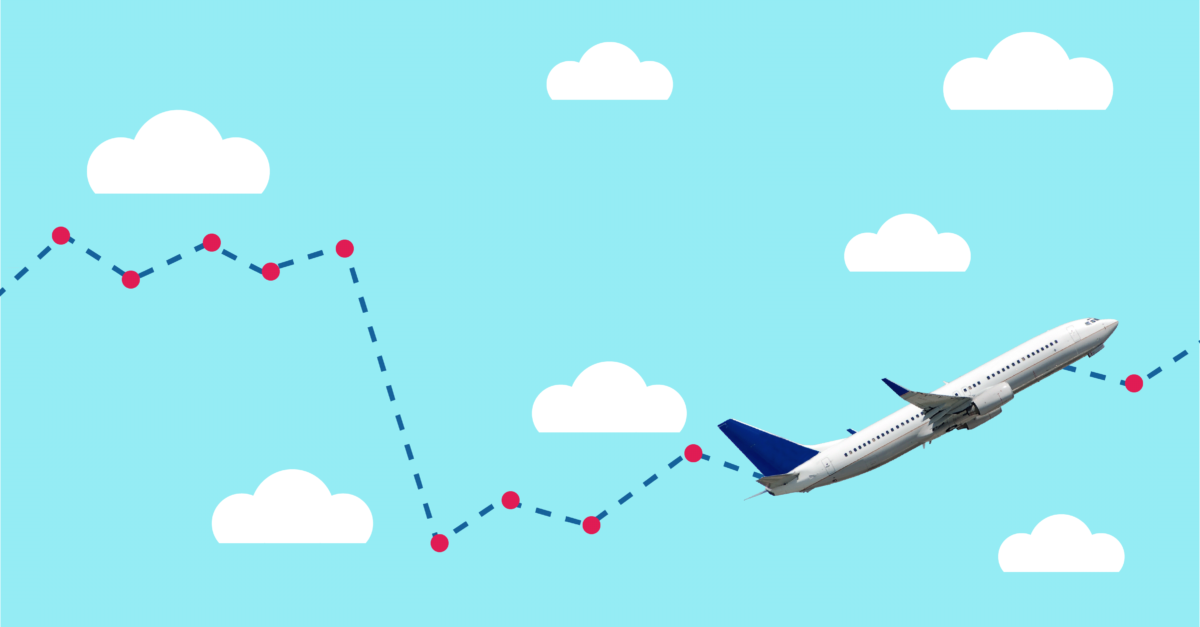 United Airlines saw its favorability drop from 57 percent to 35 percent in one week.

But the airline's favorability has stabilized as the year ends, with shares, financial health, and consumers' purchasing consideration largely unmoved by the scandal.
United Airlines faced what could be a brand's worst public nightmare this year — but consumers' short memories, and the airline industry's limited choices, made it no more than a temporary blip.
On April 9, a handful of shaky cell phone videos appeared online, showing a violent altercation between a passenger and security officers aboard a flight from United Continental Holdings Inc. The passenger, David Dao, had refused to give up his seat to airline employees on the fully booked flight.
The footage quickly went viral. In an interview with The Wall Street Journal, President Donald Trump called the video "horrible." An internal email leaked, in which United CEO Oscar Munoz defended staff and called Dao "disruptive and belligerent." United issued three separate apologies in four days, and in May the company was called to testify before the House Transportation Committee about customer service.
But despite United's initial botched response, the company did not suffer long-term in any measurable way.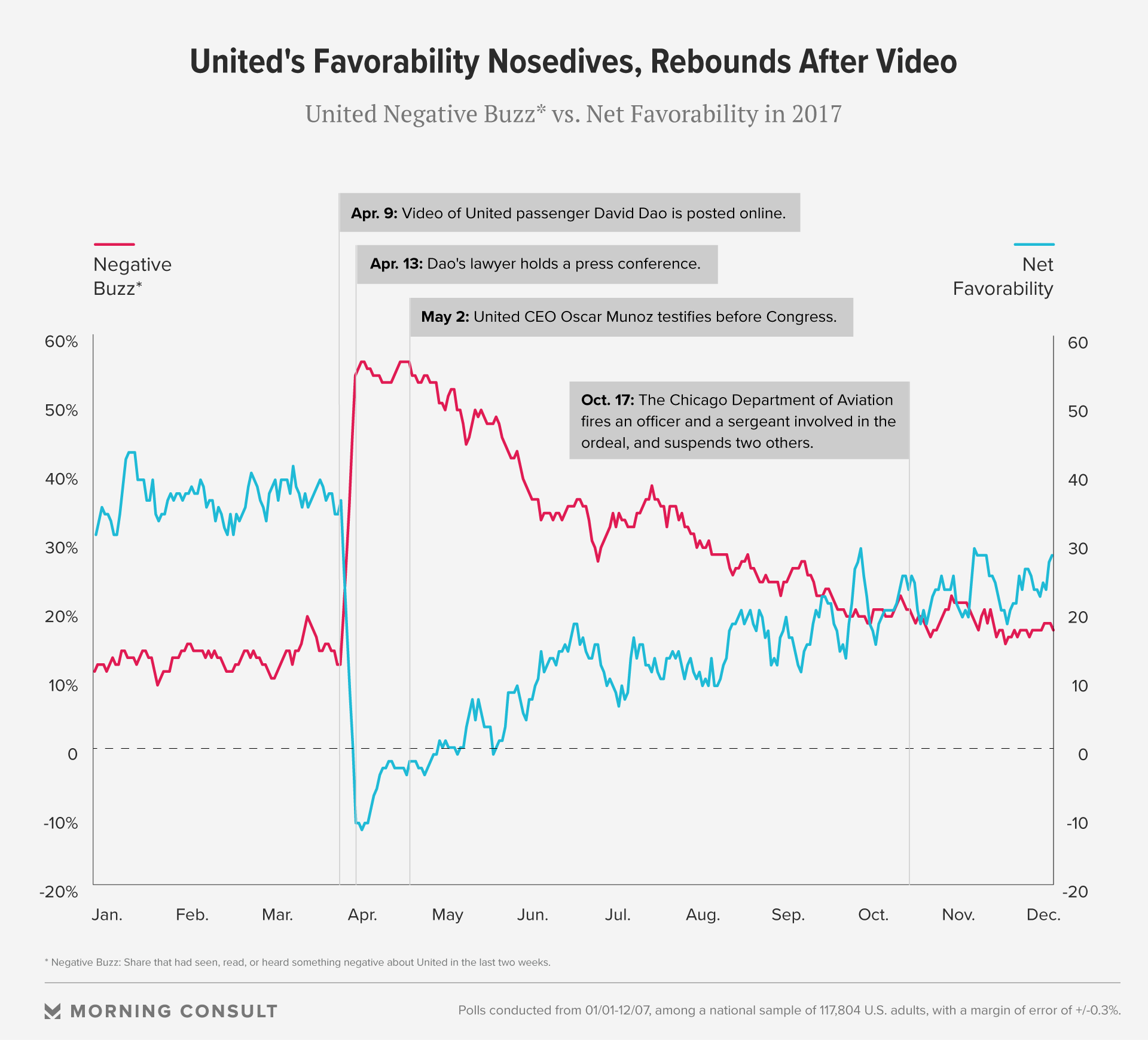 To be sure, United's favorability plummeted — at first. On April 9, Morning Consult Brand Intelligence gauged the airline's favorability at 57 percent. One week later, it was at 35 percent. Forty-seven percent of Americans viewed the company unfavorably.
The scandal was so hotly covered that, according to Morning Consult's Buzziest Brands, a majority of U.S. adults said the coverage they saw about United this year was negative — up until a month after the video was posted, or until roughly after the congressional hearing.
But then the negative buzz dissipated and the airline's favorability slowly crawled back up, returning to levels almost matching the beginning of the year: with roughly half (48 percent) viewing the company favorably and a higher percentage of respondents saying they heard positive news (20 percent) about the airline than those who said they heard negative news (17 percent).
Seth Kaplan, a managing partner of airline industry outlet Airline Weekly, has seen this pattern before: Something happens in the airline industry and then for two weeks it's all the world can talk about, he said in a Dec. 8 interview. But airlines have historically bounced back.
Industry experts credit the resilience to consumers' low customer service expectations, the industry's market monopolization and that great equalizer: price.
"The airlines — to some extent, here in the U.S. — are a necessary evil," Deb Gabor, CEO of brand consulting firm Sol Marketing, said in an interview Dec. 6.
Airlines own certain routes and hubs, she added, making it difficult — or at least very expensive — for people to fully boycott particular companies. That's compounded by airlines' undifferentiated status among consumers.
"You basically can't tell one airline experience from another," she said. Consumers no longer have the "one is as good as the next" mentality with airlines, she said, but rather, "one is as bad as the next."
United shares also saw no fallout from the Dao videos — in fact, they jumped more than 15 percent from $71 to $82 per share in the seven weeks after the incident. Kaplan credits this to two factors unrelated to the April event: falling fuel costs and rising unit revenues from United.
(United's stock later declined to as low as $57 per share due to a fare war with American Airlines Group Inc., Spirit Airlines Inc. and Frontier Airlines, he said.)
United's second-quarter earnings report in July showed the company's revenue hit $10 billion, a 6.4-percent increase from the same period a year earlier. Third-quarter financials reported in October were nearly as rosy, with revenues of $9.9 billion, in line with the prior year despite severe weather.
Morning Consult Brand Intelligence showed the percent of people who said they'd purchase from United dropped from 33 percent the day of the incident to a low of 19 percent over two months, but the airline's numbers started to level out in June and have hovered around one-third for the remainder of the year.
As far as purchasing behavior, consumers said they were less likely to buy from United for about two months, according to Morning Consult Brand Intelligence.
A separate Morning Consult poll, which put a hypothetical price tag on flights, suggests that, scandals aside, consumers think more with their wallets than their hearts.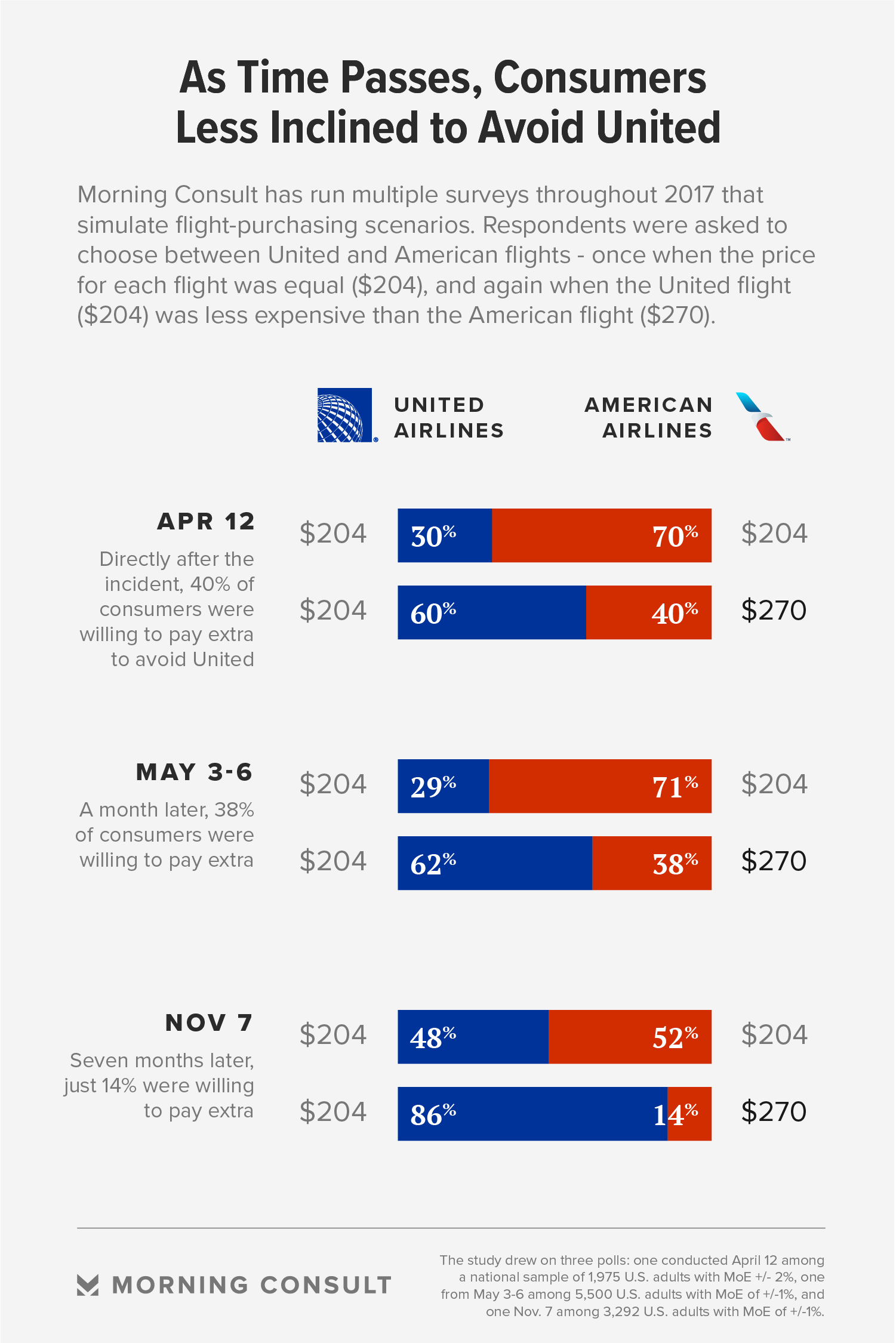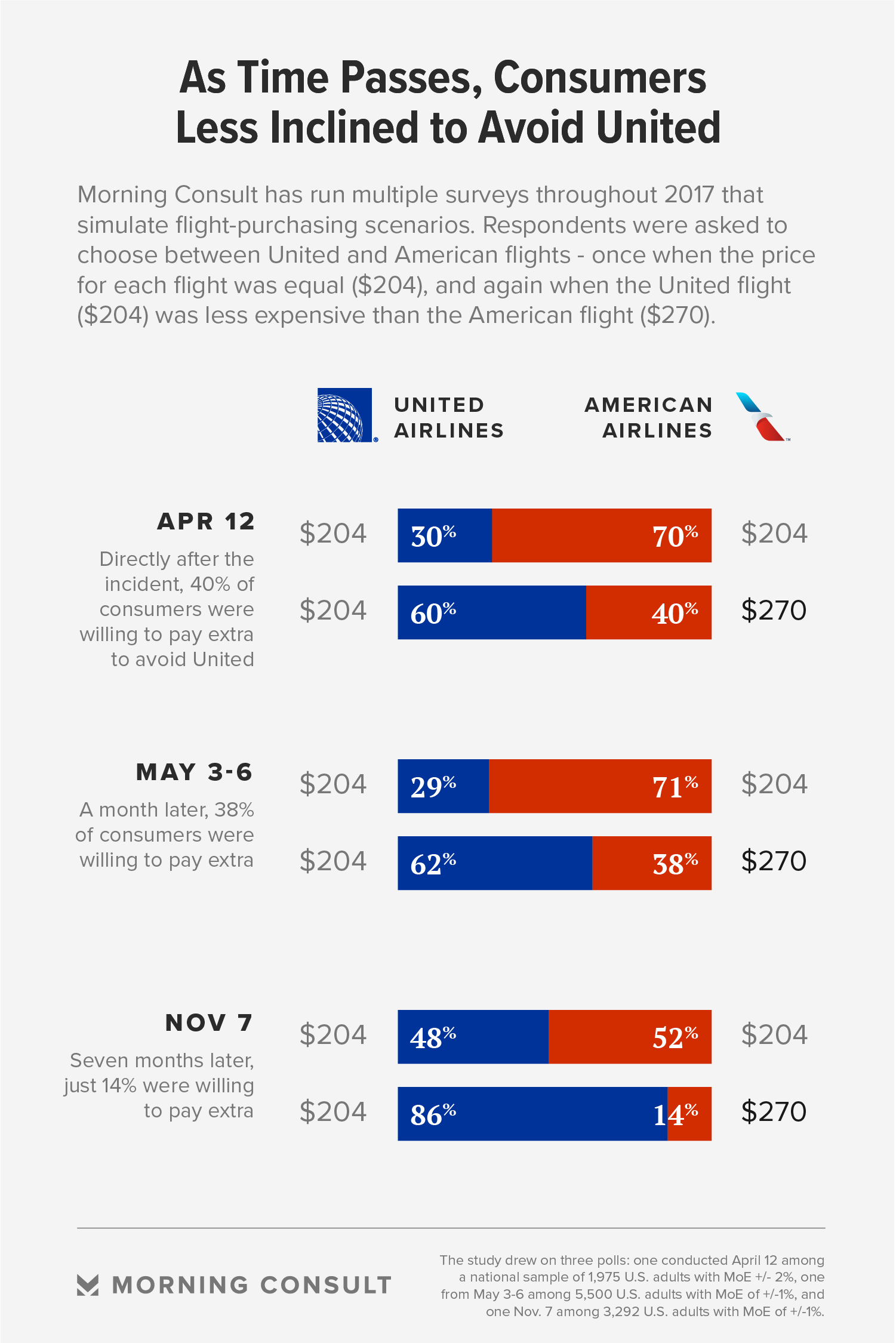 According to the April 12 poll of 1,975 U.S. adults, at the height of the scandal, people were more than twice as likely to purchase an American Airlines flight ticket (70 percent) over a United flight ticket (30 percent) when the airfares were the same price.
But when the price of the American flight jumped $66, attitudes flipped. Most respondents were more likely to purchase a ticket for the cheaper United flight (60 percent) than the more expensive non-United flight (40 percent).
And a poll of 3,292 Americans months later shows the United scandal basically flew out of people's minds. In the survey from Nov. 7, consumers were about as likely to purchase a ticket for the American flight as the United flight (52 percent versus 48 percent, just above the poll's 2 percentage point margin of error).
When the American flight jumped in price, 86 percent of adults were more likely to choose the cheaper United flight.
"People book on price and schedule," Kaplan said — and they don't necessarily believe what happened to Dao would happen to them.
Separate polling backs up the theory that scandals fade from memory. Back in April, 67 percent of respondents said they had heard about United in the news recently, but in a Dec. 11-12 poll of 2,039 U.S. adults, 33 percent could accurately name United as the airline connected to the Dao controversy.
Aside from price, experts said consumers care more about things like delayed flights and lost baggage than they do about scandals on social media.
United is largely unremarkable when it comes to on-time flights, mishandled baggage and consumer complaints, according to the U.S. Department of Transportation's latest Air Travel Consumer Report, falling somewhere in the middle of the pack among all airlines for each category.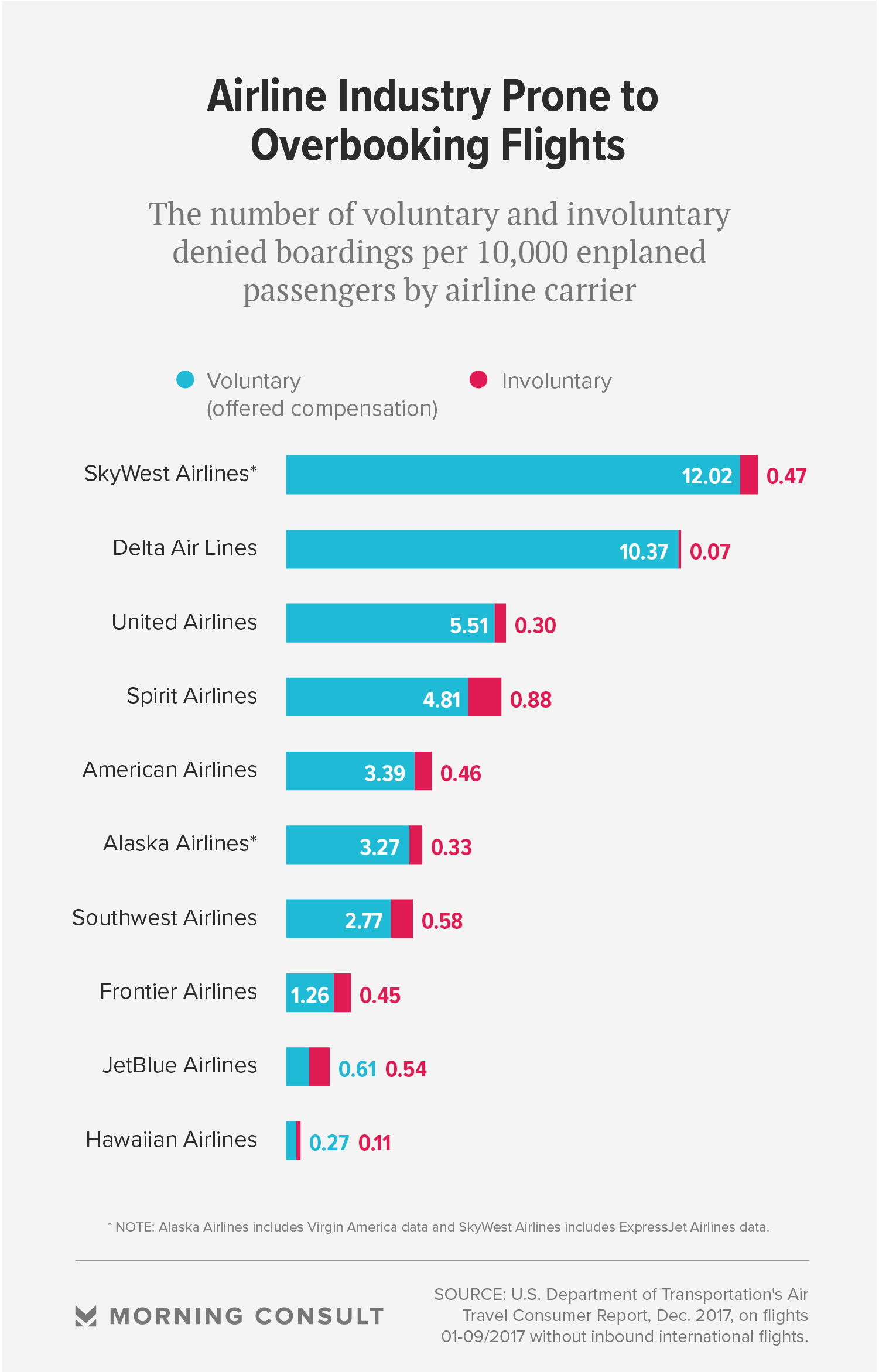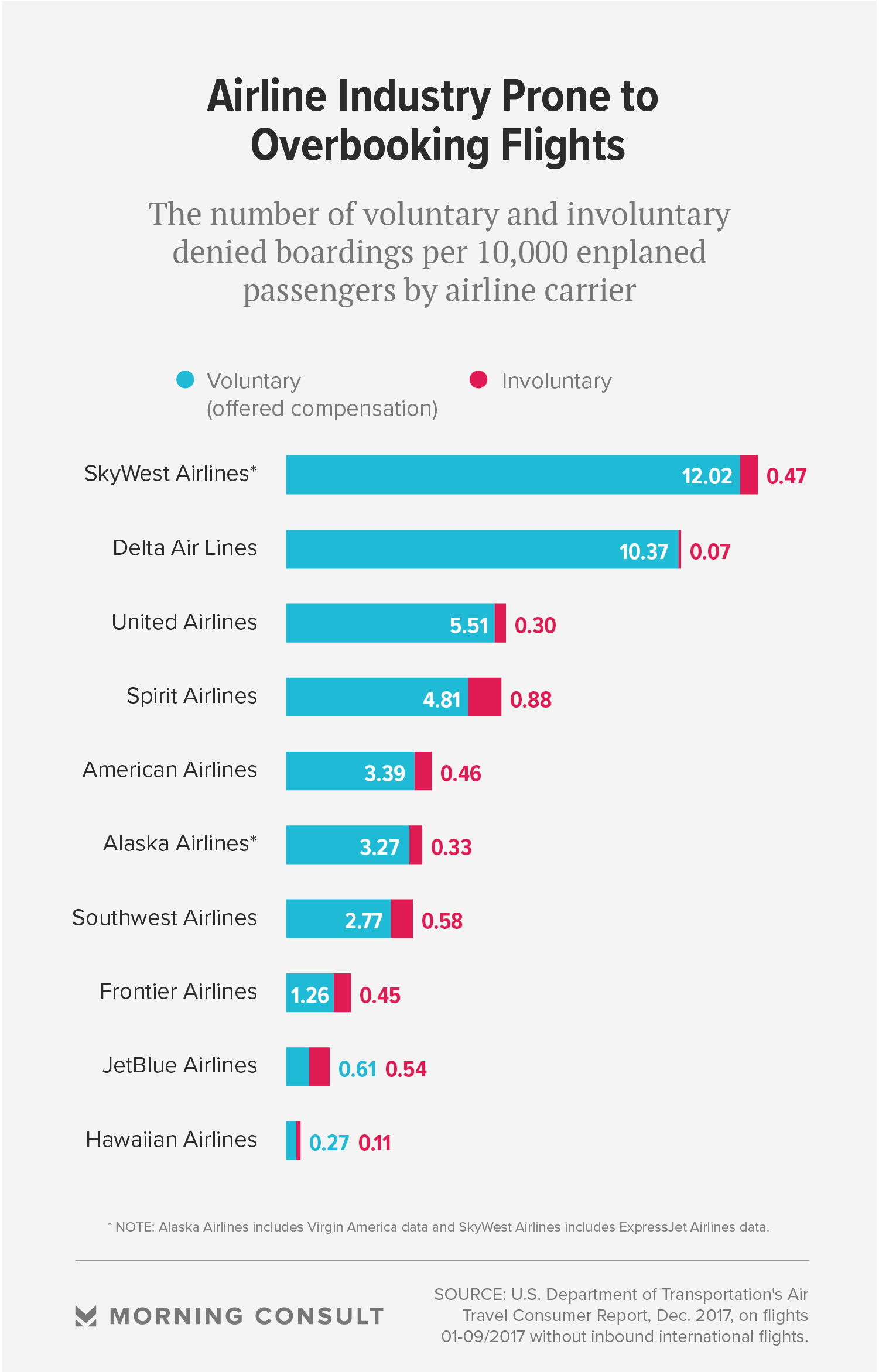 The airline has fairly low involuntary denied boardings, as happened with Dao: Just over 2,000 of its more than 70 million enplaned passengers from January through September of this year were denied boarding without compensation and without posing a health, safety or security risk, a rate of 0.3 percent.
But United is relatively high in "oversales" overall — when ticketed passengers are denied boarding because the flight is oversold but offered compensation to do so — falling just behind SkyWest Inc. and Delta Air Lines Inc.
Kaplan said compared to other industries, the airline industry is prone to more visible issues with customer service.
"When people have a bad experience with their cable company, they have that experience by themselves in their living room. Whereas when you have a bad experience with an airline, they are in a gate area or onboard an aircraft with lots of other people, who first of all can be filming it," he said. "And they can kind of whip each other into a frenzy."
In an emailed statement Dec. 8, United told Morning Consult the company's "initial words fell short of truly expressing what we were feeling, and that's something that we learned from," adding that it was trying to becoming more customer-focused.
"The way it always is in the airline industry is: They won't make that mistake again," said Kaplan. "But we're talking about companies that have 100,000 employees — so they'll make other mistakes."