Political Intelligence | The 2020 U.S. Presidential Election
Biden Holds Eight-Point Lead Over Trump Nationally
Last Updated: Tuesday, August 11, 2020
With 4,000 daily interviews among likely voters, Morning Consult Political Intelligence offers a granular, real-time look at how the 2020 U.S. election is shaping up. Each week, we will update this page with a high-level look at that data. To get full access to Morning Consult Political Intelligence, contact us below.

Presidential Election National Trends
Respondents are asked "If the November 2020 presidential election were being held today, for whom would you vote?" Each data point reflects a 3-day moving average among around 12,000 likely voters.
Joe Biden
Donald Trump
Someone Else
Don't Know / No Opinion
Latest Insights
Biden doesn't repel voters like Clinton did in 2016, and that's a problem for Trump
Thirty-five percent of voters view Biden very unfavorably, compared with 43 percent who said the same of Democrat Hillary Clinton in August 2016. The starkest difference in view came among independents: 31 percent said they had a "very unfavorable" view of Biden, while 51 percent viewed Clinton very unfavorably around the same time four years ago. Read More
Republicans lead Senate races in Alabama, Kentucky and Texas, with South Carolina tied
Democrats enter the peak of the campaign season with advantages that make their path to regaining control of the Senate easier to envision alongside a Joe Biden victory, but new polling suggests that even a rout at the top of the ticket is unlikely to result in a filibuster-proof majority for the left in 2021. Senate Republicans are outperforming their Democratic rivals in Kentucky and Texas, while the chamber's most vulnerable Democrat, Sen. Doug Jones of Alabama, trails his Republican challenger Tommy Tuberville by double digits. Read More
Extensive new battleground polling shows Biden gaining ground
The president has seen his lead evaporate in certain must-win states, such as Florida and Texas, and he doesn't hold a lead outside the margin of error in any of the 12 states included in this release. The polling also finds Biden has an outright advantage in four states Trump won in 2016: Arizona, Michigan, Pennsylvania, and Wisconsin. Read More
Request Access
Introducing: Morning Consult Political Intelligence
Morning Consult's newest data intelligence product features daily polling data on on elected officials, critical elections and top issues at the national, state and congressional levels. Be one of the first to get access to this new platform.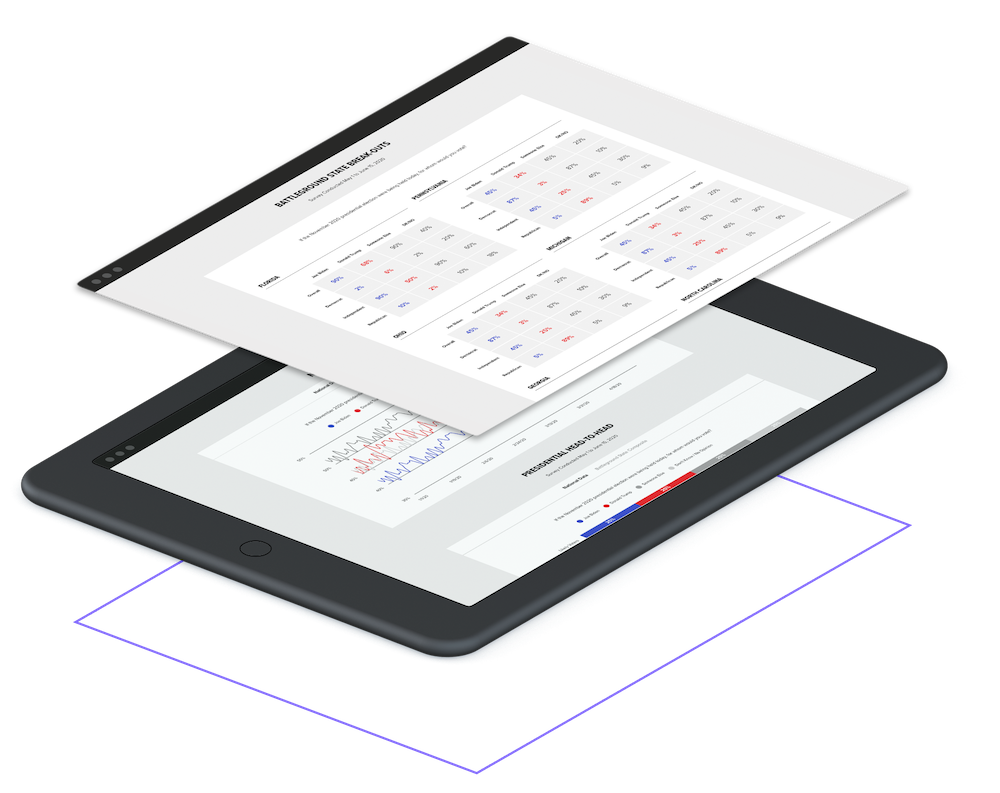 Methodology
Political Intelligence is Morning Consult's proprietary platform that provides real-time polling data on political elections, elected officials and voting issues.
The latest results reflect surveys conducted with 11,967 likely voters from August 3 – 9, 2020. Morning Consult's reported results reflect data among likely voters based on a 3-day moving average with a margin of error of +/- 1%. Morning Consult conducts daily interviews with a representative sample of around 4,000 likely voters in the United States via stratified sampling based on age, gender, and language (English/Spanish). This daily sample is weighted based on age, education, ethnicity, gender, geographic region, home ownership, marital status and 2016 presidential vote history. 
Learn more about Political Intelligence here.