UPDATED: DEC 16, 2021
The U.S. Vaccine Dashboard
An in-depth look at the U.S. vaccine rollout, powered by over 40,000 weekly surveys
Survey respondents are asked, "Have you gotten the vaccine, or not?" They can reply "Yes," "No, but I will get it in the future," "No, and I am not sure if I will get it in the future," or "No, and I do not plan to get it."
Morning Consult is conducting around 40,000 weekly survey interviews in the United States on the vaccine rollout, providing deep insights at a granular level into which segments of the population are most and least opposed to vaccinations, and what factors are driving skepticism. The latest data is based on surveys conducted from December 7-13, 2021, among 47,315 U.S. adults, with a margin of error of 1 percentage point. Updates will be provided monthly. Get alerts with the latest data. 
View our global vaccine tracker.
Demographic tracking: The most recent data shows that 27% of Republicans do not plan on getting vaccinated, the highest level of any major demographic group. Older Americans, Democrats and more well-educated adults are less likely to oppose getting vaccinated.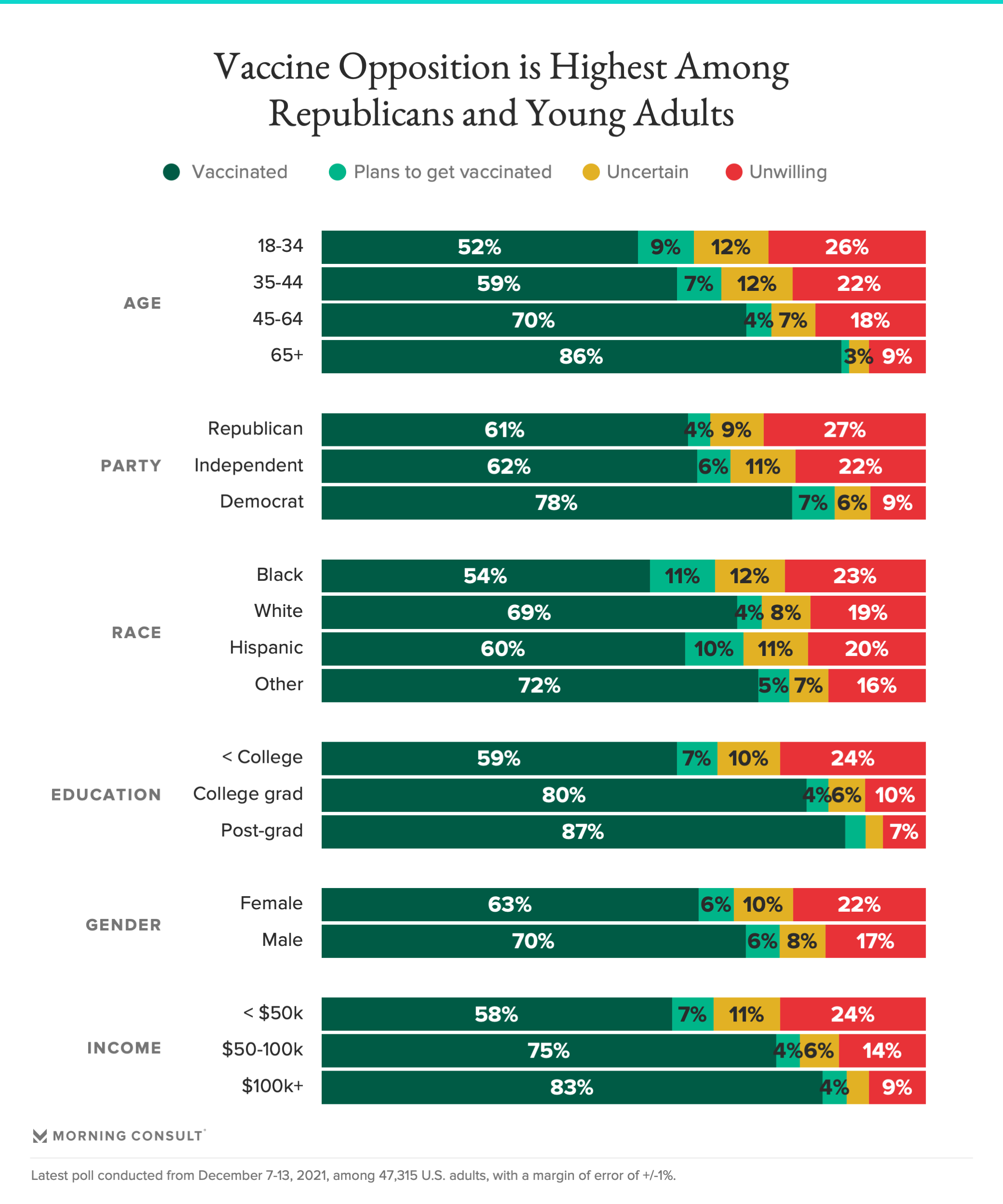 Rates of Vaccine Opposition by State
The share of adults in each state who say they do not plan on getting vaccinated: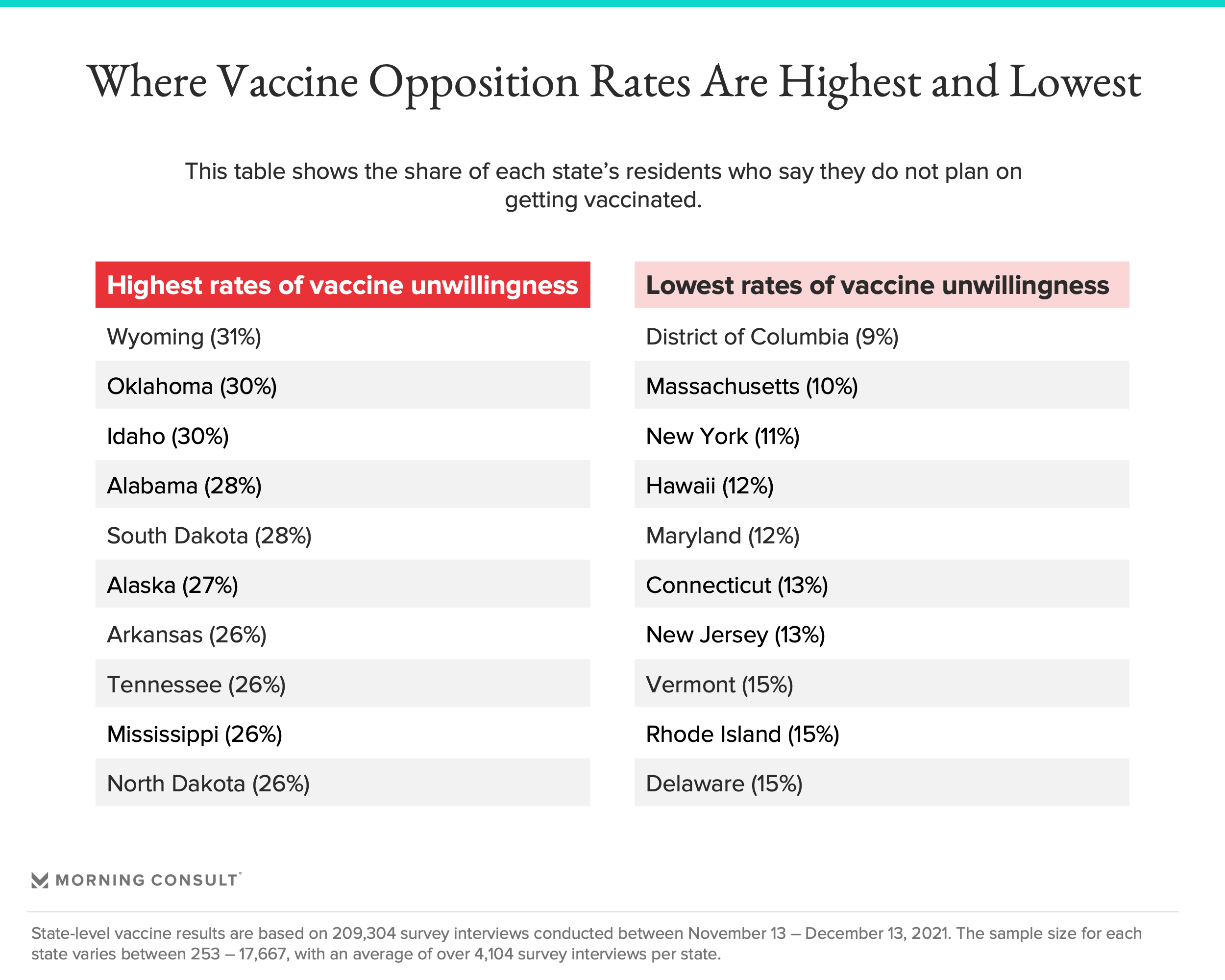 Gauging vaccine skepticism: Since Morning Consult began tracking in mid-March, the share of total vaccine skeptics (uncertain plus unwilling) has dropped from 39% to 27% of the adult population.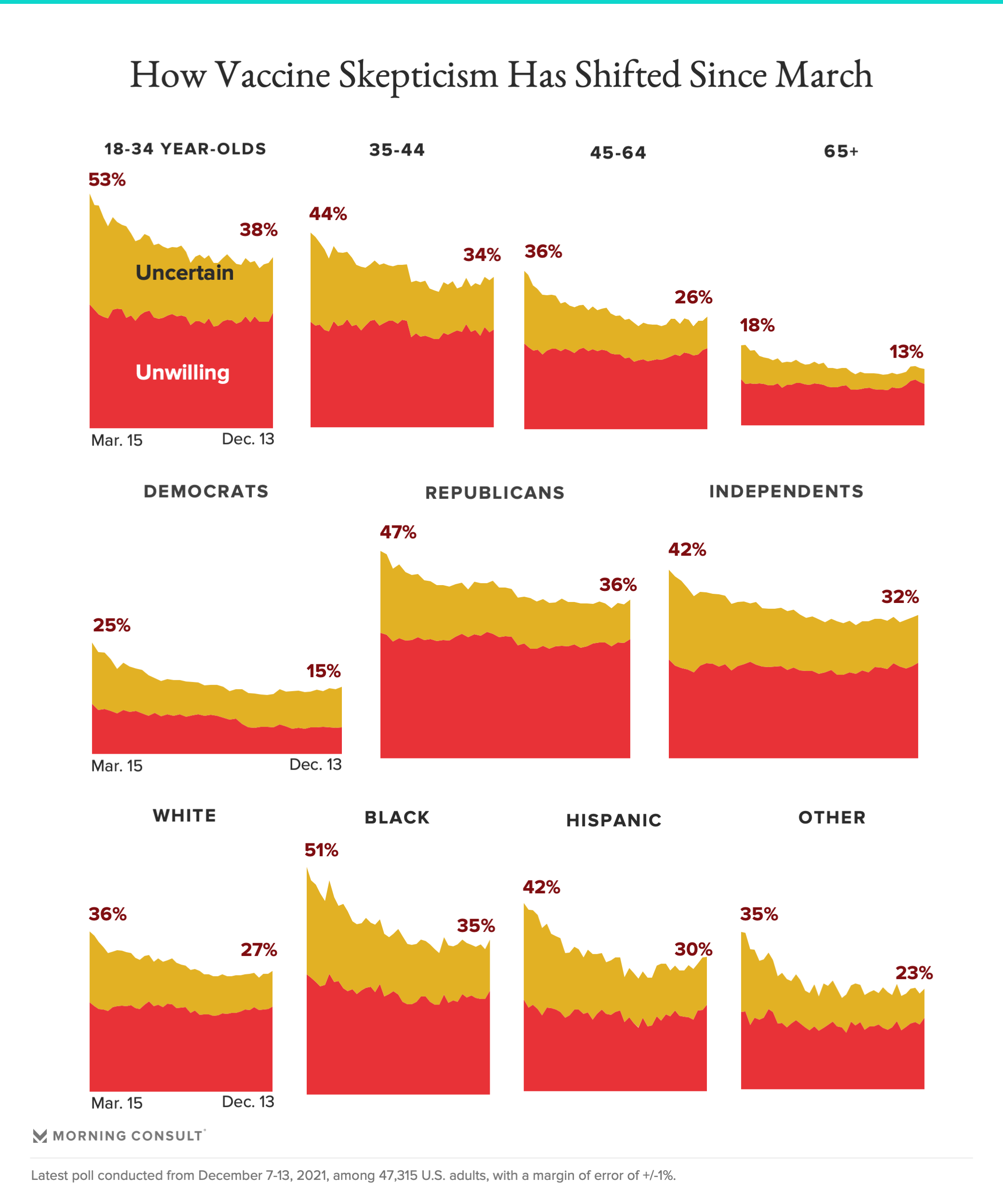 Drilling down into what's driving skepticism, those who are uncertain tend to be more likely to cite side effects and sped-up approval processes, while those who are unwilling are more likely to say they don't trust the manufacturers or vaccines in general.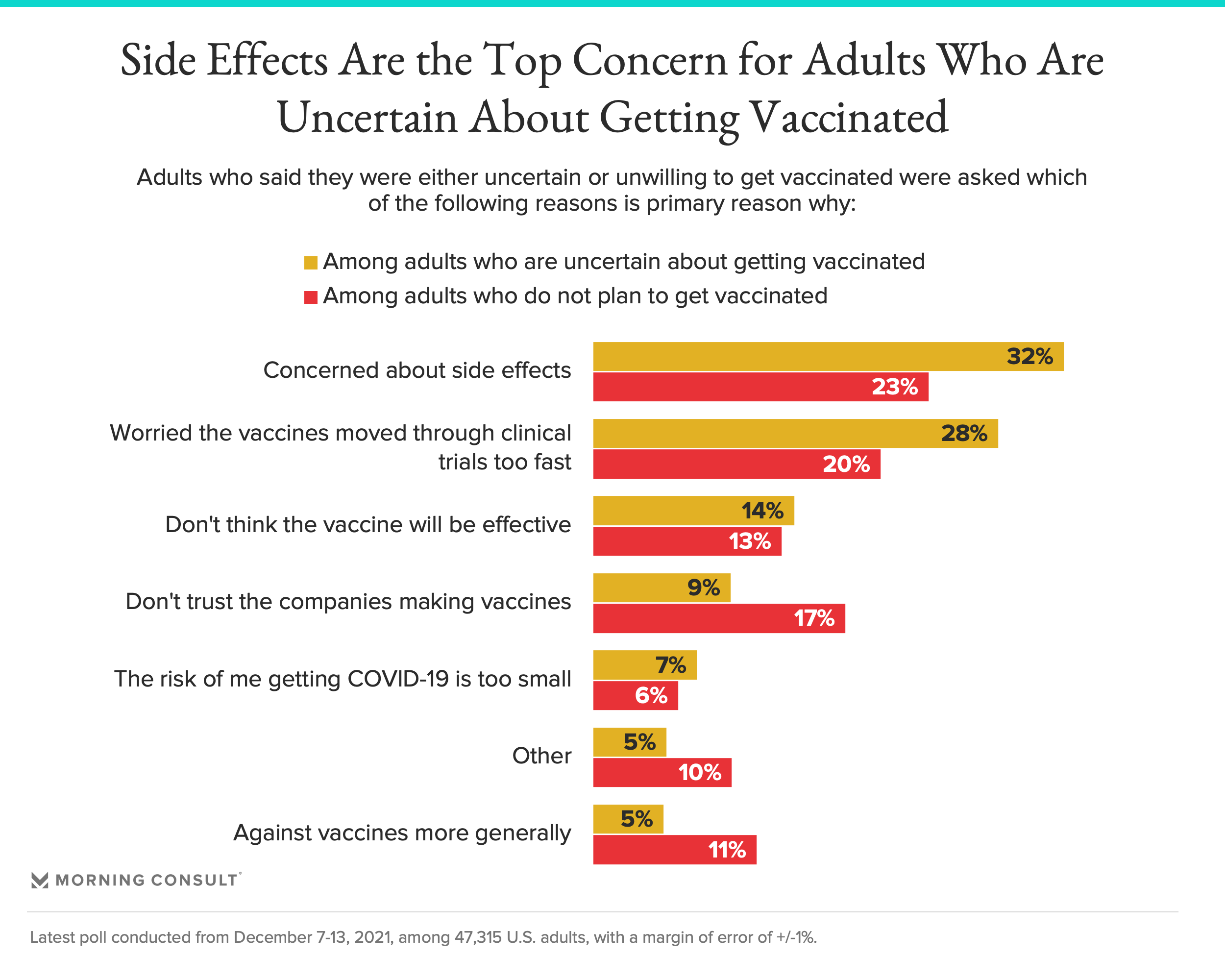 Although concern about side effects remains the top reason for vaccine uncertainty, 14% of uncertain Americans now cite concern the vaccines won't be effective as the primary cause of their reticence. That share is up 8 points since tracking began in mid-March.
Concern About Vaccine Efficacy is Increasingly Driving Uncertainty
U.S. adults who said they were uncertain whether they will get vaccinated were asked, "Which of the following best describes why you are not sure if you will get the COVID-19 vaccine?"
Methodology
Morning Consult conducts daily interviews with over 6,000 respondents in the United States. The interviews are conducted online through multiple nationally recognized vendors. Morning Consult uses a stratified sampling process based on age and gender to reach a broad, nationally representative audience in each country. Daily responses are weighted to approximate a representative sample of adults based on U.S. census data.
The weighting methodology for national data considers a range of demographic characteristics, including age, race/ethnicity, gender, educational attainment, and region. State-level results were weighted separately to be representative of age, gender, race/ethnicity, education, home ownership and population density.