Gervais Derided Politics at Golden Globes. Plurality Says It Was 'Just Political Enough'
Most watchers said Gervais did a good job hosting this year's show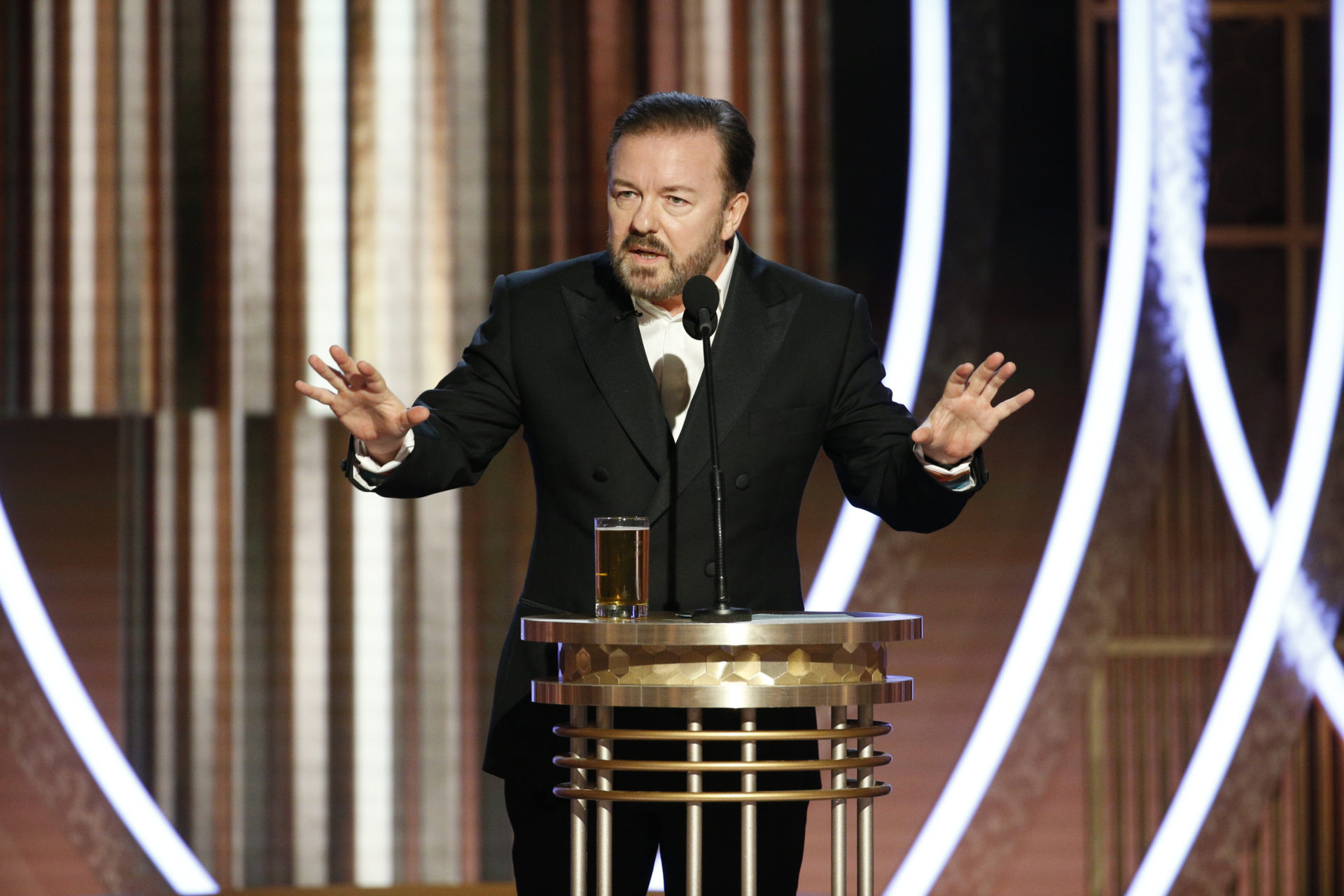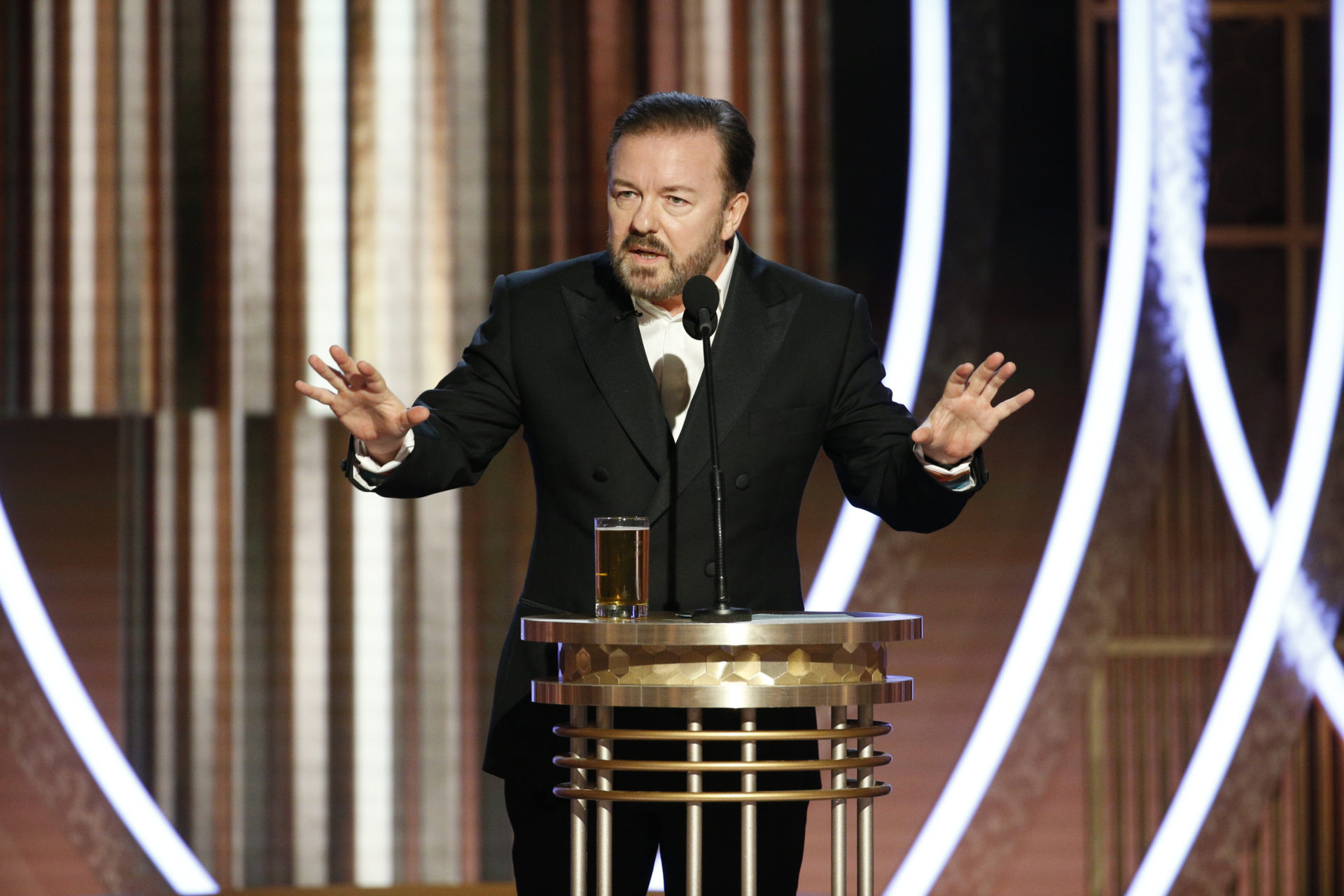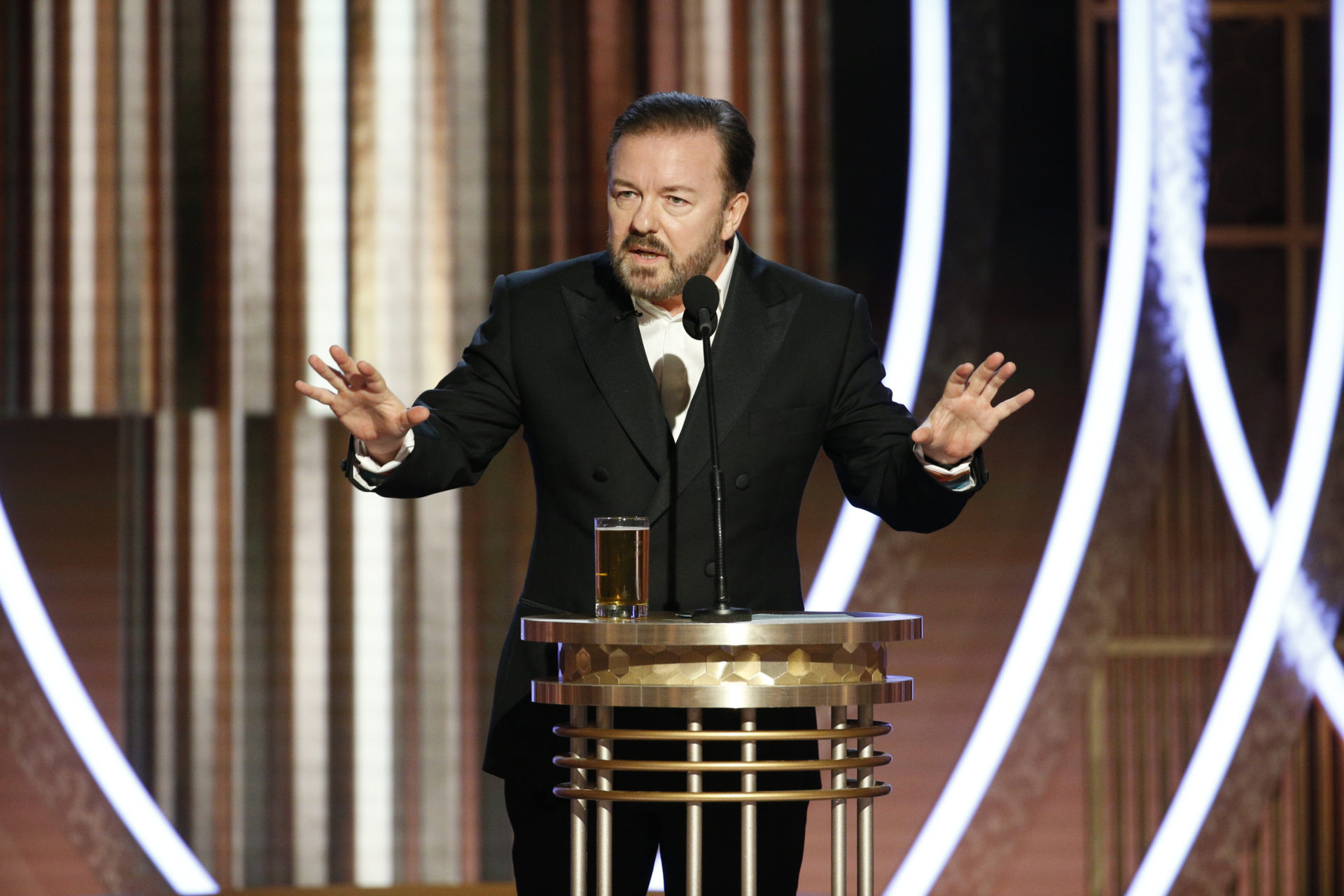 37% of U.S. adults said they watched at least part of the Golden Globes in some form.

64% of those who watched said host Ricky Gervais did an excellent or good job.

And 44% found the telecast to be just political enough, compared to 19% who thought it was too political.
Golden Globes host Ricky Gervais' biting monologue was not the only moment from the awards show that had people talking, with politically focused speeches from Michelle Williams and Patricia Arquette drawing attention. But despite Gervais' warning about political content, new polling shows that more than 4 in 10 viewers who watched the Golden Globes in some form found the event to be just political enough. 
Viewership for the Golden Globes telecast hit an eight-year low of 18.3 million viewers this year, down 2 percent from the 2019 show, according to Variety. A Jan. 6-7 Morning Consult/The Hollywood Reporter poll found that 63 percent did not watch the show at all, while 37 percent of the 2,038 U.S. adults surveyed watched at least some of the live broadcast of the telecast or watched clips and media coverage.
Five-time host Gervais warned the nominees in his opening monologue not to use their wins as a platform to talk about politics, telling them they were "in no position to lecture the public about anything." But some stars didn't listen.
Michelle Williams, who won for her role in the FX miniseries "Fosse/Verdon," used her acceptance speech to call attention to abortion rights and encouraged women to vote, saying "when it is time to vote, please do so in your own self-interest." Patricia Arquette, who won for her role in Hulu's "The Act," also tackled voting, telling the audience "to beg and plead for everyone we know to vote in 2020."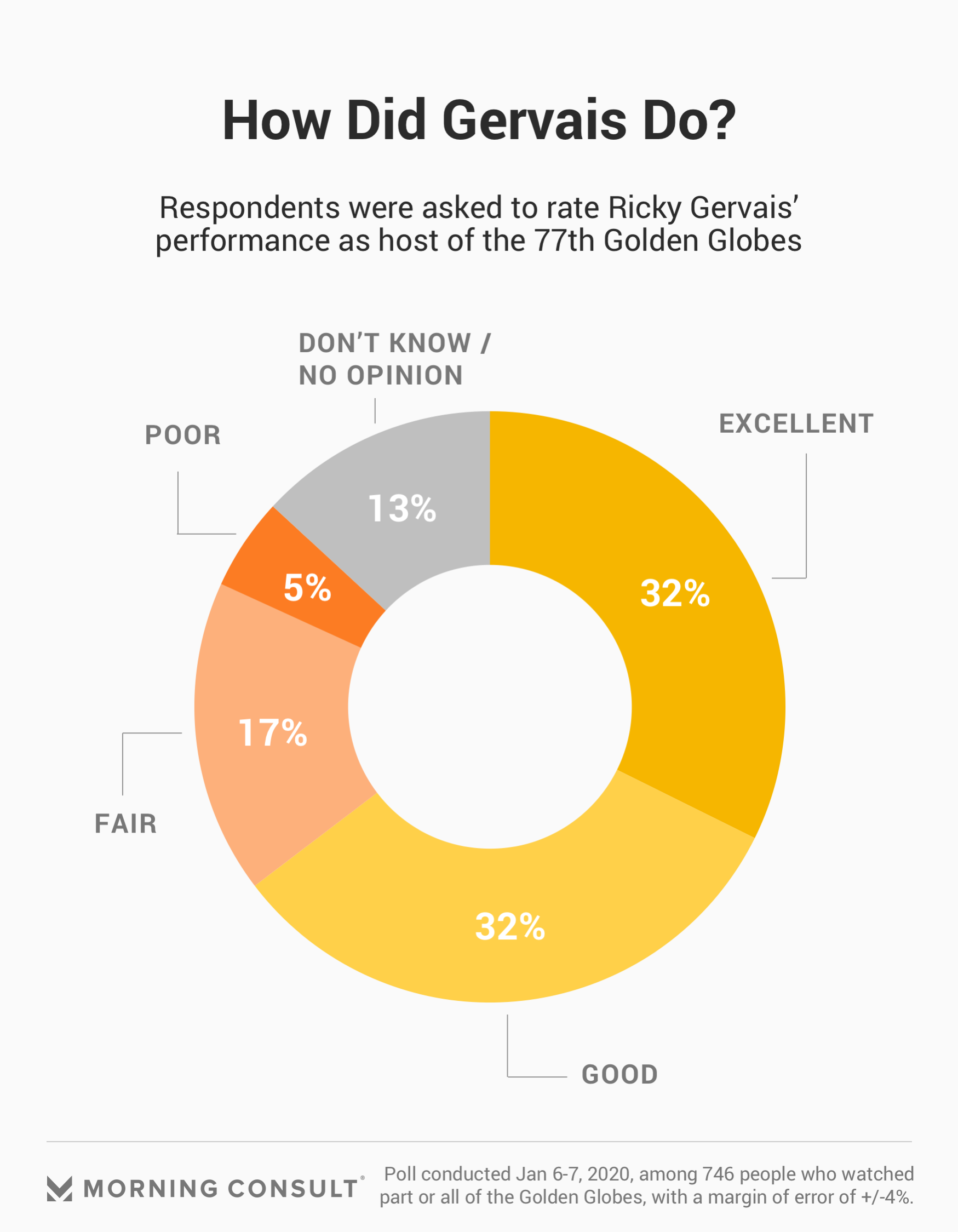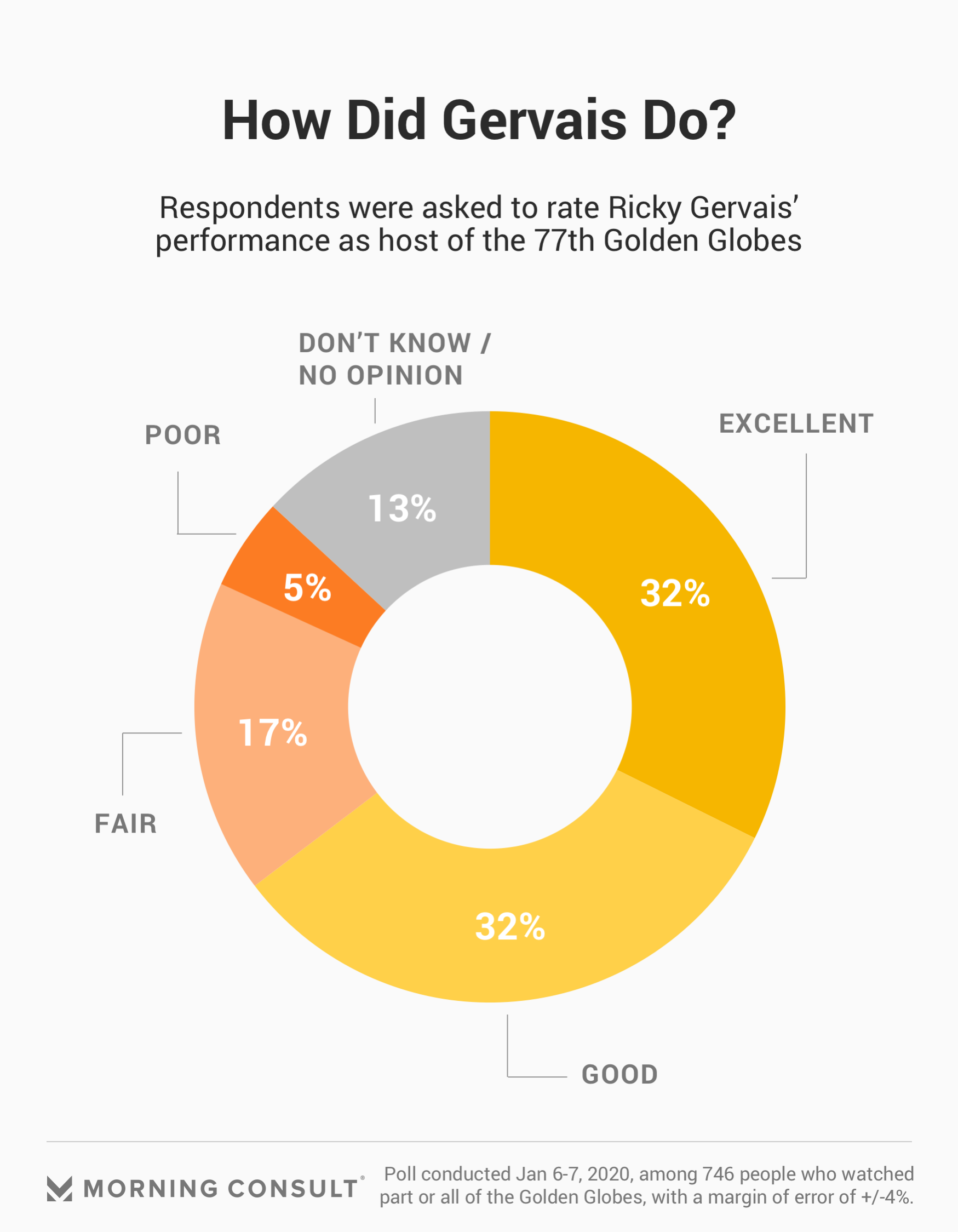 And Russell Crowe, who was in Australia to deal with the wildfires, highlighted climate change and renewable energy in a prepared statement that was read by Jennifer Aniston after he won for Showtime's "The Loudest Voice."
But it turns out the lion's share of viewers were comfortable with the award show's politics: Of those who watched the Golden Globes in some fashion, 44 percent said it was just political enough, while 19 percent said it was too political and 9 percent said it was not political enough. 
The poll's overall margin of error is 2 percentage points, while the margin of error for the subsample of those who watched is 4 points. 
Even Gervais himself didn't hold back in his opening monologue, targeting sexual misconduct in the entertainment industry and Apple Inc.'s reported labor practices, as well as poking fun at "Cats" and Felicity Huffman's prison stint for her involvement in a college admissions scandal.
Sixty-four percent of the 746 people who watched the Golden Globes in some form said that Gervais did an "excellent" or "good job" hosting the show, with just 5 percent saying he did a "poor" job.