As the number of cases of the coronavirus — and the number of people self-quarantining — continues to rise, at-home entertainment options could see a boost. New polling finds that roughly one-fifth of consumers who subscribed to a streaming service this year said the coronavirus was at least part of the reason why.
Consumers have a plethora of large-scale and niche streaming services to choose from, with Quibi, HBO Max and Peacock joining the crowd throughout the first half of 2020. A March 5-7 Morning Consult/The Hollywood Reporter poll found that 29 percent of the 2,200 U.S. adults surveyed have subscribed to at least one new streaming service since the beginning of the year. 
Twenty-one percent of those who subscribed to a new service this year cited the coronavirus as a major or minor reason for their decision.
And for a plurality of adults, the coronavirus is also informing their viewing habits: Forty-three percent said they would be more likely to stream movies at home due to the coronavirus outbreak, while 41 percent said the same of TV shows. That share climbs when looking at those under 45, with 51 percent of that group saying they would be more likely to stream movies and 49 percent saying they would be more likely to stream TV shows.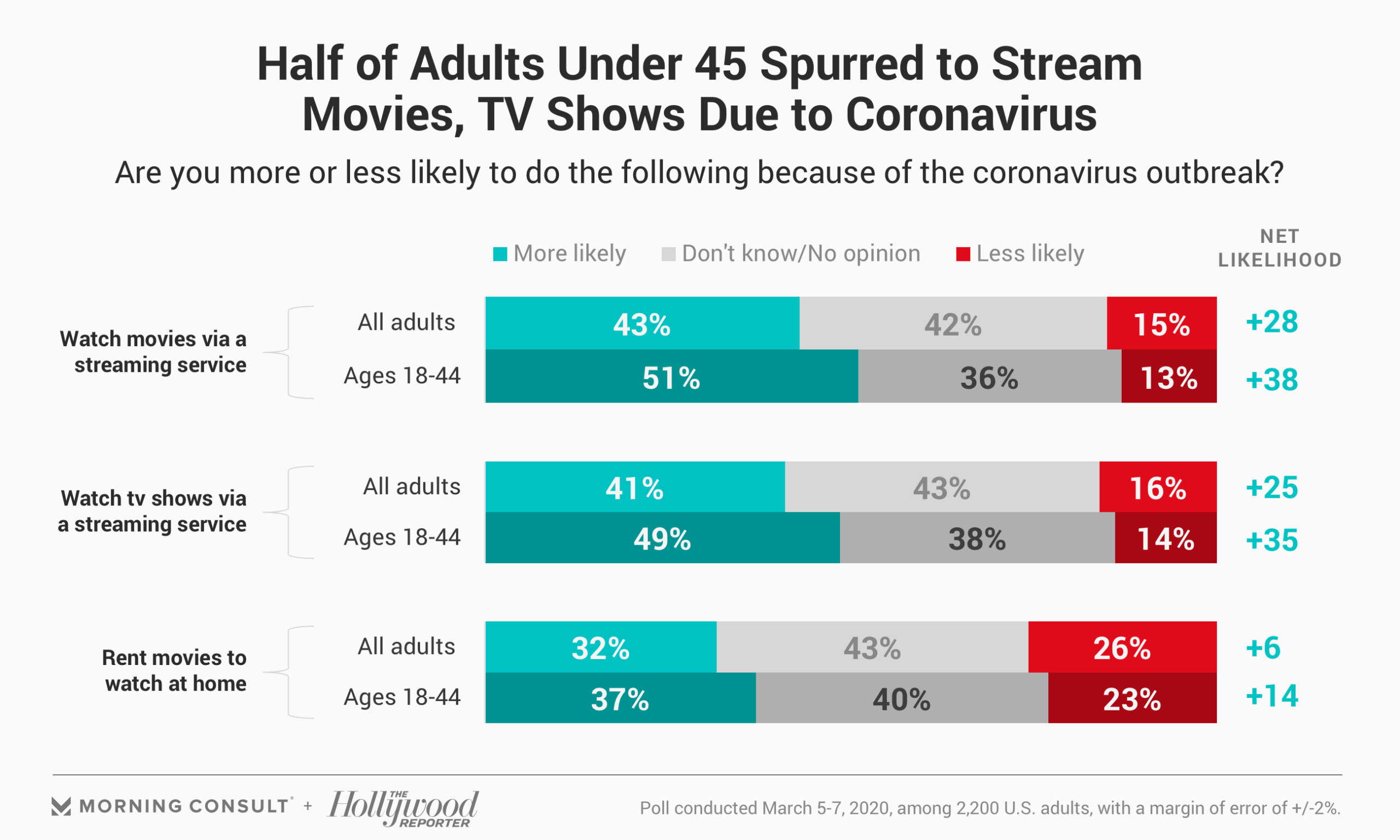 But the interest in renting movies did not match enthusiasm for streaming content: Thirty-two percent of all adults, as well as 37 percent of adults under the age of 45, said they would be more likely to rent movies to watch at home because of the coronavirus outbreak, while 43 percent of the public was unsure. 
The survey has an overall margin of error of 2 percentage points, while the 18-44 subsample has a margin of error of 3 points. 
As for entertainment outside the home, 51 percent of adults said they would support a concert venue's decision to postpone upcoming shows. But a 44 percent plurality would not approve if the government were to temporarily shut down movie theaters. 
Democrats were slightly more likely to support closing venues or postponing events than Republicans. Fifty-one percent of Democrats were in favor of all entertainment venues canceling upcoming events compared to 44 percent of Republicans. Forty-six percent of adults overall support the idea.
The margin of error for the Democratic and Republican subsample is 4 points. 
Several major entertainment industry events, such as the SXSW festival, have been canceled in the wake of the coronavirus outbreak, while others, like Coachella, have been postponed. And the latest James Bond Film, "No Time to Die," was pushed from an April release to Nov. 25 as a result of the epidemic, with MGM Studios, Eon and Universal Studios saying the move came after "careful consideration and thorough evaluation of the global theatrical marketplace." 
Respondents were roughly three times more likely to support the studios' decision than to oppose it (43 percent to 15 percent). However, a nearly equal share (42 percent) said they didn't know or had no opinion.