The 2020 summer movie season was just dealt another blow: AMC Entertainment Holdings Inc. and Cineworld Group PLC are pushing their phased reopening to the end of July after Warner Bros.' "Tenet" and Walt Disney Co.'s "Mulan" shifted their release dates from July to August. But new polling finds that the world's largest movie theater chains and the two studios behind the films made the right call, as the majority of Americans say they are unlikely to return to movie theaters this month.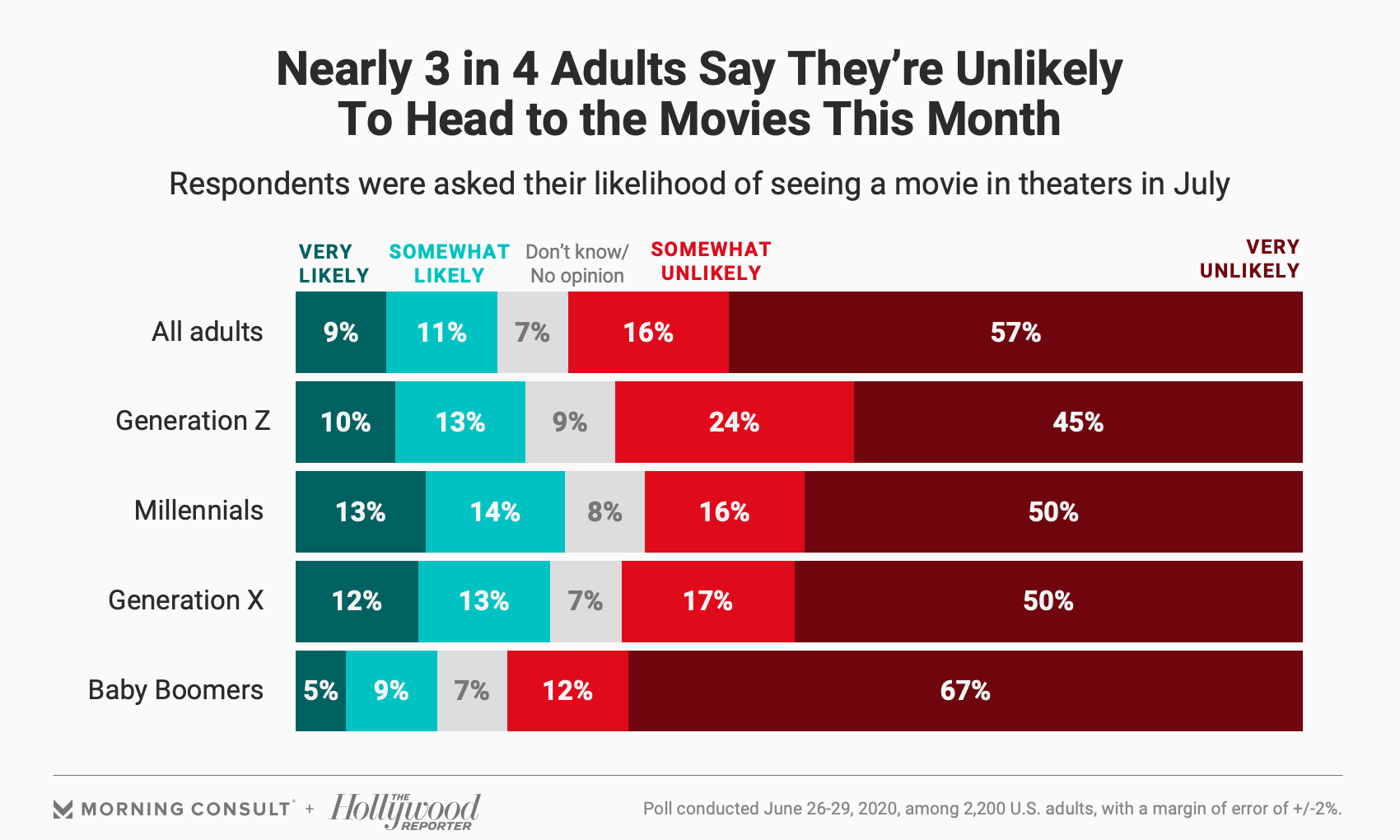 A June 26-29 Morning Consult/The Hollywood Reporter poll found that nearly 3 in 4 (73 percent) of the 2,200 U.S. adults surveyed said they are unlikely to return to cinemas in July, while one-fifth of respondents said they would likely check out a film this month.
And there wasn't much difference among generations, either. 
Sixty-nine percent of Generation Z adults — along with two-thirds of millennials and Generation X — said they weren't likely to frequent a movie theater in July. Baby boomers were the most opposed to returning to theaters at 79 percent. 
The survey has an overall margin of error of 2 percentage points, while the Gen Z subsample has a margin of error of 6 points. The millennial, Gen X and boomer subsamples all have a 4-point margin of error.
Christopher Nolan's "Tenet," had initially been slated for a July 17 release, before the studio pushed it to July 31, and then to Aug. 12. And the live-action remake of "Mulan" moved its initial March release date to July 24, before again postponing the film's debut to Aug. 21. 
But the poll shows most audiences might not be ready to return by August. 
Roughly 1 in 4 adults said they were likely to return to the movies within one month of the reopening of their local theater reopening, while 65 percent said they would still be unlikely to go. 
And studios may want to think twice before adding more films to the back half of 2020: While just over one-third said they were likely to head back to the box office before the end of the year, 55 percent of consumers said they are unlikely to go to the movies at any time during 2020.