In an Instagram video announcing that he is gay, Las Vegas Raiders defensive end Carl Nassib cited the importance of "representation and visibility" for his decision to publicly share his sexual orientation. The results of a new survey reflect that — as about 1 in 3 adults who identify as LGBTQ+ said they are more likely to watch the NFL following Nassib coming forward earlier this week as the league's first openly gay active player.
In a Morning Consult poll conducted June 22-24, 32 percent of LGBTQ+ adults said they are more likely to watch NFL games in the wake of Nassib's public announcement than they were previously, including 16 percent who said they are "much more likely" to watch. By comparison, 18 percent of heterosexual and cisgender adults said they would be more likely to watch. Fifty-nine percent of LGBTQ+ respondents said Nassib's announcement doesn't impact the likelihood of them watching the NFL, while 9 percent said they are less likely to watch.
In general, LGBTQ+ respondents were less likely to express an interest in the NFL than heterosexual and cisgender adults, with 57 percent of LGBTQ+ adults and 68 percent of heterosexual and cisgender adults identifying as fans of the league.
Seventy-three percent of LGBTQ+ adults said the emergence of the first active gay player in the country's most popular sports league is a sign of societal progress, an opinion shared by 53 percent of heterosexual and cisgender respondents. Among self-identified NFL fans, 58 percent said they consider Nassib's public declaration that he is gay a major milestone for the league and 61 percent said it's a sign of progress within the NFL.
Along with his announcement, Nassib, 28, also pledged to donate $100,000 to the Trevor Project, a national organization focused on crisis and suicide prevention among LGBTQ+ youth, which the NFL said it matched.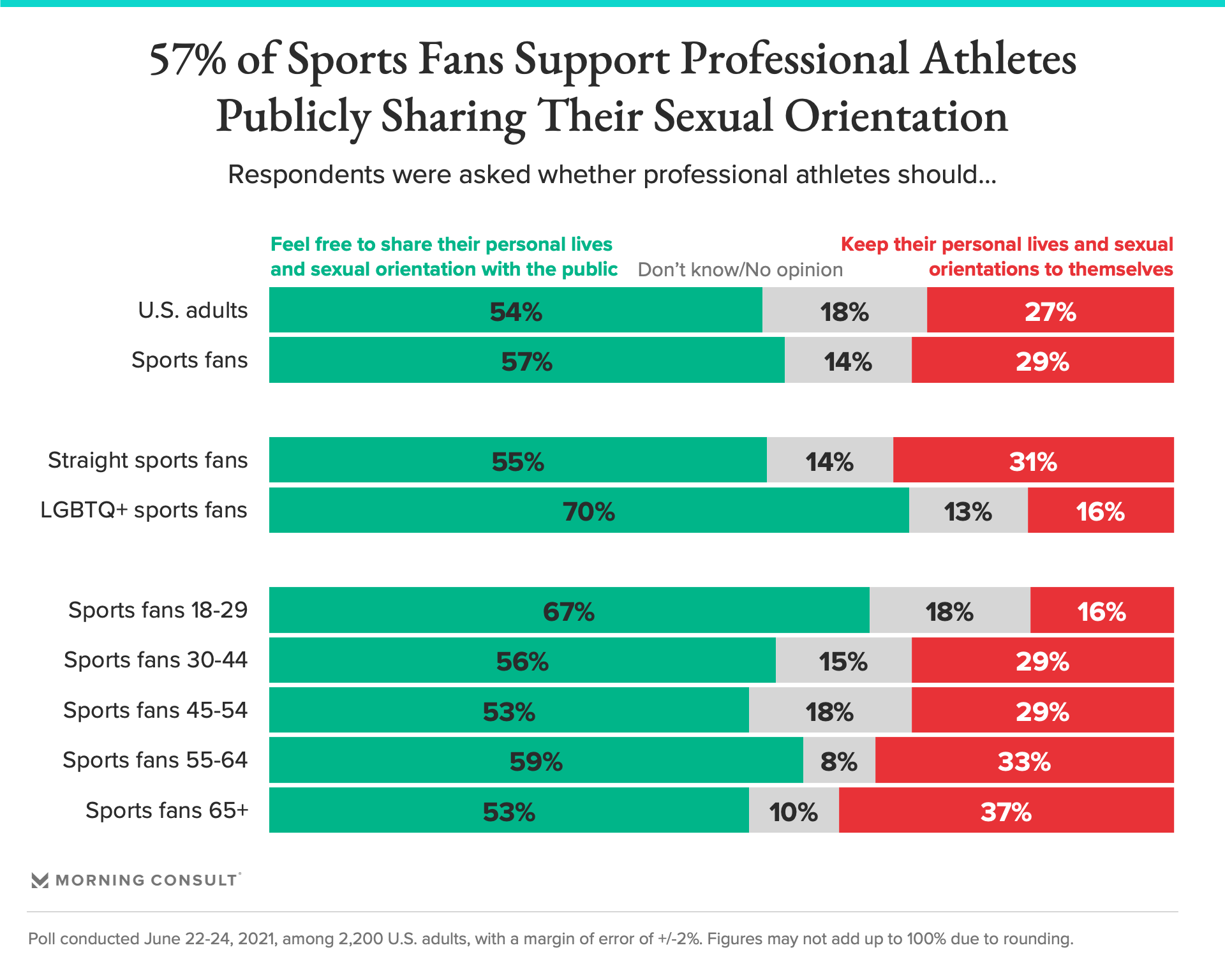 While relatively few professional athletes have publicly declared they're gay, the results of Morning Consult's poll, which surveyed 2,200 U.S. adults, indicate that sports fans are more likely to react positively than negatively to such announcements. Fifty-seven percent of sports fans said professional athletes should feel free to share their personal lives and sexual orientation with the public, while 29 percent of fans said athletes should keep such details to themselves.
Sports fans between the ages of 18 and 29 were more likely than older fans to support players who publicly announce their sexual orientation, with 67 percent saying athletes should feel free to do so and just 16 percent saying they shouldn't share their orientations. Even sports fans ages 65 and older, however, were more likely to support players' publicly coming forward with their sexual orientation than to say they should keep their personal lives private by a tally of 53 percent to 37 percent.