The United Nations' Intergovernmental Panel on Climate Change delivered bleak, if unsurprising, news on Monday with the release of a report that found 1.5 degrees Celsius of warming in the coming decades is all but locked in. However, it also found that avoiding further warming remains within reach, even as the intensity of natural disasters continues to mount. 
The steps are clear: To reach net-zero emissions by 2050, fossil fuel use must be curtailed as promptly as possible, though removing carbon from the atmosphere will likely be necessary to mitigate the emissions that remain. A collective sense of urgency is key. 
But Morning Consult data shows that alarm over climate change and natural disasters among the U.S. public has not increased as the threats become more tangible. Weekly surveys conducted from late May through early August show that the share of adults who say they are "very concerned" about climate change has largely stagnated, fluctuating between 38 percent and 42 percent. The margin of error for the polls is 2 percentage points. 
Similarly, the group that says they are "not concerned at all" has hovered between 10 percent and 14 percent. Roughly a third of adults say they are "somewhat" concerned and just over 1 in 10 say they are "not very concerned." 
The share of Democrats who are very concerned about climate change has settled in the range of 57 to 66 percent since May, while that of Republicans has remained between 16 and 22 percent over the same period. These demographics have margins of error of 3 and 4 points, respectively.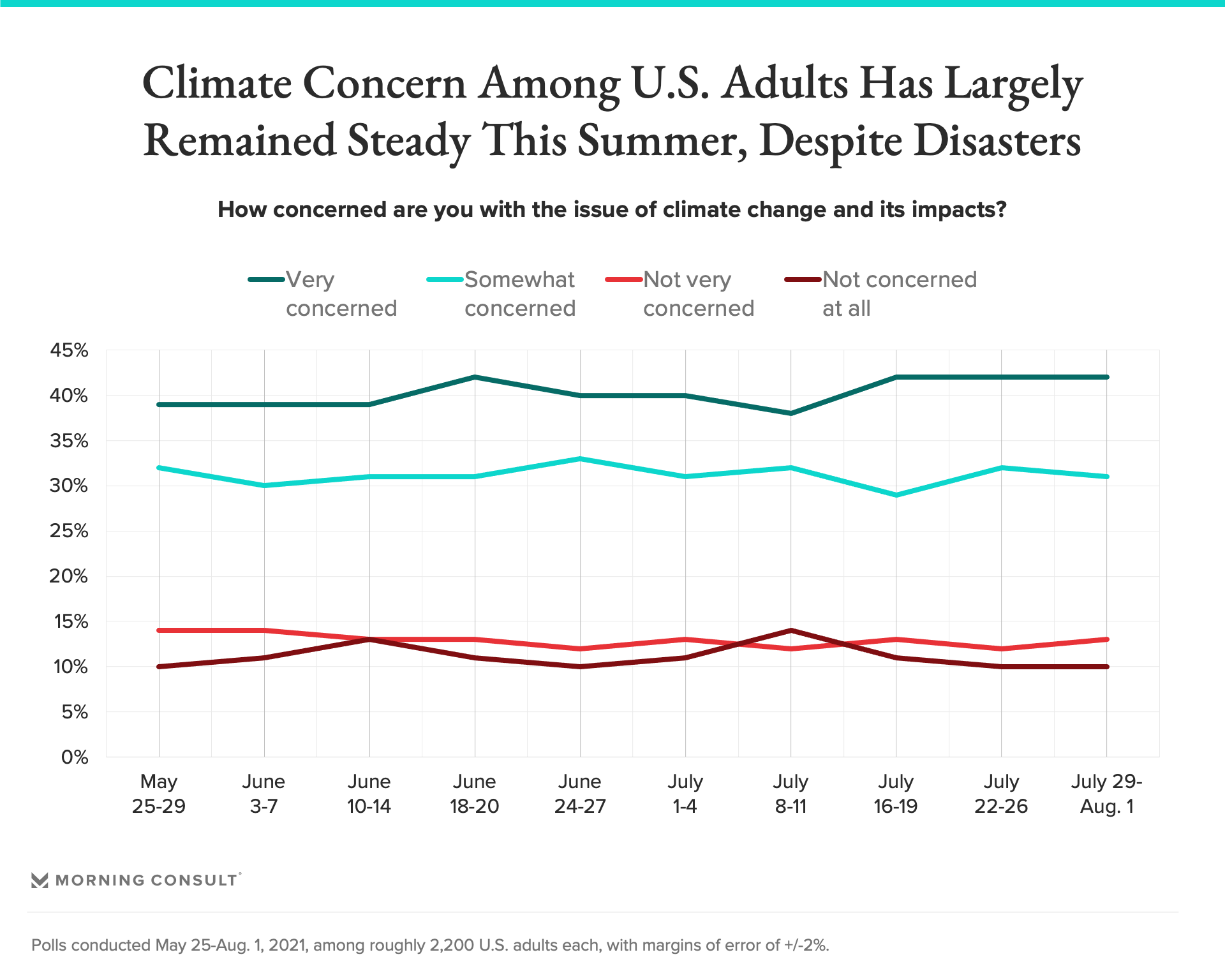 The stability in concern holds even as news of heat waves, flooding and wildfires have swept the country this summer, with the Pacific Northwest and other regions seeing unprecedented temperatures and wildfires wiping out entire towns both in California and abroad. 
These results roughly track with the results of a similar, though not identical, question asked a year ago. In September 2020, 48 percent of U.S. adults said they were "very concerned" about the impact of climate change on the environment, and 39 percent said the same of its impact on the economy. 
According to this summer's polling, the share who say they are "very concerned" about the impact of natural disasters specifically — including flooding, hurricanes, tornadoes and other types of storms — on their own communities has moved only slightly more over the course of the summer: between 32 percent and 39 percent. In September 2020, 41 percent said the same.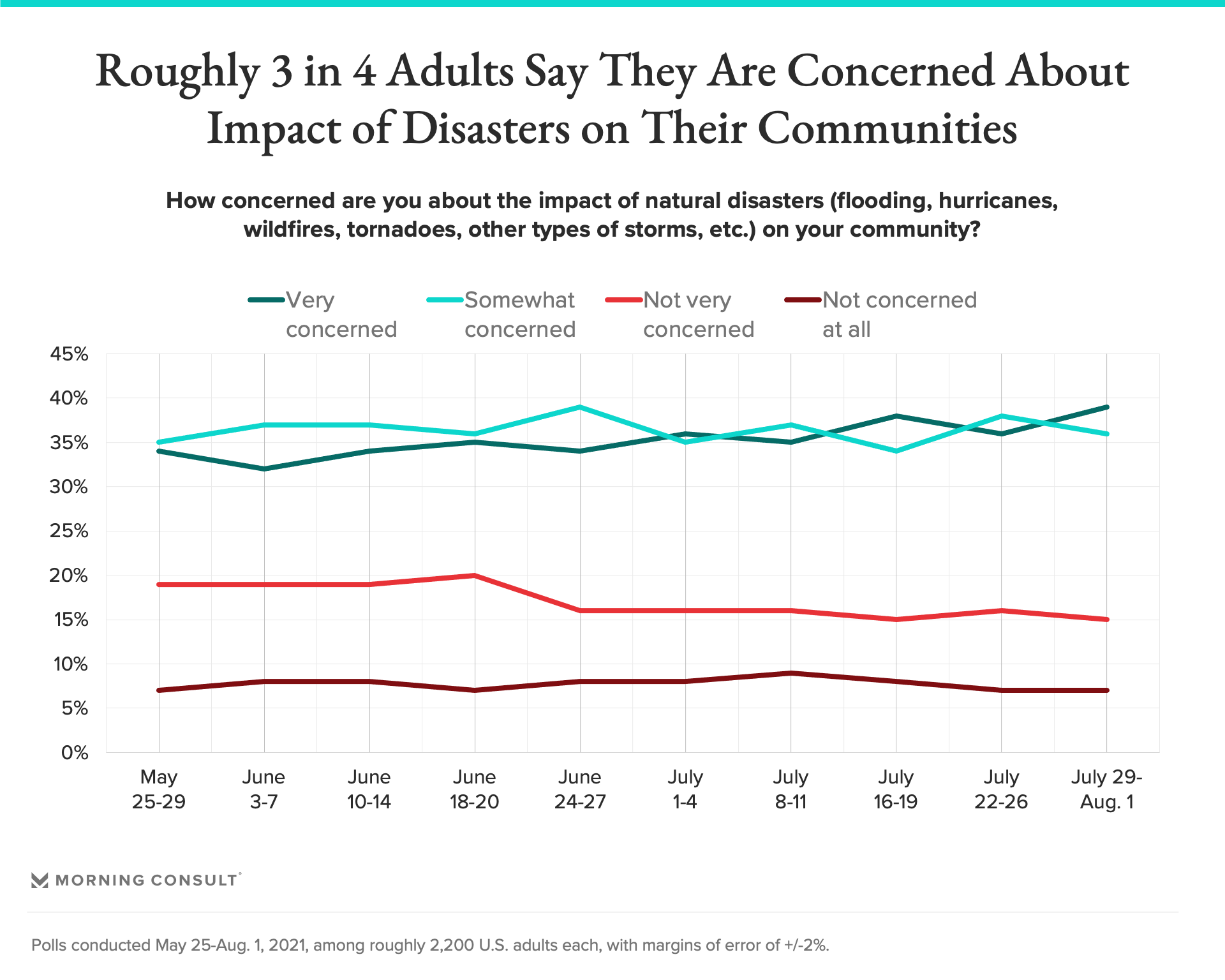 According to the IPCC report, authored by 234 international scientists, natural disasters will get progressively more frequent once the threshold of 1.5 degrees Celsius is breached, with nearly 1 billion people potentially subject to regular life-threatening heat waves and hundreds of millions to severe drought; entire ecological systems would be under dire threat.  
U.N. Secretary General António Guterres described the findings as a "code red for humanity," and said "there is no time for delay." U.S. climate envoy John Kerry concurred, saying "time is not on our side." And while major decisions that inform emissions levels on a nationwide basis are the province of lawmakers and industry leaders, shifts in public opinion can inform those decisions. 
In its summary of 14,000 scientific studies published in recent years, the report found there is no remaining scientific doubt that human activities are behind climate change. Whether that certainty — and the alarm it engenders — will move the needle on public opinion remains to be seen.