New York Gov. Andrew Cuomo was maintaining positive public support from the Empire State's electorate despite allegations of sexual misconduct and a scandal involving COVID-19 deaths in his state's nursing homes. 
But that all changed over the past week after state Attorney General Letitia James — a fellow Democrat — publicized details behind the allegations by nearly a dozen women, pushing Cuomo's job approval rating underwater. The drop in support was driven by a loss of backing from his own party's voters as Democratic state legislators moved for his impeachment, forcing his resignation on Tuesday.
According to the latest Morning Consult Political Intelligence tracking, 38 percent of New York voters approve of Cuomo's job performance – down 16 percentage points from the day before James released her report – while the share who disapprove rose by 15 points to 56 percent.
That dramatic movement – captured in surveys conducted July 31-Aug. 2 and Aug. 7-9 among 1,063 and 816 voters, respectively – was led by Democratic voters, chipping at his chances at a political comeback or another term after they stood by his side throughout much of his recent political trouble. Both polls have a margin of error of 3 points.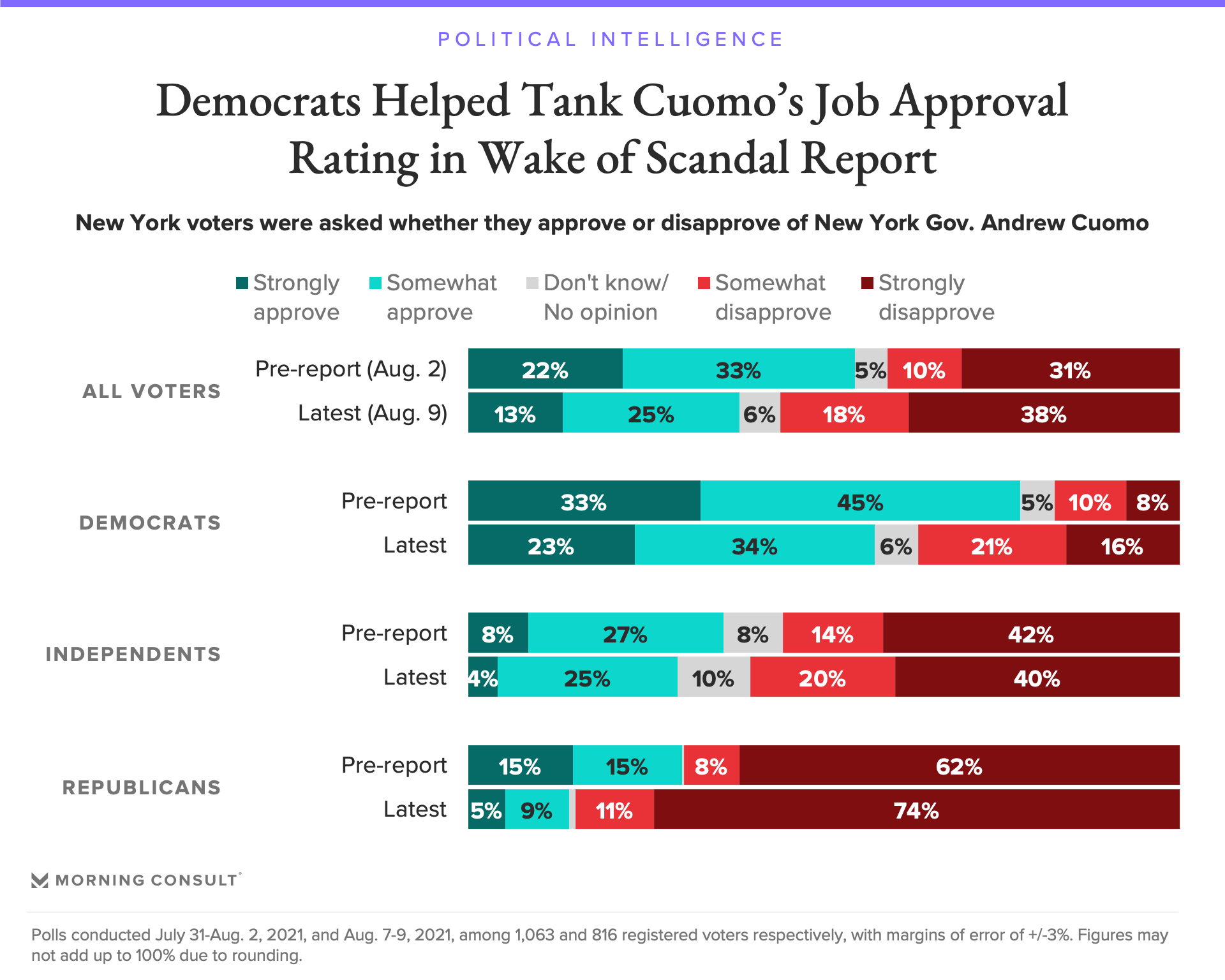 The majority of New York Democrats (57 percent) still approve of Cuomo's job performance, but that's down from 78 percent, a drop of 21 points in about a week, while the share who disapproved increased 19 points, to 37 percent, during that time, driven largely by Democratic women. The share of women in the party who approve fell 29 points to 47 percent after the report was released, more than twice the size of the 10-point drop among Democratic men to 70 percent.
The movement was less drastic among independent voters, 3 in 5 of whom disapprove, while the governor's net job approval – the share who approve minus the share who disapprove – fell 31 points among Republican voters.