A new series from Morning Consult takes a deeper look at how the coronavirus pandemic could permanently alter millennials' behavior and how, in turn, that could impact the economy at large. The data is drawn from a poll of 4,400 adults, including 1,287 millennials.
As the coronavirus pandemic roils the job market, millennials are increasingly deciding that their college experience isn't worth the student debt they took out for it. 
Since the economic standstill brought by pandemic-related shutdowns, the unemployment rate has shot up to 8.4 percent and initial jobless claims rose to 870,000 for the week ending Sept. 19. And the relief to consumers offered earlier in the pandemic in the form of enhanced unemployment benefits and stimulus payments looks unlikely to re-emerge, with talks in Congress over another economic stimulus package indefinitely stalled.
All this has added up to a more bleak labor market compared to the last time Morning Consult tested attitudes on student debt and college. 
At the time, more than half (56 percent) of millennials who took out student loans said that doing so was worth attending college. That poll was conducted March 13-17, 2019, about a year before the start of the coronavirus pandemic. 
In a new survey conducted Sept. 8-10, roughly six months into the pandemic, that share has dropped 10 percentage points: 46 percent of millennials said their student debt was worth attending college.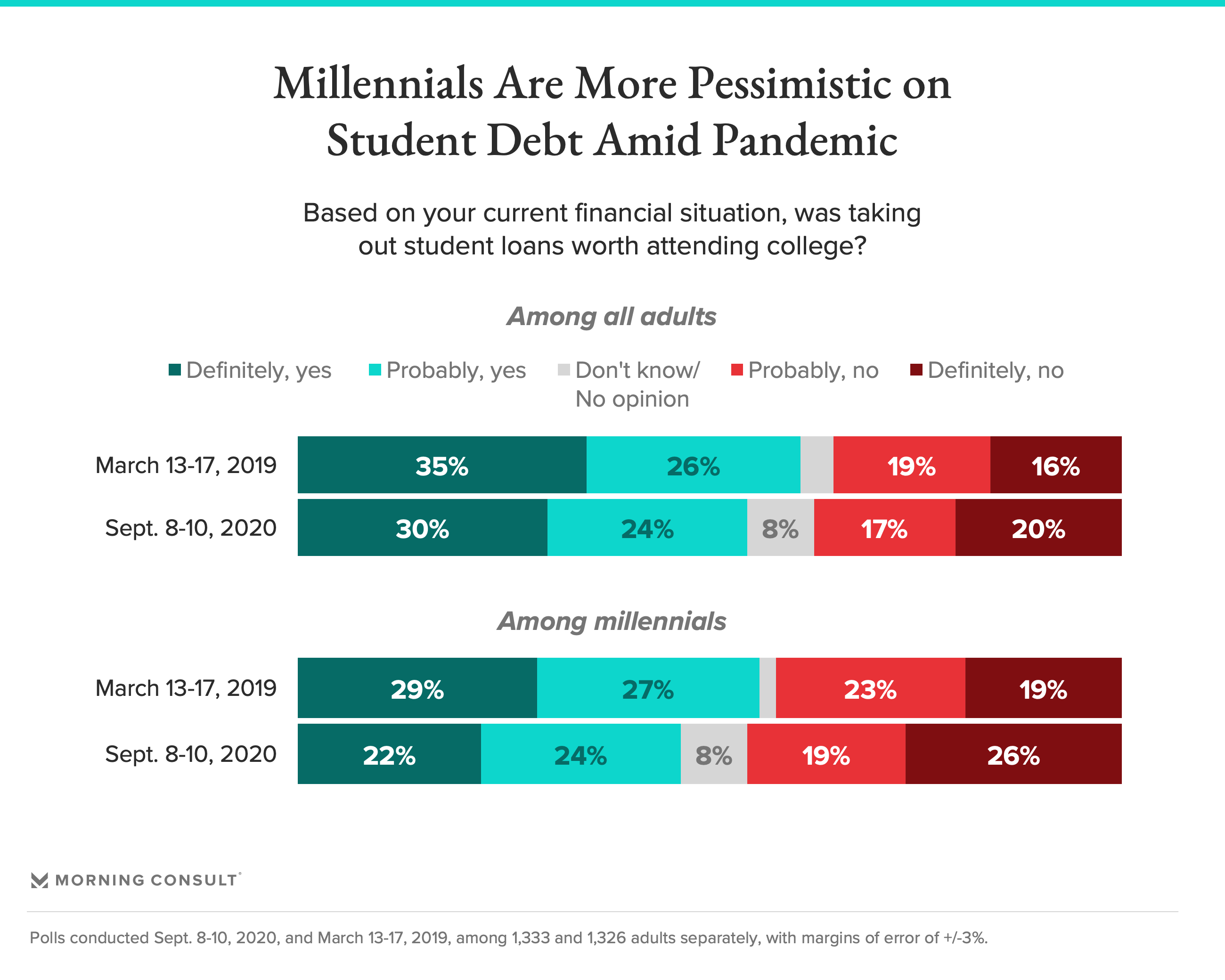 Nearly half of millennials, at 45 percent, now say that their college education isn't worth their debt, compared with 42 percent who said the same in 2019. Twenty-six percent of millennials said their college time "definitely" wasn't worth their student loans in the most recent survey, compared with 19 percent last year. 
Among all adults who have taken out student loans, the trend was similar, although not as pronounced. Fifty-four percent said that their student loans were worth their college education in the September 2020 survey, a 7-point drop from the 61 percent who said the same in 2019.
The overall adult category was also less likely to regret the loans, with 37 percent saying their student debt wasn't worth attending college in the most recent survey, while 35 percent said the same in the 2019 poll.
Millennials in both surveys were the least-likely generation to look back on their student debt and college degrees favorably. Compared to millennials at 46 percent, 51 percent of Gen Xers and 67 percent of baby boomers said taking out student loans was worth attending college.
The September and March polls surveyed 1,333 and 1,326 adults who took out student loans, respectively, and each have margins of error of 3 percentage points. Millennials who took out student loans totaled 518 and 441, respectively, and both had 4-point margins of error.