Polling Lends Weight to Worries Over GOP Civil War
GOP voters say Trump represents their values better than Republicans in Congress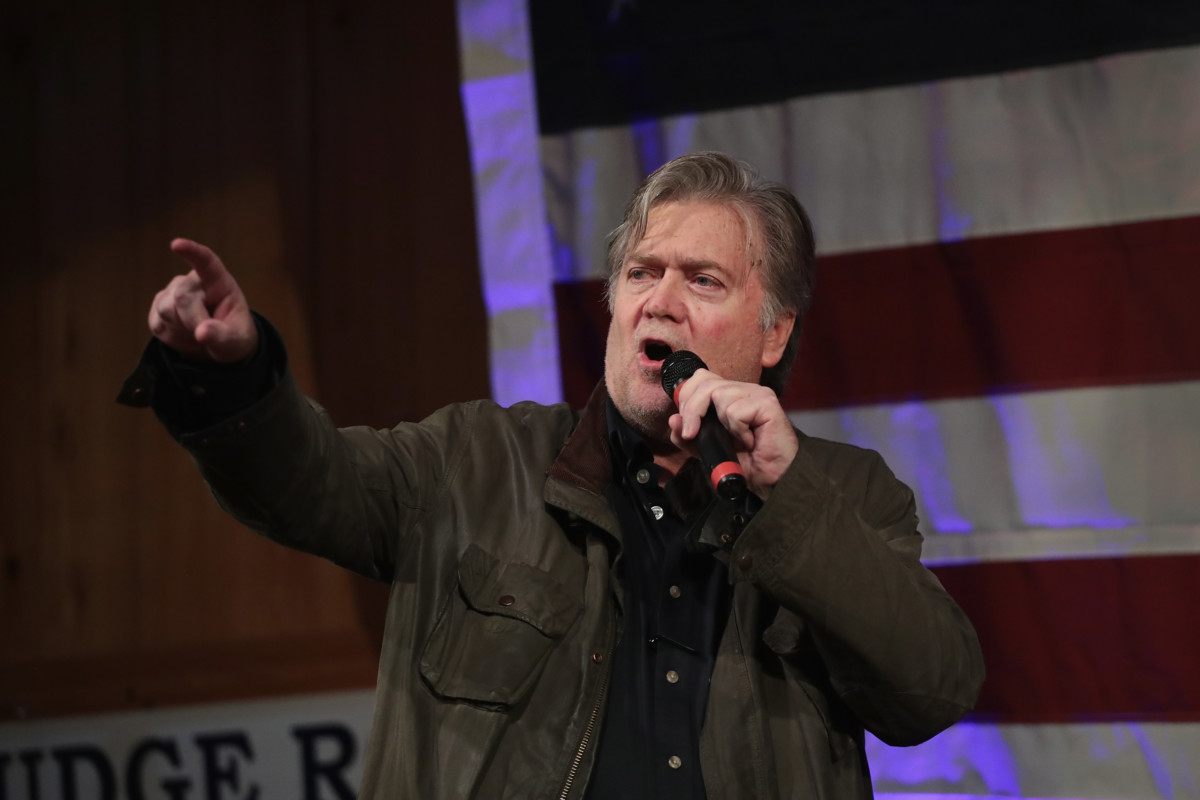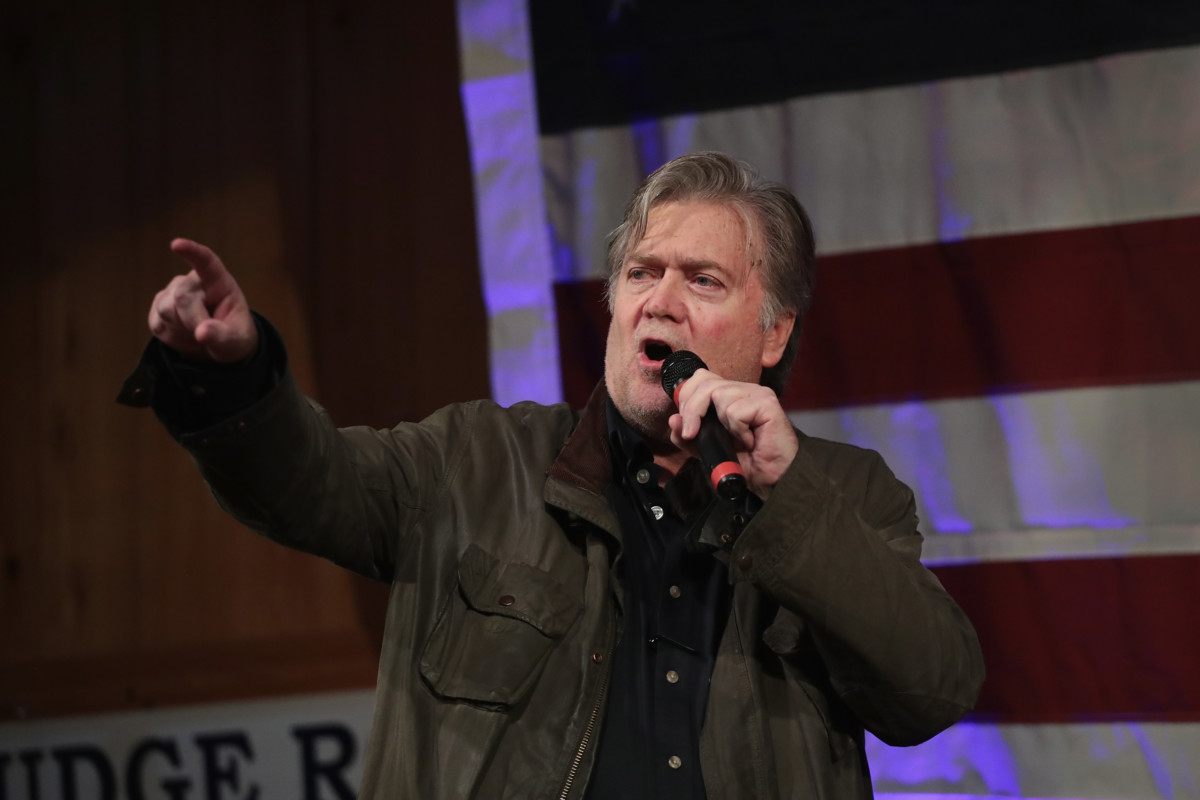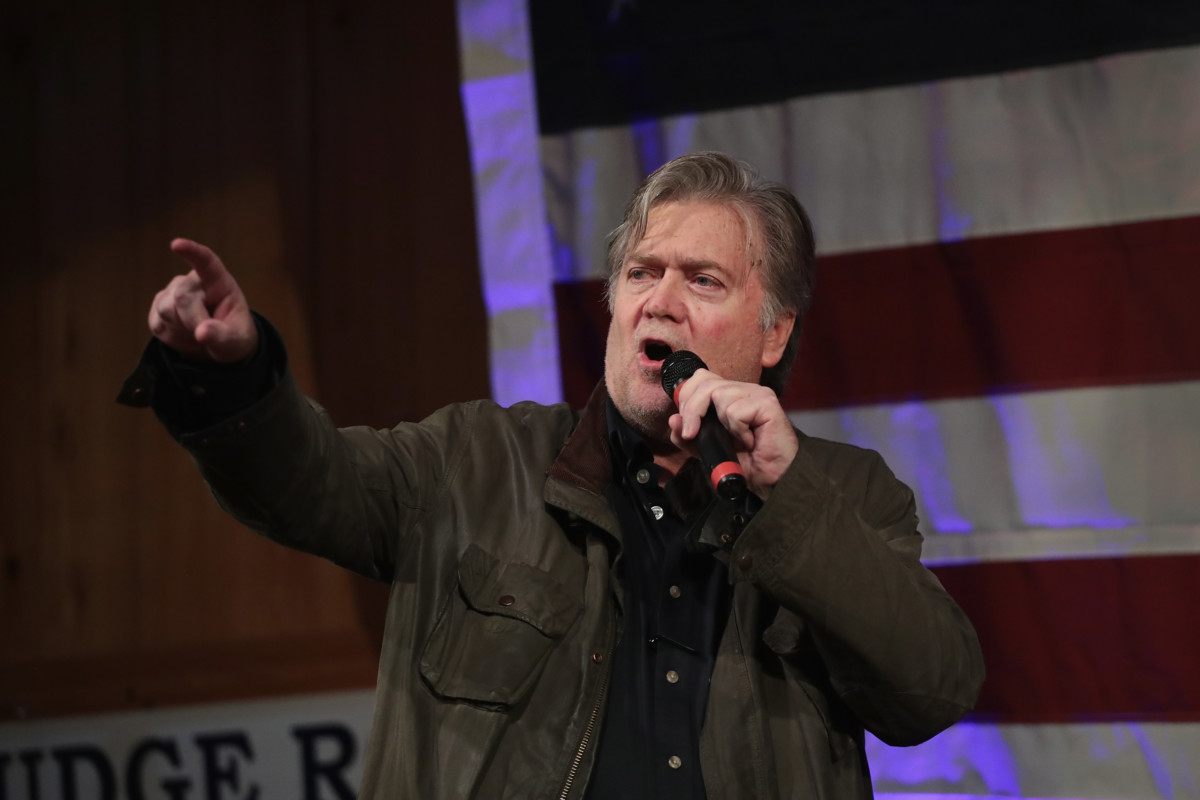 53 percent of GOP voters say they believe that congressional Republicans back President Donald Trump's legislative agenda.

But 57 percent of GOP respondents said Trump is more in touch with them, while 27 percent chose Republican lawmakers.
As former White House chief strategist Steve Bannon continues to antagonize the political establishment of Washington and threatens to back primary challenges against Republican lawmakers he views as obstructing President Donald Trump's agenda, a new Morning Consult/Politico survey shows there is plenty of fertile ground for contenders who can paint GOP incumbents as insufficiently supportive of Trump.
While majorities of self-identified Republicans polled in the Oct. 12-16 survey of 1,991 registered voters said they believed congressional Republicans support the president himself (51 percent) and his legislative agenda (53 percent), there was a significant share of voters who disagreed. Roughly a third of GOP voters said Republicans in Congress do not support the president (35 percent) — and 32 percent said GOP lawmakers don't support his agenda.
GOP voters also sided with Trump on questions focusing on his relationship with the base in the online national survey. Among Republican voters, 57 percent said Trump is more in touch with them, while 27 percent said Republicans in Congress are more in touch. (The subsample of 636 GOP respondents has a margin of error of plus or minus 4 percentage points, while the national survey's margin of error is plus or minus 2 percentage points.)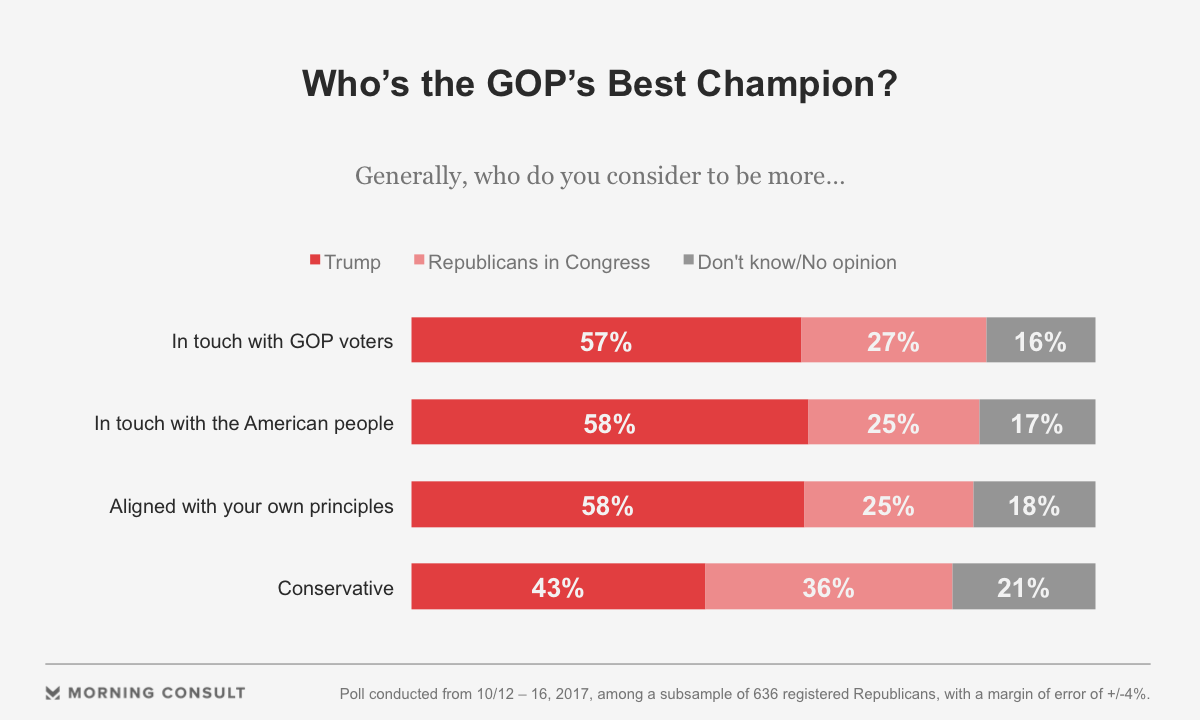 Before he went to work for the Trump administration, Bannon for years used his perch as executive chairman of Breitbart News to lob rhetorical bombs at GOP leaders in Congress he dubbed "the establishment." Now that he is back as head of the media company, the degree of his influence with the Republican voter base remains an open question.
Emboldened by former Alabama Supreme Court Justice Roy Moore's victory over Sen. Luther Strange (R-Ala.) — who had big-money backing from Senate Majority Leader Mitch McConnell (R-Ky.) and his allies at the Senate Leadership Fund — in the Senate GOP special election primary in September, Bannon is also supporting former Arizona state Sen. Kelli Ward in her quest to unseat GOP Sen. Jeff Flake, an outspoken Trump critic who published a book this year reflecting his dismay with the direction of the Republican Party. Bannon is also said to be courting challengers to Mississippi Sen. Roger Wicker and Wyoming Sen. John Barrasso.
"This is not my war. This is our war," Bannon told attendees of the Values Voter Summit, an annual Washington conference of politically active social conservatives, on Saturday. "And you all didn't start it, the establishment started it."
Asked about those comments during an impromptu joint Rose Garden news conference following his meeting with the president on Monday, McConnell stressed the potential electoral danger to the GOP's governing majority posed by insurgent candidates.
"Look, you know, the goal here is to win elections in November. Back in 2010 and 2012, we nominated several candidates — Christine O'Donnell, Sharron Angle, Todd Akin, Richard Mourdock," he said. "They're not in the Senate. And the reason for that was that they were not able to appeal to a broader electorate in the general election."
Complicating matters for Senate Republicans is the ambiguous support Trump has offered them. He has repeatedly criticized McConnell for his failure to wrangle the votes to repeal and replace the Affordable Care Act, former President Barack Obama's signature health care law, while also publicly feuding with Sens. Bob Corker (R-Tenn.) and John McCain (R-Ariz.) in recent weeks.
If Mr. Bannon wants to get involved in elections, that's his right. I think competition makes all of us better.
Sen. John Kennedy (R-La.)
On Monday, the juxtaposition of Trump's stance was on full display: During a Cabinet meeting in the morning, in remarks to reporters he criticized Republican senators for "not getting the job done" — only to say hours later, standing alongside McConnell, that he would see if he could talk Bannon out of challenging some incumbents "because, frankly, they're great people."
The intraparty skirmish comes as good news to Senate Democrats, who are defending 25 seats in 2018 but are looking to play offense in a few states held by Republican incumbents, including Arizona, Nevada and Texas. (Eighty-one percent of Democrats and 53 percent of independents disapproved of Trump in the latest survey.)
"Look, I make a point to never get in the middle of the Republican civil war," Democratic Senatorial Campaign Committee Chairman Chris Van Hollen (D-Md.) said Tuesday in a brief interview at the Capitol. "Clearly, they're going to have a lot of tough primaries."
Bannon's bombastic rhetoric could be causing heartburn for some Republican senators — but not all.
"If Mr. Bannon wants to get involved in elections, that's his right," Sen. John Kennedy (R-La.) told Morning Consult on Tuesday. "I think competition makes all of us better. It doesn't bother me. Mitch McConnell says it right: You want to have good candidates because you want to win, because winners make policy and losers go home."