Brands
Essential marketing and PR news & intel to start your day.
March 19, 2023
Welcome back to the Sunday edition of the Morning Consult Brands newsletter! 
From St. Patrick's Day to March Madness to Taylor Swift's return to the concert stage after nearly five years, there's no shortage of occasions to celebrate this weekend. Ensuring we did our part for the latter, entertainment reporter Saleah Blancaflor and I wrote a story offering a demographic deep dive on Swift's fandom.  
A question from that piece is included in the latest MCIQ quiz, so take it to test your knowledge of our Swiftie data, alongside other consumer trends in sports, politics, finance and more. 
Onto the week ahead!
What's Ahead
The Wall Street Journal's Women in the Workplace Forum is Tuesday in New York.
This dinner program offers a gathering place for women leaders and their allies to discuss what success looks like in 2023 amid rapidly shifting business environments, as well as how to recruit and retain the next generation of women leaders. Featured speakers include comedian Samantha Bee and U.S. Rep. Nancy Pelosi. It's only open to WSJ Executive Network members.
Adweek's Convergent TV conference takes place Tuesday and Wednesday. 
Available to attend in-person in New York or virtually, this two-day event aims to ensure media, technology and marketing professionals are equipped with the most up-to-date insights on all things TV heading into the 2023 Upfronts season. Each of the more than 20 panel and workshop sessions is anchored by leaders at major media brands, from The Walt Disney Co. and NBCUniversal to Alphabet Inc.'s YouTube and BBC Studios. 
ANA hosts its inaugural Brands for Humanity summit.
Marketers will learn about leveraging purpose-driven advertising to drive brand love, loyalty and real-world change at this fully-virtual event, which runs both Tuesday and Wednesday. Executives from consumer brands like Patagonia Inc. and the NFL will speak alongside leaders of non-profit organizations to share best practices on advancing equity, sustainability and more. 
The 2023 Adobe Summit runs Tuesday through Thursday in Las Vegas. 
The tech giant's annual conference will provide attendees with an in-depth education on several pressing marketing and analytics topics, including omnichannel personalization, customer journey mapping and B2B outreach. Chief executives from prominent brands like T-Mobile USA Inc., Eli Lilly and Co. and Ernst & Young Global Ltd. are scheduled to deliver remarks. On-site exams for certain Adobe credentials will also be offered throughout the week. 
The Qualitative Research Consultants Association's annual conference is this week in Charlotte. 
This multi-day event is dedicated to furthering knowledge and understanding of qualitative research methodologies, with a particular focus on digital-first initiatives. Attendees will hear from top qualitative practitioners across both industry and academic settings.
A MESSAGE FROM MORNING CONSULT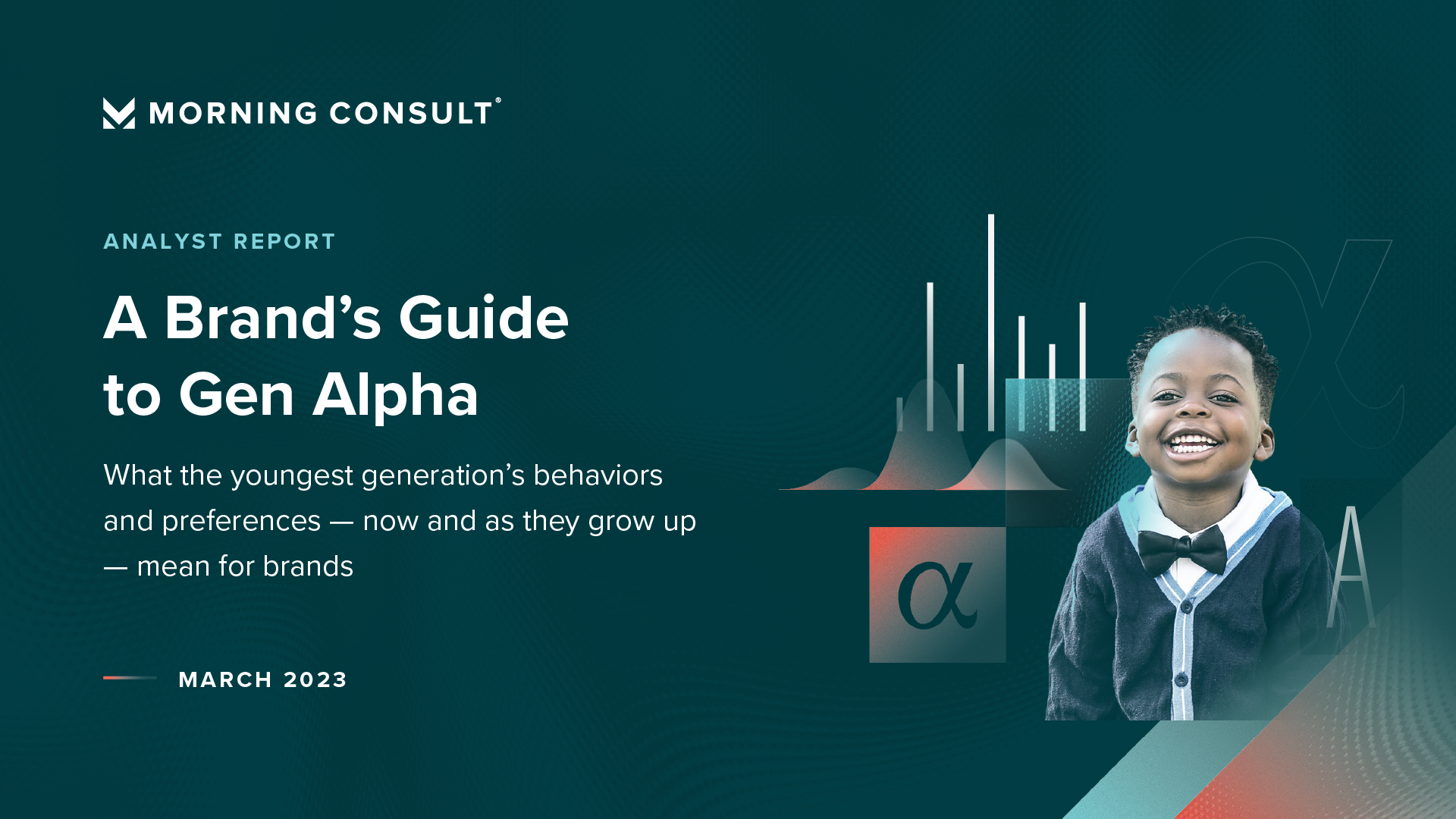 Week in Review
In the spirit of March Madness, I spoke with Kevin Krim, chief executive of TV ad measurement firm Entertainment Data Oracle (EDO) Inc., about brands' marketing efforts surrounding the 2023 collegiate basketball tournament, which tipped off on Thursday. EDO has recently inked partnerships with several major media brands, including The Walt Disney Co.
MC: How does March Madness stack up to other key annual advertising opportunities?
KK: Both the men's and women's tournaments are extremely effective advertising vehicles, with ads running during these periods nearly always outperforming average broadcast benchmarks by very significant margins. The men's March Madness championship game is one of the most-watched live events on the yearly calendar, typically falling behind only the Super Bowl and the NBA Finals, and ahead of major award shows like the Oscars.
Something unique about March Madness is that, because it involves so many teams in so many markets across the country, nearly everyone has a stake, no matter how small. That locality drives additional engagement.
MC: What advertising trends are you expecting to engage March Madness viewers' most this year and why? How does this differ from previous years, if at all?
KK: This time last year, crypto ads were everywhere. But that has now gone to almost zero, and I think crypto's pain is sports betting's gain. As sports betting becomes more and more liberalized, the industry is picking up the advertising slack that crypto has dropped. We're also seeing a higher concentration of sports betting ads coming from the two major players, FanDuel Inc. and DraftKings Inc. Brands in the next tier down seem to be retreating and submitting to that rivalry.
This is also an interesting moment for automotive. The consumer has gotten to a point where their preference lends toward electric electric vehicles or plug-in hybrids, so I'd be shocked if we see any ads that are for something other than those vehicle types.
Finally, a lot of brands that have had long-time alignment with March Madness, like The General Motors Co.'s Buick, are funneling an increasing amount of dollars on the women's tournament. Major women's-focused sporting and cultural events continue to feed off of each other with growing audience numbers year over year. Subsequently, more and more brands are wanting to make a very strong statement about their allegiance to supporting them.
MC: We saw, in many ways, a return to more traditional ad tropes during this year's Super Bowl — lots of humor, star-studded cameos and dogs. There were noticeably few appeals to omnipresent issues like inflation. Will the themes and tones of March Madness ads look and feel similar?
KK: We're in a bit of a bull versus bear moment right now. And when you're in that kind of grinding economic environment, you tend to see a 'back to the basics' approach with most advertising. There's always a push and pull between what the consumer is going through and what ad creatives reflect. 
Regarding inflation, one category that is poised to have an excellent advertising opportunity is pharmaceutical. We've studied that when pharmaceutical companies make any sort of appeal to affordability — whether it's through an explicit statement of low costs or through nods to help from insurance providers — those ads perform extremely, extremely well. Bristol-Myers Squibb's spot for Zeposia was among top three most effective ads by engagement levels (measured by incremental online activity immediately after an ad aired) in both the men's and women's tournaments last year. Brands in price sensitive markets will definitely be speaking to consumers' wallets where they can.
MC: How does Gen Z's relative lack of interest in live sports factor into EDO's view of March Madness ad efficacy? Is it impacting clients' marketing mixes around the event (or other major live sporting events) in any noticeable way?
KK: This is really a story about streaming. As the measurement partner for Amazon.com Inc.'s Thursday Night Football broadcast this year, we found that the Prime Video stream attracted a much younger audience than ones typical to Sunday or Monday Night Football, which still air on major linear networks. With that, we also saw that those younger audiences were watching for many more minutes per game than cable broadcast averages — they didn't change the channel or quit.
This is why ad-supported streaming is becoming so prevalent. There's been a realization that young people prefer to watch via streaming, and they're spending a ton of time there. But they don't have as much buying power for the premium subscription levels. It's not a bad thing for TV, it just represents a different opportunity, and we'll continue to see a race to grab sports right in that area accordingly.
More notable happenings from last week…
70%
The share of U.S. adults who trust banks to do what is right following last week's collapse of Silicon Valley Bank, Signature Bank and Silvergate Capital Corp., according to a new Morning Consult survey. Digital bank customers, however, were significantly less confident, with 57% saying they trust banks and 36% saying they don't. Read more about public opinion toward financial services institutions in my colleague Amanda Jacobson Snyder's latest story here: Consumer Trust in Banks Remains High Despite Recent Bank Collapses.
The Most Read Stories This Week
1) Bosses Are Catching Job Applicants Using ChatGPT for a Boost 
Ann-Marie Alcántara, The Wall Street Journal
2) The Taylor Swift Fandom Is White, Suburban and Leans Democratic
Ellyn Briggs and Saleah Blancaflor, Morning Consult
3) Gen Z isn't 'quiet quitting'—they're grappling with a lack of interpersonal connection 
Bella Pittinger, Fast Company
4) Here's where the jobs are for February 2023 — in one chart
Jesse Pound, CNBC
5) Hit Shows, Franchises Stand In For Brand Identity In Viewers' Minds
Karlene Lukovitz, MediaPost
6) Is Alaska a haven for retirees? Yes, but not for the reasons you think
Andrew Van Dam, The Washington Post
7) Roku, Etsy among companies impacted by Silicon Valley Bank collapse 
Shawna Chen, Axios
8) The 2023 Ad Age Agency A-List Winners
Judann Pollack, Ad Age
9) Kroger spent millions advertising its own peanut butter—why?
Ryan Barwick, Marketing Brew
10) Agencies are still split on what the future of work looks like
Kelsey Sutton, Marketing Brew
This email was sent by: Morning Consult
729 15th St. NW Washington, DC, 20005, US