Tech
Essential tech industry news & intel to start your day.
February 7, 2023
Today's Top News
Happening today: 
Microsoft Corp. will

hold a surprise event

at its headquarters to "share some progress on a few exciting projects." It is expected the event will focus around the company's partnership with OpenAI and reported plans to integrate ChatGPT into its Bing search engine.

President Joe Biden will deliver his State of the Union address, when he is expected to call for stricter regulation of Silicon Valley as part of his pitch to establish bipartisanship in the divided Congress.

FTC Commissioner Alvaro Bedoya (D) will speak at the National Academies' Committee meeting on "

Social Media on Health and Wellbeing of Children & Adolescents

" that will cover topics including advertising and transparency, online privacy and data security, platform accountability and content moderation.

Rep. Jan Schakowsky (D-Ill.) will speak at the Information Technology and Innovation Foundation's event "

What Will It Take for Congress to Pass Bipartisan Privacy Legislation?

"

The House Energy and Commerce Subcommittee on Consumer Protection and Commerce will hold a

markup on five bills

, including

H.R. 750

, the "Chinese-owned Applications Using The Information of Our Nation Act of 2023;

H.R. 742

, the Telling Everyone the Location of data Leaving the U.S. Act";

H.R. 752

, the Securing Semiconductor Supply Chains Act of 2023; and

H.R. 784

, the Internet Application Integrity and Disclosure Act."
A MESSAGE FROM MORNING CONSULT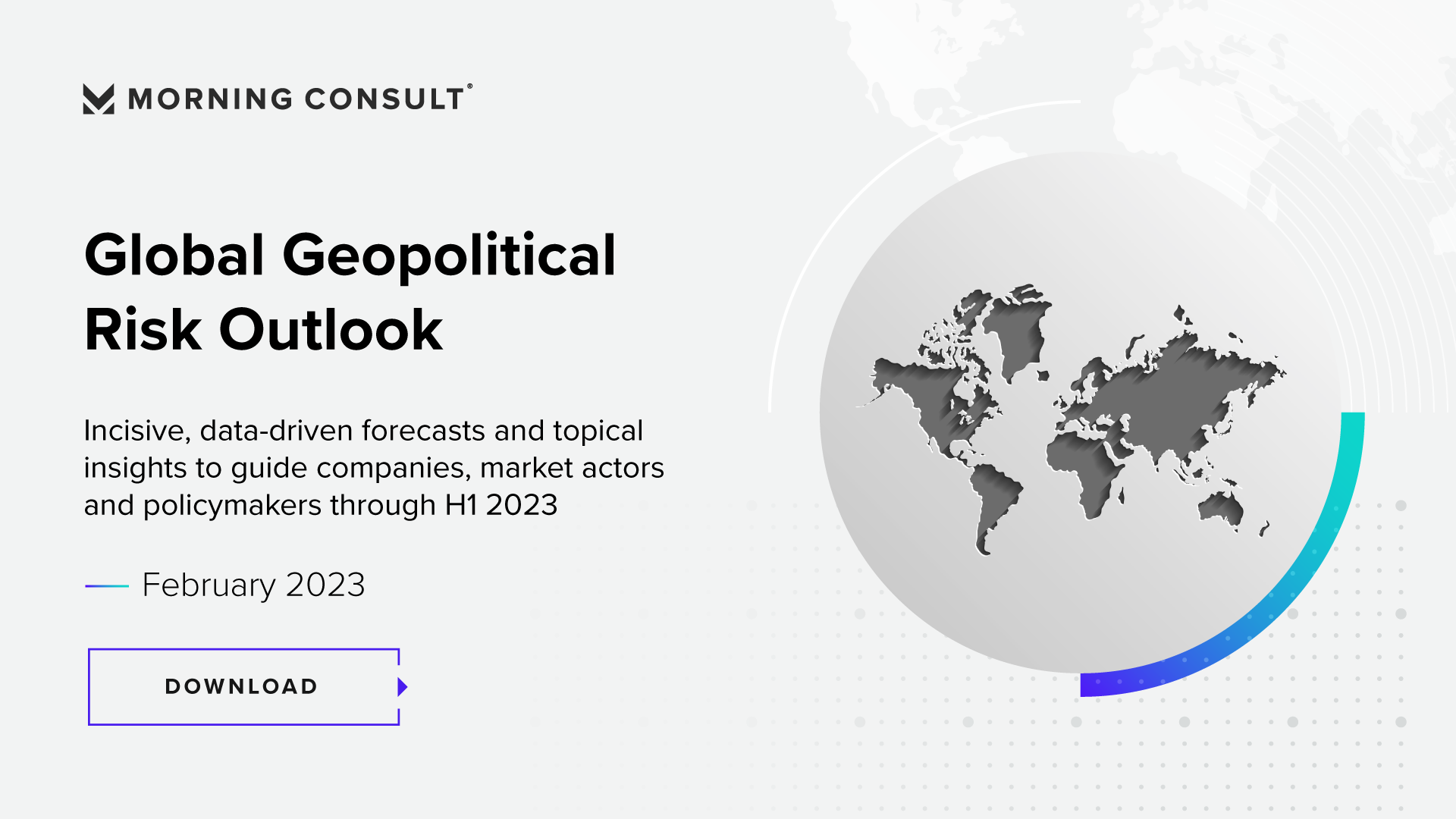 What Else You Need to Know
Antitrust and Competition
Smaller firms fear limiting net liability law will hobble them
Ashley Gold, Axios
A looming U.S. Supreme Court decision on a key internet liability law could upend the business landscape — not just for giant platforms but for small and mid-size firms that fear a massive upheaval.
Law firms in Meta antitrust lawsuit clash over lead role
Mike Scarcella, Reuters
Two major U.S. law firms are feuding over which one will lead a consumer antitrust class action against Meta Platforms Inc's Facebook, after a judge scrapped a prior order appointing them both as co-leaders for the plaintiffs and started from scratch.
U.S. Car Makers' EV Plans Hinge on Made-in-America Batteries
Andrew Mollica, The Wall Street Journal
Companies and the U.S. government are shelling out billions of dollars to establish a supply chain for batteries in North America, a manufacturing effort that is critical to the auto industry's long-range plans to put more electric vehicles on the road. 
Artificial Intelligence/Automation
The People Onscreen Are Fake. The Disinformation Is Real.
Adam Satariano and Paul Mozur, The New York Times
The two broadcasters, purportedly anchors for a news outlet called Wolf News, are not real people. They are computer-generated avatars created by artificial intelligence software. And late last year, videos of them were distributed by pro-China bot accounts on Facebook and Twitter, in the first known instance of "deepfake" video technology being used to create fictitious people as part of a state-aligned information campaign.
Quora opens its new AI chatbot app Poe to the general public
Sarah Perez, TechCrunch
Q&A platform Quora has opened up public access to its new AI chatbot app, Poe, which lets users ask questions and get answers from a range of AI chatbots, including those from ChatGPT maker, OpenAI, and other companies like Anthropic. 
Meta, Long an A.I. Leader, Tries Not to Be Left Out of the Boom
Cade Metz and Mike Isaac, The New York Times
Two weeks before a chatbot called ChatGPT appeared on the internet in November and wowed the world, Meta, the owner of Facebook, WhatsApp and Instagram, unveiled a chatbot of its own. Called Galactica, it was designed for scientific research.
Google CEO issues rallying cry in internal memo: All hands on deck to test ChatGPT competitor Bard
Jennifer Elias, CNBC
Google CEO Sundar Pichai told employees Monday the company is going to need all hands on deck to test Bard, its new ChatGPT rival. He also said Google will soon be enlisting help from partners to test an application programming interface, or API, that would let others access the same underlying technology.
ChatGPT's 'jailbreak' tries to make the A.I. break its own rules, or die
Rohan Goswami, CNBC
Reddit users have engineered a prompt for artificial intelligence software ChatGPT that tries to force it to violate its own programming on content restrictions.
Bill Gates On Advising OpenAI, Microsoft And Why AI Is 'The Hottest Topic Of 2023'
Alex Konrad, Forbes
The Microsoft cofounder talked to Forbes about his work with AI unicorn OpenAI and back on Microsoft's campus, AI's potential impact on jobs and in medicine, and much more.
AI stocks rally in latest Wall Street craze sparked by ChatGPT
Medha Singh and Ankika Biswas, Reuters
Shares of C3.ai Inc, BigBear.ai and SoundHound AI extended a rally on Monday as artificial intelligence becomes a new buzzword on Wall Street with the viral success of ChatGPT chatbot, attracting interest from retail punters.
EU lawmakers aim for common position on draft AI rules by early March 
Supantha Mukherjee and Foo Yun Chee, Reuters
EU lawmakers hope to agree on draft artificial intelligence rules next month, with the aim of clinching a deal with EU countries by the end of the year, one of the legislators steering the AI Act said.
Search wars reignited by artificial intelligence breakthroughs
Richard Waters, Financial Times
Google, Microsoft and some start-ups plan to embed AI into their services in ways that may transform the market.
Telecom, Wireless and Internet Access
Cybersecurity and Privacy
Social Media and Content Moderation
Biden says he is not sure whether U.S. would ban TikTok
Jeff Mason, Reuters
U.S. President Joe Biden said on Monday he was not sure if Washington would ban Chinese-owned short video app TikTok.
U.S. senators question Meta over Chinese, Russian access to Facebook data
Rami Ayyub, Reuters
A bipartisan pair of U.S. senators said on Monday they had sent a letter to Meta CEO Mark Zuckerberg questioning the company about documents that they say reveal that Facebook developers in China and Russia had access to user data.
Dating apps must share information about threatening behaviour, says Australia's eSafety watchdog
Josh Butler, The Guardian
Dating apps must cooperate to share information about "bad actors" using their services to abuse and harass other users, Australia's eSafety Commissioner said, as new data shows three-quarters of Australian adults reported at least one negative online experience in the last year.
Pakistan Unblocks Wikipedia as PM Overturns Regulator's Order
Kamran Haider, Bloomberg
Pakistan Prime Minister Shehbaz Sharif ordered the unblocking of Wikipedia in the country Monday after a panel of ministers called the restriction over sacrilegious content an "unsuitable measure."
For Better and for Worse, Elon Musk Is His Own Spokesman
Jacob Bernstein, The New York Times
Under its new owner, Twitter has done away with its press department. One reporter who writes about the company compares it to a "giant black box."
Musk's Twitter Expected to Face the Strictest EU Content Rules
Jillian Deutsch and Kurt Wagner, Bloomberg
Elon Musk's Twitter Inc. is expected to fall under the European Union's stricter rules for content moderation despite doubts that the platform was big enough to qualify.
Meta to Revamp Horizon Metaverse App, Plans to Open for Teen Use as Soon as March
Salvador Rodriguez, The Wall Street Journal
Facebook parent Meta Platforms Inc. is revamping its fledgling Horizon Worlds metaverse app, seeking to draw in more teen and young-adult users after working to improve the service's design, according to a memo sent to the team working on the initiative.
Big Tech not doing enough to remove fake news, activist NGO Avaaz says
Foo Yun Chee, Reuters
Twitter, Google's YouTube, Meta Platform's Facebook, Microsoft's LinkedIn and TikTok are not doing enough to remove fake news from their platforms, raising doubts about their ability to comply with new EU online content rules, activist NGO Avaaz said on Tuesday.
Opinions, Editorials and Perspectives
This email was sent by: Morning Consult
729 15th St. NW Washington, DC, 20005, US