America's Most and Least Popular Senators
Sanders again on top while McConnell has worst numbers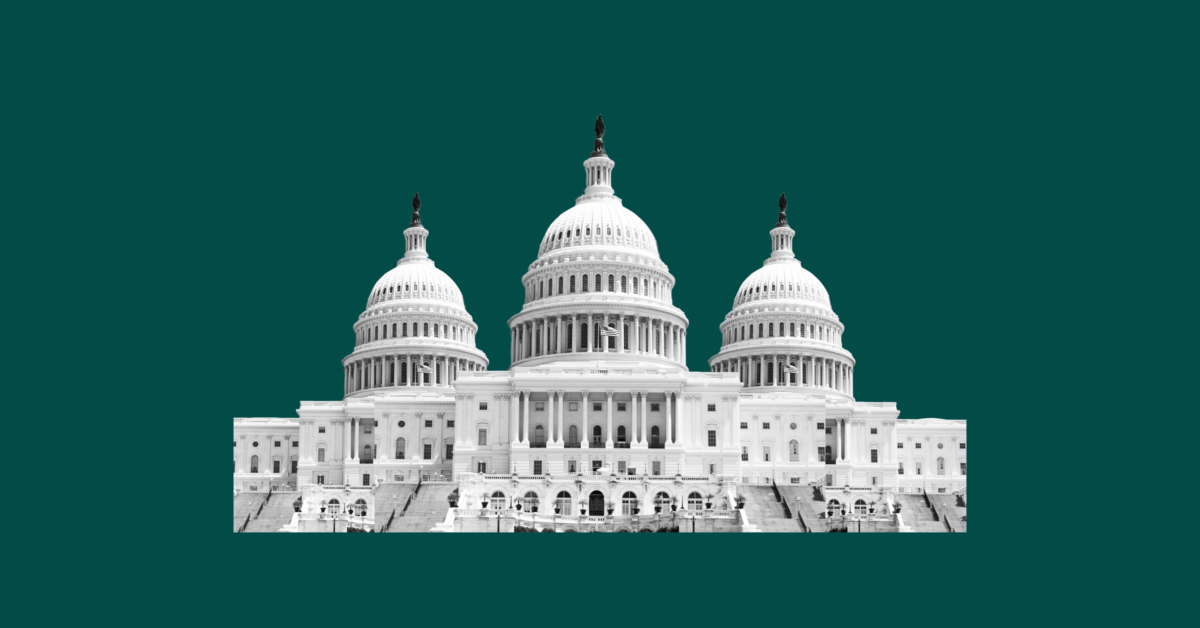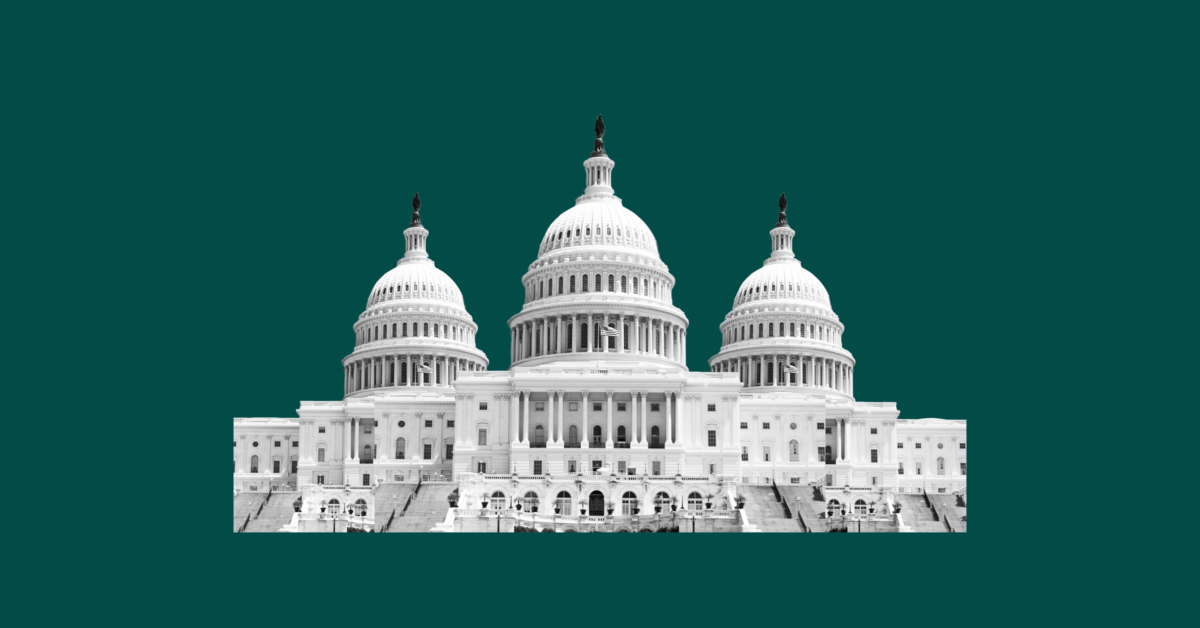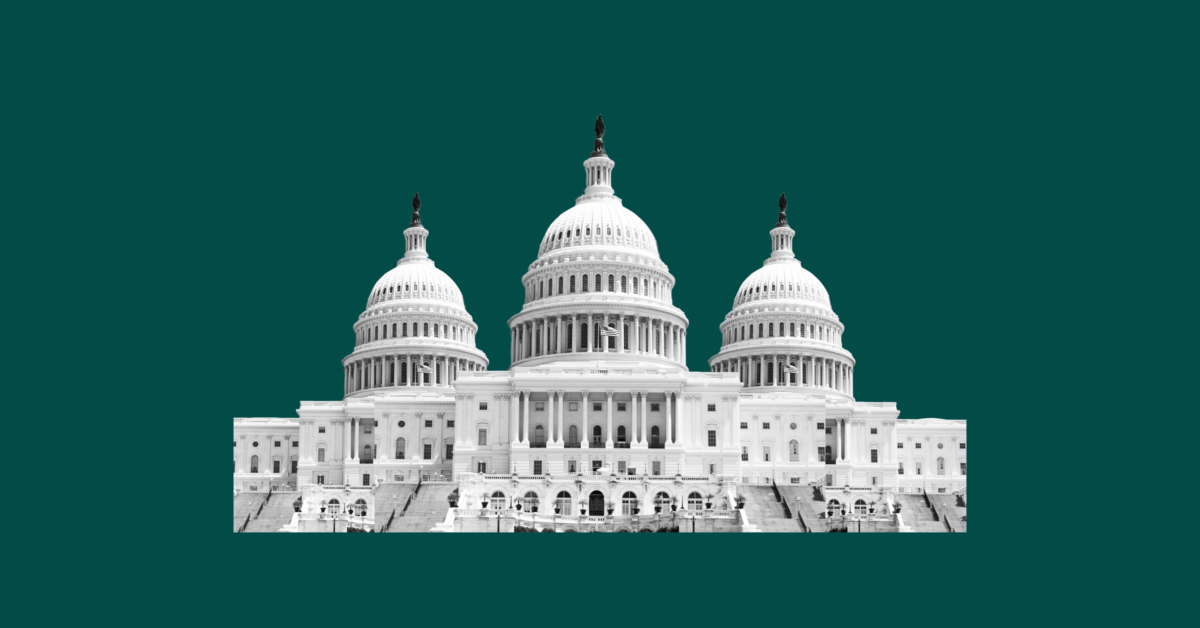 Sen. Robert Menendez (D-N.J.) saw his numbers decline while facing federal corruption charges.

Sen. Jeff Flake (R-Ariz.) went down in popularity, too, before his announcement that he would not seek re-election next year.
Along with President Donald Trump's declining support across the country, approval ratings for nearly all senators went down in their home states during the third quarter. The period overlapped with several unsuccessful Republican-led attempts to repeal the Affordable Care Act.
According to Morning Consult's latest Senator Approval Rankings – compiled from a poll of 255,120 registered voters in 50 states from July 1 to Sept. 30 – Senate Majority Leader Mitch McConnell (R-Ky.) is yet again America's least popular senator. Meanwhile, Sen. Bernie Sanders (I-Vt.) remains America's most popular senator. Full methodology available here.
In Kentucky, one-third of voters approve of McConnell's job performance, while 55 percent of voters said they disapprove — more than any other senator. In Vermont, 71 percent of voters approve of Sanders, while 22 percent disapprove of Sanders, who ran a stronger-than-expected race in 2016 for the Democratic presidential nomination.
McConnell's net approval, the difference in his approval and disapproval percentages, dropped 15 percentage points, the third-largest drop in the Senate, from the second quarter, according to the survey. The slide came as he failed to advance Obamacare repeal — a key pillar of the GOP's political agenda since the law's enactment in 2010.
Biggest swings
The most dramatic swings in approval came for Republican Sens. Shelley Moore Capito (W.Va.) and Sen. Cory Gardner (Colo.). Their net rankings both went down 18 percentage points.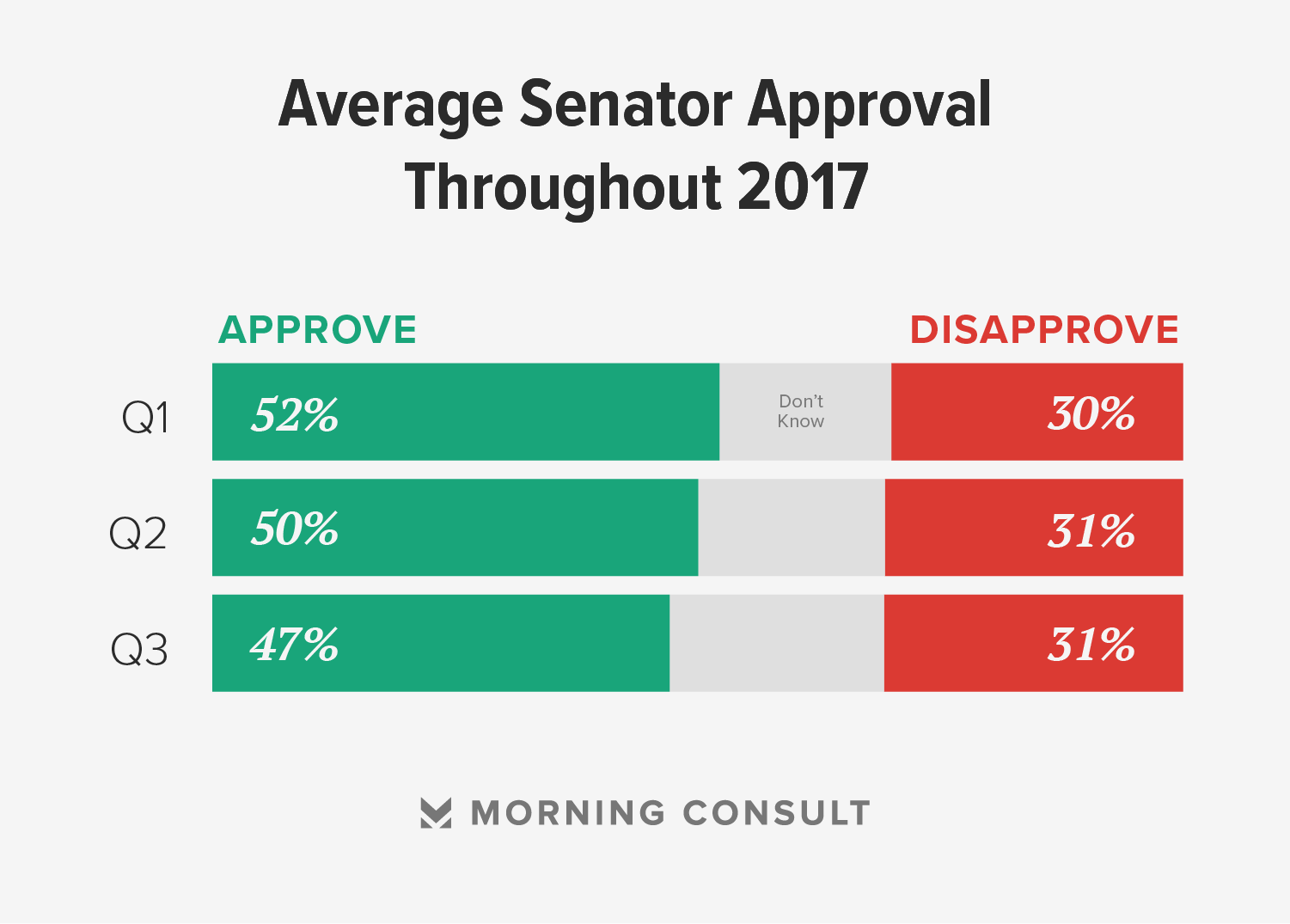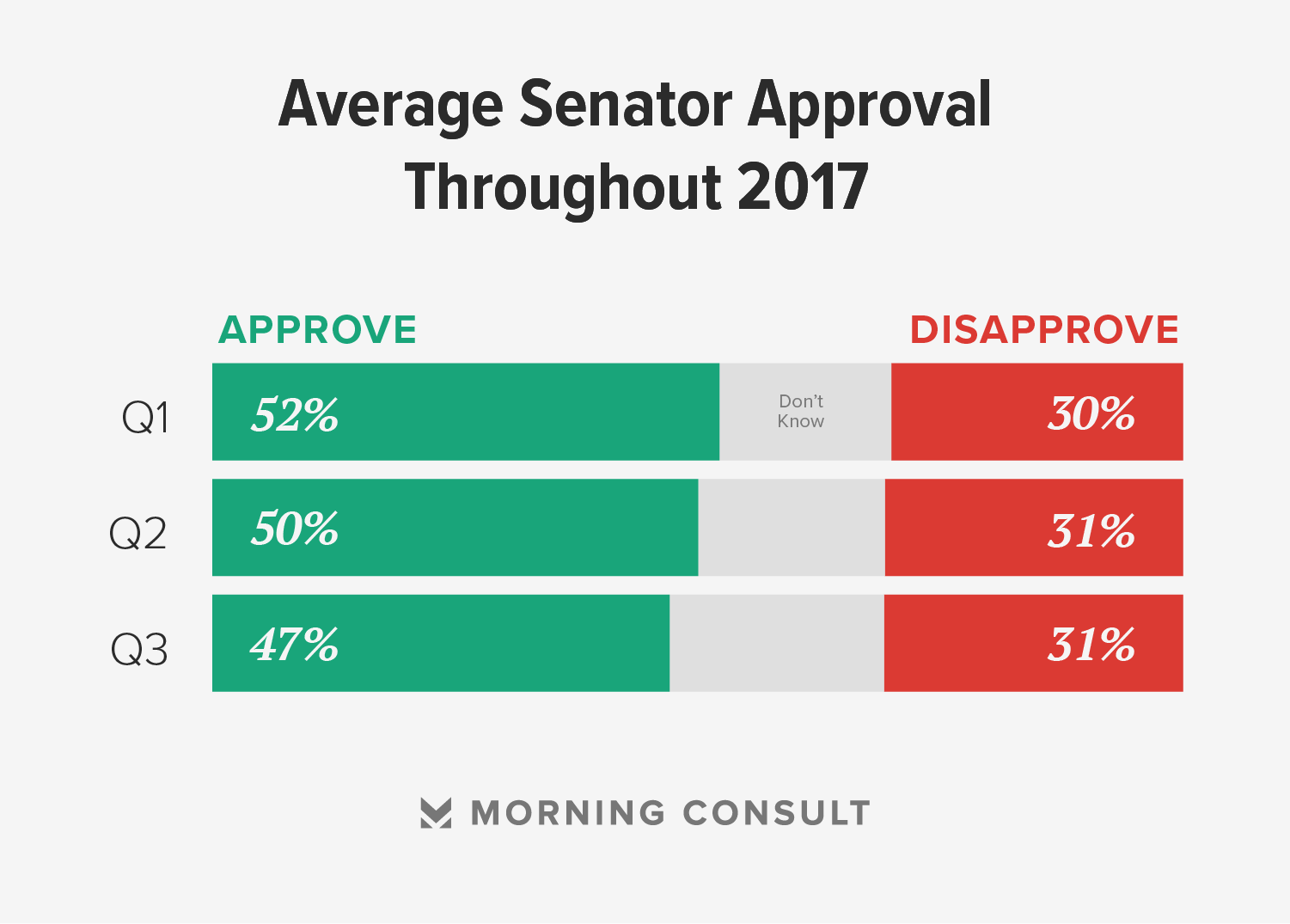 Since Morning Consult's last release in July, West Virginians' approval of Capito has fallen 8 points, from 56 percent to 48 percent, according to the survey. At the same time, her disapproval rose 10 points, from 26 percent to 36 percent.
Colorado voters are split nearly evenly (40 percent to 39 percent) on Gardner, who chairs the Senate GOP's campaign arm. Like Capito, his approval dropped 8 percentage points while his disapproval rose 10 percentage points.
Both senators would face voters again in 2020 if they choose to seek second, six-year terms.
The controversies
Sen. Robert Menendez (D-N.J.) – who spent several weeks consumed by a federal corruption trial – joined the ranks of senators whose approval went underwater in the third quarter. In New Jersey, 32 percent of voters approve of his job performance, the lowest of any senator. Forty-one percent disapprove of him and 28 percent said they did not know or had no opinion of the senator, who has been in that office since January 2006.
Sen. Jeff Flake (R-Ariz.), who published a book in August criticizing Trump's brand of politics, saw a 7-point drop in his net approval before he announced he would not run for re-election next year. He ended September as the second least-popular senator in the country, with 33 percent of voters approving of him compared with 48 percent disapproving. Two in 10 voters in Arizona said they did not know or had no opinion of Flake.
Rare improvements
Few senators saw improvement in their net approval rating outside the margins of error since the last survey was published in July. Sen. John McCain (R-Ariz.) broke that rule with a 6-percentage point increase in his net approval after being underwater in the second quarter of the year. The survey found 46 percent of Arizona voters approve of him and 44 percent of voters disapprove of him. McCain was the deciding vote against a Senate plan to repeal Obamacare and has been fighting cancer.
Sens. Tom Cotton (R-Ark.) and Jon Tester (D-Mont.) both saw their net approval increase by 9 percentage points. For Tester, who is up for re-election next year, that came from a 6-point drop in those who said they disapproved of him, to 33 percent, and a 3-percentage point spike in those who said they approved of him, to 53 percent — a change that is within Montana's 4-point margin of error.
Another Democrat up for re-election in a state won by Trump last year, Sen. Claire McCaskill (D-Mo.), saw her approval fall 4 points, to 42 percent — but her disapproval hardly moved, ending the quarter at 39 percent after she participated in several August town hall-style events.
| State | Senator | Approve | Dissaprove | Don't Know/No Opinion | Margin of Error |
| --- | --- | --- | --- | --- | --- |
| Alabama | Richard Shelby | 53% | 27% | 20% | 1% |
| Alabama | Luther Strange | 44% | 34% | 23% | 1% |
| Alaska | Lisa Murkowski | 49% | 38% | 13% | 5% |
| Alaska | Dan Sullivan | 49% | 32% | 18% | 5% |
| Arizona | John McCain | 46% | 44% | 10% | 1% |
| Arizona | Jeff Flake | 33% | 48% | 20% | 1% |
| Arkansas | Tom Cotton | 55% | 27% | 18% | 2% |
| Arkansas | John Boozman | 52% | 23% | 25% | 2% |
| California | Dianne Feinstein | 47% | 33% | 20% | 1% |
| California | Kamala Harris | 46% | 26% | 28% | 1% |
| Colorado | Michael Bennet | 46% | 30% | 24% | 2% |
| Colorado | Cory Gardner | 40% | 39% | 22% | 2% |
| Connecticut | Richard Blumenthal | 54% | 34% | 12% | 2% |
| Connecticut | Chris Murphy | 53% | 31% | 17% | 2% |
| Delaware | Thomas Carper | 55% | 24% | 20% | 3% |
| Delaware | Chris Coons | 48% | 29% | 22% | 3% |
| Florida | Bill Nelson | 50% | 26% | 24% | 1% |
| Florida | Marco Rubio | 47% | 37% | 16% | 1% |
| Georgia | David Perdue | 51% | 26% | 24% | 1% |
| Georgia | John Isakson | 49% | 26% | 25% | 1% |
| Hawaii | Mazie Hirono | 60% | 24% | 16% | 4% |
| Hawaii | Brian Schatz | 60% | 22% | 18% | 4% |
| Idaho | Michael Crapo | 50% | 30% | 19% | 3% |
| Idaho | James Risch | 43% | 29% | 28% | 3% |
| Illinois | Tammy Duckworth | 41% | 32% | 26% | 1% |
| Illinois | Dick Durbin | 37% | 38% | 25% | 1% |
| Indiana | Joe Donnelly | 47% | 26% | 27% | 1% |
| Indiana | Todd Young | 45% | 26% | 28% | 1% |
| Iowa | Chuck Grassley | 50% | 35% | 15% | 2% |
| Iowa | Joni Ernst | 45% | 36% | 19% | 2% |
| Kansas | Jerry Moran | 44% | 34% | 22% | 2% |
| Kansas | Pat Roberts | 39% | 40% | 21% | 2% |
| Kentucky | Rand Paul | 48% | 36% | 16% | 1% |
| Kentucky | Mitch McConnell | 33% | 55% | 12% | 1% |
| Louisiana | John Kennedy | 50% | 25% | 26% | 2% |
| Louisiana | Bill Cassidy | 47% | 30% | 24% | 2% |
| Maine | Susan Collins | 62% | 30% | 8% | 3% |
| Maine | Angus King | 61% | 27% | 12% | 3% |
| Maryland | Ben Cardin | 50% | 23% | 27% | 1% |
| Maryland | Chris Van Hollen | 48% | 23% | 29% | 1% |
| Massachusetts | Elizabeth Warren | 54% | 35% | 11% | 1% |
| Massachusetts | Ed Markey | 49% | 22% | 28% | 1% |
| Michigan | Debbie Stabenow | 45% | 36% | 19% | 1% |
| Michigan | Gary Peters | 37% | 28% | 35% | 1% |
| Minnesota | Amy Klobuchar | 59% | 26% | 15% | 2% |
| Minnesota | Al Franken | 55% | 32% | 14% | 2% |
| Mississippi | Thad Cochran | 51% | 27% | 21% | 2% |
| Mississippi | Roger Wicker | 49% | 26% | 24% | 2% |
| Missouri | Roy Blunt | 44% | 36% | 20% | 1% |
| Missouri | Claire McCaskill | 42% | 39% | 18% | 1% |
| Montana | Jon Tester | 53% | 33% | 14% | 4% |
| Montana | Steve Daines | 49% | 32% | 20% | 4% |
| Nebraska | Ben Sasse | 46% | 34% | 20% | 3% |
| Nebraska | Deb Fischer | 45% | 35% | 19% | 3% |
| Nevada | Catherine Cortez Masto | 45% | 32% | 23% | 2% |
| Nevada | Dean Heller | 39% | 39% | 21% | 2% |
| New Hampshire | Maggie Hassan | 53% | 31% | 15% | 3% |
| New Hampshire | Jeanne Shaheen | 50% | 33% | 17% | 3% |
| New Jersey | Cory Booker | 48% | 30% | 21% | 1% |
| New Jersey | Robert Menendez | 32% | 41% | 28% | 1% |
| New Mexico | Tom Udall | 46% | 31% | 24% | 3% |
| New Mexico | Martin Heinrich | 45% | 31% | 24% | 3% |
| New York | Chuck Schumer | 55% | 29% | 15% | 1% |
| New York | Kirsten Gillibrand | 49% | 24% | 26% | 1% |
| North Carolina | Richard Burr | 42% | 32% | 27% | 1% |
| North Carolina | Thom Tillis | 38% | 31% | 30% | 1% |
| North Dakota | John Hoeven | 63% | 20% | 18% | 4% |
| North Dakota | Heidi Heitkamp | 55% | 32% | 14% | 4% |
| Ohio | Sherrod Brown | 47% | 28% | 25% | 1% |
| Ohio | Rob Portman | 43% | 31% | 25% | 1% |
| Oklahoma | James Lankford | 48% | 28% | 24% | 2% |
| Oklahoma | James Inhofe | 45% | 34% | 21% | 2% |
| Oregon | Ron Wyden | 56% | 23% | 21% | 2% |
| Oregon | Jeff Merkley | 53% | 24% | 24% | 2% |
| Pennsylvania | Robert Casey | 43% | 32% | 25% | 1% |
| Pennsylvania | Patrick Toomey | 39% | 38% | 23% | 1% |
| Rhode Island | Jack Reed | 51% | 28% | 21% | 3% |
| Rhode Island | Sheldon Whitehouse | 49% | 32% | 18% | 3% |
| South Carolina | Tim Scott | 55% | 22% | 24% | 1% |
| South Carolina | Lindsey Graham | 44% | 39% | 17% | 1% |
| South Dakota | John Thune | 56% | 31% | 13% | 4% |
| South Dakota | Mike Rounds | 51% | 32% | 16% | 4% |
| Tennessee | Bob Corker | 48% | 30% | 23% | 1% |
| Tennessee | Lamar Alexander | 45% | 31% | 23% | 1% |
| Texas | Ted Cruz | 52% | 32% | 16% | 1% |
| Texas | John Cornyn | 46% | 27% | 28% | 1% |
| Utah | Mike Lee | 52% | 30% | 18% | 2% |
| Utah | Orrin Hatch | 46% | 41% | 13% | 2% |
| Vermont | Bernie Sanders | 71% | 22% | 6% | 4% |
| Vermont | Patrick Leahy | 67% | 22% | 12% | 4% |
| Virginia | Mark Warner | 53% | 28% | 19% | 1% |
| Virginia | Tim Kaine | 48% | 35% | 18% | 1% |
| Washington | Patty Murray | 51% | 32% | 17% | 1% |
| Washington | Maria Cantwell | 50% | 28% | 22% | 1% |
| West Virginia | Joe Manchin | 53% | 36% | 11% | 2% |
| West Virginia | Shelley Moore Capito | 48% | 36% | 16% | 2% |
| Wisconsin | Tammy Baldwin | 41% | 38% | 21% | 1% |
| Wisconsin | Ron Johnson | 41% | 39% | 20% | 1% |
| Wyoming | John Barrasso | 53% | 26% | 21% | 6% |
| Wyoming | Mike Enzi | 53% | 25% | 21% | 6% |