U.S. Vaccine Dashboard
Vaccine Sentiment Remains Unchanged in Wake of Mandate Announcement
By Nick Laughlin and Peyton Shelburne | Updated: October 7, 2021
Morning Consult is conducting around 40,000 weekly survey interviews in the United States on the vaccine rollout, providing deep insights at a granular level into which segments of the population are most and least opposed to vaccinations, and what factors are driving skepticism. The latest data is based on surveys conducted from September 28-October 4, 2021, among 39,109 U.S. adults, with a margin of error of 1 percentage point. Updates will be provided monthly. Get alerts with the latest data. 
KEY TAKEAWAYS
Vaccine hesitancy in the United States is unchanged following the White House's COVID-19 vaccine mandate. Over the past month, the share of U.S. adults who are opposed to getting vaccinated has remained at 18% and those who are hesitant has remained at 10%. 
Women are more skeptical of the vaccine than men. 20% of women are opposed to getting vaccinated, compared to 15% of men. Republican women in particular remain a major source of vaccine skepticism, as 29% do not plan on getting vaccinated and 11% are uncertain. Overall, GOP women are 13 percentage points more likely than all adults — and 9 points more likely than male Republicans — to be skeptical of the vaccine.
Across all major demographic groups, the top issues cited for vaccine uncertainty are side effects and accelerated approval. Women are 5 points more likely to cite the speed of the clinical trials as the primary reason for uncertainty, and men are 5 points more likely to say the risk of getting COVID-19 is too small. In general, concerns about side effects and an expedited approval process are much more likely to drive vaccine uncertainty than general opposition to vaccines. View more.
Vaccine opposition is highest in Wyoming, Idaho and Alaska. 1 in 3 adults in Wyoming are unwilling to get vaccinated, while 28% of adults in Idaho and Alaska say the same. Vaccine opposition is lowest in Vermont (8%), Connecticut (10%) and the District of Columbia (10%). View more.
Topline tracking: Overall, 66% of Americans said they had received at least one shot, 7% plan to get vaccinated, 10% are uncertain whether they will be, and 18% do not plan to get one.
Demographic Trends

In order to gauge vaccination rates and interest, Morning Consult asked Americans, "Have you gotten the vaccine, or not?" Respondents could reply "Yes," "No, but I will get it in the future," "No, and I am not sure if I will get it in the future," or "No, and I do not plan to get it."
The most recent data shows that 25% of Republicans do not plan on getting vaccinated, the highest level of any major demographic group. Older Americans, Democrats and more well-educated adults are less likely to oppose getting vaccinated.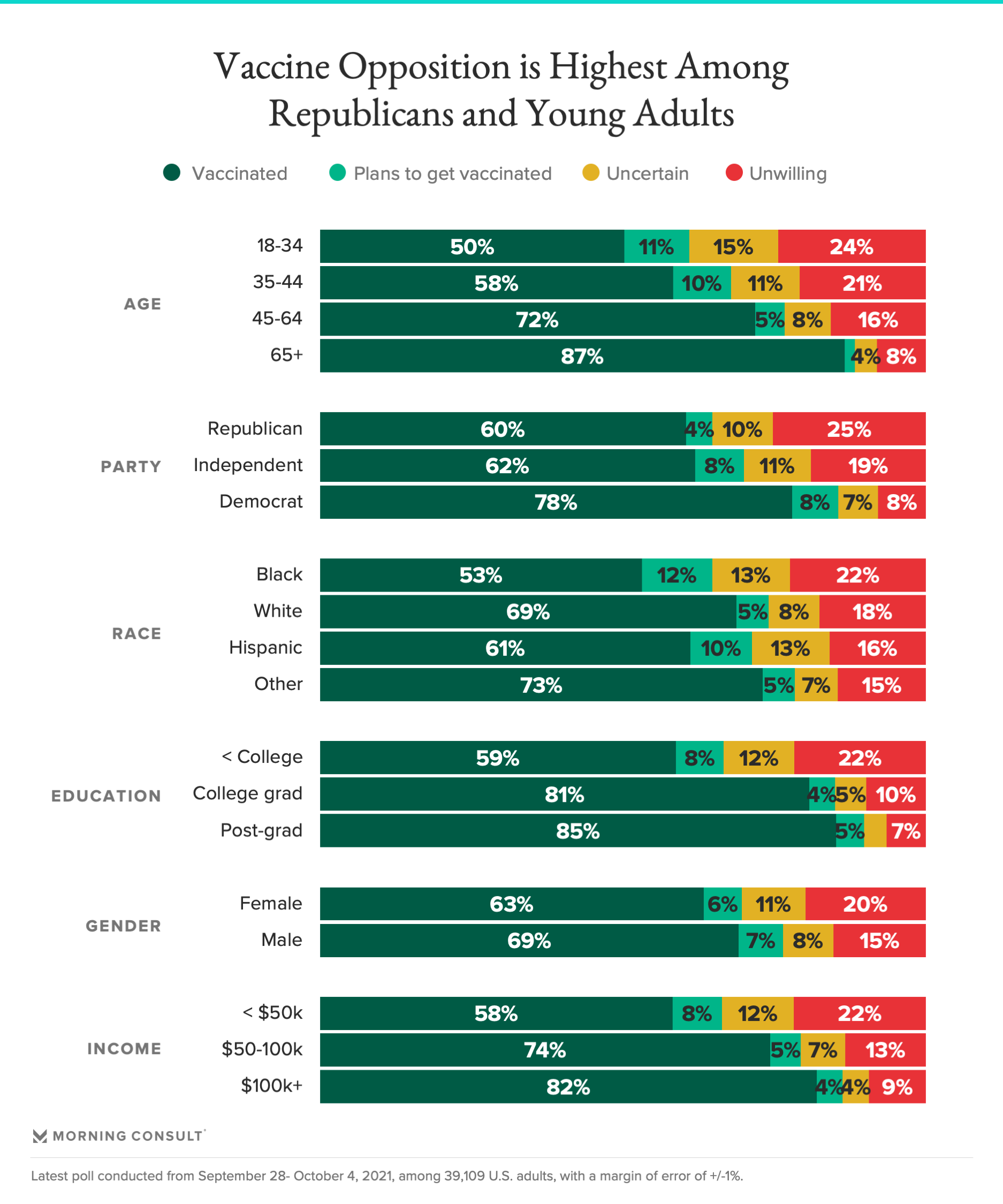 Women are 8 points more likely to be skeptical about getting vaccinated than men. One of the most significant pockets of vaccine skepticism is among Republican women, 40% of whom are either unwilling to get vaccinated or are uncertain.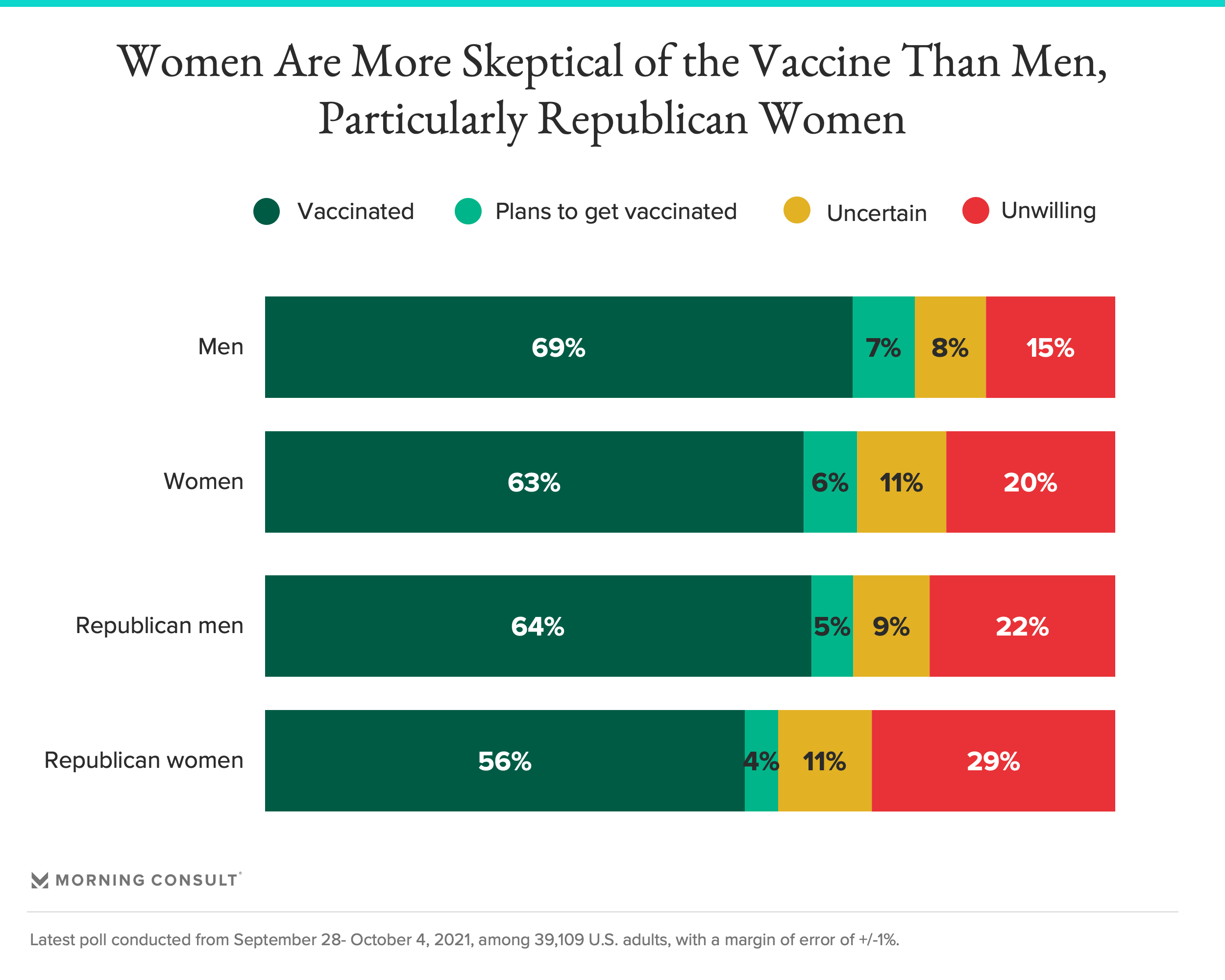 Deeper Demographic Trends:
State-Level Tracking
Rates of Vaccine Opposition by State
Gauging Vaccine Skepticism
 Since Morning Consult began tracking in mid-March, the share of total vaccine skeptics (uncertain plus unwilling) has dropped from 39% to 27% of the adult population.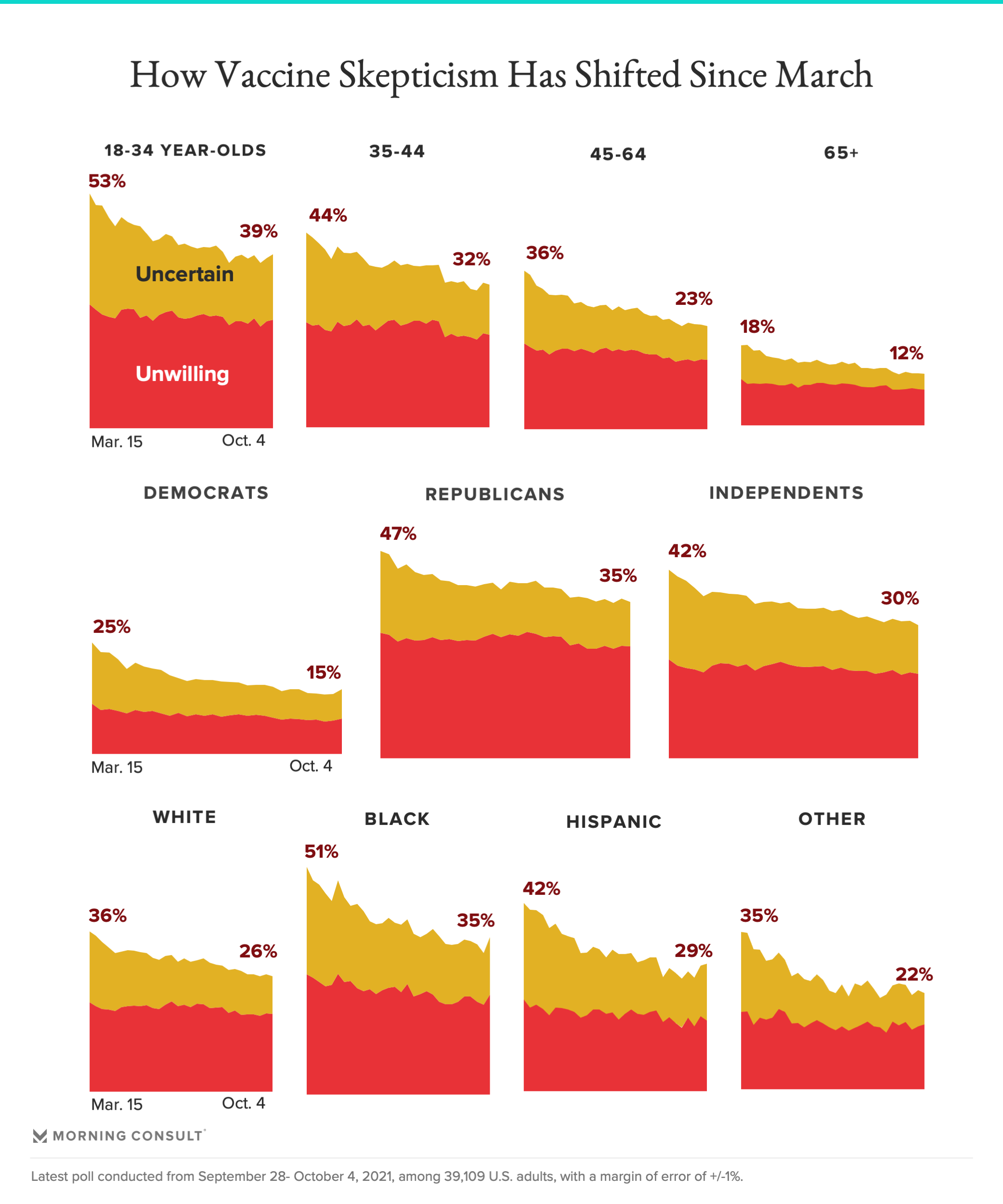 Drilling down into what's driving skepticism, those who are uncertain tend to be more likely to cite side effects and sped-up approval processes, while those who are unwilling are more likely to say they don't trust the manufacturers or vaccines in general.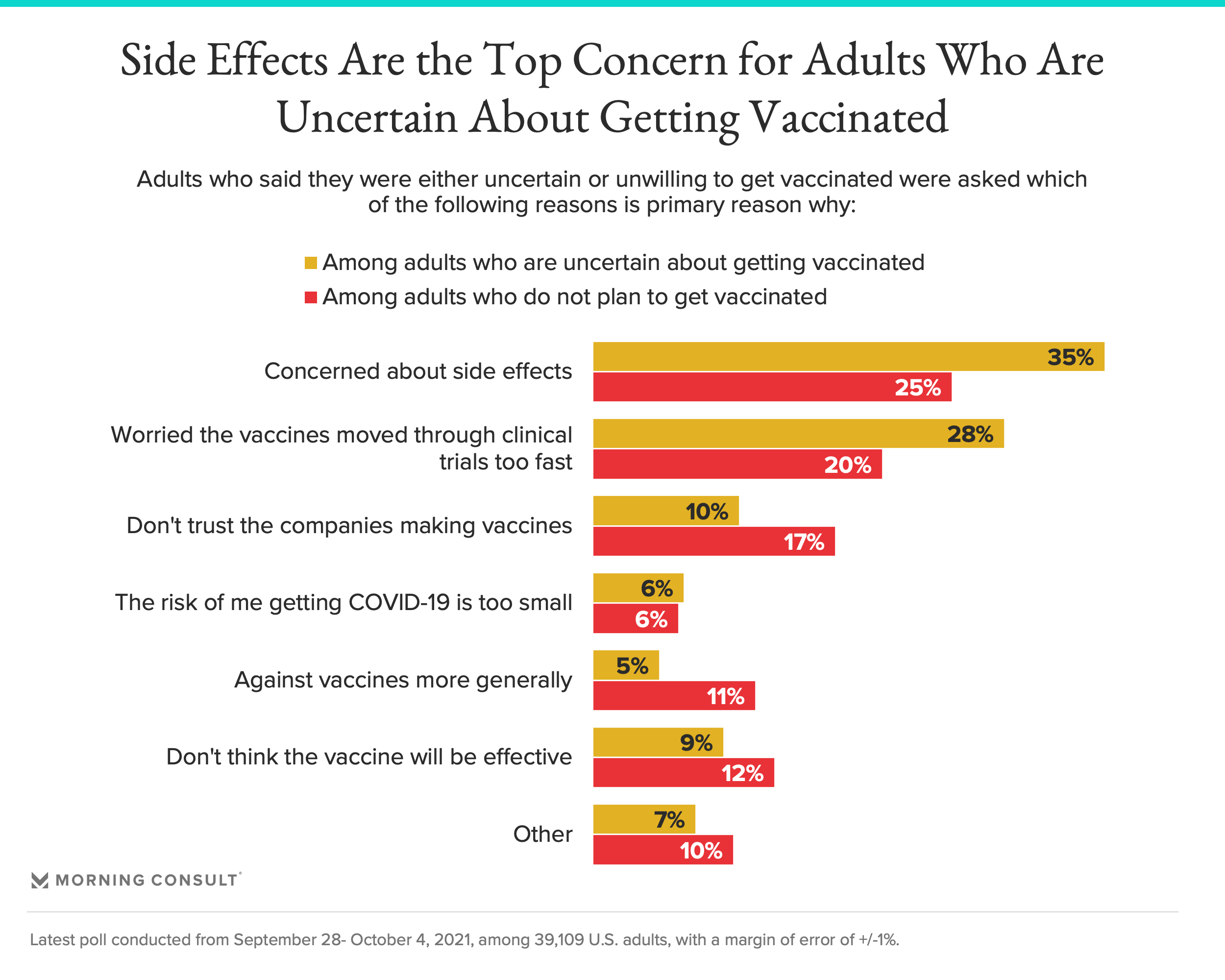 Among just those who are uncertain about getting vaccinated, their reasons are largely similar across a wide range of different demographic groups. However, women are 5 percentage points more likely to cite the speed of the clinical trials as their primary reason for hesitation, and men are 5 percentage points more likely to cite the risk of getting COVID-19 as too small.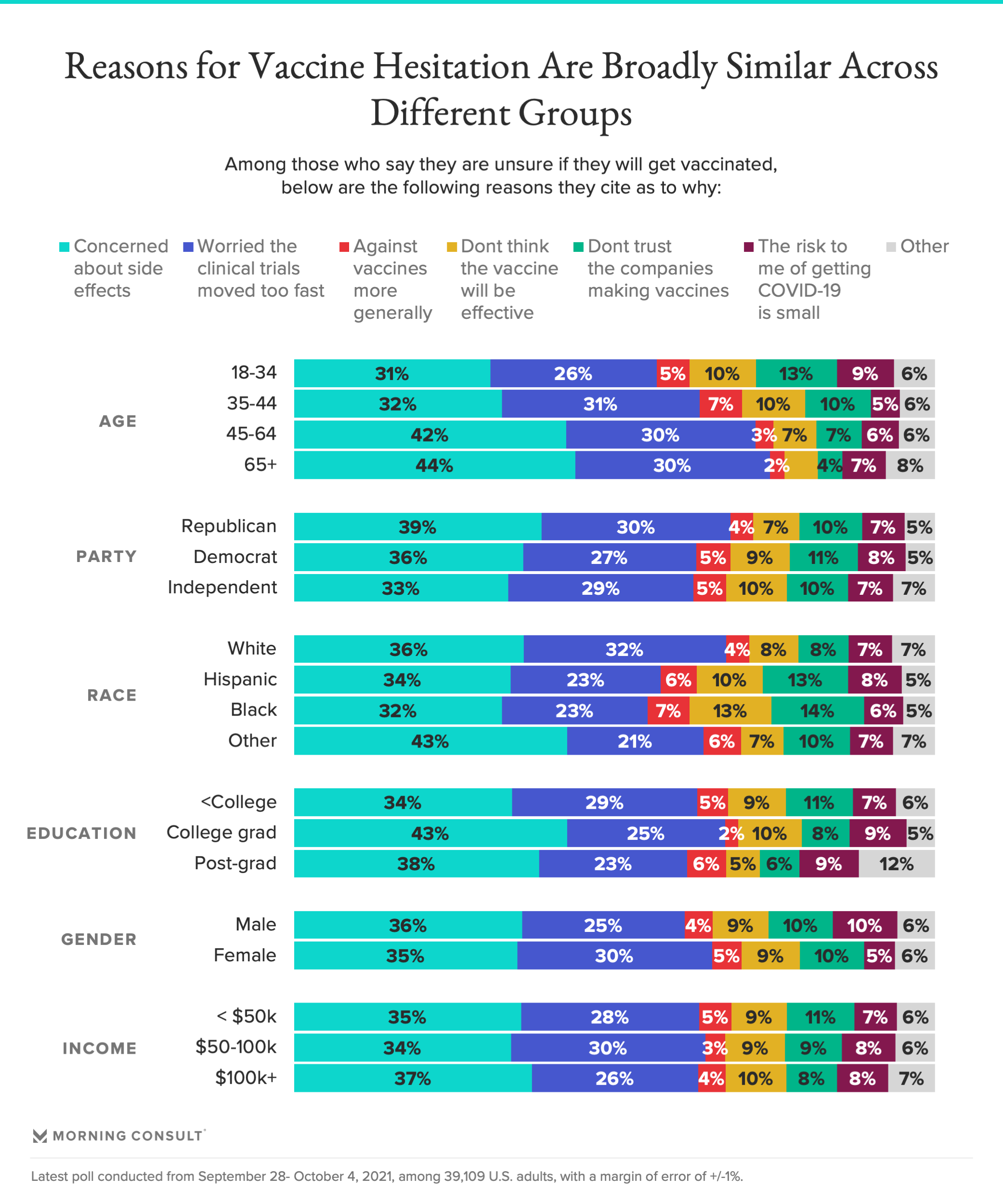 Vaccine Uptake
The share of adults who say they have received at least one dose:
Looking just at those Americans who are willing to get vaccinated (either have been or plan to get vaccinated), the data shows that over 9 in 10 U.S. adults have already received at least one dose. However, there are notable demographic differences, particularly along age, racial and income lines.
Methodology
Morning Consult conducts daily interviews with over 6,000 respondents in the United States. The interviews are conducted online through multiple nationally recognized vendors. Morning Consult uses a stratified sampling process based on age and gender to reach a broad, nationally representative audience in each country. Daily responses are weighted to approximate a representative sample of adults based on U.S. census data.
The weighting methodology for national data considers a range of demographic characteristics, including age, race/ethnicity, gender, educational attainment, and region. State-level results were weighted separately to be representative of age, gender, race/ethnicity, education, home ownership and population density.