McDonald's Community Impact: Millennials Aren't Loving It
The fast-food chain has divergent community rankings, but millennials are more downbeat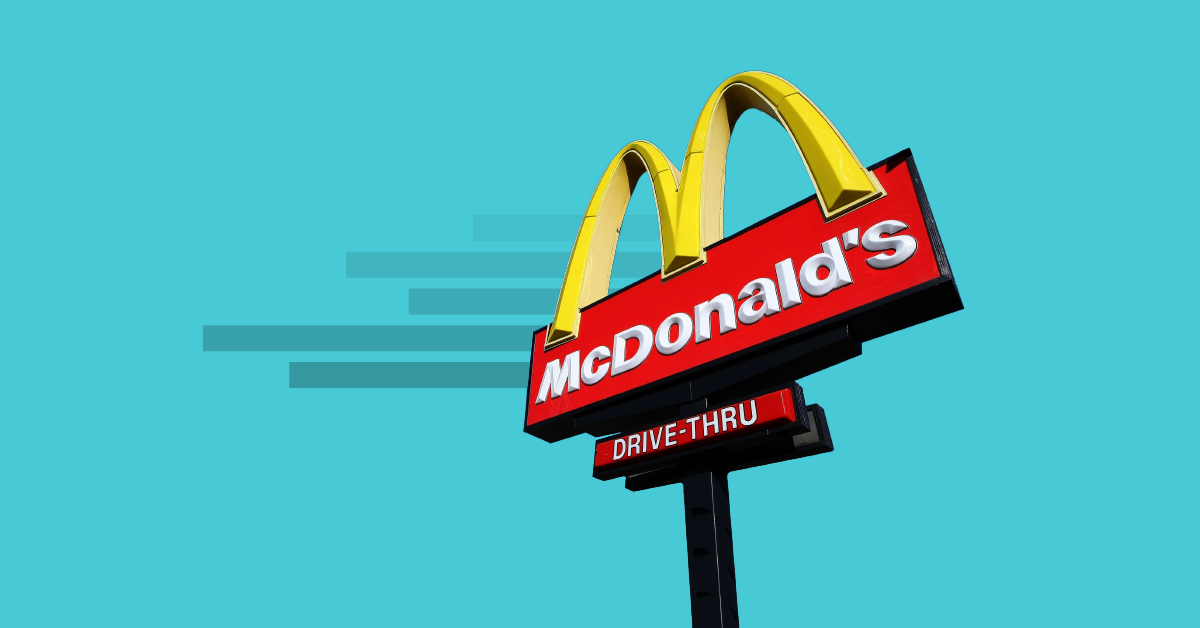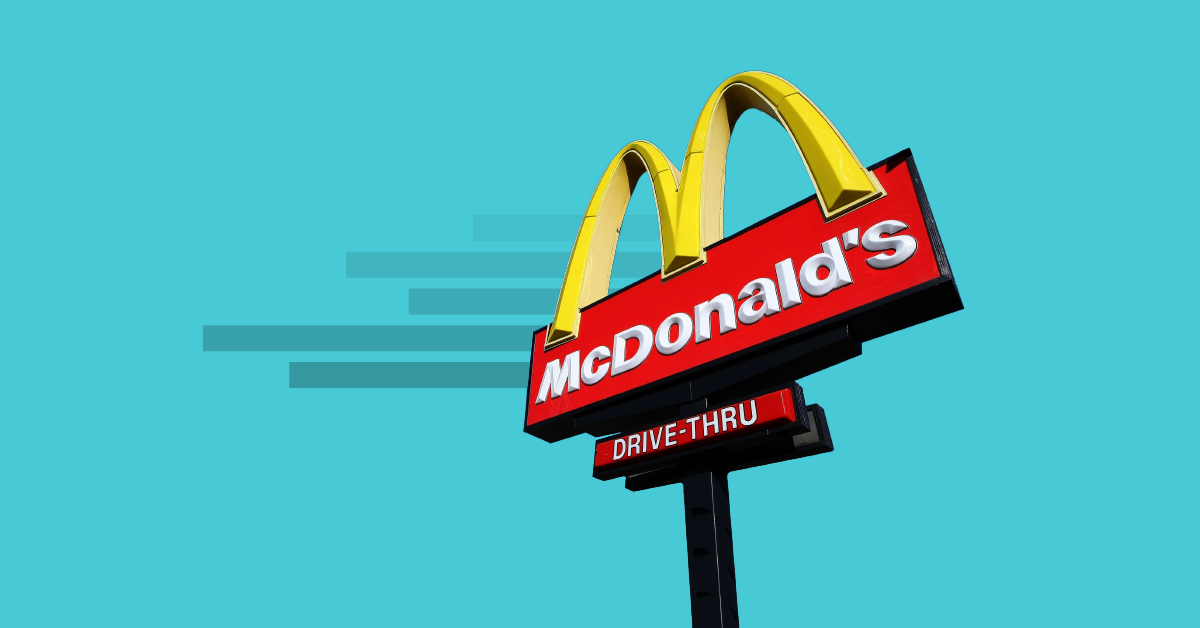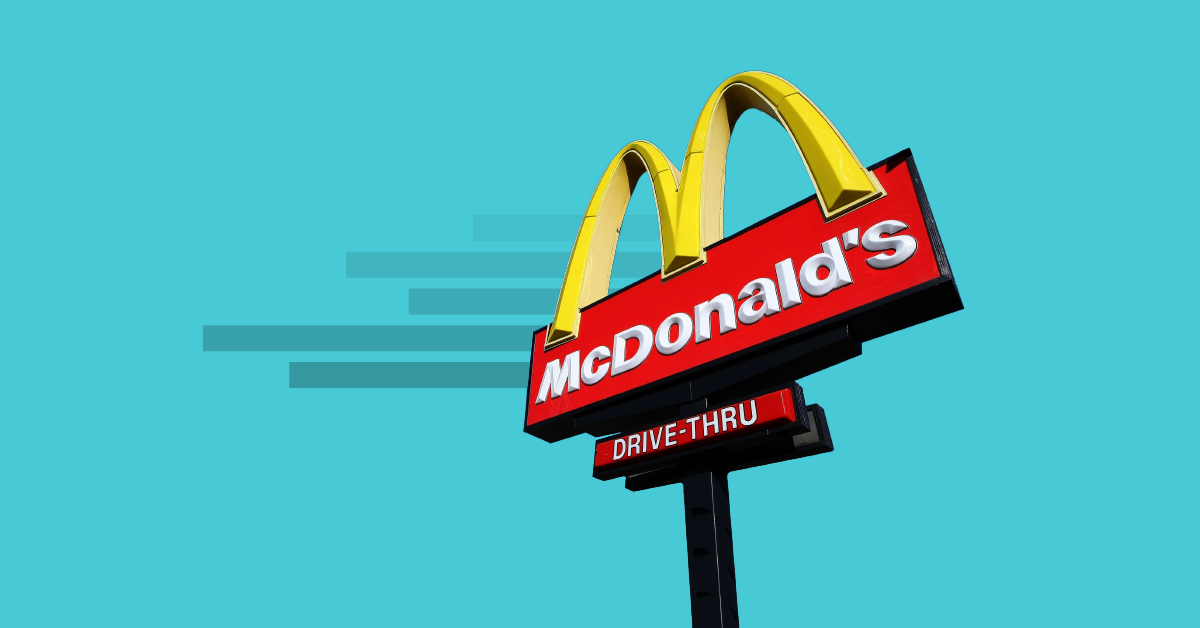 McDonald's has a millennial problem: A disproportionate percentage of young adults say the fast-food chain negatively impacts their community.
Of course, McDonald's Corp. inspires divergent community rankings overall, according to Morning Consult's inaugural Community Impact Rankings. While 52 percent of U.S. adults said the fast-food restaurant has a positive effect on their local community, 17 percent said it has a negative influence.
Among young adults — ages 18 to 34 — 26 percent said the company has a negative impact. By comparison, 8 percent of adults 65 and older said the same.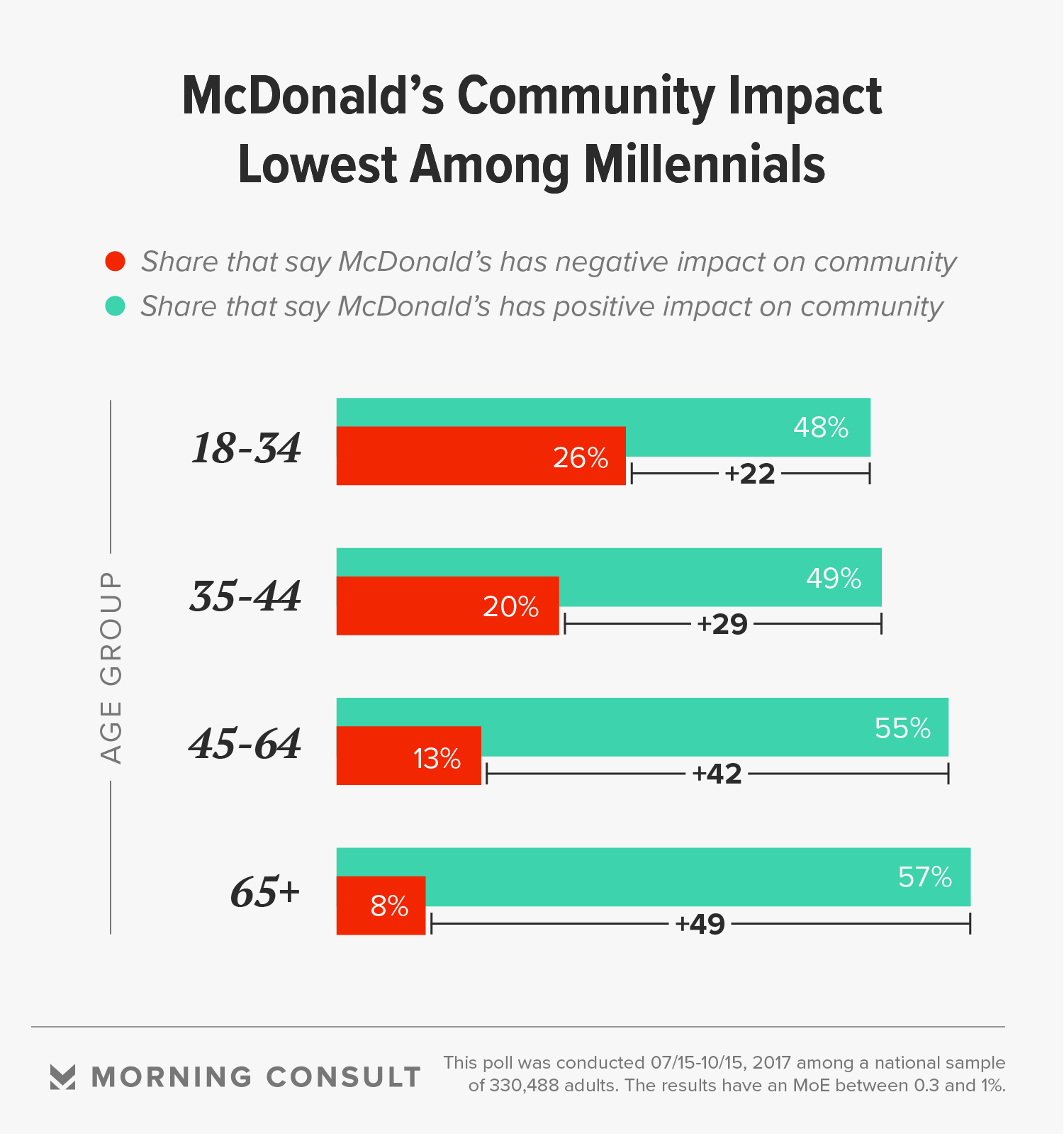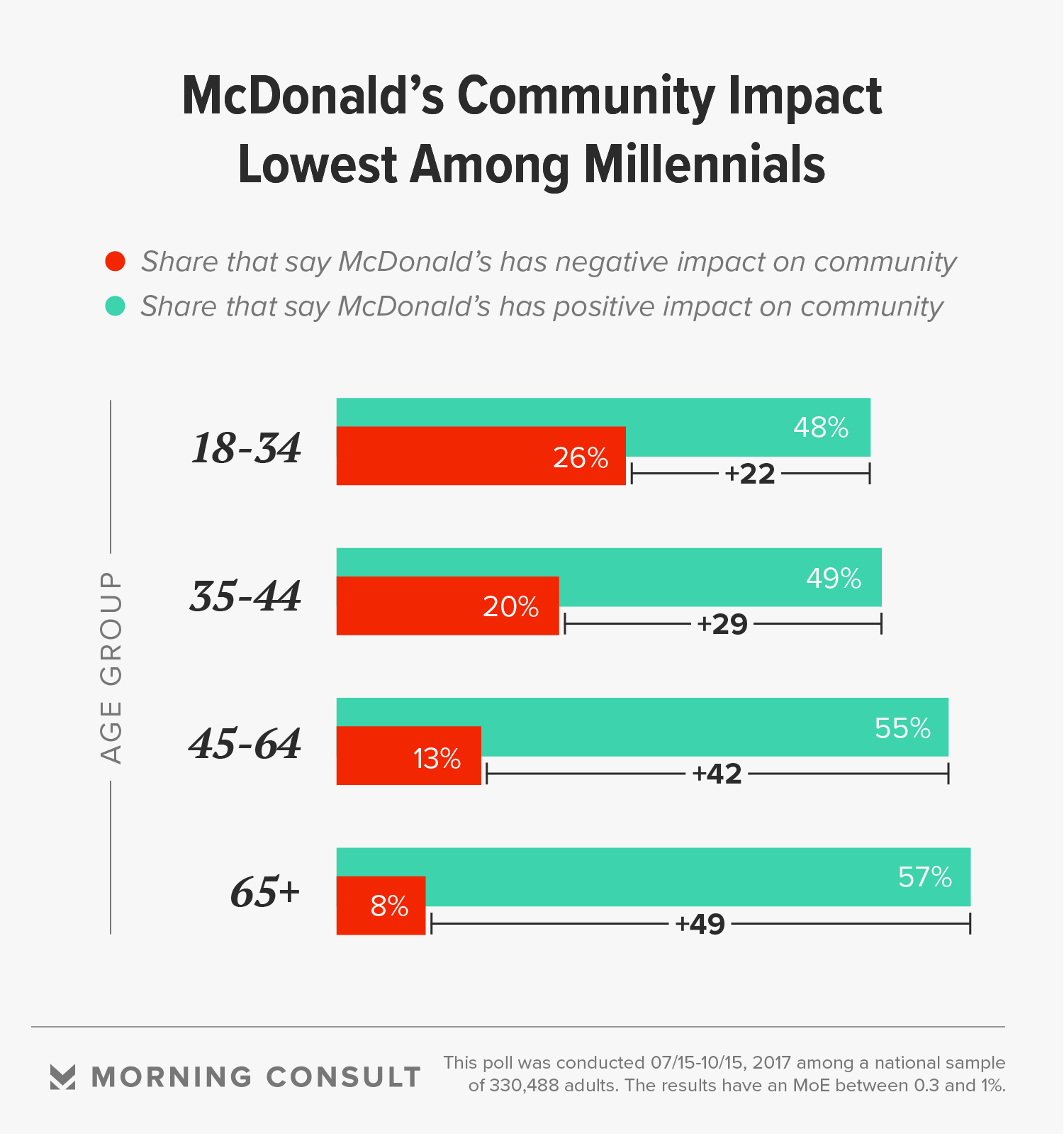 "Authenticity rules with this demographic," Michael Fineman, president of the public relations firm Fineman PR, said in an interview this month. "You have to look at the image of the brand from a millennial's perspective: It is perceived as one of the largest corporate food brands in the world."
McDonald's has higher favorability ratings compared to the restaurant industry overall, even among young adults, Morning Consult surveys show. There are generation gaps on the community impact of fast-food chains like Burger King and Wendy's, but not to the same degree as McDonald's.
Meanwhile, the net community impact of fast-food chain Chick-fil-A is 10 percentage points higher among millennials than it is among the public as a whole — 52 percent versus 42 percent, respectively.
Of course, a company as big as McDonald's — the second-biggest global fast-food chain, with almost 37,000 restaurants around the world — has the herculean task of demonstrating believable authenticity in the local community, Fineman said.
"For a global brand, it is more challenging to connect locally on a meaningful level and see a quick lift," he said.
McDonald's has several corporate social responsibility campaigns. Ronald McDonald House Charities' main mission is to provide housing at little or no cost to families with sick children to allow them to stay together during treatment. It helped 5.5 million children worldwide last year, spending about $46 million on programs and administrative costs after taking in more than $29 million in contributions.
The charities are well advertised to McDonald's customers: Donation boxes regularly appear in front of cash registers and outside drive-through windows. Yet millennials were less likely than the public as a whole — 68 percent versus 73 percent — to say the company gives back to the communities it serves with charitable donations, according to a separate Morning Consult poll. Young adults in that survey were also more likely to say a fast-food or fast-casual restaurant's charitable contributions impact their selection of a restaurant.
Millennials' divergent attitudes toward Mickey D's local impact may be nutrition-related: 60 percent of young adults said they don't think the chain offers enough nutritional menu options, compared to 49 percent of the general public who said the same.
"Millennials have adopted a wide range of values around food issues," said Marion Nestle, professor emerita of nutrition, food studies and public health at New York University. "They care a lot about where food comes from, how animals are raised and the effects of food production on the environment."
Fineman added that documentaries like "Super Size Me," which traced the dietary problems of its filmmaker after he ate only McDonald's meals for a month, don't help perceptions of McDonald's overall influence.
Millennials have adopted a wide range of values around food issues.
Marion Nestle, professor emerita of nutrition, food studies and public health at New York University.
McDonald's is aware of millennials' lackluster views of the chain's impact, Nick Setyan, an equity research analyst at the investment firm Wedbush Securities, said in an interview this month. And the chain has taken steps to address those concerns.
Continuing to improve its quality of ingredients—and emphasizing those changes—is an important step for McDonald's as it tries to change perceptions of its brand overall, Setyan said. 
He said the best options for winning over millennials include granting them more access to McDonald's via the avenues they appreciate and use, such as installing kiosks, investing in delivery and improving online presence, as well as implementing more nutritional changes like using fresh beef patties.
McDonald's has been struggling to find new customers over the past few years. Company executives told investors in March that its restaurants in the U.S. have lost 500 million potential customer transactions since 2012, according to a webcast of the event.
McDonald's did not provide a comment for this story.
But Setyan suggested that if poll respondents — both the general public and millennials — were surveyed a few years ago, perceptions of the chain's community impact would have been even more dire. Morning Consult polling shows the public's perception of McDonald's community impact holding steady during the past year, with net perceptions among young adults increasing 2 points, even as the fast-food industry's average favorability dropped to 55 percent from 67 percent in October 2016.
"Even though there's still a lot more improvement to go, things are improving," Setyan said.