Increased Support for Buying 'Made in America' Goods, but Don't Credit Trump
The president's boosterism of domestic manufacturing only goes so far, experts say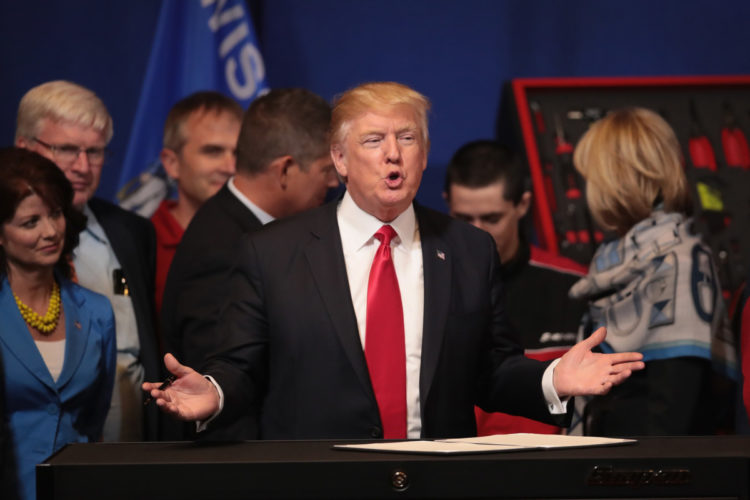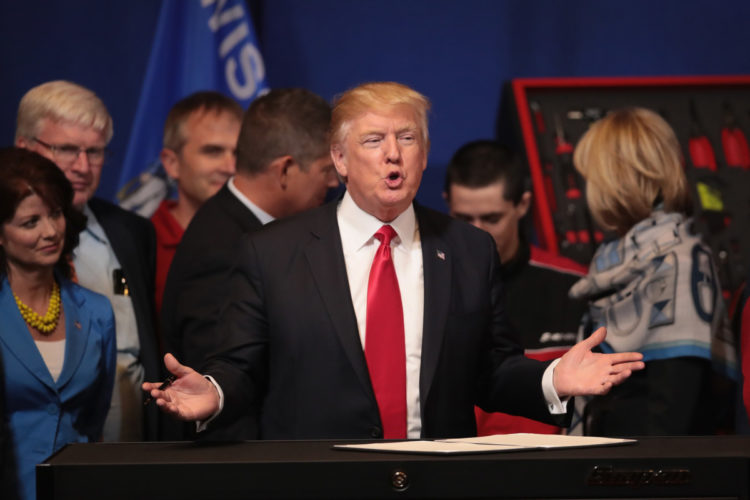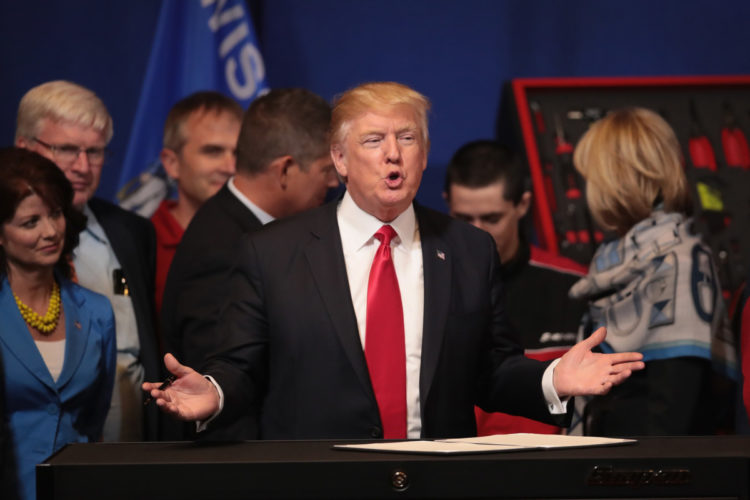 Experts say that the discrepancy illustrates just how price-sensitive American shoppers are.
U.S. consumers are willing to pay more for "Made in America" goods, according to a recent nationwide survey. But there's a financial limit to how much they'll support a key 2016 campaign theme by President Donald Trump.
Sixty-seven percent of adults in the United States would be willing to pay more for products if they knew doing so would support American manufacturing, according to a Morning Consult poll conducted Oct. 26-30. The survey of 2,201 U.S. adults has a margin of error of 2 percentage points.
When asked about specific price points for a hypothetical product, however, consumer attitudes diverged — particularly along political lines.
Respondents were given the choice between a $50 coat made overseas and a $50 coat made in the United States, and 84 percent said they would opt for the domestic garment. As the price of the American-made coat rose to $60 and then $75, the percentage of respondents who said they would purchase it slipped to 70 percent and 52 percent, respectively.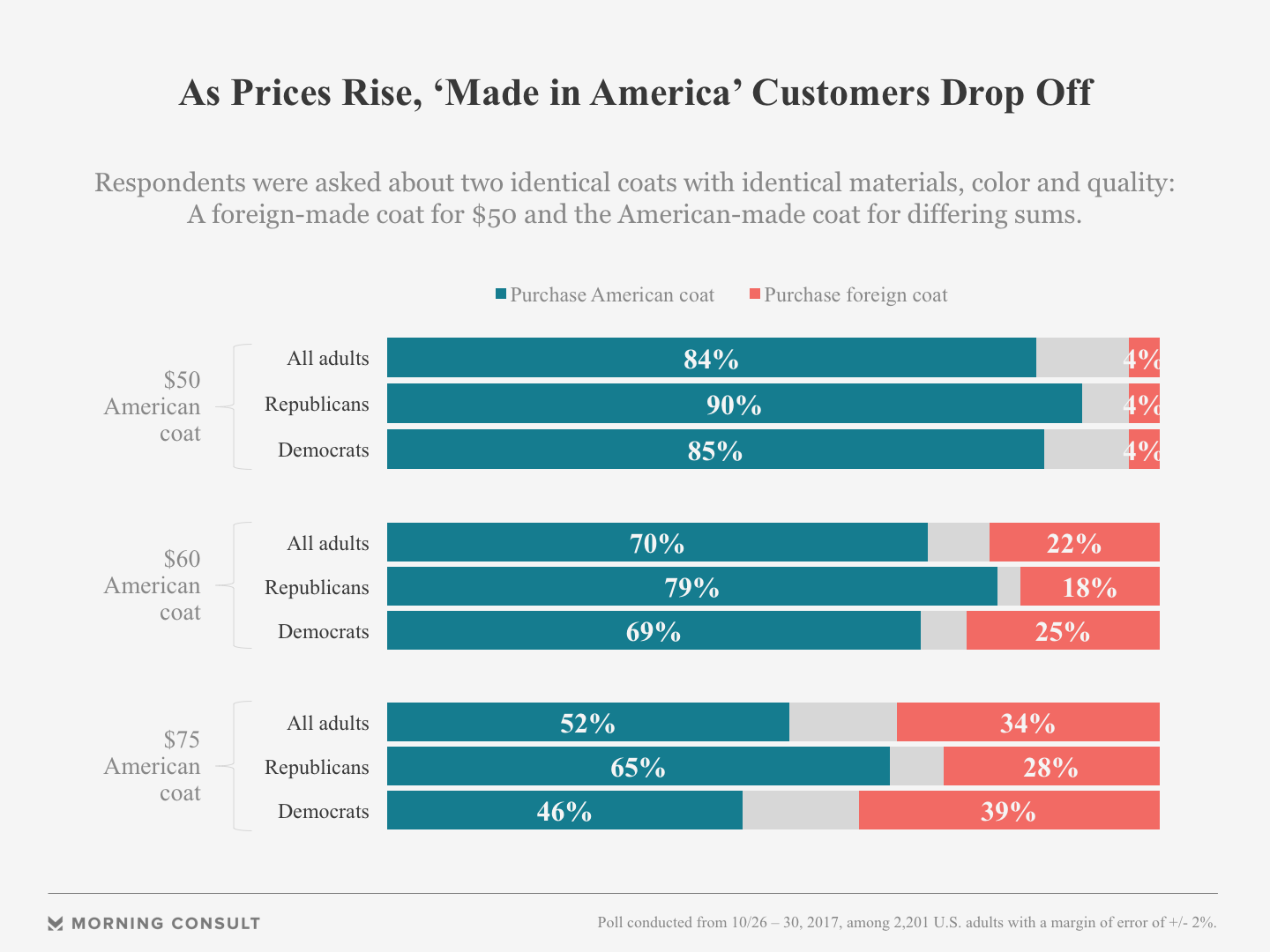 Put another way: Support for purchasing a "Made in America" product dropped 38 percent when its price jumped 50 percent.
Experts said the discrepancy reveals just how price-sensitive American shoppers are, and they downplayed the effect of recent politicization of American manufacturing and consumption, such as Trump's Buy American and Hire American executive order from April.
"We can put a dollar figure on anything," said Anthony Dukes, an associate professor at the University of Southern California's Marshall School of Business who specializes in pricing strategy, in an interview this month. "Marketers do this all the time. They put a value on a brand; they put a value on an attribute of a product; and they even put a dollar value on 'Made in the USA.'"
Answers to this question have shifted since last year, when 47 percent of respondents said they would purchase the more expensive domestic coat; 52 percent this year said they would.
Dukes credited that uptick more to a consumer movement of buying locally, as opposed to the political atmosphere, though he said overall "patriotic obligation" is one reason why consumers may say they purchase domestic goods.
Sixty-five percent of Republicans said they would purchase the pricier coat, compared with 46 percent of Democrats, according to the October poll.
Ron Friedman, a partner at the public accounting and advisory firm Marcum LLP, agreed that the Trump administration's economic nationalist rhetoric isn't influencing consumers, and that shoppers always go for the less expensive item — wherever it's made.
"The issue is price, not 'Made in America,'" Friedman said in an interview this month.
"If a consumer had the opportunity to buy 'Made in America' versus, realistically, 'Made in China,' and the prices are exactly the same, they would buy 'Made in America,'" Friedman said. "But the reality is the prices are not the same. The prices are just cheaper coming in from China."
Although cost influences choice here, the tribalism of domestic consumption shouldn't be overlooked.
Republicans making less than $50,000 a year were more likely than Democrats earning the same amount to say they would purchase the more expensive American good, by a similar margin: 67 percent versus 48 percent, respectively.
Americans making more than $100,000 a year are where support for the pricier domestic coat slips. Fifty-four percent of wealthy Republicans and 37 percent of Democrats with similar incomes were less likely than adults with smaller incomes to say they'd purchase the more expensive American-made item.
Measuring the number of products made in America can be challenging, especially when federal agencies use different definitions when overseeing such goods.
Fifty-three percent of "final demand for manufactured goods" or "personal consumption, business investment and government purchases" were made in the United States, according to the Commerce Department's Economics and Statistics Administration. That means that about half the products Americans purchased were domestically produced.
That number varies by industry. Twenty-eight percent of the computer and electronic products and 48 percent of automobiles that Americans purchased in 2015 were domestically made, while 79 percent of food, beverage, and tobacco products consumed in the United States were American-made, according to the ESA.
When consumers finally get to the check-out line, Dukes said their sentiment for "Made in America" products may not always turn into action.
"It's easy to say one thing, and then actually pull your wallet out — it's different," he said.