Debate Over 'War On Christmas' Cools in Trump's America
More adults comfortable with both 'Merry Christmas' and 'Happy Holidays' compared to last year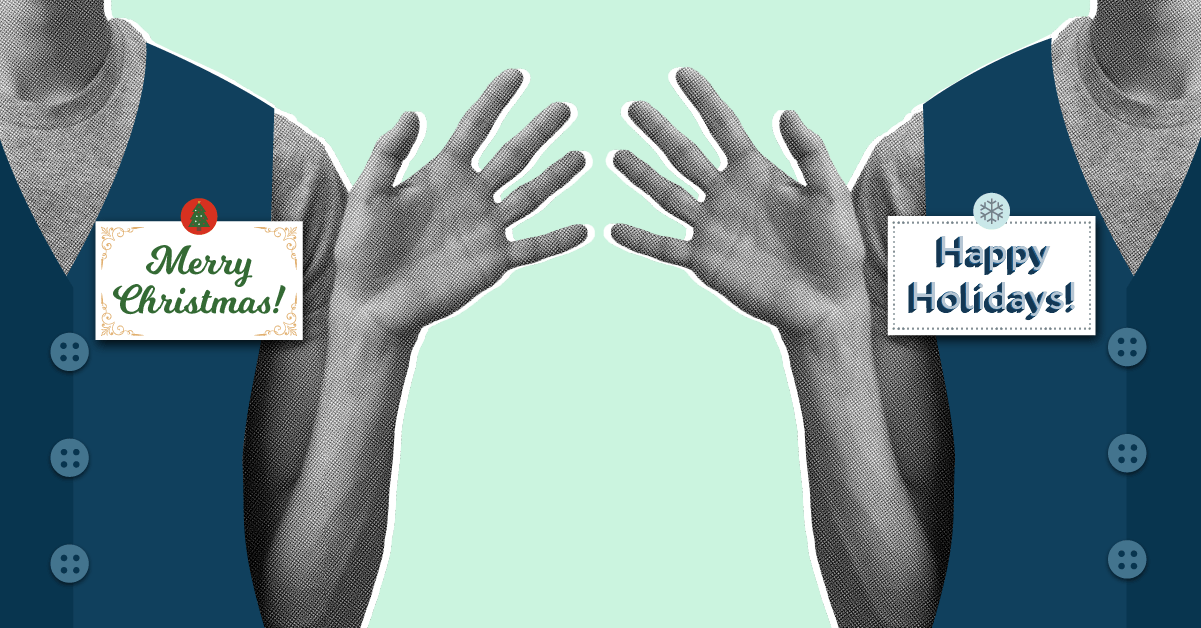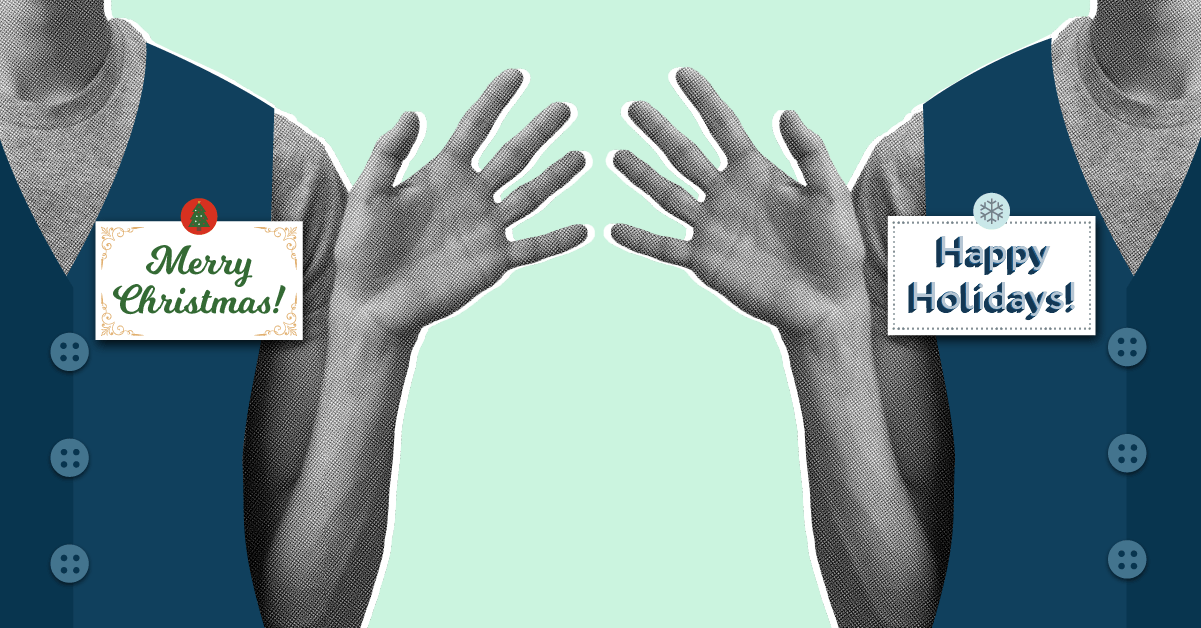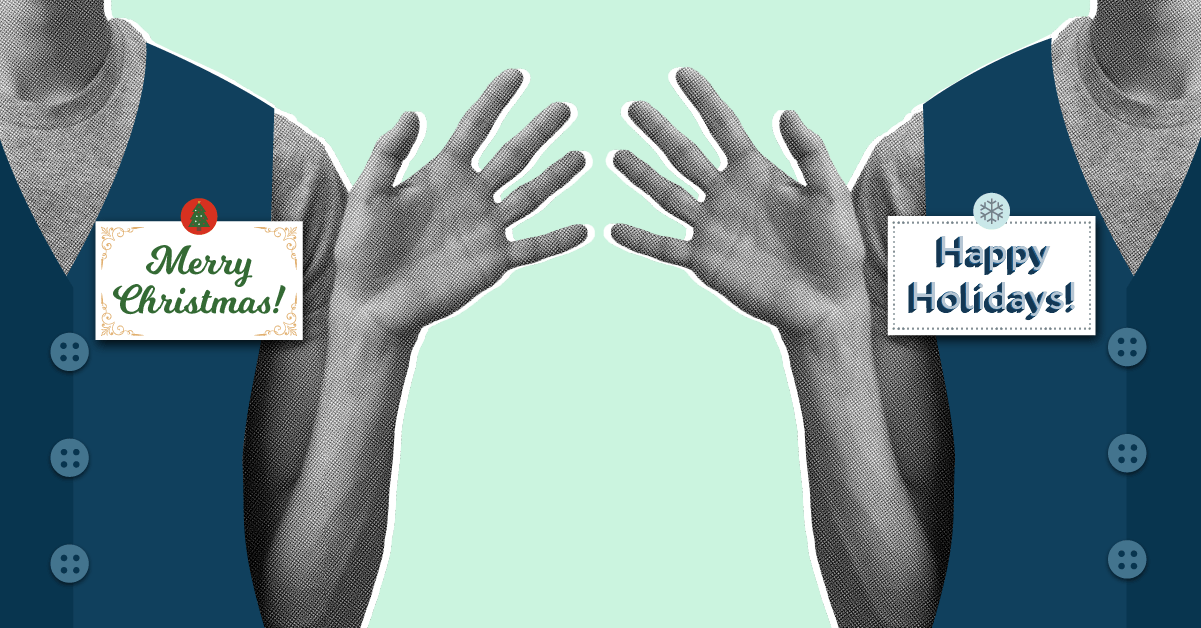 More than 7 in 10 say "Merry Christmas" (76 percent) and "Happy Holidays" (71 percent) are appropriate store greetings, a 10-percent jump for each phrase since last year.

But more U.S. adults say they'd frequent a store that uses "Merry Christmas" (47 percent) as opposed to one that uses "Happy Holidays" (29 percent).
On the campaign trail and as president, Donald Trump has referenced the so-called "War on Christmas," arguing the public will "say Merry Christmas again" during his tenure. But a new national poll shows consumers are more accepting of both religious and secular phrasing this holiday season.
More than 7 in 10 U.S. adults said it's appropriate for stores and businesses to use "Merry Christmas" (76 percent) or "Happy Holidays" (71 percent) when greeting customers, according to a Nov. 28-30 survey of 2,601 respondents.
Those numbers represent a 10-percentage point increase in approval for each phrase when compared to last year. (The surveys both have a margin of error of plus or minus 2 percentage points.)
Paul Djupe, an associate professor of political science at Denison University, said in an interview Nov. 30 that it's "pretty clear the continued ​​politicization of Christmas by the president is responsible​" for the increase in support. Trump said at a Nov. 29 event in Missouri: "I told you that we would be saying Merry Christmas again, right?"
Djupe noted that since both phrases receive high levels of approval, many people are "over" the idea that there's tension on this issue.
"It seems like people are not taking sides," he said.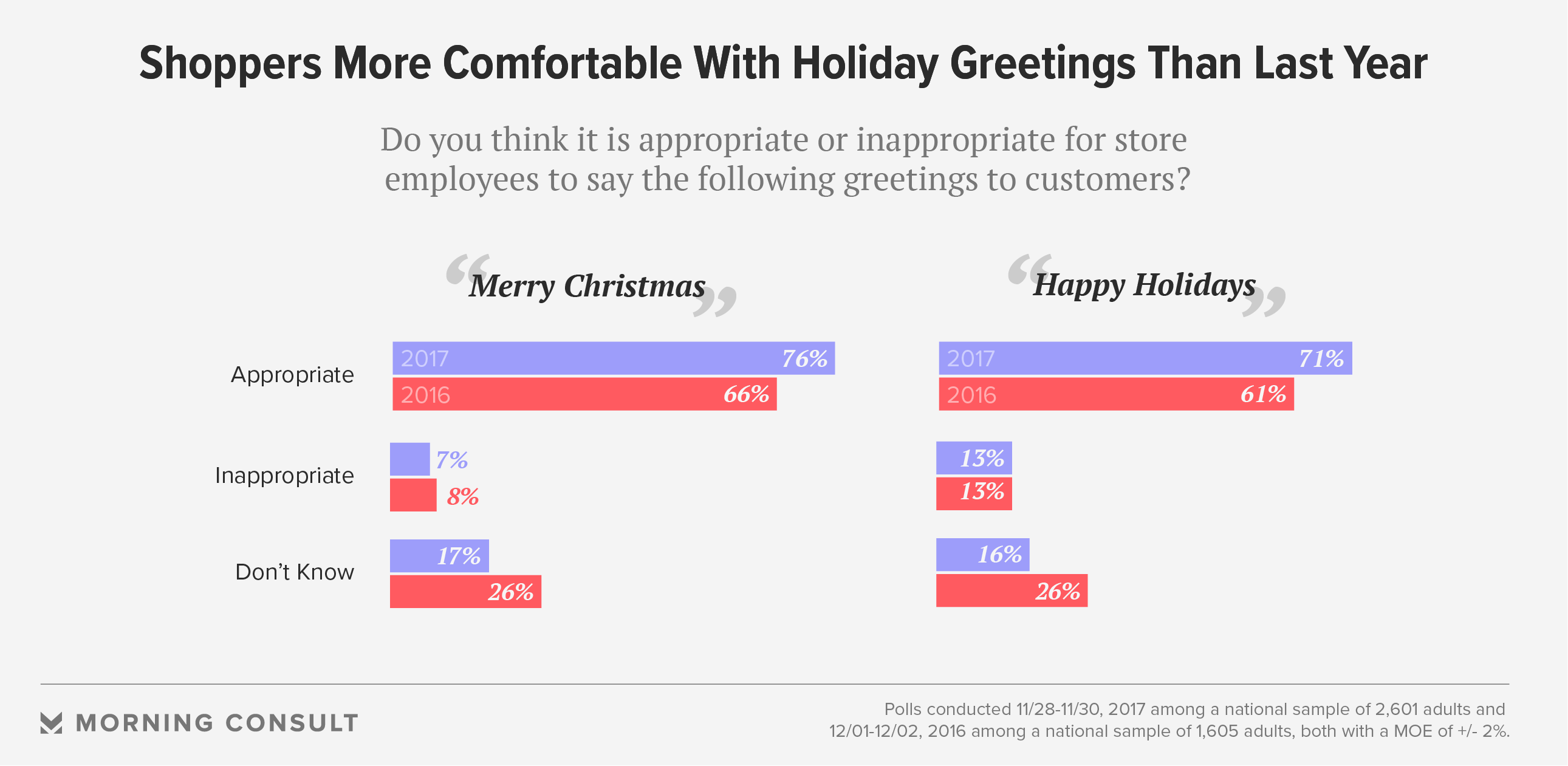 Then-Fox News host Bill O'Reilly brought the idea of the "War on Christmas" into the mainstream in 2004, when he said the holiday was "under siege." The following year, Fox commentator John Gibson headlined the term in his book "The War on Christmas: How the Liberal Plot to Ban the Sacred Christian Holiday Is Worse Than You Thought."
Leading up to his ousting from Fox earlier this year, O'Reilly spent every holiday season discussing the "War on Christmas" on his program. He declared the war "won" in 2016.
The "Merry Christmas" and "Happy Holidays" debate gets more complex when consumers are asked where their dollars will go. Adults are more likely to say they'll shop at a store that uses "Merry Christmas" (47 percent), compared to a store that uses "Happy Holidays" (29 percent). (Over 40 percent of Americans said a company's use of either greeting didn't influence them either way.)
Fourteen percent of those surveyed say they would be less likely to shop at a store that uses the more inclusive phrasing, 10 percentage points higher than those who'd be less likely to shop at a store that uses "Merry Christmas." That number jumps to 24 percent among Republicans and 22 percent among evangelicals. Sixty-five percent of evangelicals and 68 percent of Republicans surveyed said they're more likely to shop at stores that use "Merry Christmas."
Far-right Christian groups such as the Liberty Counsel, affiliated with Liberty University, and the American Family Association monitor and publish brands' use of "Merry Christmas," often calling for boycotts when a company's messaging isn't religious enough.
The AFA, which operates nearly 200 radio stations (mostly concentrated in the South), places brands on a "Naughty or Nice List" based on such criteria — a list which has been featured on O'Reilly's program. Companies like Dollar Tree make the "Nice" list, while Best Buy was on the "Naughty" list this year. An AFA representative said brands will often contact the organization about updated advertising containing "Merry Christmas" — naming sporting good chain Academy Sports + Outdoors as one example. (Best Buy and Academy Sports + Outdoors did not respond to requests for comment, while Dollar Tree declined to comment.)
Wal-Mart Stores Inc., which faced criticism from conservative groups in 2005 after an employee greeted a customer by saying "Happy Holidays" instead of "Merry Christmas," told Morning Consult it does not have a policy on the issue and encourages employees to say whatever they're comfortable with.
"Holiday means 'holy day,'" Jacob Lupfer, a visiting professor at American University specializing in religion and politics, said in a Nov. 29 interview. "It's not even a secular term. It's just more inclusive."
Relatively few religious leaders on the national level have backed the idea that Christmas is in jeopardy.
A prominent figure on the religious right, Franklin Graham, president and CEO of the Billy Graham Evangelistic Association, wrote an op-ed in 2014 titled "The War on Christmas Is a War on Christ." After Trump's first lighting of the National Christmas Tree last week, Graham praised the president's "strong outspoken stand for the Christian faith."
But Russell Moore, president of the Ethics & Religious Liberty Commission, the Southern Baptist Convention's public policy division, wrote last year that "the huffing and puffing that we tend to do when marketers don't get our Christian commitments is, I think, a little bit off base."
Christmas is an opportunity for marketers, if they play it right: Ninety-two percent of U.S. adults celebrate Christmas in some way, according to a 2013 Pew study.
Mirroring attitudes on store holiday greetings, consumers are also more likely to back the use of both "Merry Christmas" (72 percent) and "Happy Holidays" (68 percent) in advertising when compared to last year (66 percent and 61 percent, respectively).
"Generally, we're seeing more of a movement to secular messages rather than religious ones," said Jamie King, CEO of the advertising agency Camp + King, which was responsible for creating holiday commercials for Uggs last year and Dish Network this season.
But this secular shift doesn't mean the end of all Christmas iconography. In an interview Nov. 29, King said brands rely on "classic Christmas imagery" that shows the fictional side of the holiday — like Santa and his reindeer — and pair it with "Happy Holidays" messaging. King cited his agency's holiday spots for Dish as an example, which feature animated winter critters, a snowman and Santa.
Brands have long toed the line, drawing in customers with familiar Christmas images — but sticking to more inclusive wording.
Take the Hershey Co.'s quintessential holiday commercial, first aired in 1989: Red and green bite-sized Kisses play "We Wish You a Merry Christmas" in the shape of a Christmas tree, while the commercial ends with: "Happy Holidays From Hershey's Kisses."
The seasonally colored treats are labeled "Holiday Kisses" on the company's website.
Advertisers are simply following the public on this, King said. While 71 percent of Americans identify as Christian, according to the Pew Research Center, separate Morning Consult polling shows 64 percent consider Christmas a religious holiday. (That poll surveyed 2,800 U.S. adults Nov. 16-19).
King said brands want to avoid alienating anyone with their wording — but they may also have a strategic reason to stick to a more general greeting: By using the more vague "Happy Holidays," brands can start their messaging earlier because the "holidays" could include Thanksgiving.